September 2022
Releases this month
September 1, 2022
Keep your SproutLink in bio site current with your Instagram username
Previously, if you had a change to your SproutLink URL due to a username update, you'd have to contact the Sprout Support Team. Now Sprout automatically detects when your username changes so you can easily update your SproutLink in bio site using the Site Builder.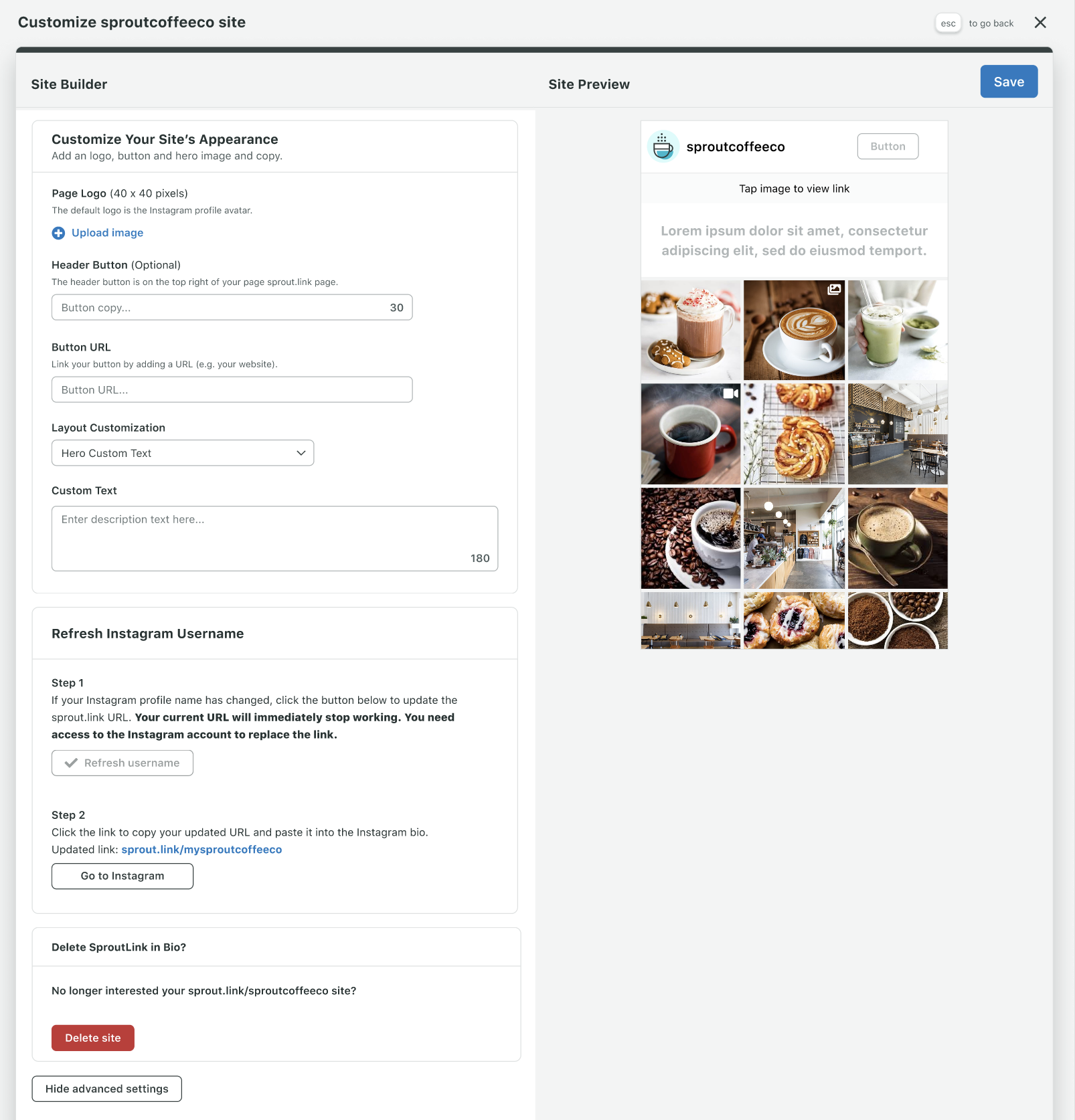 Learn more about all the capabilities of SproutLink in bio with this article.
September 7, 2022
Visualize your engagement over time with Engagement Rate metrics
Gain insight into your customer engagement and make adjustments to your publishing strategy faster with Sprout's Engagement Rate feature. Dive into dedicated visualizations that measure how engaged your audiences are.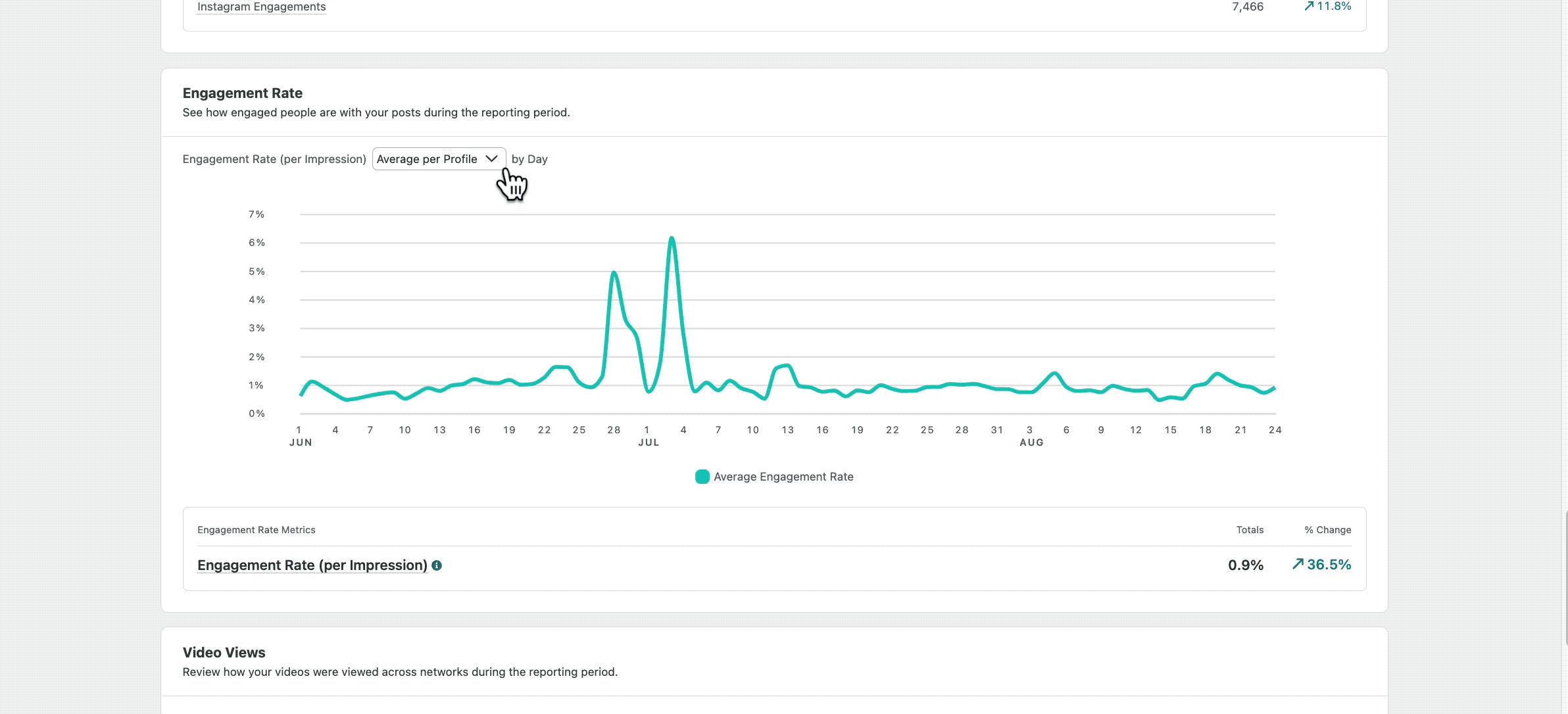 These metrics are available in the Facebook Pages Report, the Instagram Business Profiles Report, the Twitter Profiles Report, the LinkedIn Pages Report and the Profile Performance Report.
September 12, 2022
Share your Listening Insights with stakeholders
Quickly share your latest Listening Insights, even if your stakeholders are outside Sprout. If you're a Listening add-on customer, you can share visualizations and data about your topic's volume, engagements, sentiment trends and more.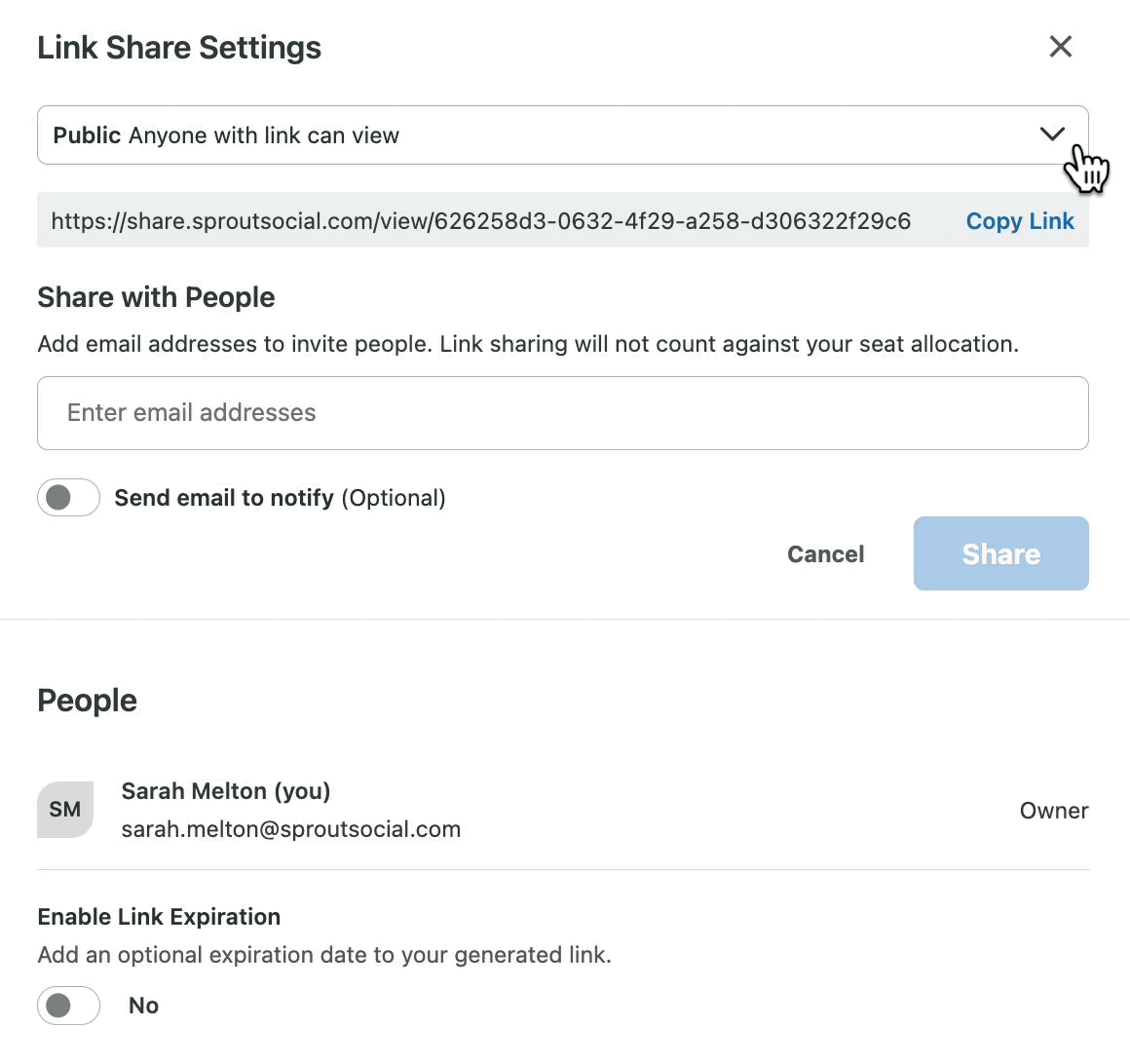 Learn more about link sharing with this overview.
September 12, 2022
Quickly navigate back to a message in the Smart Inbox with Permalinks in the Inbox Export
The Inbox Export CSV was updated to include a Permalink column in addition to the Native Permalink column. The Permalink column contains a URL that navigates back to the original message thread within the Smart Inbox.
Additionally, the export now also includes Parent Post information for TikTok and YouTube comments and TikTok comments also include native Permalinks.

Learn more about the benefits of the Inbox Export with this how-to.
September 13, 2022
Share your brand's review insights with Link Sharing
Now you can create shareable links to send the Reviews Feed in Sprout to your stakeholders. Create a Shared Link that encompasses your custom reporting period along with your selected Sources and Ratings from your connected Reviews profiles.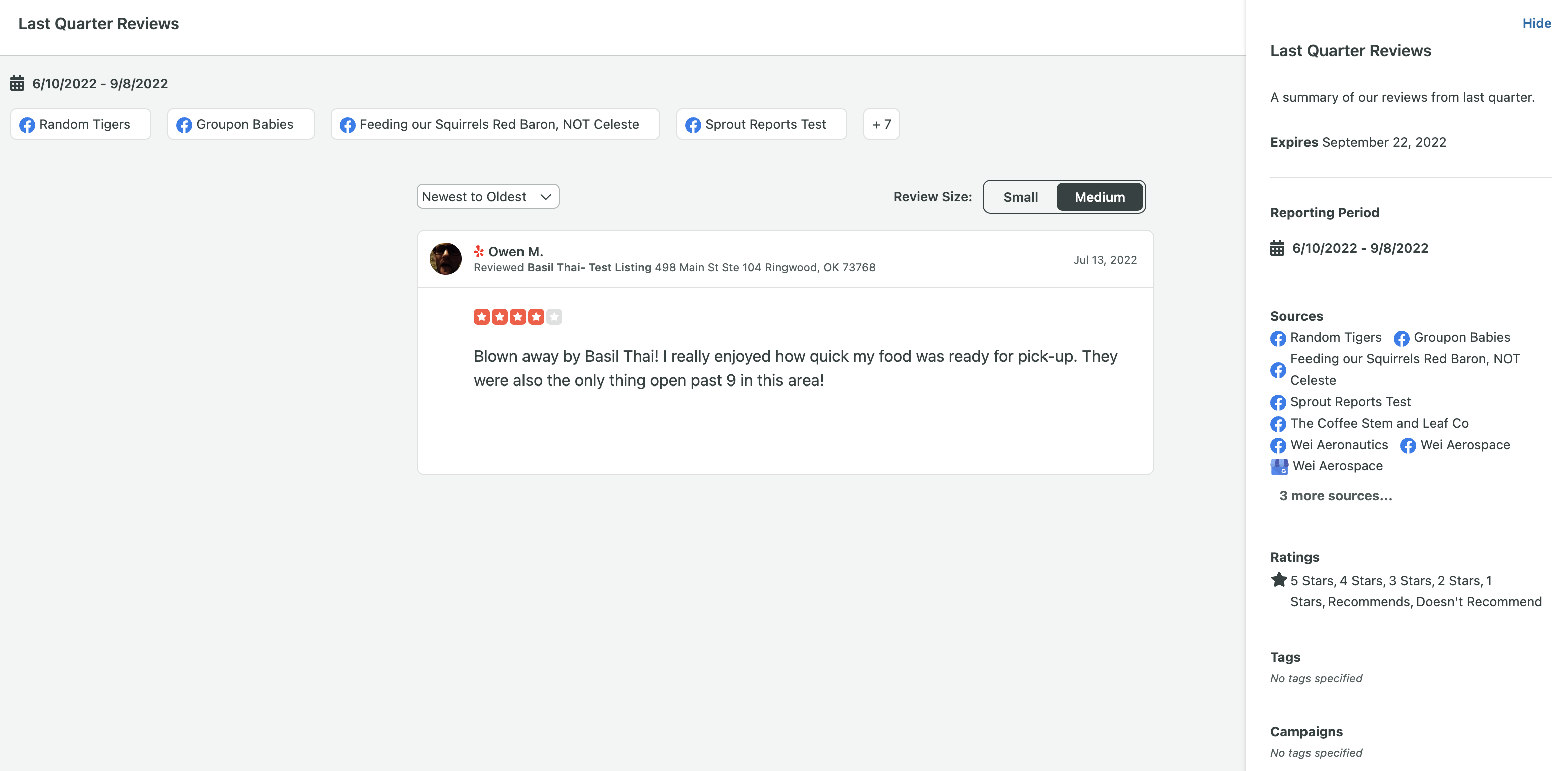 Learn more about Link Sharing with this overview.
September 19, 2022
Create a seamless Instagram strategy with Story scheduling
Now you can upload videos and images as multi-media Story frames to your Instagram Story, add Story Notes and Links. Plus, you can quickly see your Story posts at-a-glance on the Content Calendar and use a dedicated mobile workflow to upload each Story frame to Instagram.

Learn more about Story Publishing with this overview and use the mobile publishing workflow here.
September 21, 2022
Quickly see posts with alt text with the alt text indicator
Now you can see an ALT indicator on pending posts on the Publishing Calendar if an image has descriptive or alternative text added to it. You can see this indicator on LinkedIn, Facebook and Twitter posts.

Learn more about setting up alt text or seeing these images on the Publishing Calendar.
September 22, 2022
Never miss a payment by adding a backup method to your Billing Plan
Now you can add an additional credit card or PayPal account to your Sprout account. This backup payment method ensures you never miss a payment and don't lose access to your Sprout account if an issue arises with your primary payment method. Sprout Account Owners and users with Manage Billing permissions can set up a backup method within their Billing settings in Sprout.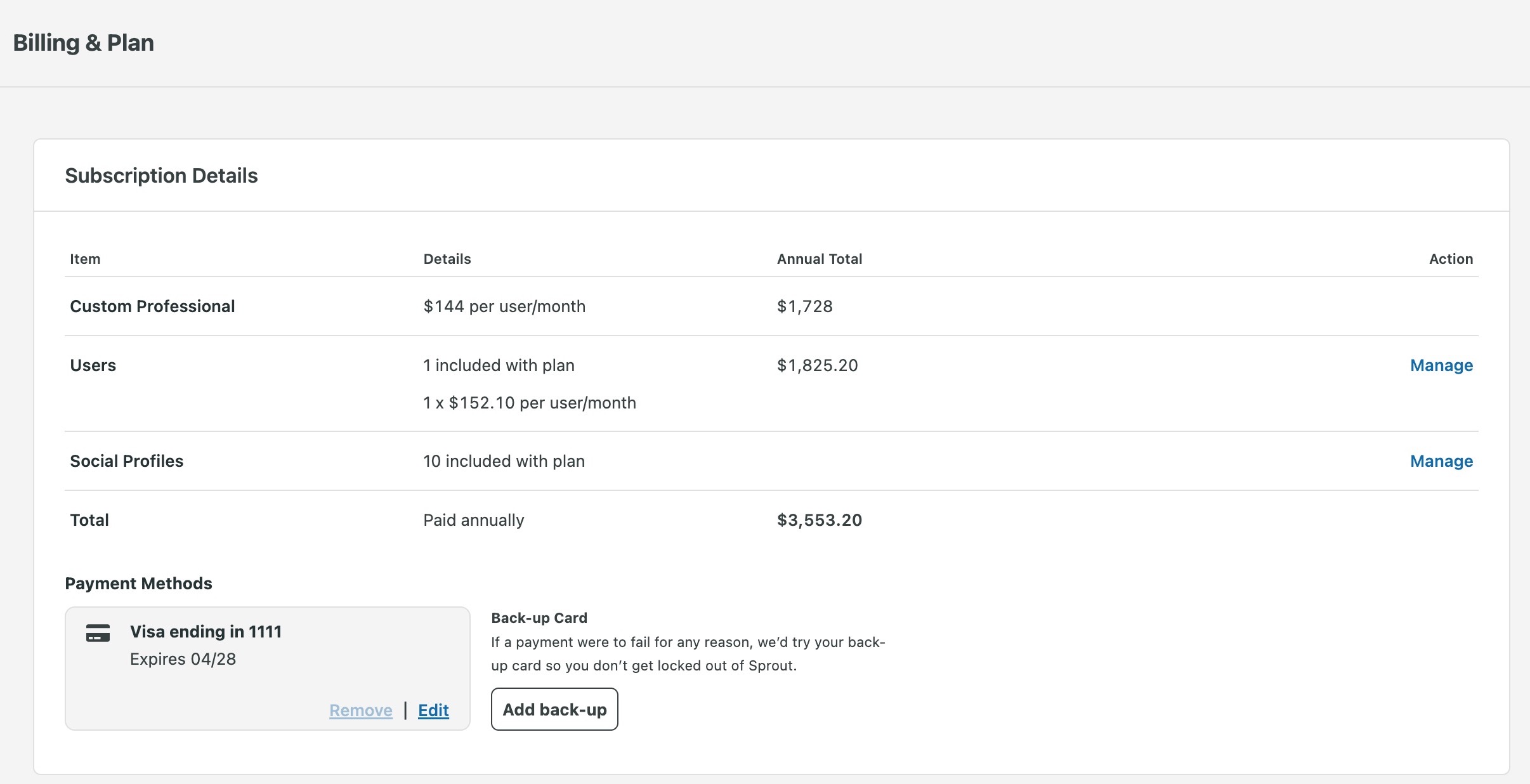 Learn more with this FAQ.
September 28, 2022
Share your Reviews Overview Report insights quickly
Now Premium Analytics customers can create and share links to the Reviews Overview Report. Send your report to all your stakeholders, even if they aren't Sprout users.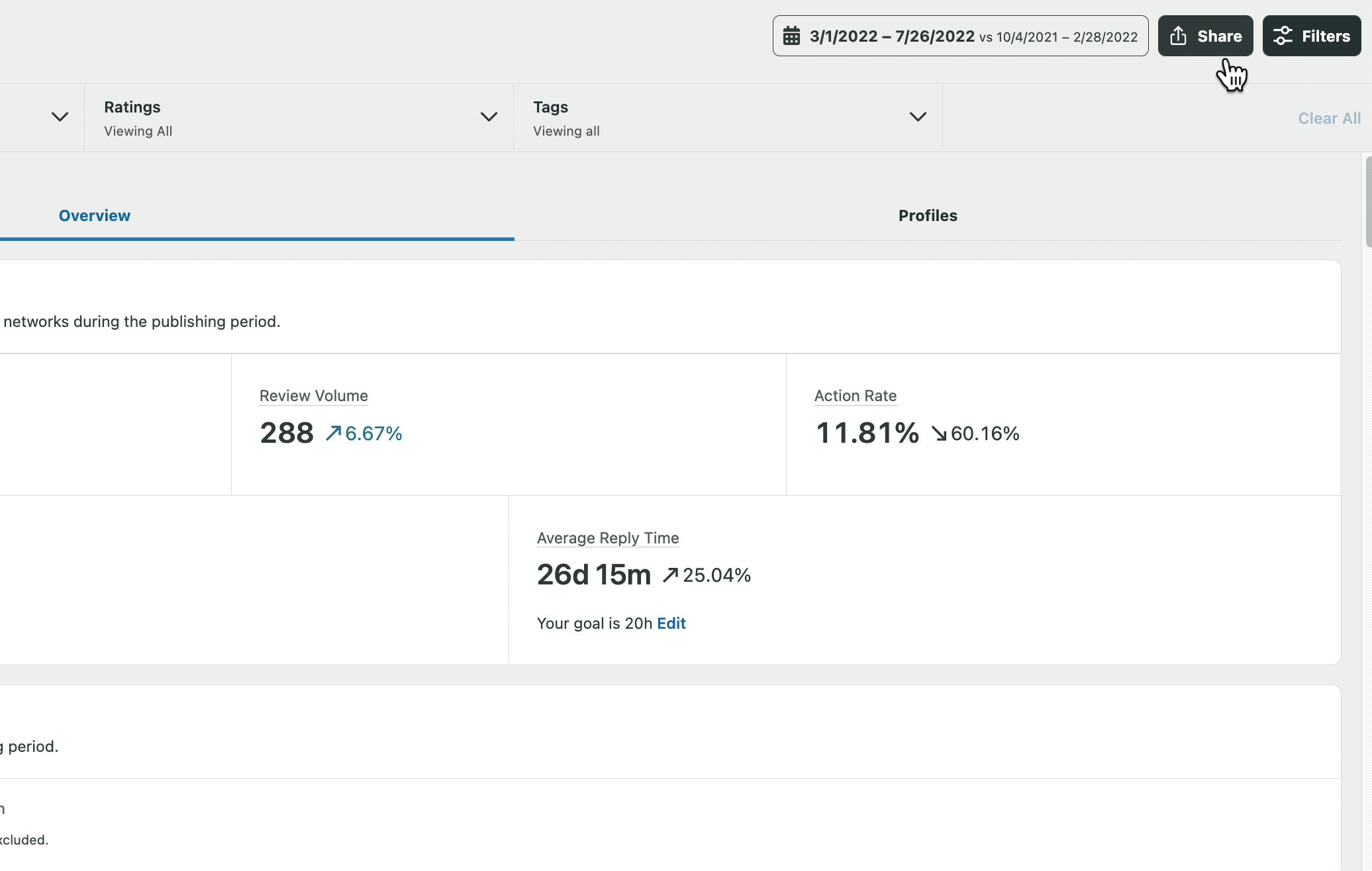 Learn more about the Reviews Overview Report in this guide.