Advanced Listening Query Builder
Sprout's Advanced Listening is integrated alongside the Engagement, Publishing and Analytics tools you use everyday. The Advanced Listening Query Builder brings additional capabilities to Sprout Listening including:
More Networks: Twitter, Instagram, Facebook, Youtube, Reddit, Tumblr, and web (Blogs, Forums and News Sites) data can be added as sources to give a complete picture of the social conversation around your Topic.
Start by selecting New Topic either from the left bar under Active Topics or by selecting the New Topic tile in the Listening Home screen.

You will then be brought into the Query Builder. At the top, you can choose to give your Topic a title and description. This will help you quickly identify your Topic.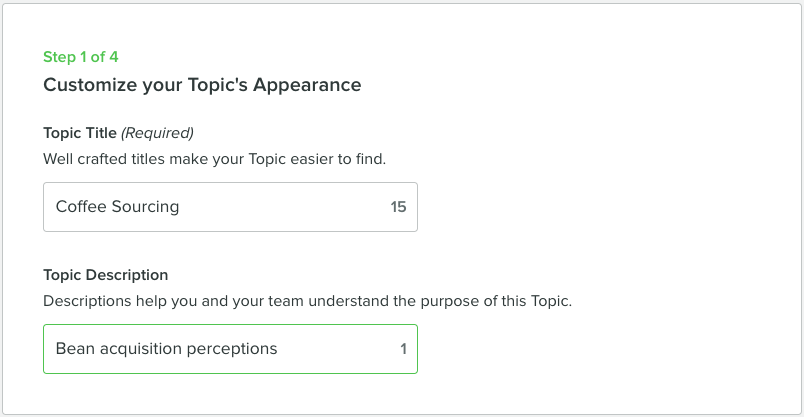 Next, select the network or networks that you want to listen to.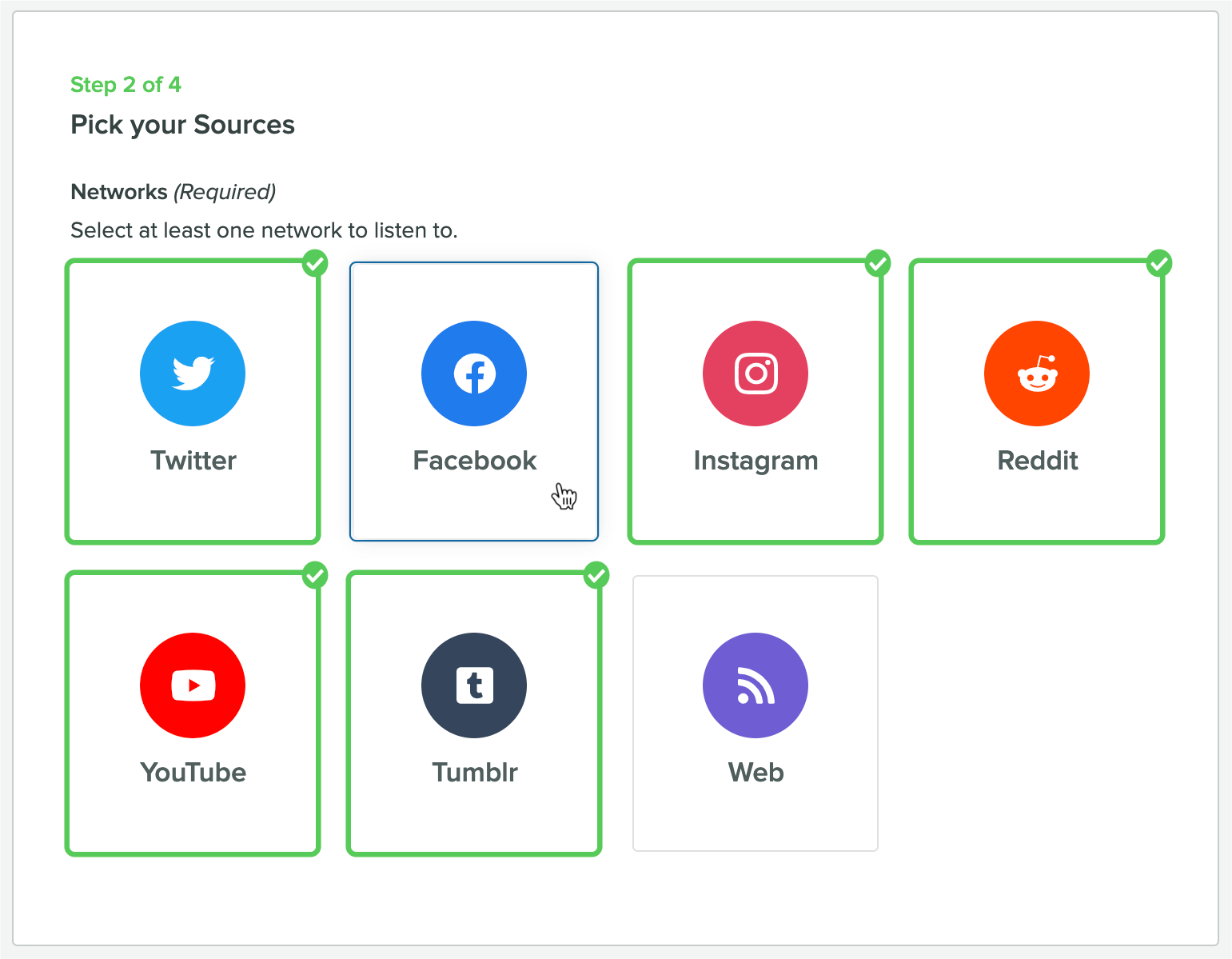 Begin crafting your Topic by selecting a query type from the dropdown menu.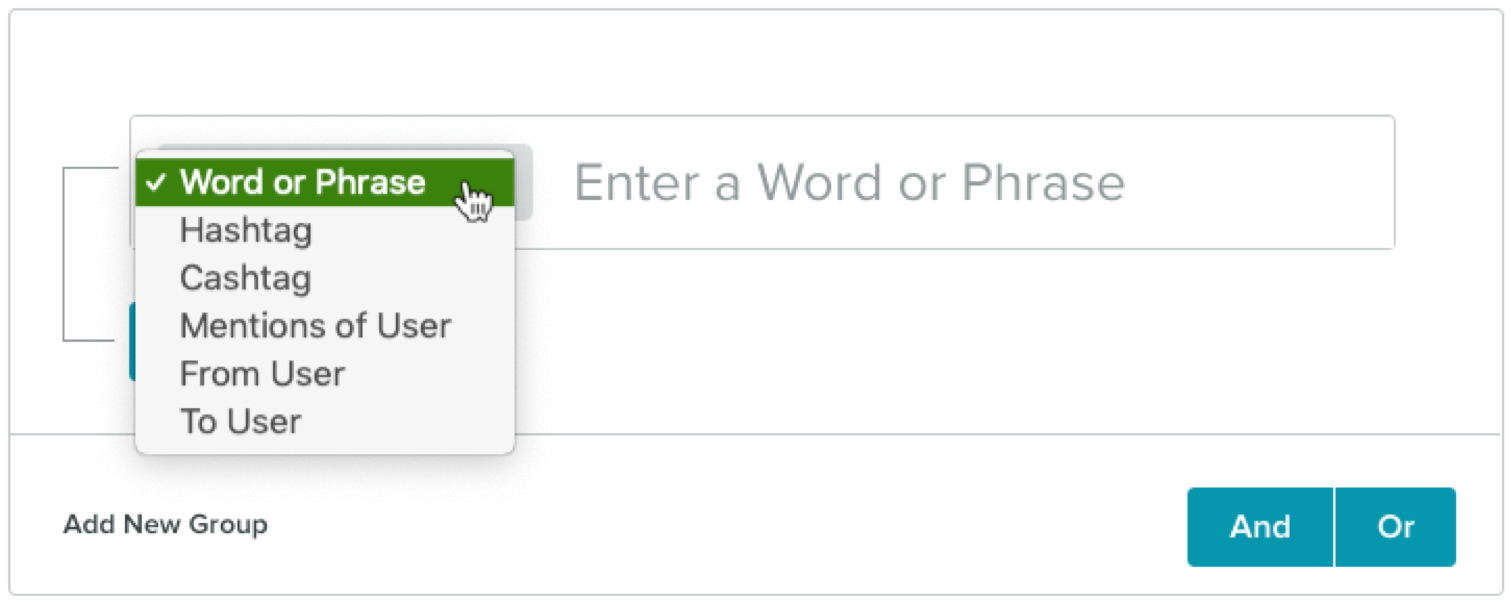 Queries can include multiple keywords or operators. Use the And/Or buttons to widen or narrow your search as necessary.
You can also use And/Or for new groups. Groups allow you to link multiple sets of logic together for additional control.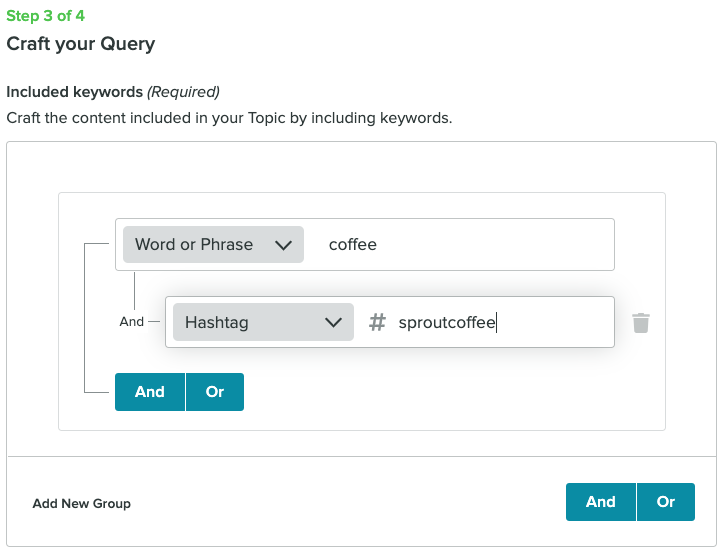 You can apply optional filters to specify post language and posts that contain images or videos. Advanced Twitter Filters can be set for post country, user country, tracked website and more.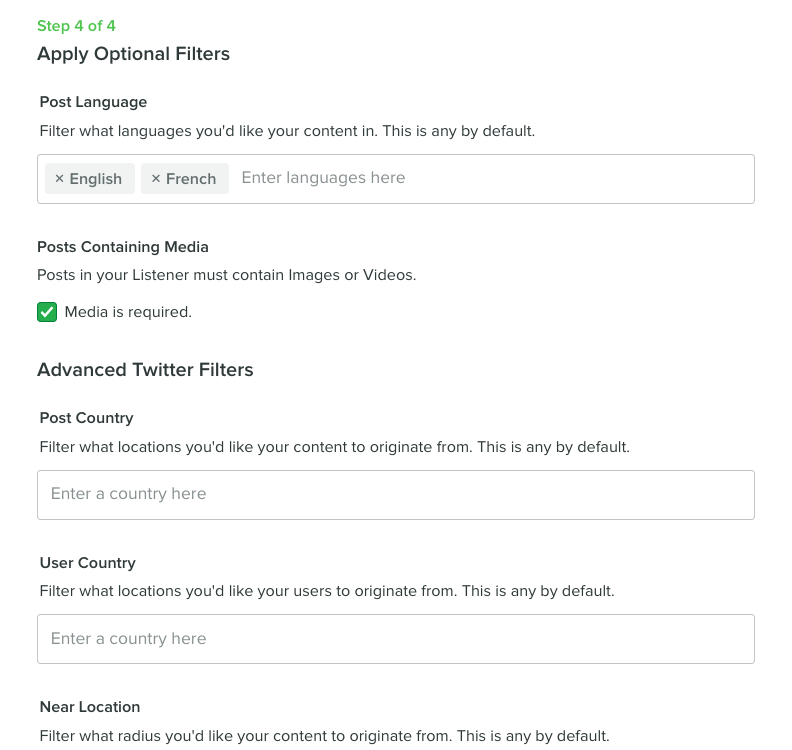 You can preview your Topic at any time by clicking the Preview button at the top of the page. The preview panel will update with a sampling of messages that meet your search parameters.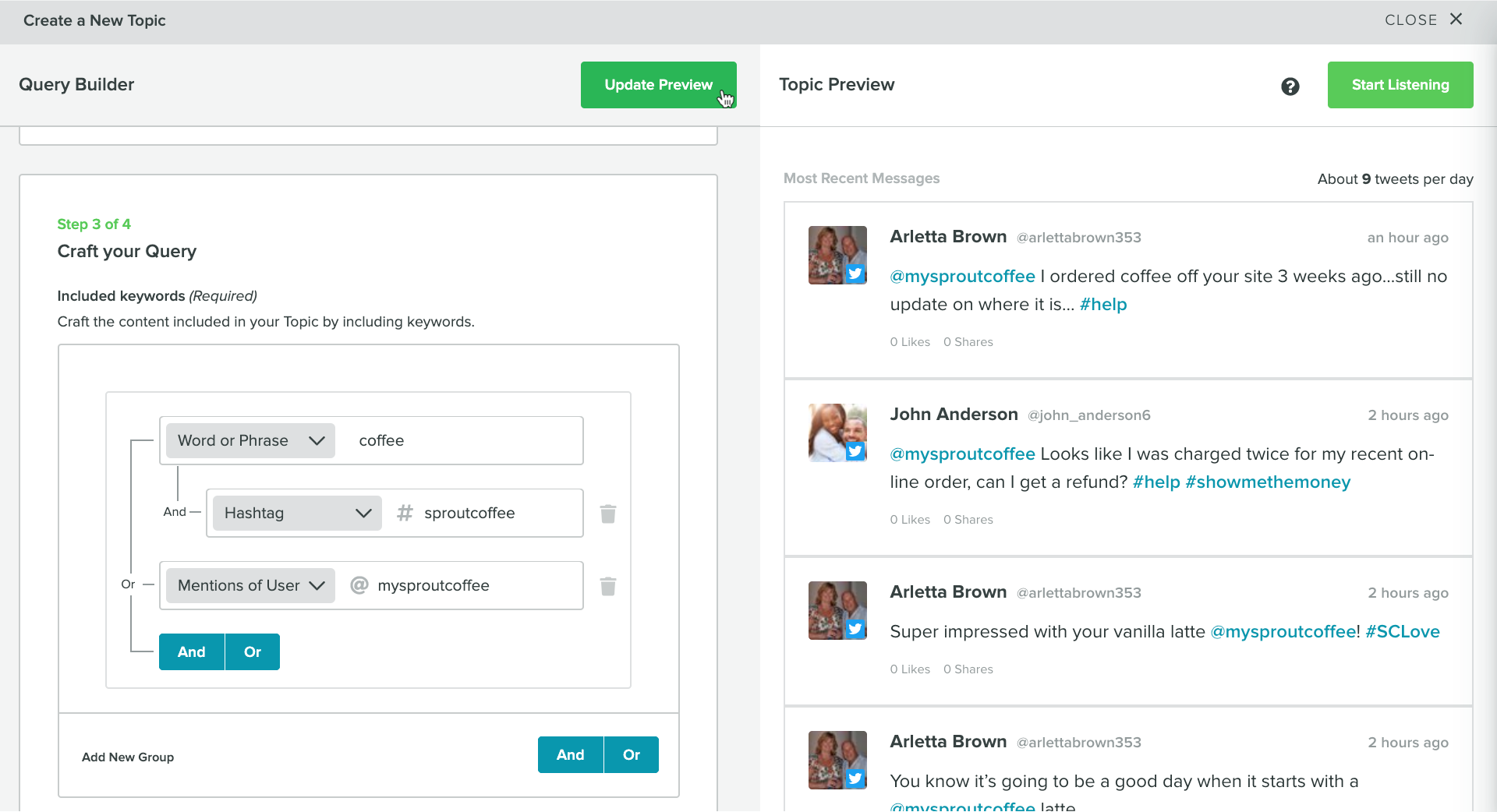 The preview panel shows you the approximate number of matching messages that show up per day, so you can determine if the dataset will be too small or large to provide relevant insights.
If you notice multiple posts showing up with specific keywords, you can double-click on any word in a post to include ( + ) or exclude ( - ) that word in your query.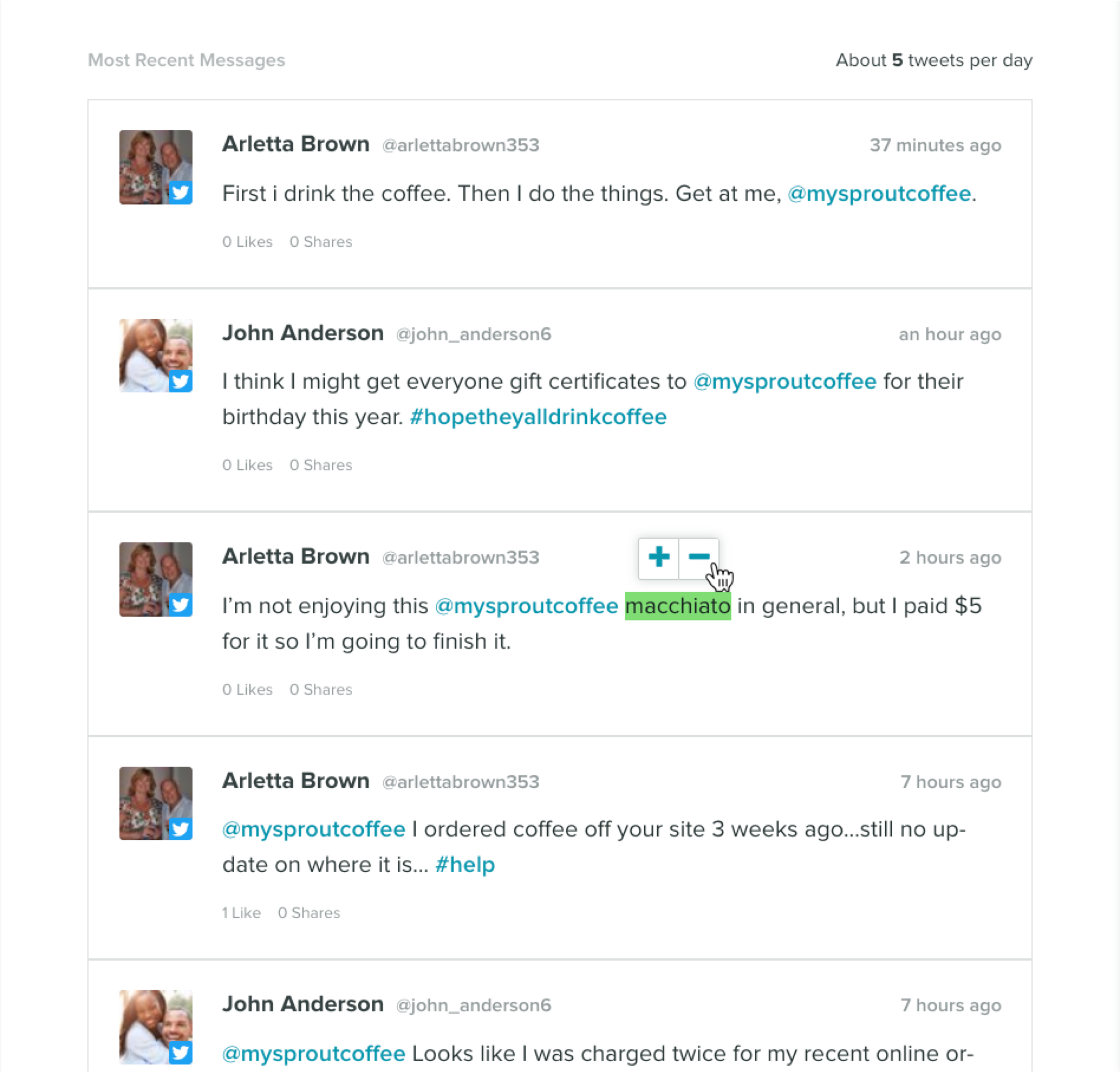 Once you're happy with the query, complete your Topic by clicking Start Listening in the upper-right corner.
Watch the video below to learn more about Sprout's Advanced Listening Query Builder.
FAQ
I just created my Topic, why don't I see any data?
The 30 days of automatic historical data take roughly 3-5 minutes to show up.
What happens when I use all of my Topics?
You won't be able to create anymore. You'll need to archive or delete an existing one to free up a spot.
What happens when I remove/add filters, remove/add keywords from my Topic?
Adding keywords, filters or exclusions will cause a new Topic to be created with new data.