Advanced Listening
Sprout's Advanced Listening is integrated alongside the Engagement, Publishing and Analytics tools you use everyday. Advanced Listening represents one of Sprout's Premium Add-ons and brings additional capabilities to Sprout Listeners including:
More Networks: Twitter, Instagram, Facebook, Youtube, Reddit, Tumblr, and web (Blogs, Forums and News Sites) data can be added as sources to give a complete picture of the social conversation around your Topic.
Advanced Filtering: The data is interactive and can be easily filtered, helping to quickly answer difficult business questions about your brand, products, industry and competitors.
Advanced Topic Builder: This user friendly query builder enables you to build and adjust complex topics through an easy to navigate experience instead of having to assemble complicated boolean queries.
Performance Tables: A tabular layout organizes related data to help surface targeted insights by viewing information in context.
Advanced Topic Builder
Start by selecting New Topic either from the left bar under Active Topics or by selecting the New Topic tile in the Listening Home screen.

You will then be brought into the Query Builder. At the top, you can choose to give your Topic a title and description. This will help you quickly identify your Topic.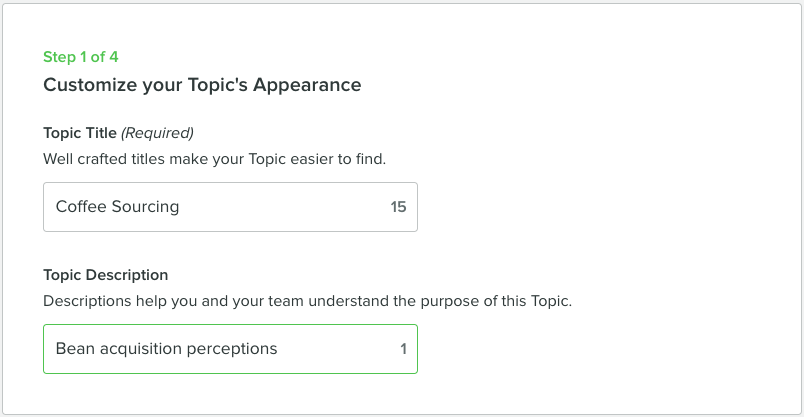 Next, select the network or networks that you want to listen to.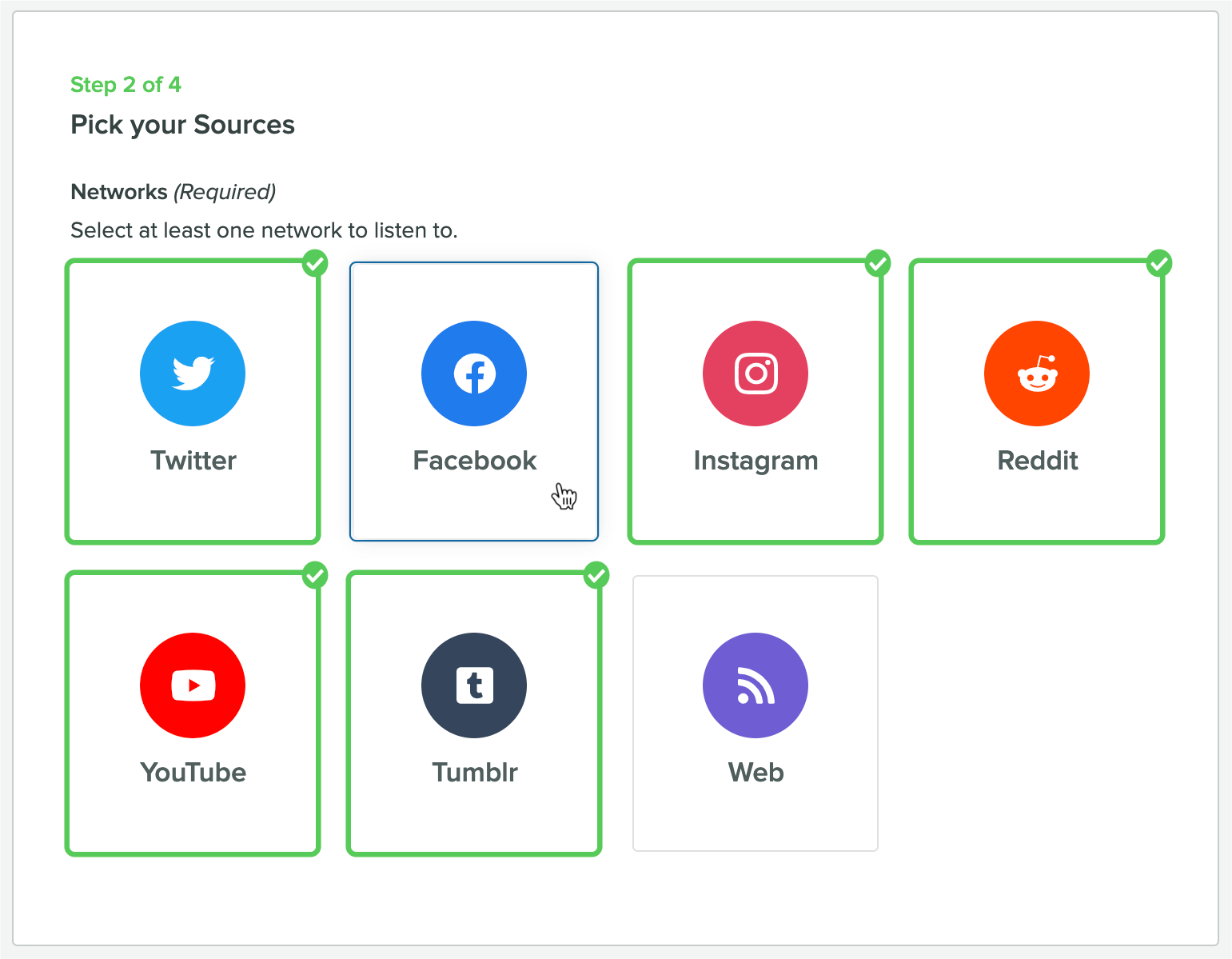 Begin crafting your Topic by selecting a query type from the dropdown menu.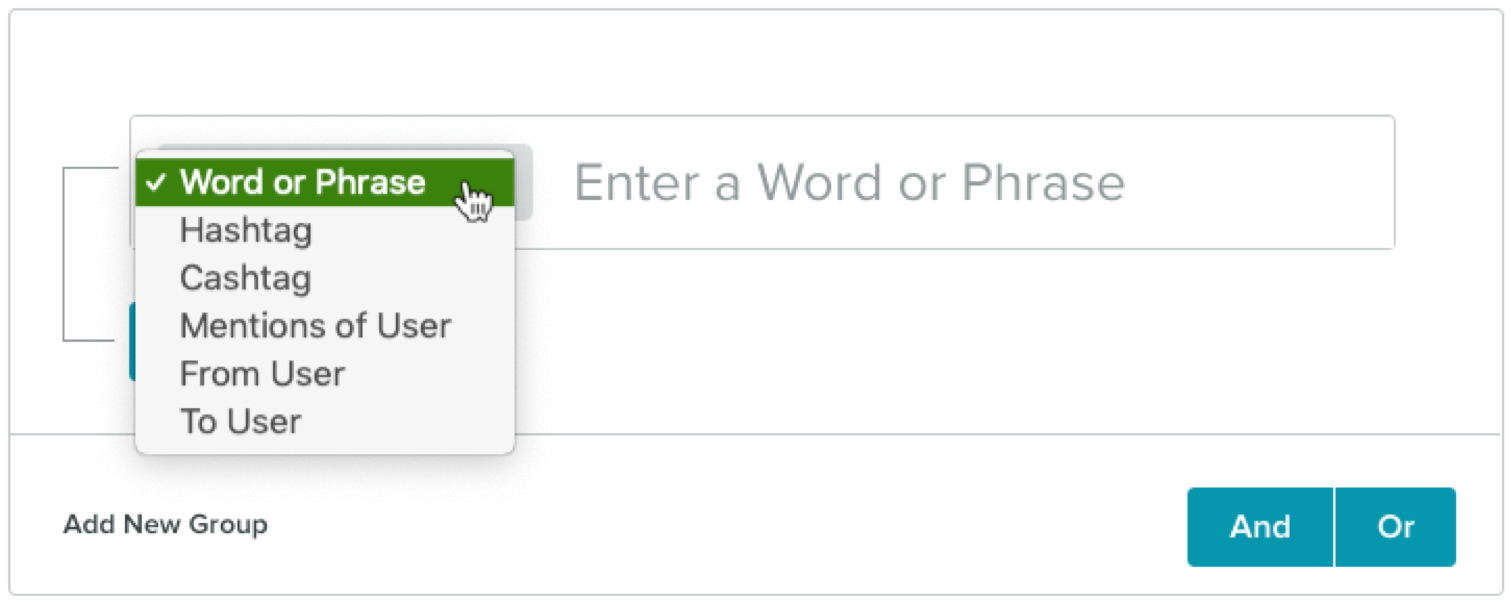 Queries can include multiple keywords or operators. Use the And/Or buttons to widen or narrow your search as necessary.
You can also use And/Or for new groups. Groups allow you to link multiple sets of logic together for additional control.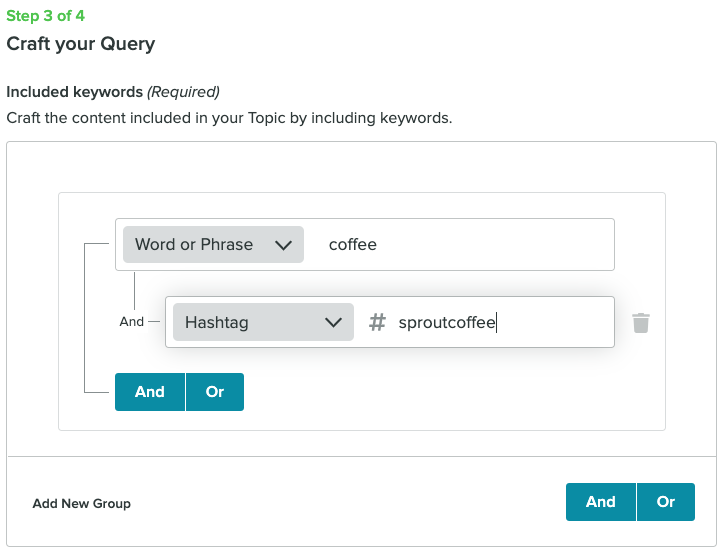 You can apply optional filters to specify post language and posts that contain images or videos. Advanced Twitter Filters can be set for post country, user country, tracked website and more.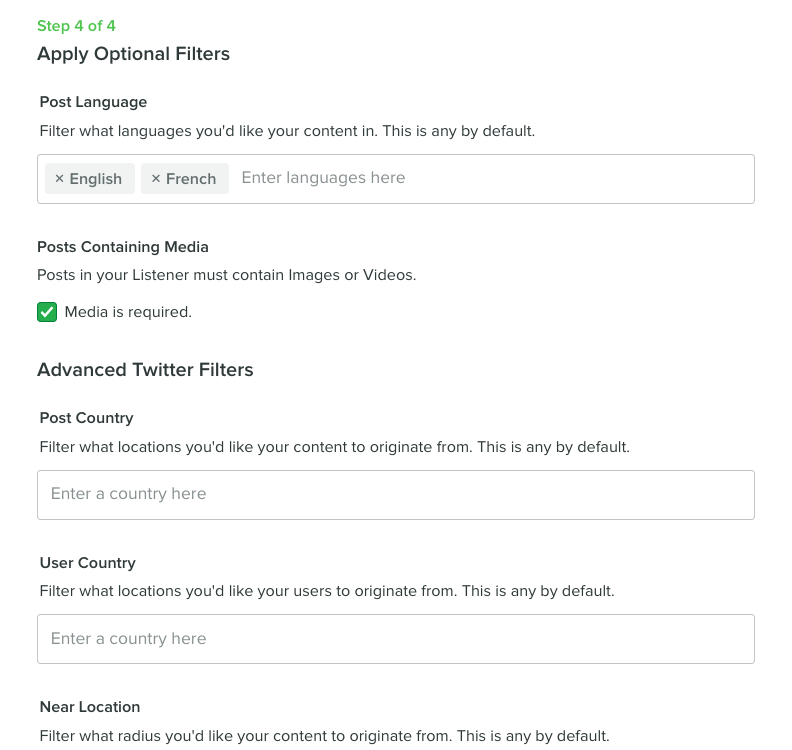 You can preview your Topic at any time by clicking the Preview button at the top of the page. The preview panel will update with a sampling of messages that meet your search parameters.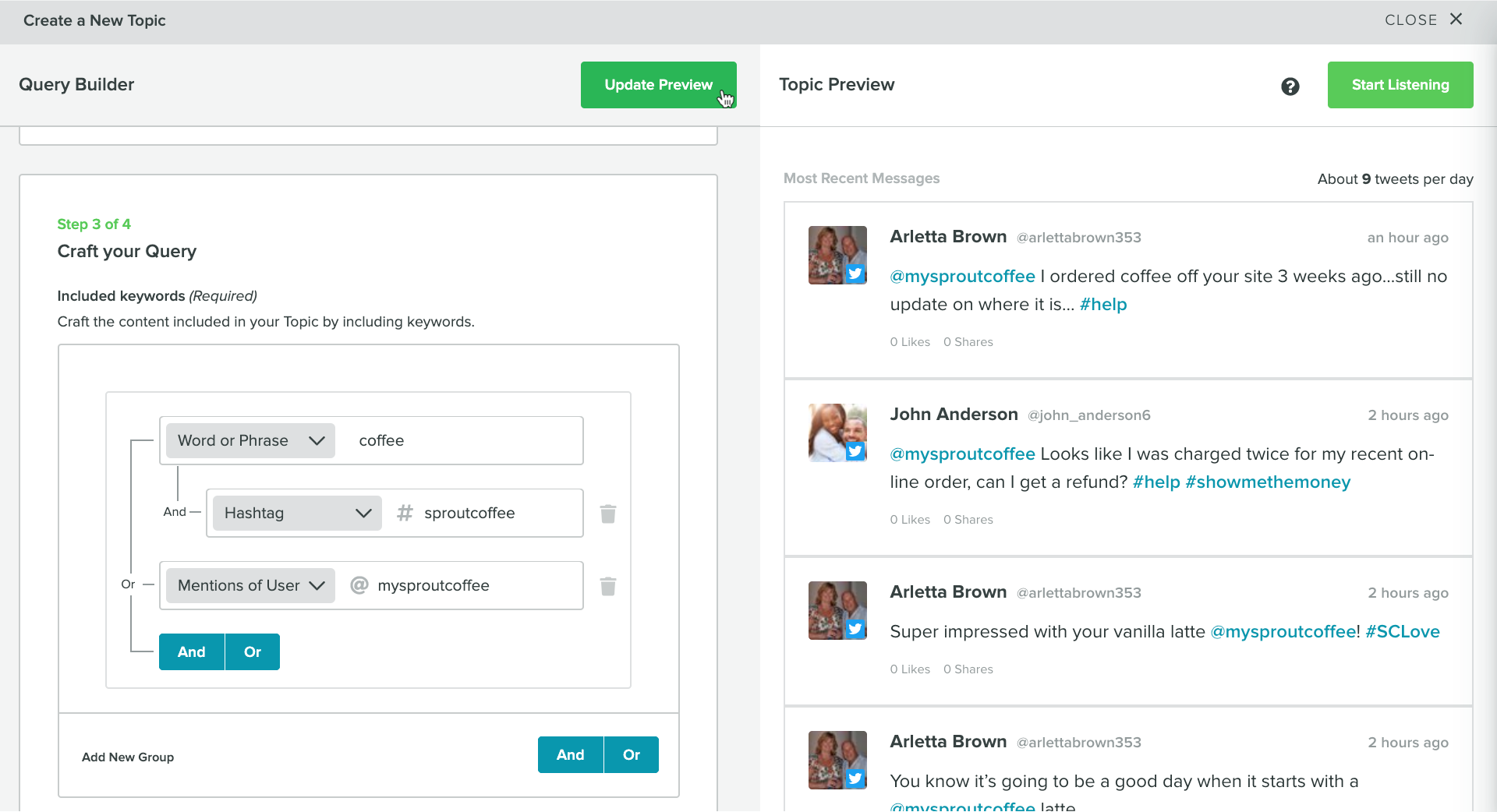 The preview panel shows you the approximate number of matching messages that show up per day, so you can determine if the dataset will be too small or large to provide relevant insights.
If you notice multiple posts showing up with specific keywords, you can double-click on any word in a post to include ( + ) or exclude ( - ) that word in your query.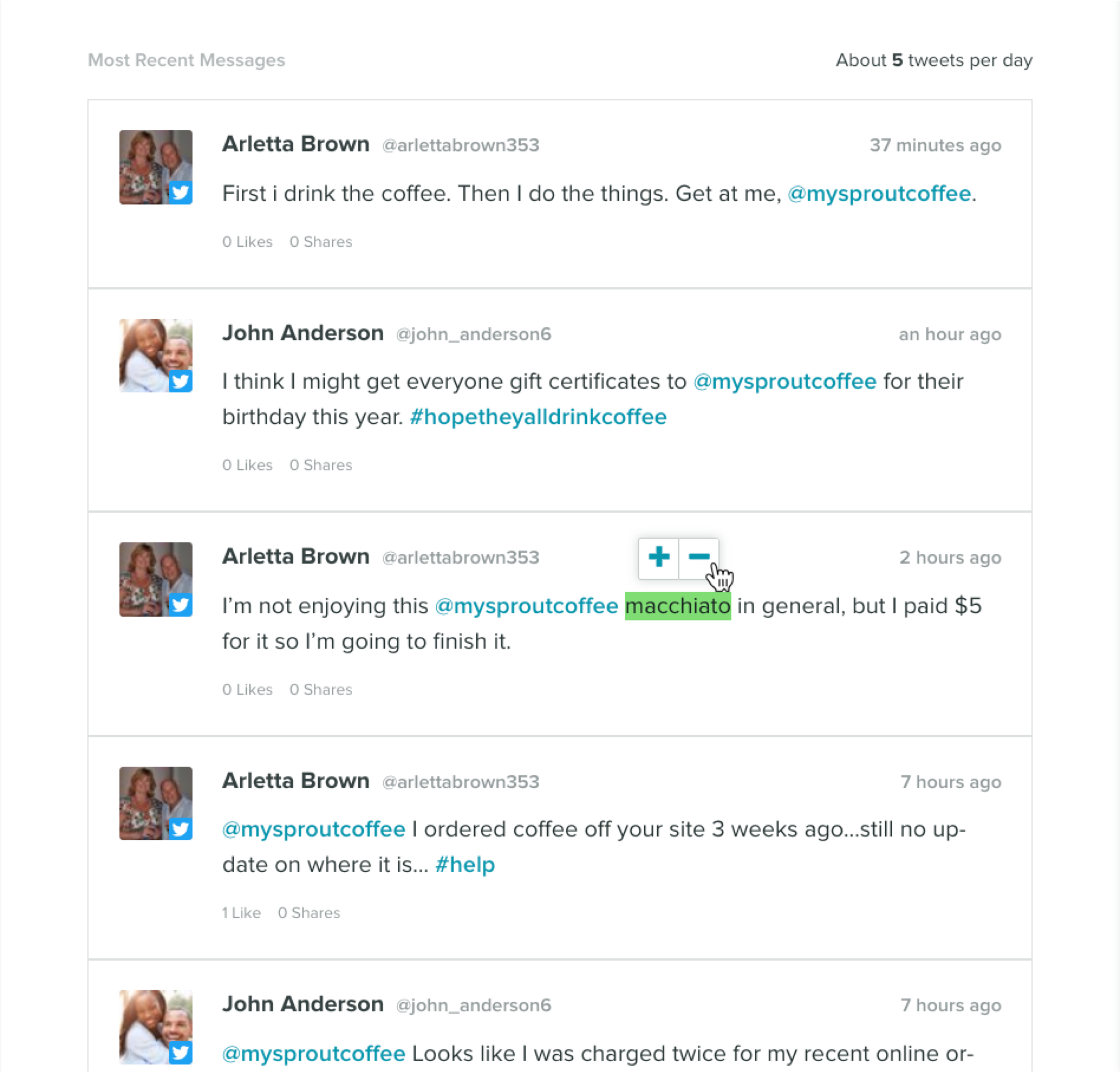 Once you're happy with the query, complete your Topic by clicking Start Listening in the upper-right corner.
Watch the video below to learn more about Sprout's Advanced Listening Topic Builder.
Advanced Listening Insights
Performance
Topic Summary
Total Volume: The number of messages in the reporting period.
Total Engagements: Number of times messages were publicly interacted with. The sum total of likes, shares and replies on all the messages captured within the Topic.
Engagements Per Message: Total engagements divided by total number of messages. Engagements Per Message indicates how engaged users are with this Topic. Use this metric to compare engagement rates across time periods or across Topics.
Potential Impressions: Number of times messages could have been seen. The sum total of follower counts of all users whose messages are captured within the Topic.
Unique Authors: Number of authors that contributed to this conversation.
Positive Sentiment: The percentage of positive posts in the conversation.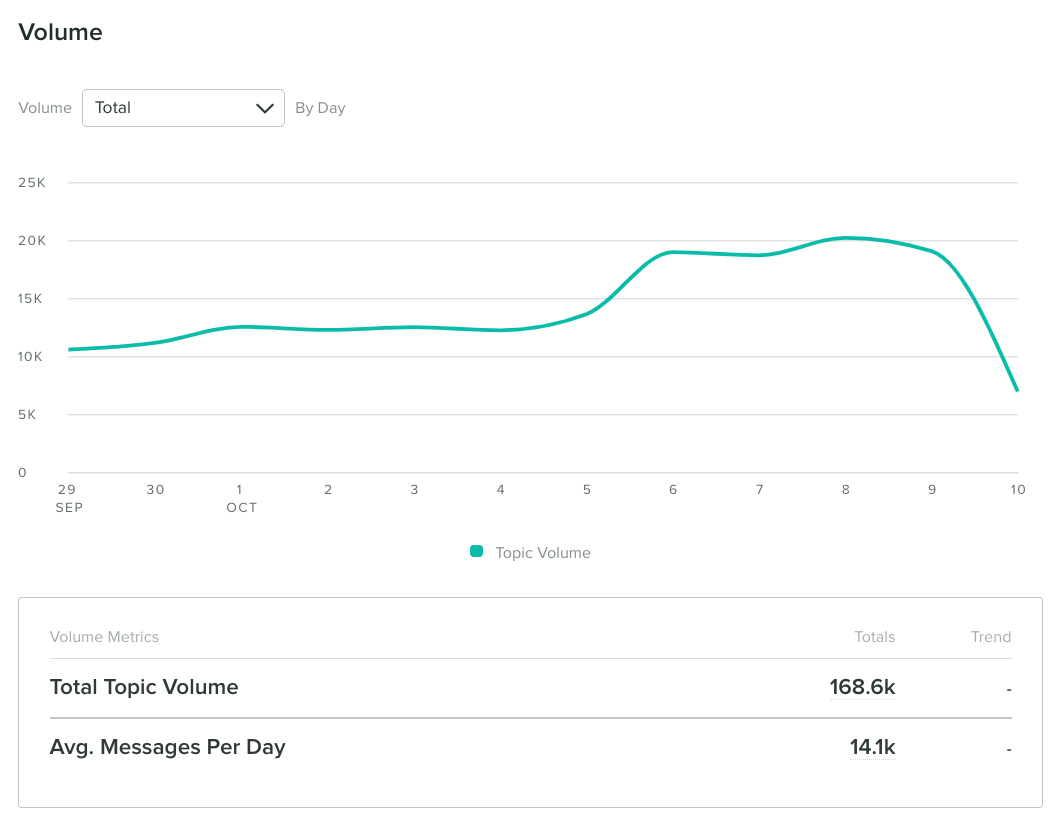 Volume
This chart displays volume metrics over time and includes a dropdown for customizing your dataset using various breakdowns and comparisons. The default view is set to Total and can be changed to show message volume by Network, Content Type, Message Type, Gender, Age Range or Sentiment.
All of the tables in this section, except for the Total view, include a bar chart that breaks down data by the selected customization type. For example, if by Network is selected, the bar chart will display a number of bars equal to the networks that are included in the dataset.
All bar charts include numeric Totals along with period over period Trend percentages.
Total Topic Volume: Total number of messages matching the Topic.
Avg. Messages Per Day: The total number of messages divided by the number of days in the selected reporting period.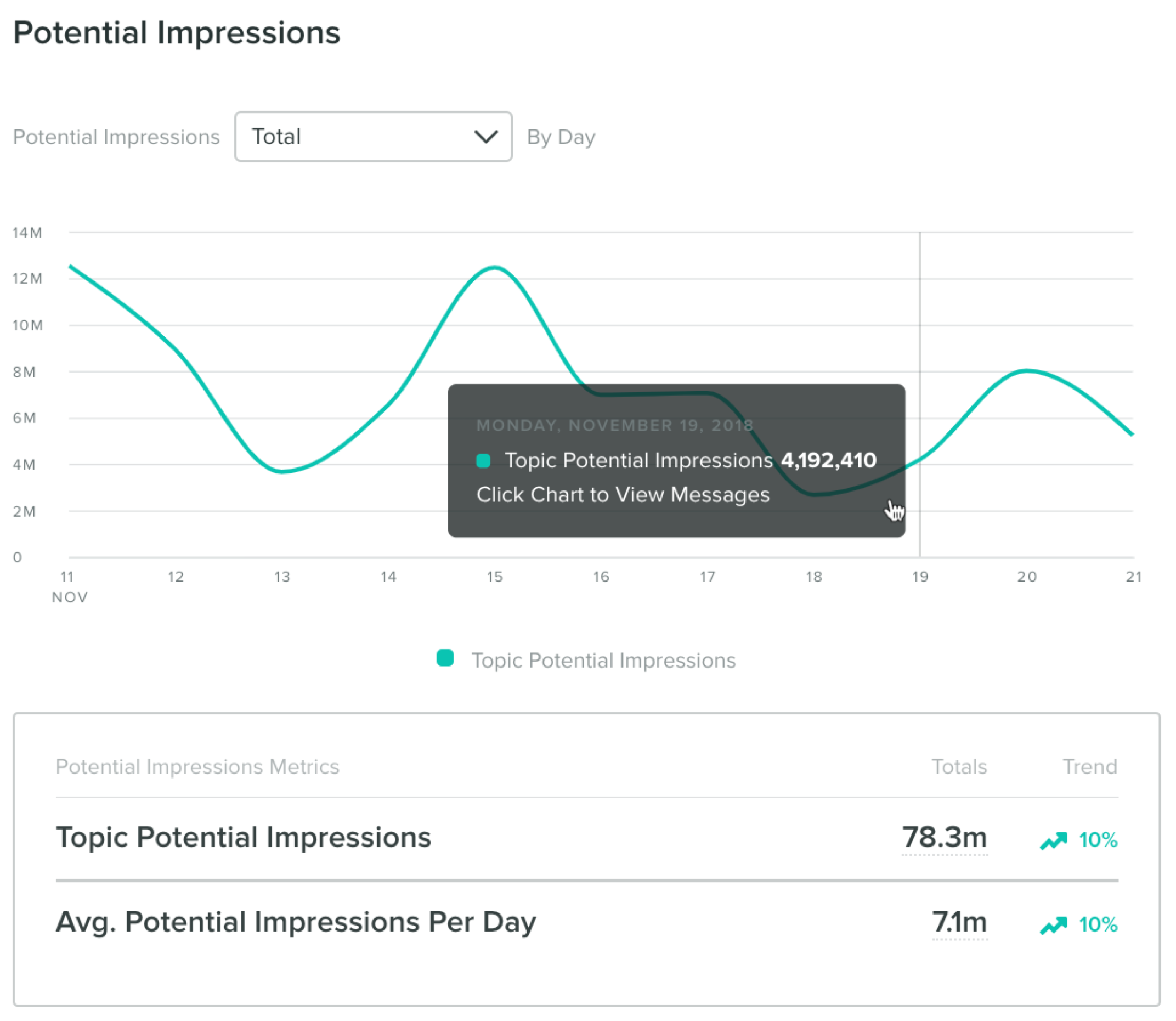 Potential Impressions
This section analyzes how many potential impressions your Topic received. Sprout creates an impressions estimate by utilizing the follower count of the message's author. This section supports breakdown metrics and is only available for Twitter and YouTube (because we utilize follower counts to produce this metric).
Total Potential Impressions: The sum of all post author's follower counts. This number provides a very high estimate of the maximum theoretical number of impressions.
Average Potential Impressions per Day: Total number of potential impressions divided by number of days in the period being analyzed.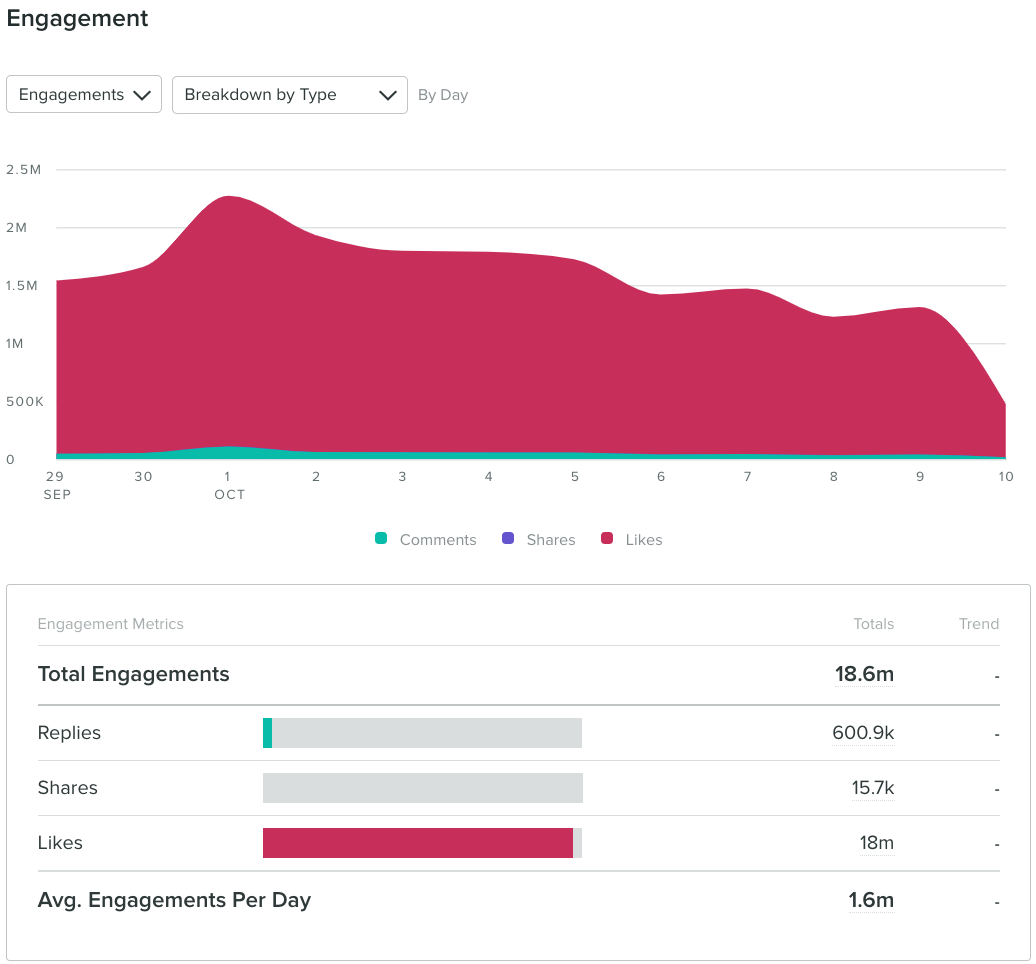 Engagement
This chart displays engagement metrics over time and can be customized using a dropdown menu. The default setting is all Engagements crossed with Breakdown by Type. Engagements can be broken down to Replies, Shares, Likes or any combination of the three. Other selections include Comparison by Network, Comparison by Type and Total.
All table views in this section include a bar chart that breaks down the data by the selected customization type, followed by numeric Totals and period over period Trend percentages.
Total Engagements: Number of times messages were publicly interacted with. The sum total of likes, shares, and comments on all the messages captured within the Topic.
Avg. Engagements Per Day: The number of total engagements divided by the number of days in the period.
Comments: Number of comments posted in response to the messages for the Topic.
Shares: Number of shares of the messages for the Topic. Twitter defines shares as Retweets.
Likes: Number of likes of the messages for the Topic.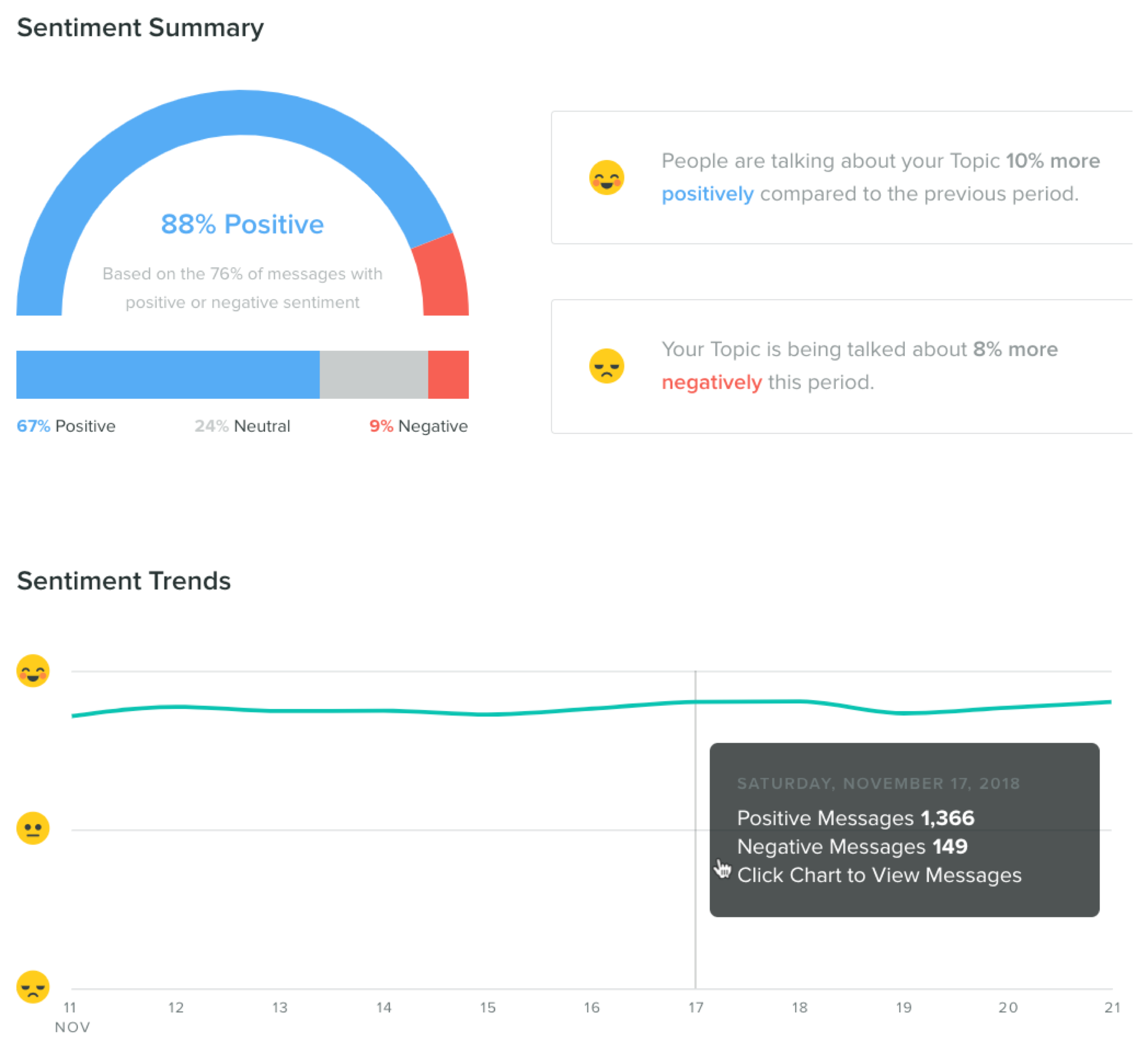 Sentiment Drivers
This section helps you identify the percentage of Positive, Neutral or Negative messages associated with your Topic query. Click on any of these elements to view associated messages.
All: View positive, negative and neutral keywords and hashtags, as found by the Emotional Response section.
Positive: View positive keywords and hashtags, as found by the Emotional Response section. Use this to determine which keywords drive positive sentiment for the Topic.
Negative: View negative keywords and hashtags, as found by the Emotional Response section. Use this to determine which keywords drive negative sentiment for the Topic.
Sentiment Trends: Use these sections to analyze sentiment of the Topic. Determine positive sentiment (e.g. joy, happiness, surprise), negative sentiment (e.g. anger, outrage) and how sentiment behaves over time.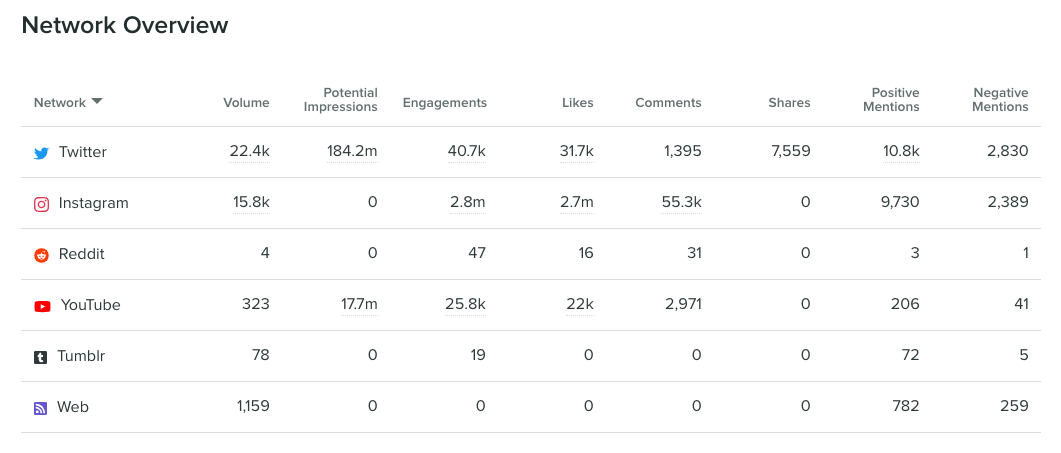 Network Overview
This table gives you a breakdown of key performance metrics for each network. The header for each column can be clicked to sort the table by the data in that column.
Conversation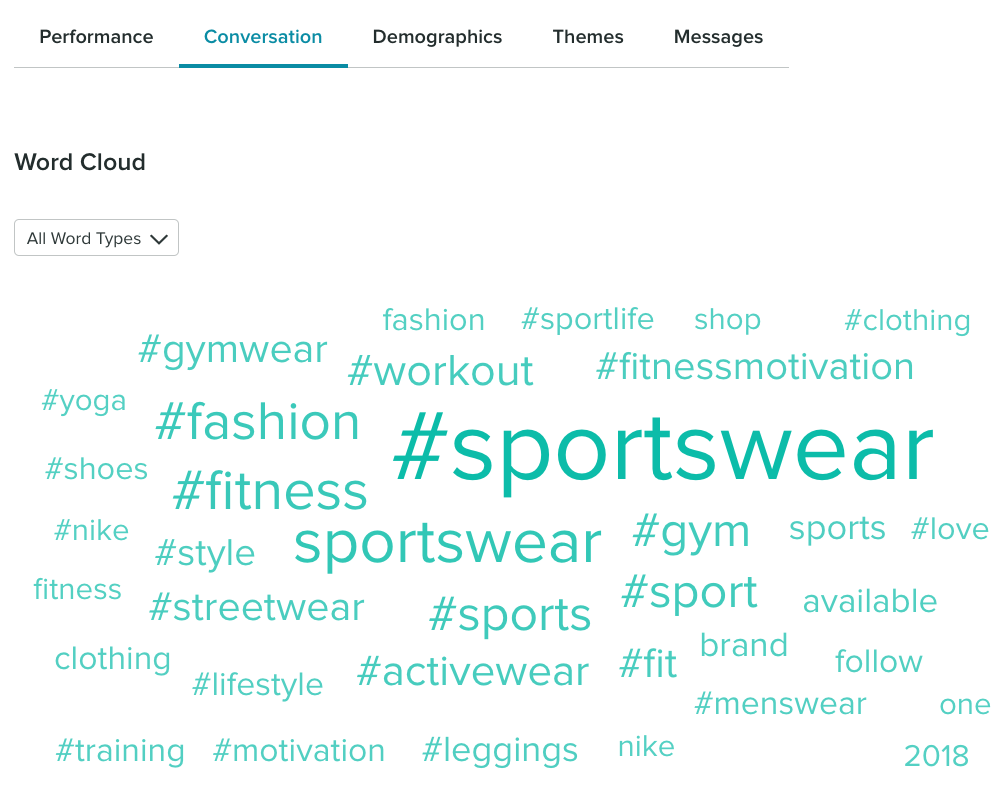 Word Cloud
The Word Cloud is a visual representation of the top keywords, hashtags, mentions and emoticons found in a Topic by number of messages containing the term. Clicking a term opens a drill-down to highlight the messages associated with that term.
You can modify the Word Cloud to only display the term types you care about. As an example, you can remove keywords and mentions so that the Word Cloud contains only emoticons and hashtags.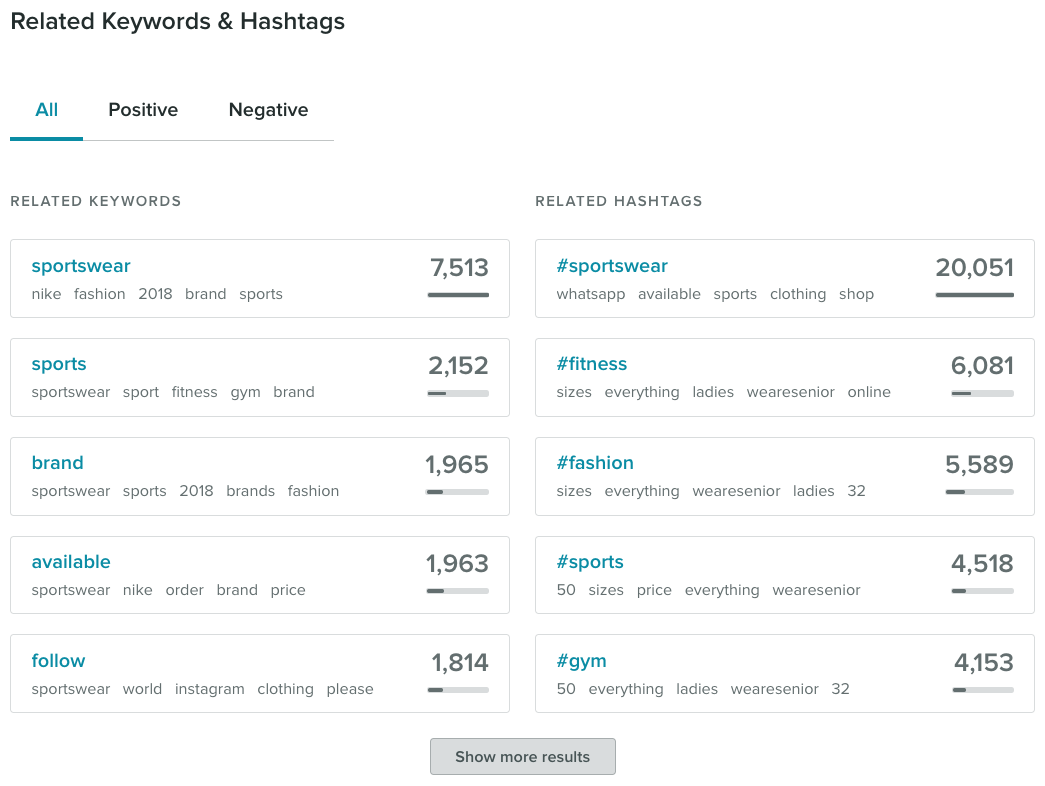 This section displays the related keywords and hashtags that are frequently mentioned with your Topic. Click on any keyword or hashtag to view the associated messages.
You can sort topics and hashtags by clicking All, Positive or Negative at the top of this section.
The

denotes new keywords in the given period when compared to the previous period.
Demographics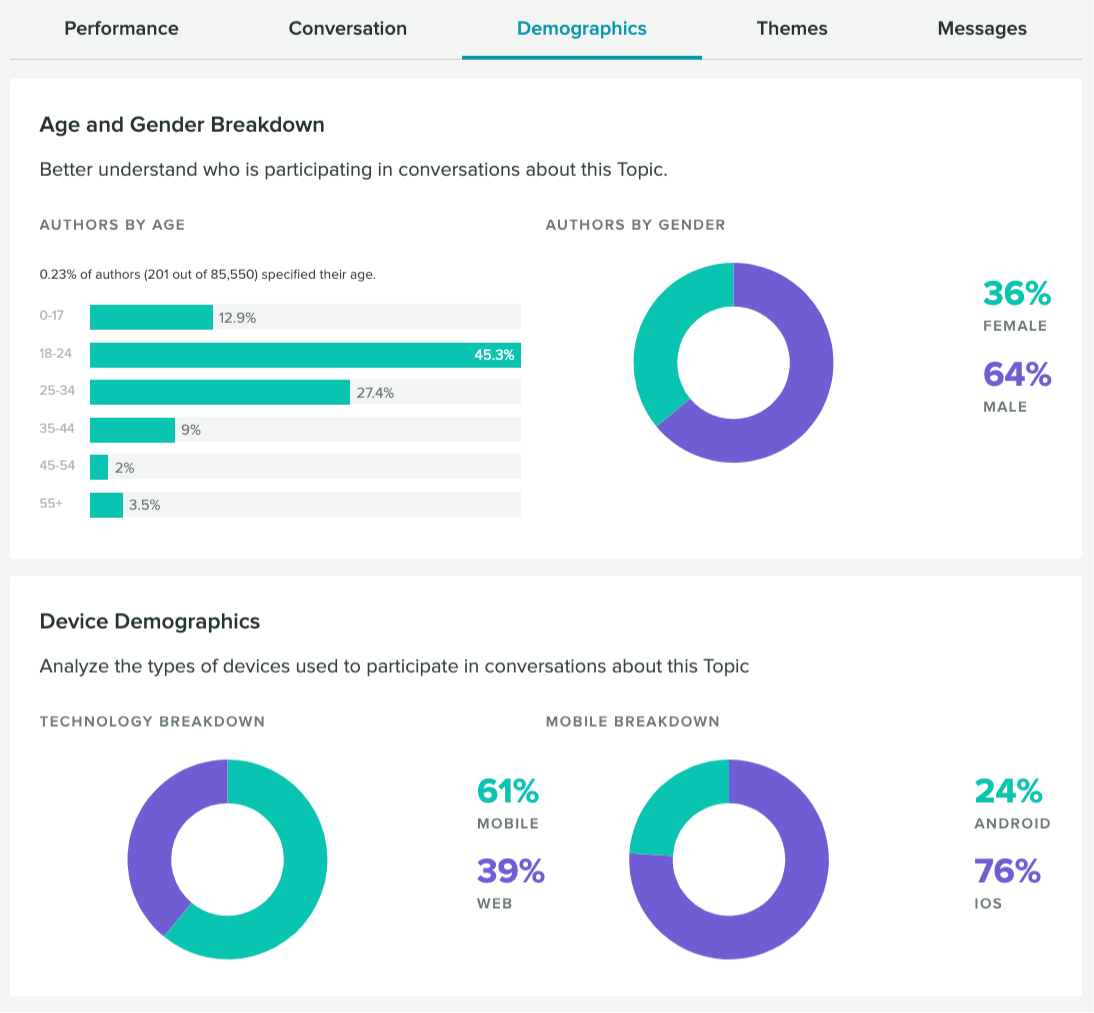 The Demographics tab helps you analyze user age, gender, location and devices used.
Device Demographics: This section helps you quickly identify what devices people are using to publish messages relevant to your Topic, first by Web vs. Mobile, and then by iOS vs. Android. Device demographics only include Tweets from Twitter.

Profile Overview: This table provides details on individual accounts that are having conversations around your Topic. The data here is typically used to identify key influencers, brands, celebrities, or thought leaders that are participating in the conversation. The Volume, Engagements, Likes, Comments, Shares and Potential Impressions headers can be clicked to sort the table by data in that column.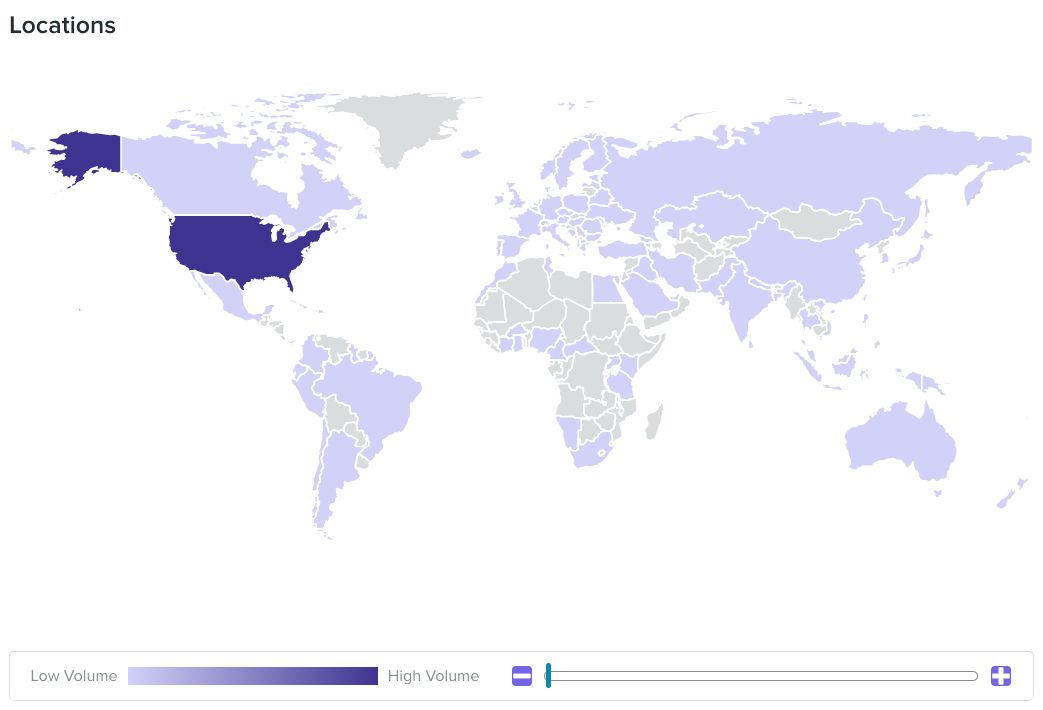 Locations: This interactive map provides a high-level overview of where associated messages are being published. Reference the heat map to identify high-traffic regions, and use the slider to zoom in and out of the map. Clicking on a country will display the messages published there.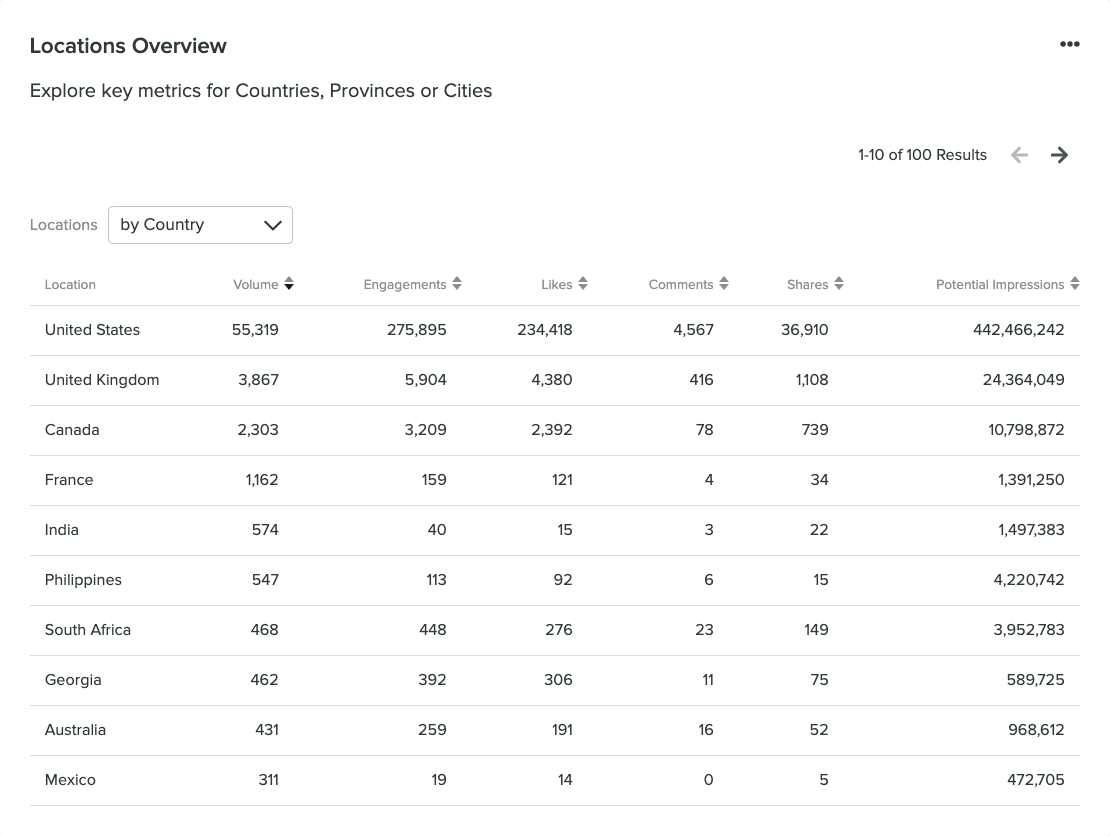 Locations Overview: This table shows the top countries, states/provinces or cities talking about the selected Topic. Click on a given country, state/province or city to see specific messages happening in that area.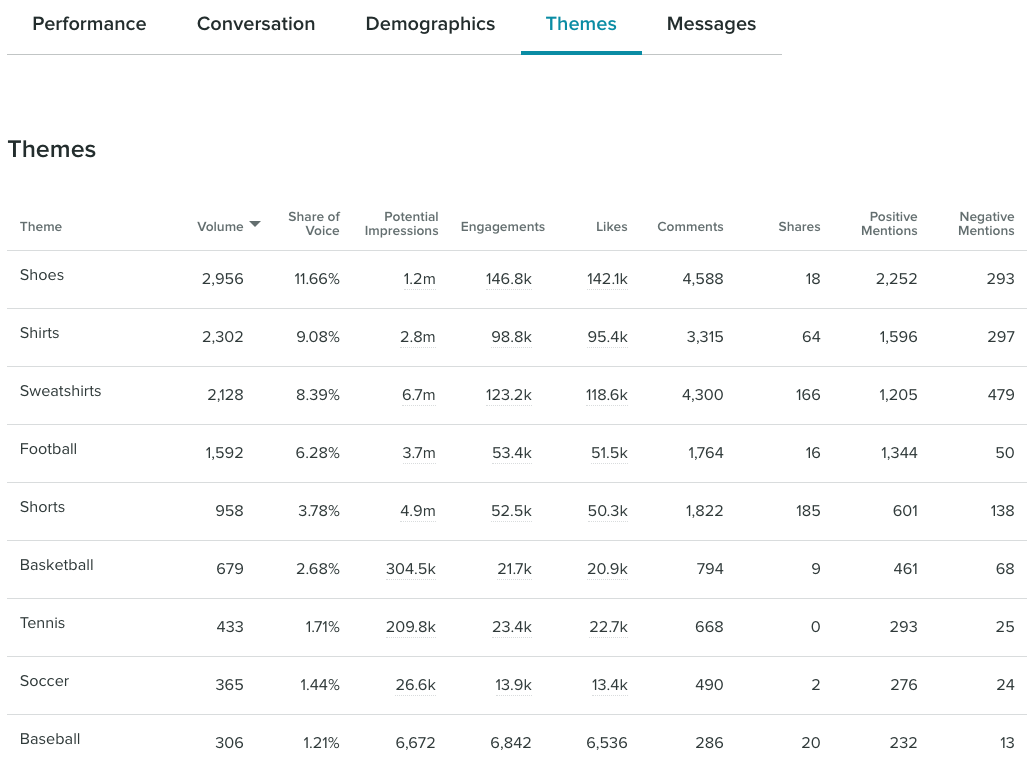 Themes
Themes enable you to investigate your data through custom segments. Common examples of how our customers use themes are included below.
Discover how people talk about your product or industry: While talking about this product or industry, do people commonly mention price, packaging, buying experience, product quality, etc? Were they talking about these subjects positively or negatively?
Monitor influencers: Did a specific set of influencers mention your brand? Capture how often specific people mention your brand and compare how well their mentions performed.
Monitor competitors in an industry: Easily compare share of voice between your brand and competitors.
Themes are set up by our Professional Services team. Contact your customer success manager today to get started.

Messages
The Messages tab contains all of the posts that make up your Topic's dataset. Clicking on any profile name will display all relevant posts from that profile. Clicking on any date will link to the post natively. The Date, Followers and Engagements headers can be clicked to sort the table by data in that column.
Right Bar Filtering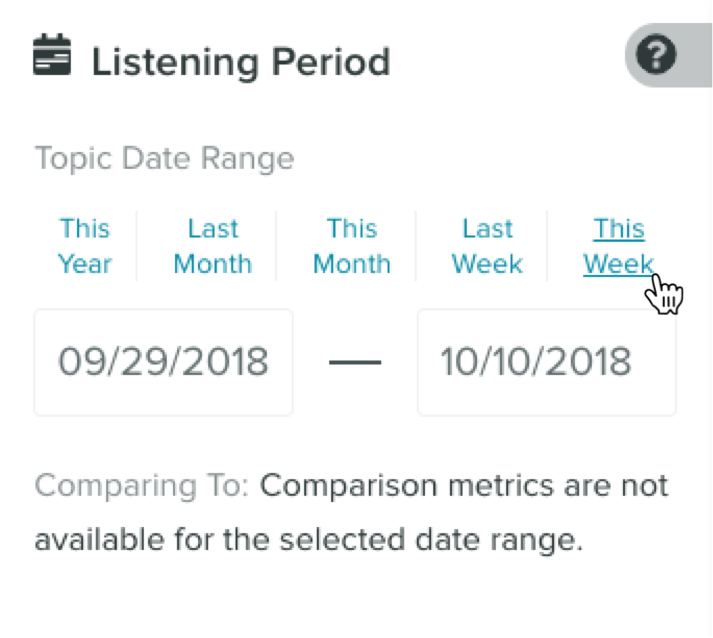 Listening Period
Customize the date range for your Topics by either clicking one of the preset quick selections or by entering custom dates in the corresponding boxes for the start and end of your desired date range. The comparison period is displayed at the bottom of this section.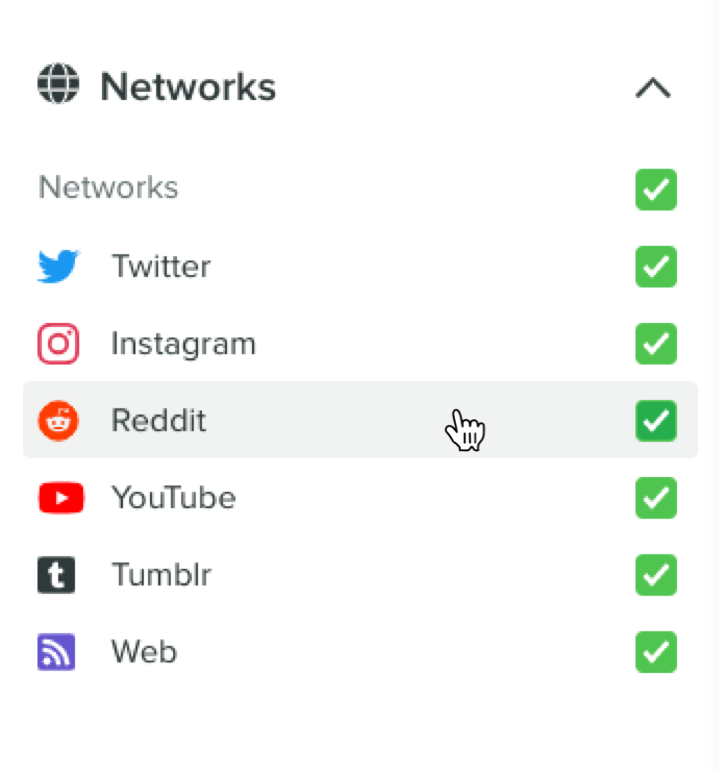 Networks
Use the checkboxes to the right of each network name to filter which ones are included in the Topic Insights view.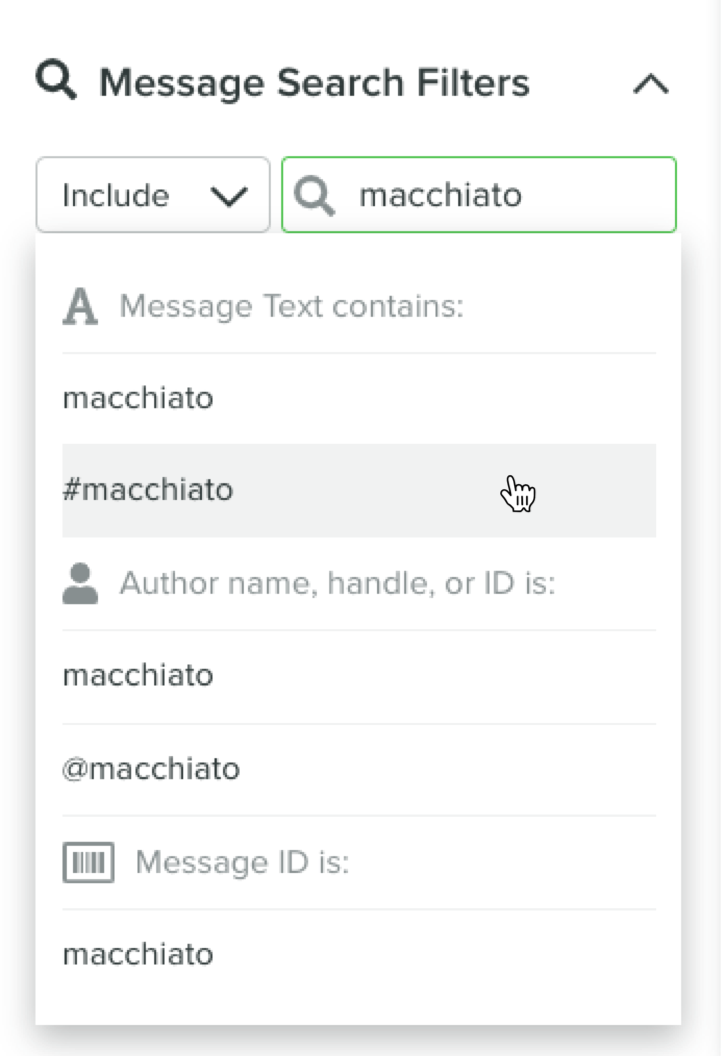 Message Search Filters
Narrow your analysis by including or excluding message text, author name, author ID, handle, or message ID. Begin by first selecting Include or Exclude from the left dropdown. Then type your keyword in the box on the right. As you type, a dropdown will appear with supported methods for filtering. Click on a filter type to add it to your analysis. You can add multiple search filters. To clear filters either click the
on the right edge of each keyword or click Clear all to remove all filters simultaneously.
Export
Like most reports in Sprout, you can export your Topic's insights view by clicking the Export button at the bottom of the Right Bar. You can export the view as a PDF or CSV. Additionally, you can Edit, Archive or Delete your Topic by selecting the appropriate word above the Export button.
You can also us Advanced Filters in the Right Bar. Read the Advanced Filtering Help Center article to learn more about this feature.
Watch the video below to learn more about Sprout's Advanced Listening insights.
Advanced Listening FAQs
How much historical data do I receive for a new Topic?
Thirty days of data is pulled automatically for all networks except Instagram. This should give you enough data to decide if your Topic is set up properly.
How far can data be backfilled?
Twitter: All Time
Instagram: None
YouTube, Tumblr: Sampling all time, but less data as time goes on
Reddit: 12 Months or 1200 Posts
Web: 25 Months
How often is data collected?
Twitter: New tweets brought in within 1 to 2 minutes of creation.
Facebook: Checked once every 4 hours.
Instagram, YouTube, Tumblr, Reddit: Checked once every 4 hours.
Web: Checked once every 24 hours.
I just created my Topic, why don't I see any data?
The 30 days of automatic historical data take roughly 3-5 minutes to show up.
What happens when I use all of my Topics?
You won't be able to create anymore. You'll need to archive or delete an existing one to free up a spot.
Why isn't there engagement data for pulled tweets?
Engagement data is updated for tweets anytime there is a retweet. If we don't receive a retweet, or replies and likes happen after the last retweet, we won't have the most recent number.
Why are some messages or comments not picked up by my Topic even though they contain the keyword?
It depends on the network. Twitter is the only network where we are confident we will receive every message. Other sources are sample based, which is a limitation of the networks.
Why aren't some Instagram messages being pulled when the Topic keyword is in the caption?
We find Instagram messages by hashtag. Even if the keyword appears in the post, it may not contain the hashtag meaning Instagram won't send us the data.
What is a Theme, how are they used and can I create them?
Customers cannot directly create themes today. Themes are set up by connecting with your account manager and our Professional Services team.
Why don't I have location data for all networks?
Not every network supports location data. Only Twitter and Instagram provide location data to apps like Sprout.
What happens when I remove/add filters, remove/add keywords from my Topic?
Adding keywords, filters or exclusions will cause a new Topic to be created with new data.