Configure Advanced Permissions
New to Sprout Social? Learn how our advanced permission structure fits into our suite of team collaboration tools here.
Sprout has a flexible account hierarchy and permissions structure built for the social media management of enterprise businesses and agencies. It's easy to organize and manage profiles in a way that makes the most sense for your business and give users permissions based on what they should manage. This guide explains how to successfully set up your Groups and users within Sprout.
Note: Advanced Permissions are available on Professional and Advanced plans.
Topics:
Use Groups
Invite New Team Members
Set Advanced Permissions
Use Groups
A Group is a collection of related social profiles that help you organize and report on your social media efforts. You can organize your profiles in logical groups based on how your business operates and grant team members access to specific profiles depending on what they manage. Groups can be used to organize social channels within your business or effectively manage multiple clients.
Create a group
Create a new group under Account and settings > Settings > Users & Profiles, then select + Create new group. You may also use the Group dropdown.
Choose to either create a new Group associated with a newly-added social profile or create a Group from an existing social profile in Sprout. You are required to connect a new or existing Twitter or Facebook profile to create a Group.
Delete or edit a Group
Select the Group, then click the icons to delete or edit.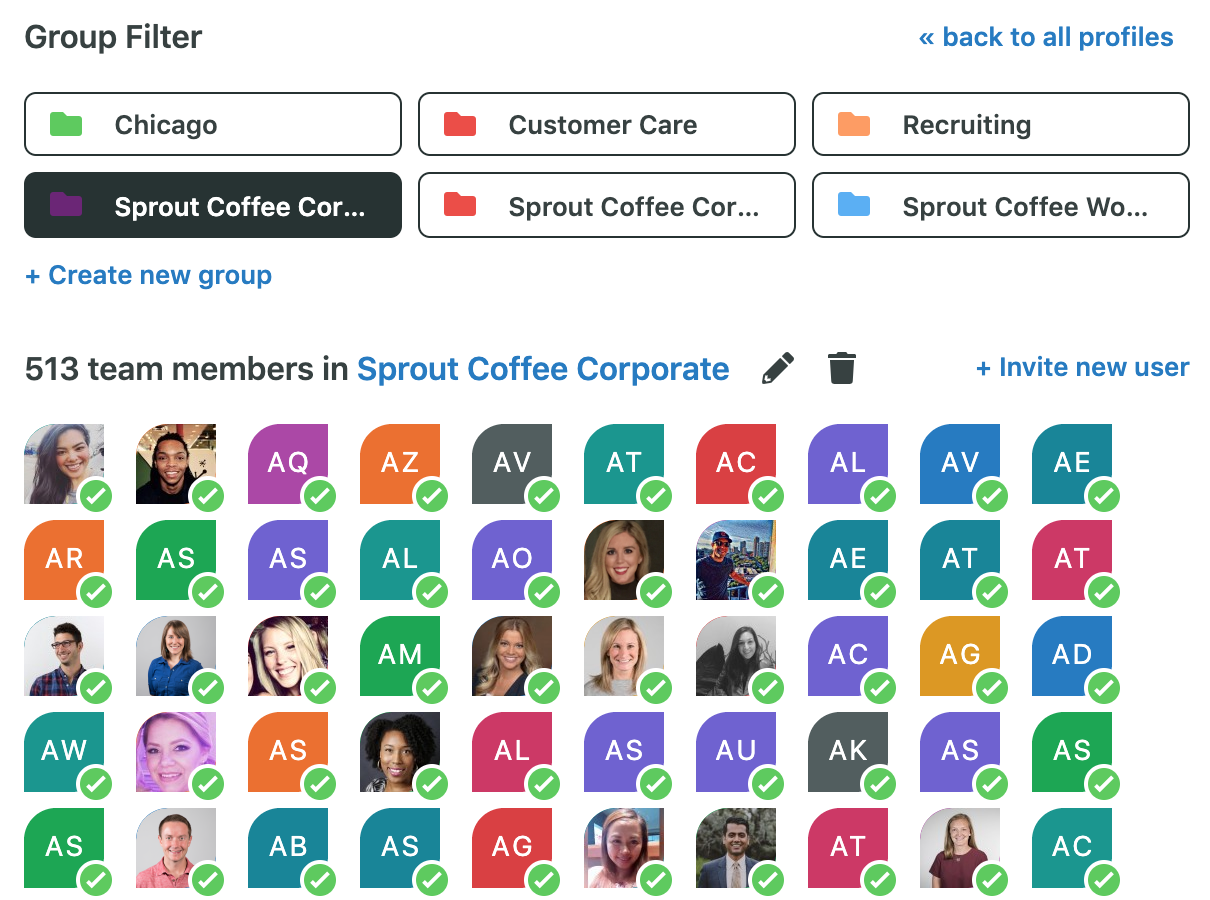 Sprout Tip
Use Groups to align your profile management and reporting with your enterprise business needs. Some common uses for groups:
• Group your social channels by internal teams or organizations to manage their respective social profiles
• Streamline engagement by grouping profiles according to language or geography
• Group profiles to separately manage reporting and social networks for your clients
Invite New Team Members
Easily add your entire social team to Sprout and effectively collaborate to manage your social channels.
Navigate Account and settings > Invite New Team Member. You may also invite a user under Account and settings > Settings > Users & Social Profiles. Add the name and email address of the user you wish to invite. Click + Add to add multiple users.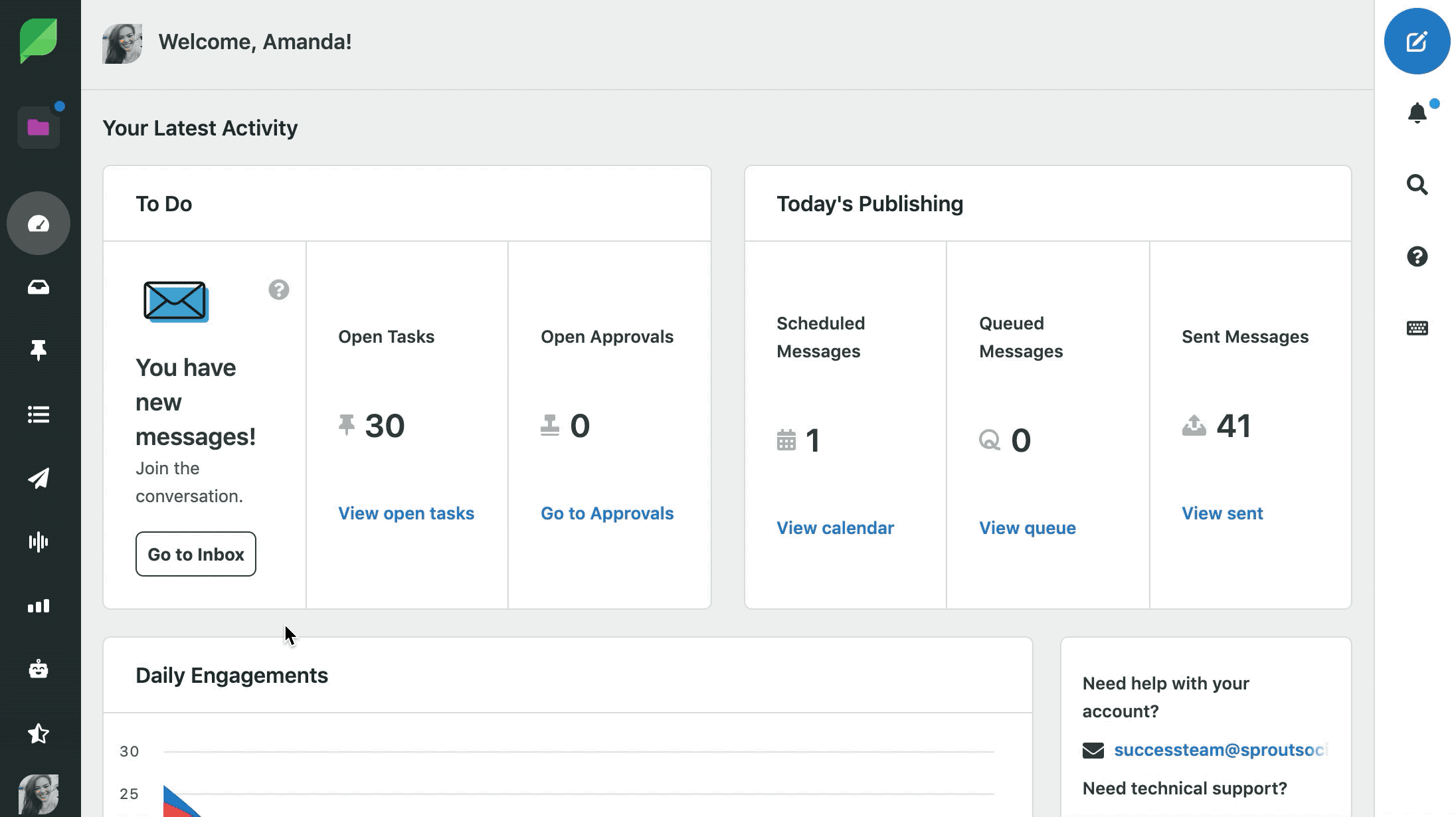 Set Permissions
Choose the Group(s) and associated profile permissions for the user. Users can be given No Access, Needs Approval, Can Reply, Read Only or Full Publishing access to profiles. If a user has Read Only or Full Publishing permissions, they can also be given Approve privileges. Click Send Invites and the user(s) will receive an invite email notification.
Select Grant Manager Access to give a user additional administrative access to manage profiles & permissions. Click Allow to Invite Others to give your Manager permission to add other users to your account.
Give each user customized reporting access to Basic, Engagement and/or Team Reports.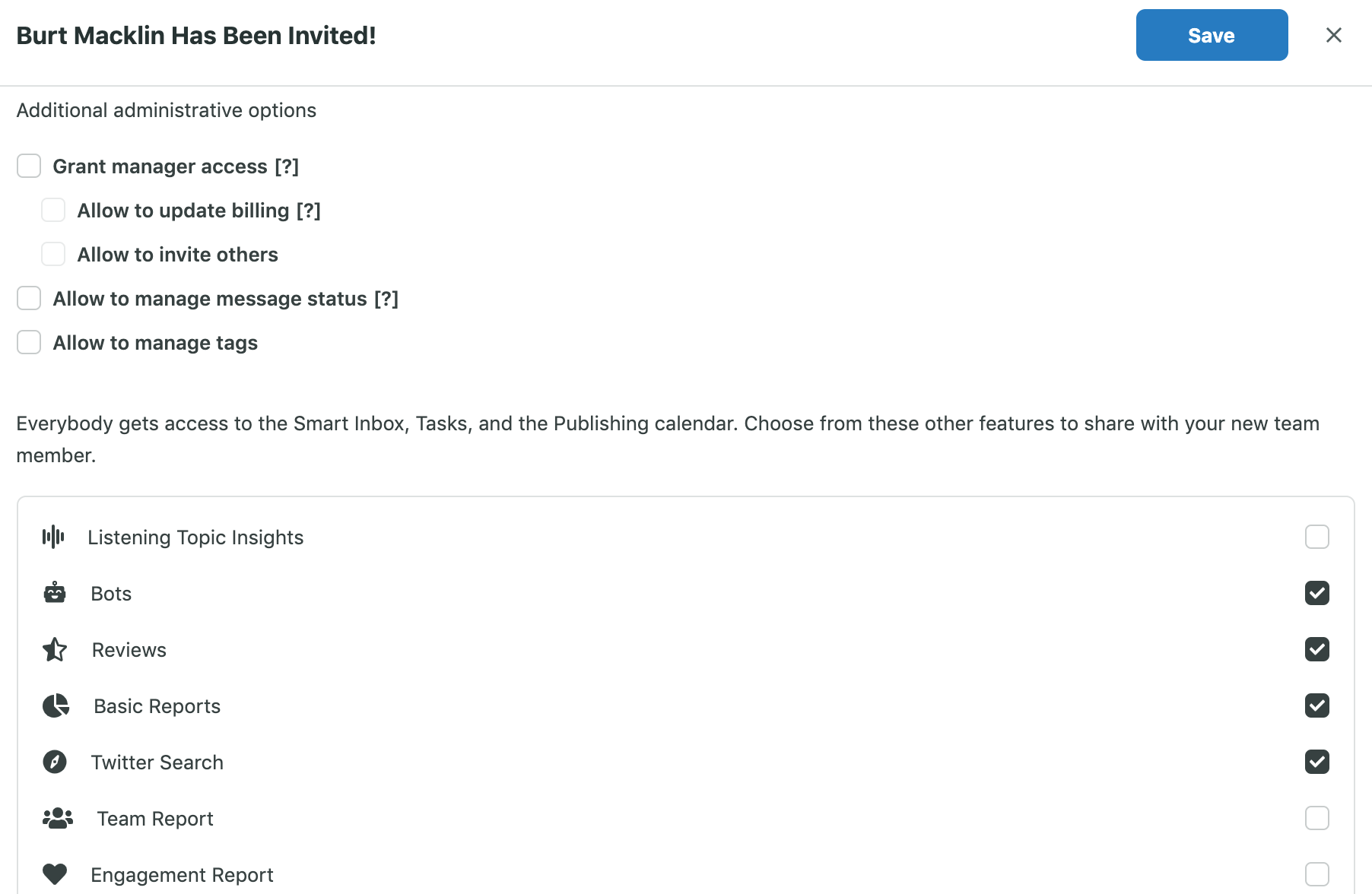 Set Advanced Permissions
Give your team members customized access to your Sprout account based on what they should be managing. The administrative controls are flexible and enable you to customize how your teammates can access different profiles based on their permission level. User permissions can also be set when the user is first invited to the application.
Configure user permissions
Click on a team member under the Your Company within Users & Social Profiles to view and/or modify their permissions.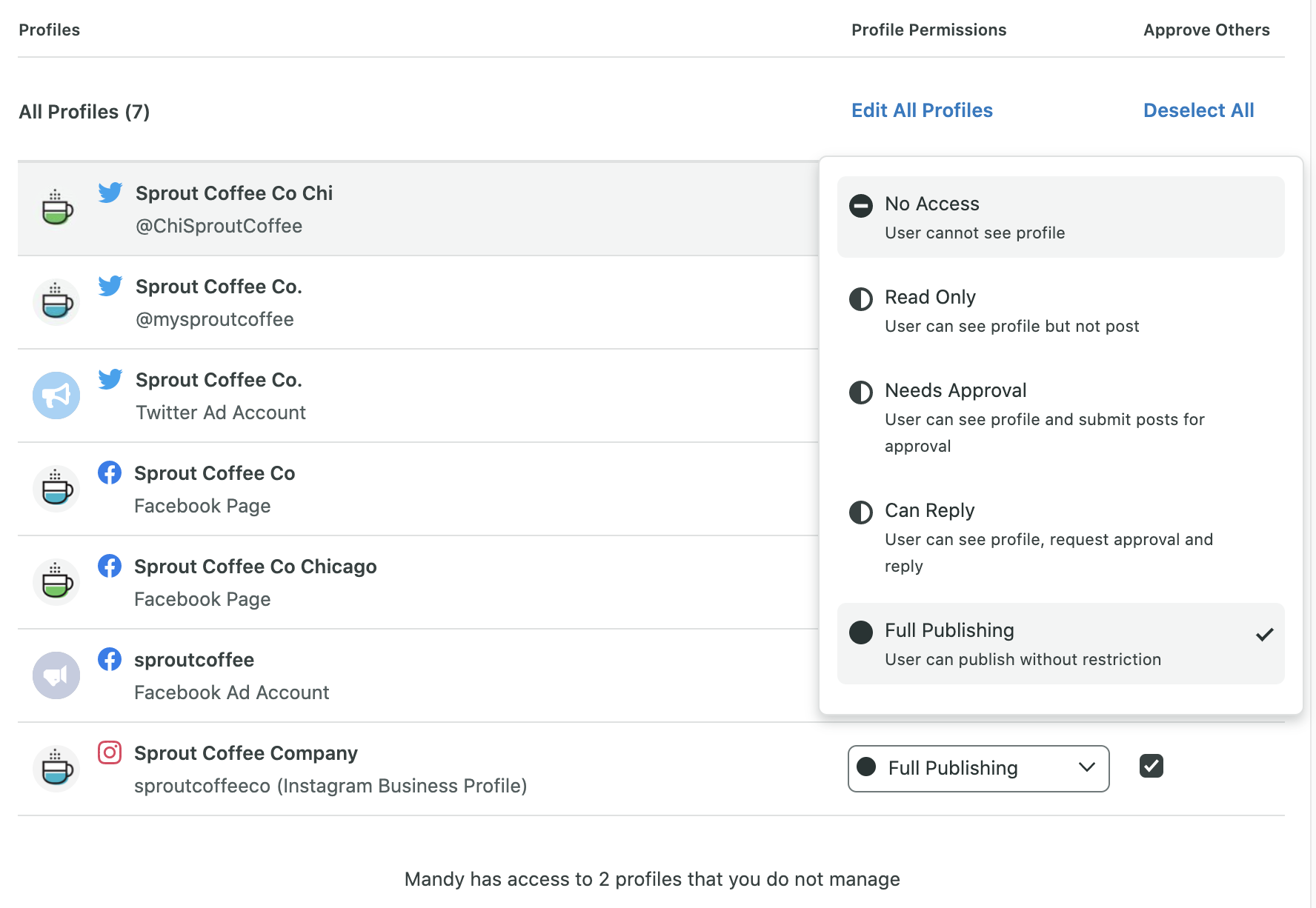 Users can be given Needs Approval, Read Only, or Full Publishing access to selected profiles, which defines how they can use and interact with the application. If given Read Only or Full Publishing access, they can also be granted the Approve permission. Various levels of reporting access can be granted as well.
A detailed explanation of the various levels of advanced permissions can be found by clicking

beside Profile Permission as well.
Note: If a user is granted reporting access, they can export reports for any profiles they have access to regardless of their permission level (Needs Approval, Read Only, or Full Publishing).