Reviews
Reviews in Sprout Social enable you to identify, organize and reply to customer reviews from Facebook, Google My Business and TripAdvisor in a centralized location in order to optimize engagement and build brand loyalty. This article will walk you through connecting profiles and locations, managing Reviews and saving custom views.
Connecting Pages and Locations
Connecting Facebook Pages or Google My Business Locations for Reviews is the same process as connecting any social profile to Sprout Social. Anyone with the Manage Profiles & Permissions privilege can perform this action.
To connect a Facebook Page or Google My Business Location:
Navigate Account & Settings > Connect a Profile.
Choose Facebook or Google My Business. If you selected Facebook, click Connect Page.
Click the button in the lower right corner of the Connect a Profile screen.
You will be sent to the corresponding network's site. Follow the prompts to authorize the profile.
Note: If you are connecting a Facebook Company Page, ensure you are an admin of that Page. If Facebook Reviews are disabled natively, you must enable them. Once enabled, the Reviews tab will automatically update to reflect Facebook Reviews from the time period you select.
There are two options for connecting a TripAdvisor Location. Begin by navigating Account & Settings > Connect a Profile and selecting TripAdvisor.
Option 1: Automatic Addition
By selecting this option, Sprout will attempt to automatically look up your TripAdvisor Locations by searching those that match Facebook Pages you have connected to Sprout.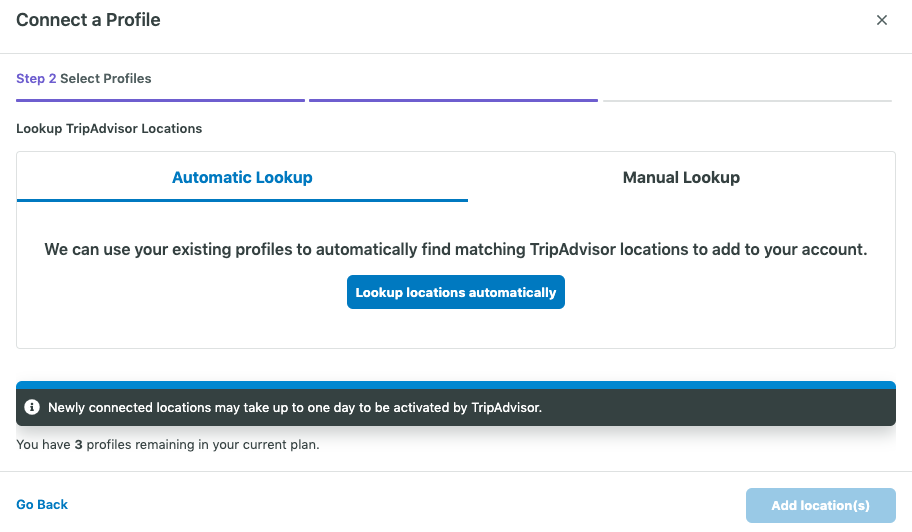 Option 2: Manual Lookup
If you select this option, visit the native TripAdvisorLocation page you want to add to Sprout, then copy and paste that URL into the search field.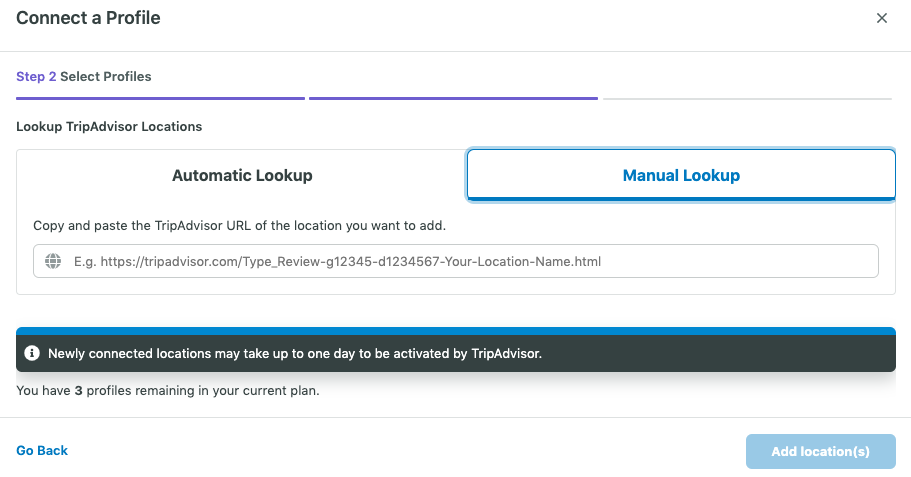 Note: Once you have selected the profiles you want to connect to Sprout, TripAdvisor must authenticate the connection before reviews start populating. This process can take up to 24 hours.
Alternatively, you can click Reviews in the left navigation menu to add a Facebook Page, verified and published Google My Business Location, or TripAdvisor Location.
Managing Reviews
To read, reply to or manage Reviews, select Reviews in the left navigation menu.
Like messages in the Smart Inbox, Reviews are featured in a single stream and are sorted Newest to Oldest by default. You can filter by Date Range, Profile, Ratings, Recommendations or Tags. Or you can search your reviews by keywords or phrases. For more information, see Inbox Search.
Contextual options can be found by hovering over a Review and selecting

. To reply directly to a Facebook Page or Google My Business Review, click

. To reply directly to a TripAdvisorReview, click

. Reviews that require no further action can be marked complete.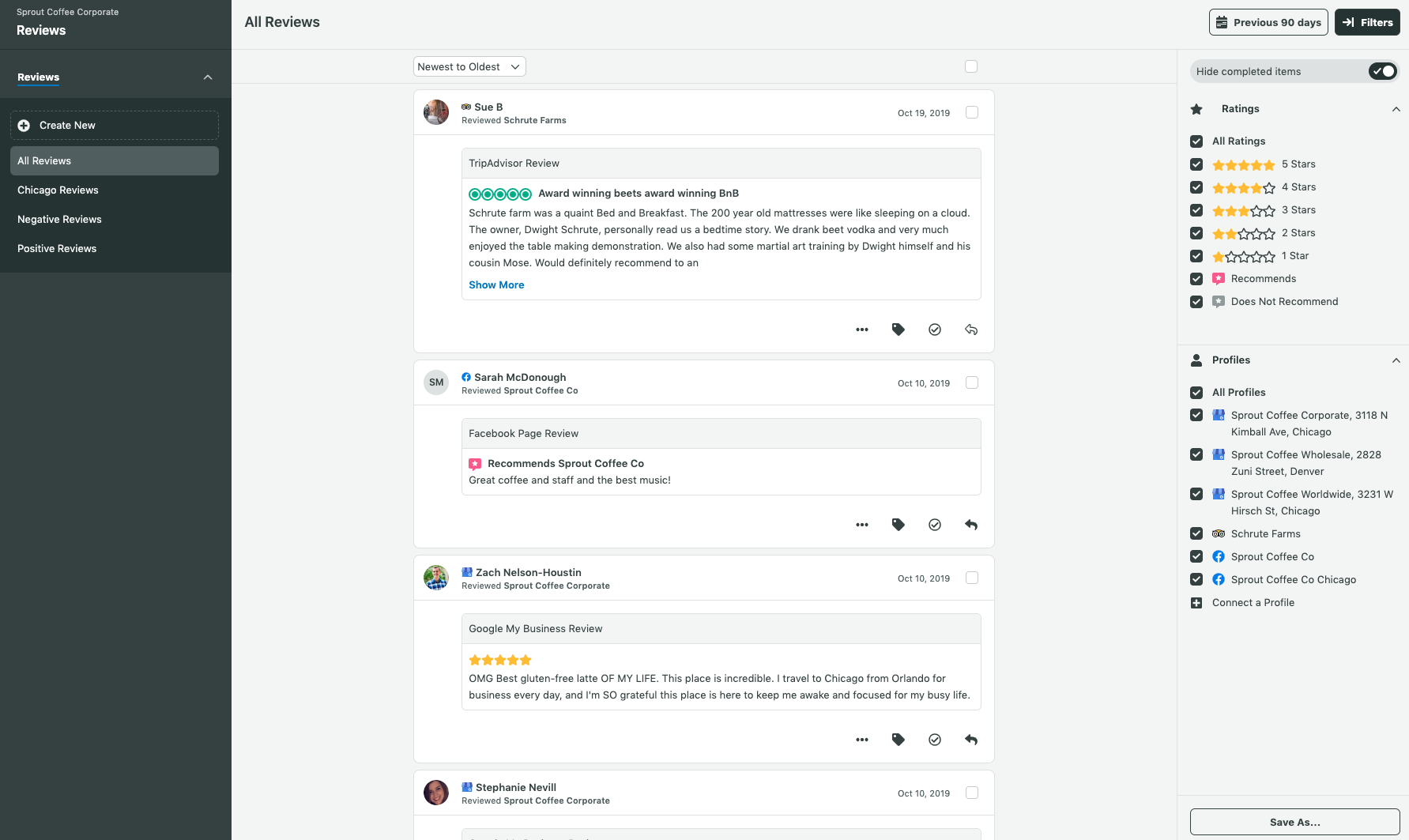 Note: TripAdvisor's integration does not allow direct reply functionality from any partner platforms. Clicking

will take you directly to the native TripAdvisor message in a new browser window, where you will be able to respond.
Saving Custom Views
Managing many Facebook Profiles, Google My Business Locations or TripAdvisor Locations can lead to disorganization. Views allows you to group Reviews by Profile, Rating and/or Tags. To get started, click Create New in the Left Navigation Bar. This isolates the Right Bar. Customize your View and click Save. All saved Views will appear in the Left Navigation Bar.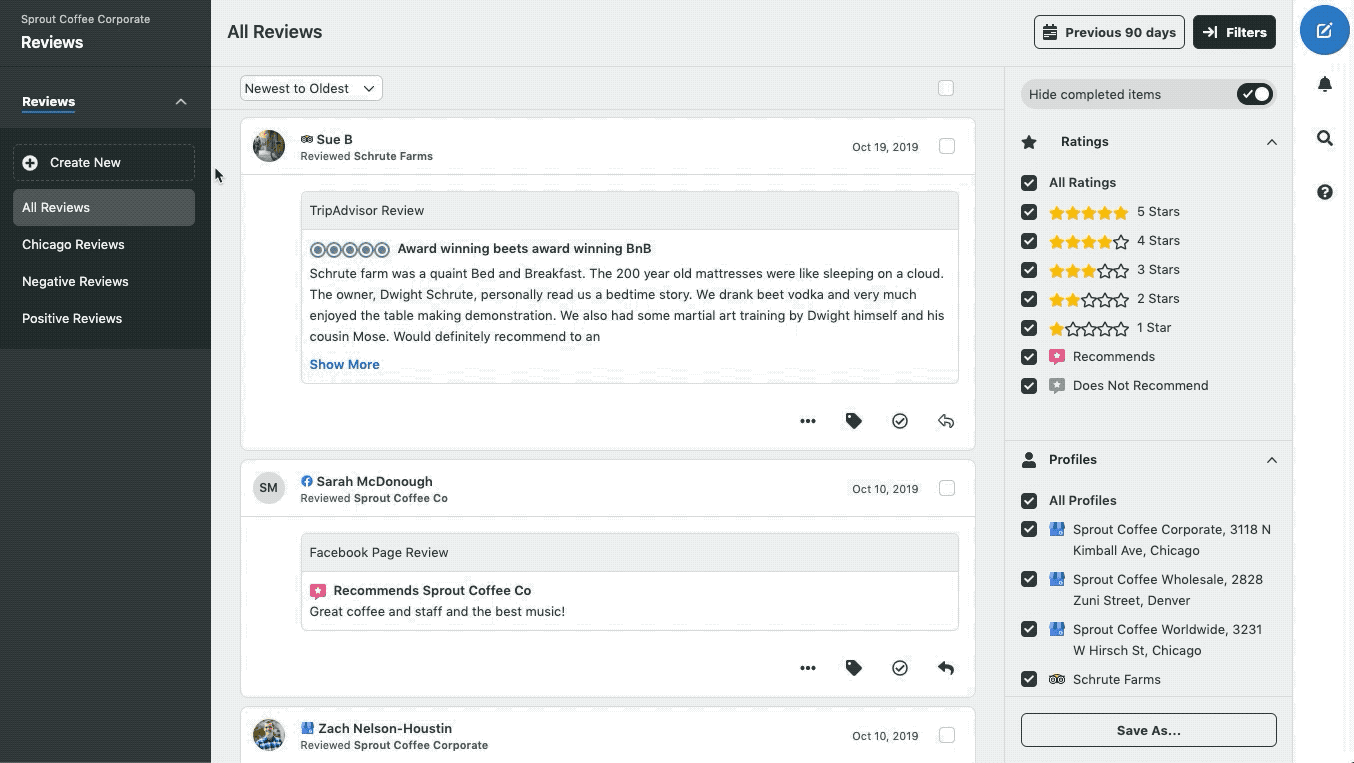 To delete or edit a View, click

at the top of the right panel once a View has been selected.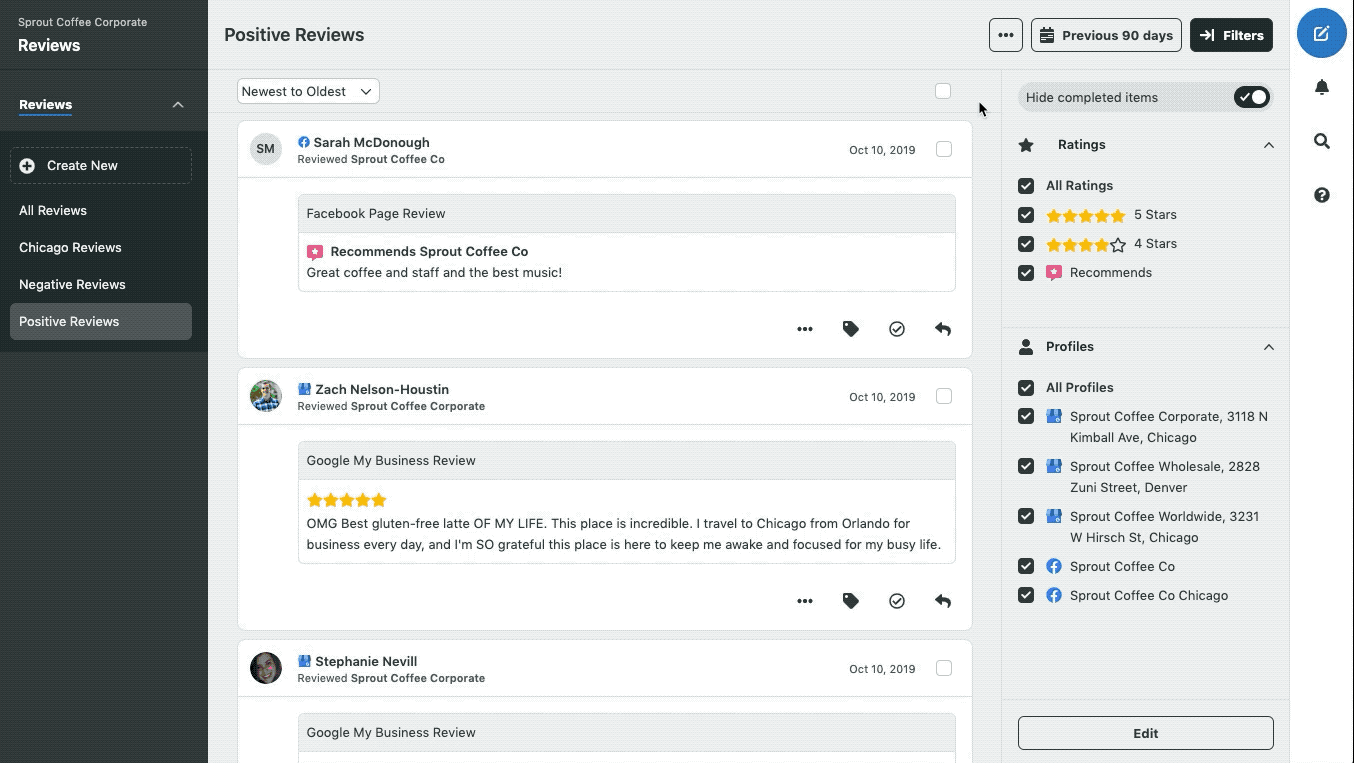 Reviews FAQ
Can I tag or task Reviews?
You can tag Reviews within the Reviews feed and in the Reply modal. As a result, Tagged Reviews can be viewed in the Tag Report. Tasking Reviews is currently only supported for Facebook on mobile.
Can I customize what my pages are called in Sprout?
At this time, Google My Business does not allow Location customization. For Facebook, you can choose to activate the Page Username as the Profile Name in Sprout within Account Settings.
If I respond to a Facebook Review natively, will the response appear in Sprout?
Yes; however, Sprout won't take into account the fact that a response was sent natively, so you'll have to click on a Review to see that is has been replied to. The native reply does not get counted in reporting.
I have a Google location but don't know how to get started with Google My Business. Where can I find more information?
To learn more about Google My Business, creating accounts and adding location, please visit this article.
How do I verify and publish my Google My Business location in order to connect it to Sprout?
For assistance with Google My Business verification, please visit this article.