Glassdoor Integration
Your employer brand is a major component of a cohesive social strategy. Engaging with your employer reviews on Glassdoor strengthens your brand perception and helps attract top job applicants. By connecting your Glassdoor profile to Sprout Social, you can manage review responses, make recommendations for improving brand reputation, complete the social recruitment lifecycle and bridge the worlds of Marketing and HR.
With this integration you can add Saved Replies to store on-brand templates for responding on Glassdoor, email reviews directly from Sprout to your HR team and respond to reviews directly in Sprout to strengthen your employer brand.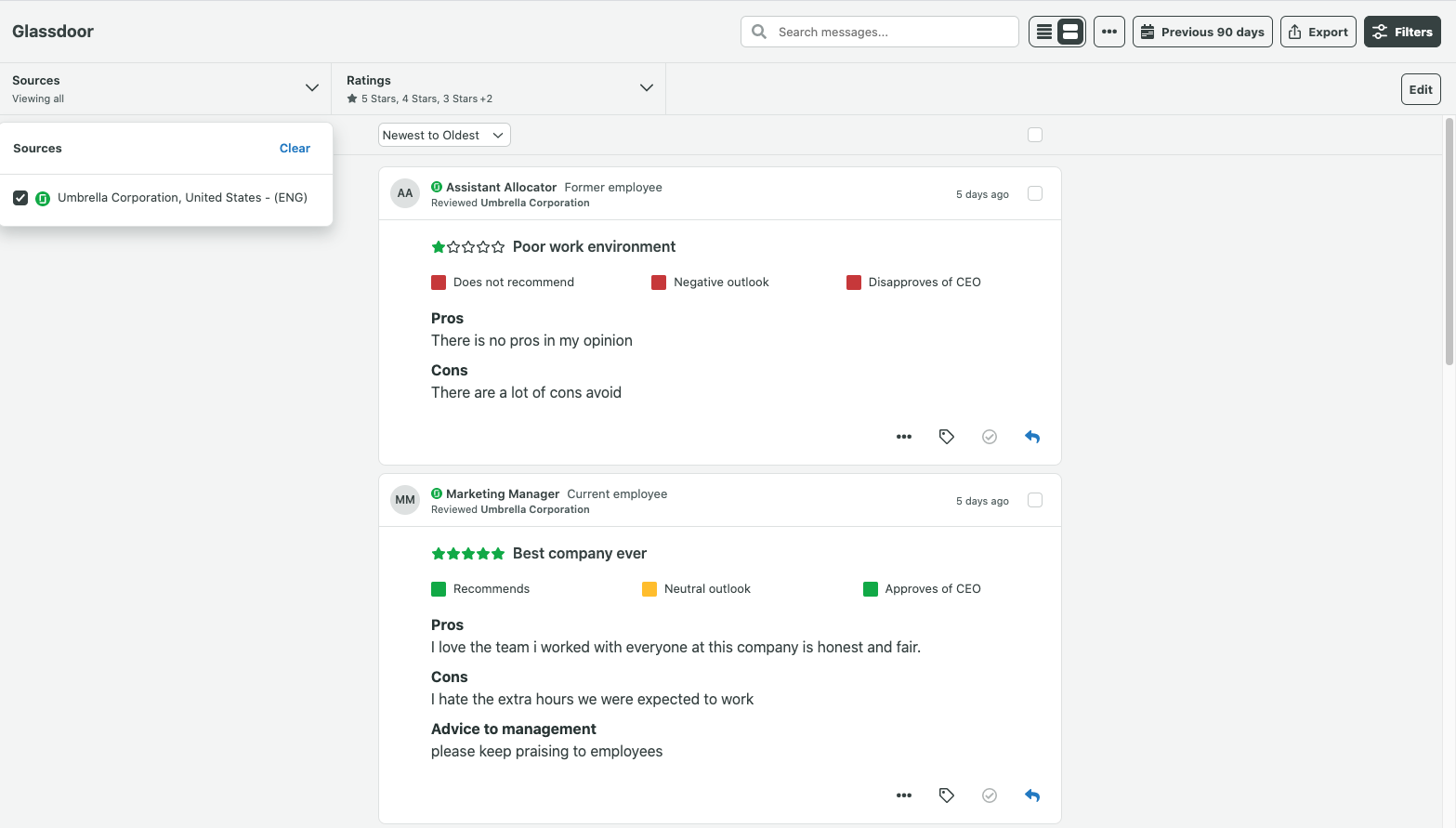 And start identifying key trends to improve your brand's employer reputation by identifying trends with negative reviews, export or tag results around particular topics and get the data to your HR teams to review.
This article contains the following sections:
Enabling the Glassdoor integration
To start managing your Glassdoor reviews in Sprout, you need to connect your Glassdoor profiles.
Note: You must have the Manage Profiles company permission to connect Glassdoor profiles to Sprout.
To connect your profiles:
Click

Connect a Profile

. The Connect a Profile popup appears.

Click Connect for Glassdoor.



Enter your Glassdoor API Key. If you don't have this key, click

Obtain Key from Glassdoor Employer Center to get your API key. Note that you must be a Glassdoor admin to get this key from Glassdoor. Otherwise, have your Glassdoor admin provide it to you.



Click

Verify Key

.

Select the profile(s) you want to connect, and then click Add profile(s).


Set the permissions you want for your team, and then click Done.


Your Glassdoor profiles are connected and you and your team can start monitoring reviews in Sprout.
Monitoring and managing Glassdoor reviews
After you connect your Glassdoor profile(s), you can start monitoring and managing your Glassdoor review messages from the Reviews tab.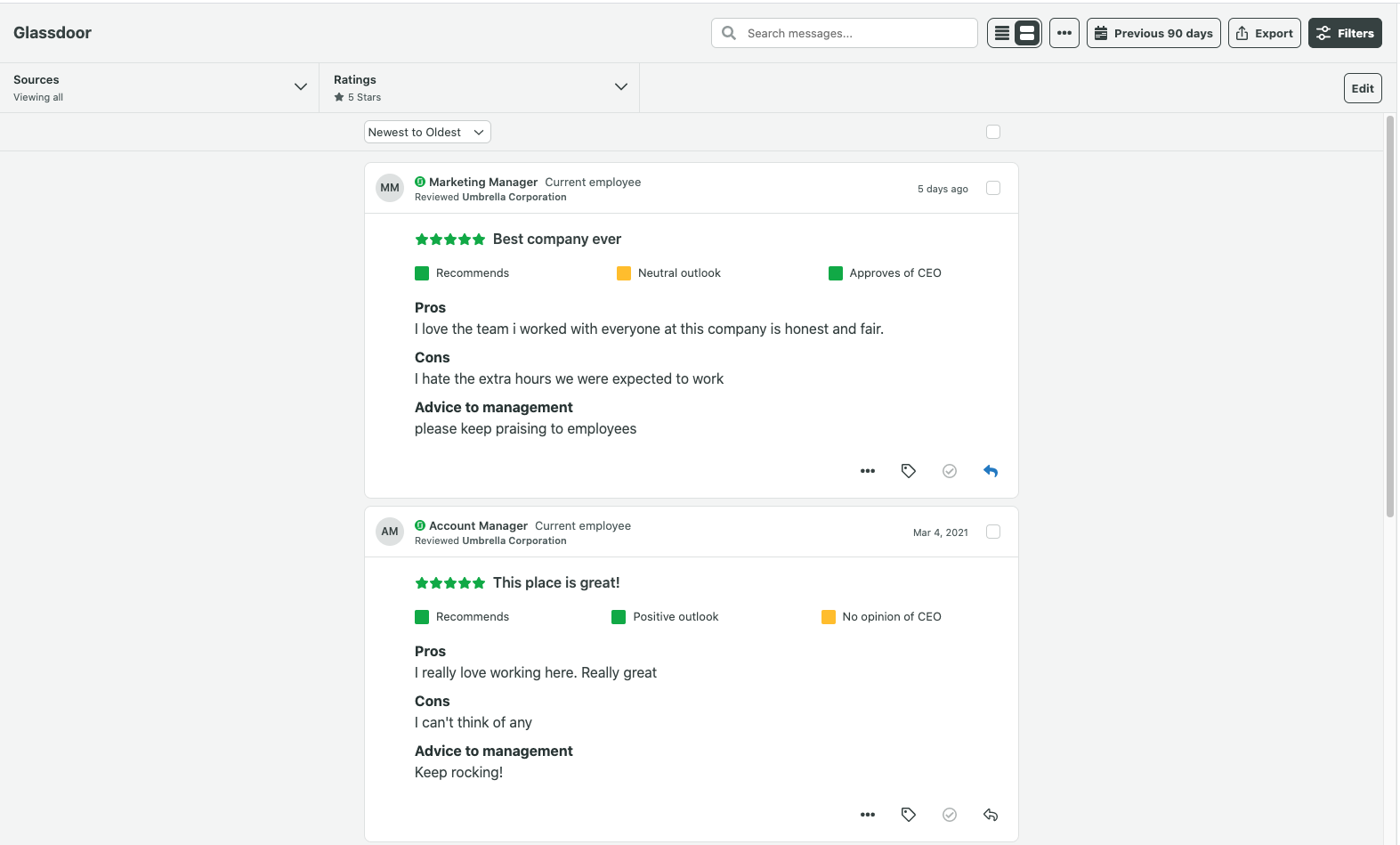 Managing
Let's look at the different ways you might manage your Glassdoor review messages as a social media manager.
You're trying to find ways to attract better talent to your organization. You might see a trend where lots of current and former employees complain about the work from home policy in their Glassdoor reviews.
As a social media manager, you can:
Filter by star rating to see more trends in the negative reviews

Tag the review messages with a WFH tag

Export the Tag Report showing trends for messages with that tag OR search all reviews that contain WFH or Work from home to gauge the overall sentiment
You can take additional action like tagging reviews

or marking them as complete

. You might also want to send reviews via email directly to your HR team if they require immediate attention by clicking

, and then Email message.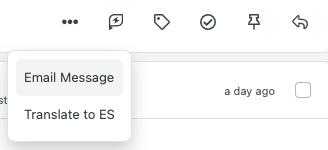 The email message also brings in additional metadata with the review to make it easy to send any problematic reviews over to your HR team.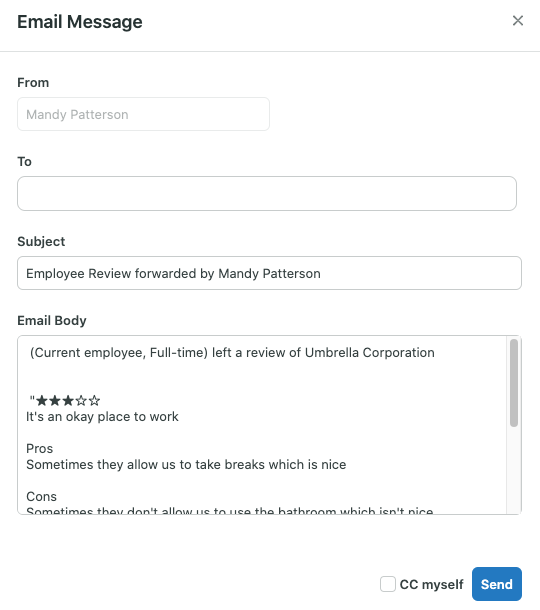 Filtering
Hone-in on a specific date range, message status, profile and star rating to see the reviews you want to manage first. If you find yourself using the same filter sets multiple times, save your filter set as a Custom View to share with your team.
Note: Recommends or Does Not Recommend filters don't work with your Glassdoor reviews. While it may seem that if a user submits a "recommends to work here" with their review that it would show up with this filter, know that this filter doesn't pull in this information.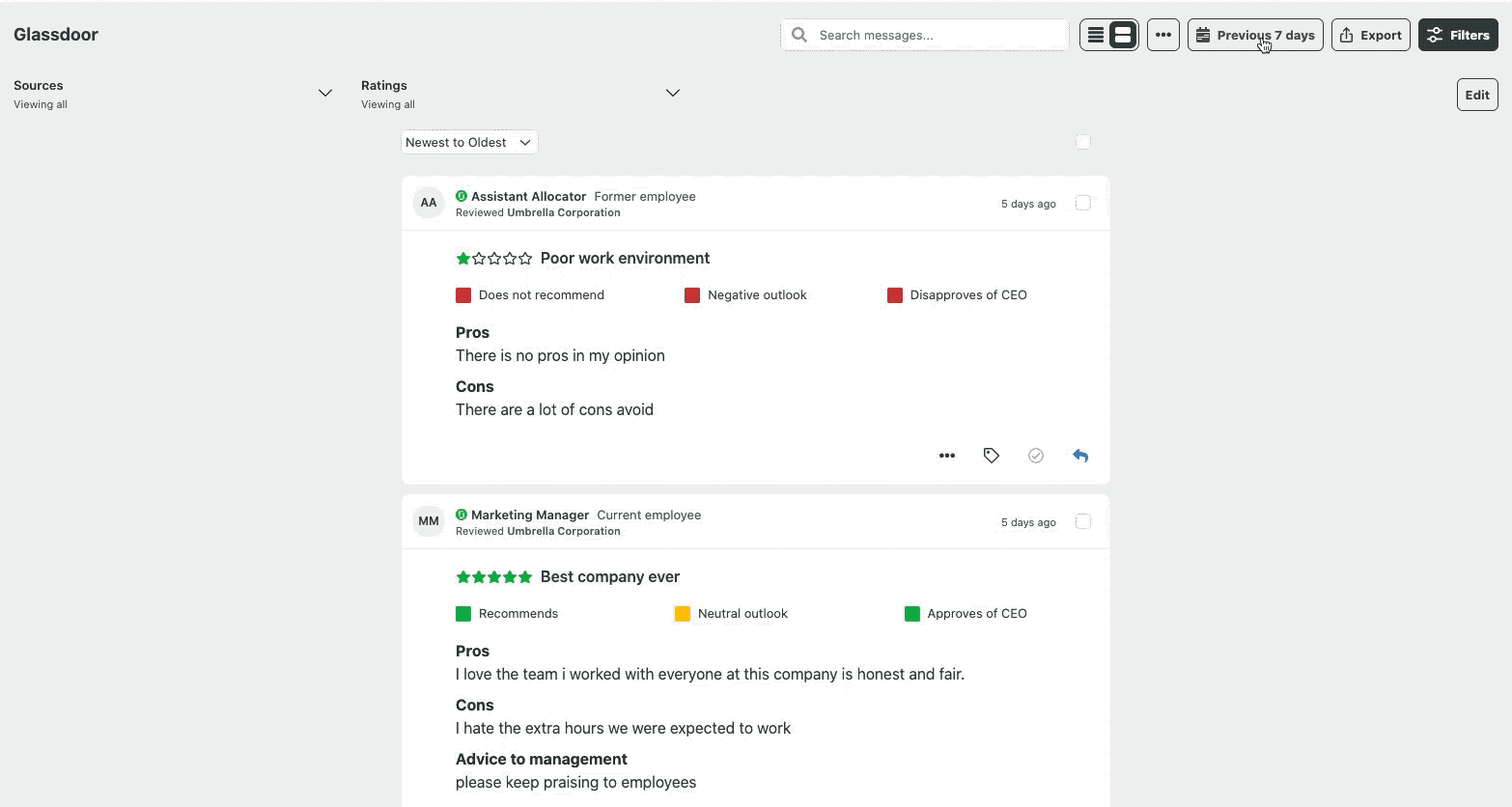 Replying
To reply to a review:
Click in the bottom-right corner of the review message. The reply screen appears.

Enter your Job Title.

Submit your reply. You can enter up to 5,000 characters. You can't use any emojis.

Click

Send.


Note: You can only add one reply per Glassdoor review.
You can view responses to your Glassdoor reviews in Sprout. If you don't see any author attribution, this means the response was left in Glassdoor, not Sprout. Additionally, you won't instantly see your responses appear in Glassdoor. It can take a few minutes or so for your response to appear.
You can also add a Saved Reply as a response to the review. To do this, click

to open the Reply screen. Then, click
to choose a Saved Reply from your Asset Library. For more information about creating and managing Saved Replies, see this helpful how-to.
Searching
In the example in the Managing section, we looked at how a social media manager can find review messages that pertain to a certain topic. While you can narrow down your scope of review messages with filters, you might run into an instance where you're searching for a particular keyword or want to see reviews left by a particular user. Enter your search terms to find these messages. To learn more about the ins and outs of searching messages in Sprout, see this helpful article.


Glassdoor integration FAQs
Why do I need to use a token to connect my Glassdoor profile to Sprout?
An OAuth profile connection isn't currently available. The token method is a secure way to connect your Glassdoor profile to Sprout.
Do reviews show up in reporting?
Yes, tagged reviews show up in the Tag Report, but there aren't any reports specific to reviews.
Can I set up automated rules for Glassdoor reviews?
No, not at this time.
Can I see and respond to Interview Reviews?
No, not at this time. Right now, you can see Company Reviews from Glassdoor in Sprout.
If I respond to a review natively, does the response show up in Sprout?
Yes, your response appears in Sprout after a few minutes. However, Sprout doesn't know that you replied natively, so the reply indicator on the review won't turn on and you'll need to click into the message to see that a reply exists.
Can I use Glassdoor reviews on mobile?
No, not at this time.
How much data do you bring over from Glassdoor?
You can see all of your reviews from Glassdoor in Sprout.
How often do new reviews show up in Sprout?
Sprout updates four times a day and populates any new Glassdoor reviews left on your profiles.