Compose FAQs
This article contains the following sections:
Profile Selection
Do I have to select profiles each time I open the Compose window?
The profile picker drop-down in Compose is 'sticky', meaning that whichever profiles you had selected for your previous post remain selected the next time you go to post. You can click the profile picker to switch between different profiles.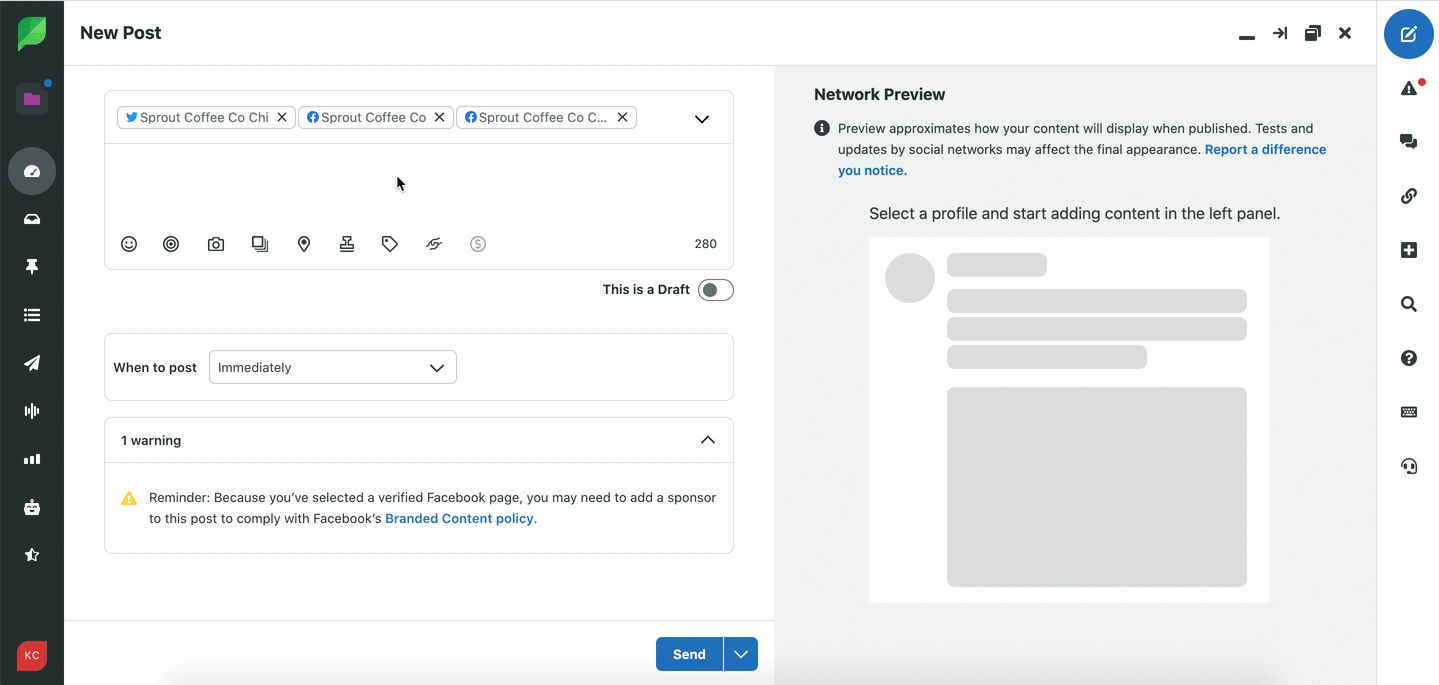 Why are my other X profiles grayed out in the Compose window? 
Once an X profile is selected, any other X profiles in the group are grayed out until the current profile is deselected. This is a limitation from the network.
Page Mentions
Which profile types can I mention (also known as tagging)?
You can mention other X Profiles, Facebook Business Pages, Instagram Business Profiles, LinkedIn personal profiles (if they follow your Page) and LinkedIn Company pages directly from Compose.
If scheduling for multiple networks, how can I add different mentions?
If you need to apply mentions across multiple social networks, use the Schedule + Duplicate option.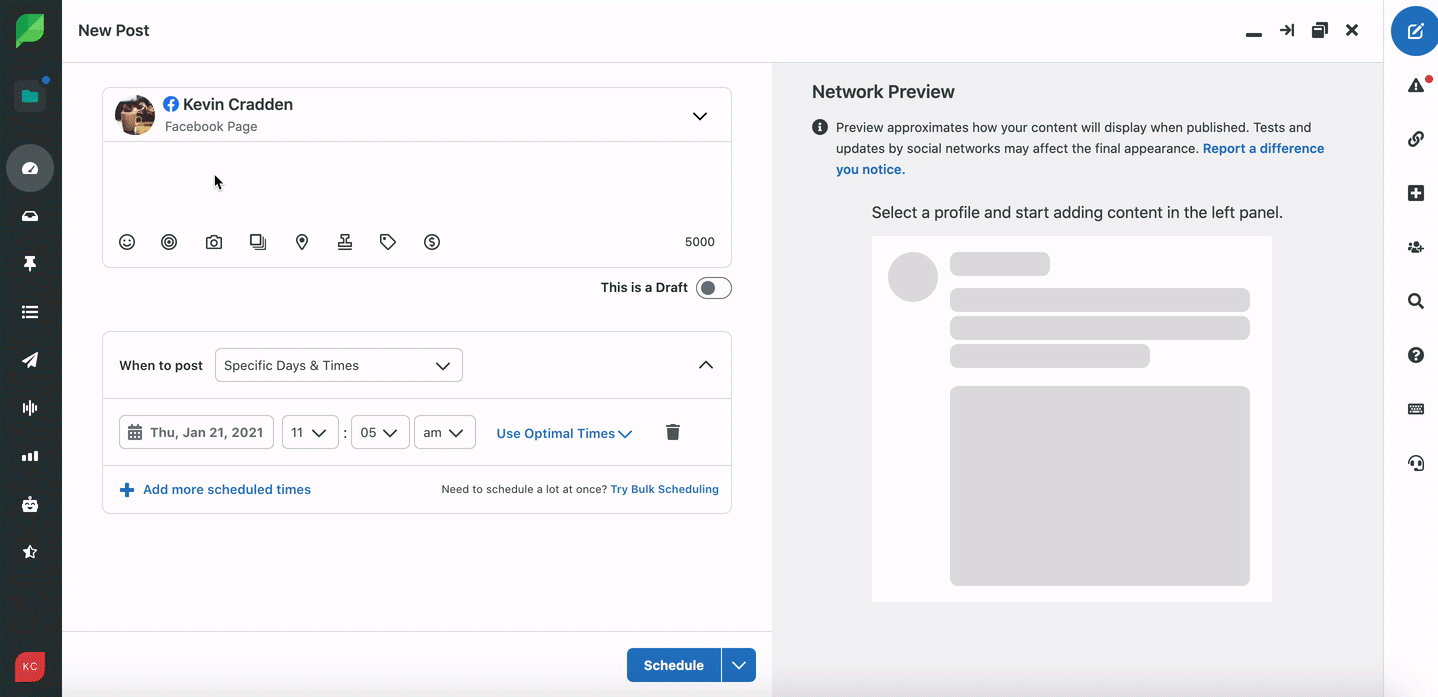 What happens if I schedule my post across multiple networks without applying the mentions to the specific network?
If multiple networks are selected in the profile picker for the same post, any mentions applied default to X only.
Can I mention or tag LinkedIn or Facebook Personal profiles in Compose?
You can mention LinkedIn personal profiles if they follow your Page. You can't mention Facebook personal profiles, only business/company Pages. This is due to restrictions from the networks.
How do I apply mentions or tags in Compose for the different networks?
Type

@

.

Type the name of the X Profile, Facebook Business Page, Instagram Business Profile, LinkedIn personal profile or LinkedIn Company page. LinkedIn, X, and Facebook show a dropdown to select from.

Select which profile you want to tag. Once the tag is applied, LinkedIn, X and Facebook show the tag as dark blue in the text box and bolded in the preview.
Note: Instagram mentions work differently and you must enter the complete name without any typos to tag correctly. Instagram shows the tag only within the preview.
Adding Media
Why did I get an error after uploading my image?
Social media networks have strict requirements when publishing via third party apps (including Sprout). If you get an error, you can make changes in the desktop version of Sprout via the built-in image editor.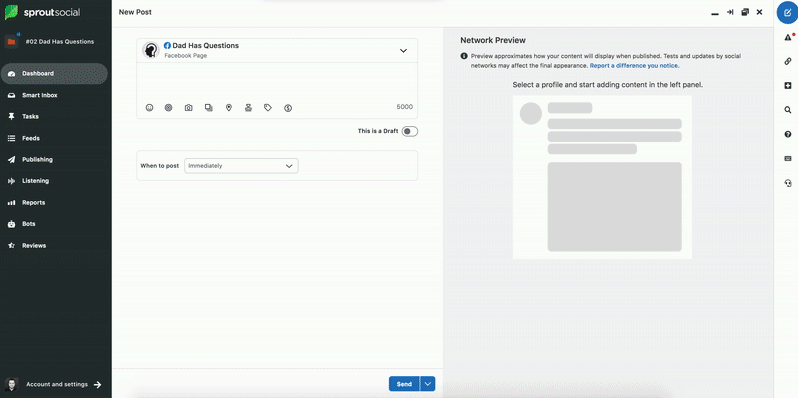 You can also use our Landscape image tool.
What is the maximum number of images I can attach to a post for Facebook, Instagram, LinkedIn & X?
Facebook & Instagram = 10 images max for both 

LinkedIn = 9 images max 

X = 4 images max
Why are my Facebook images compressed?
If your image is larger than 720 pixels, Facebook will resize the image.
How the post appears on the native network
Why does my Facebook post say "Published by Sprout Social"?
This is a requirement of the network. However, this text is only visible to admins of the Facebook Page. Regular users and visitors to the Page don't see this text.
What is the difference between Target your Post and Limit your Post's Audience when Targeting a post for Facebook?
Publishing a post with Target your Post applied pushes it to the Newsfeed of any users within the audience selected, but the post is visible to all users who view a page.
Publishing a post with Limit your Post's Audience applied only makes it accessible to users that fall within the selected audience.
Why did my post with Targeting not publish to my LinkedIn Profile?
LinkedIn has a requirement of at least 300 followers to enable targeting. This means that you must have at least 300 followers as part of the targeted segment for the post to publish successfully. If the audience is insufficient, you receive a warning after applying the targeting criteria.
Why does my Post not appear in my X Feed?
If a Post doesn't show under the Posts section natively and is only visible under Posts & Replies, this is due to:
The Post starts with "@" or mentioning the user

The account is following the user mentioned in the Post
A useful workflow for Posts with an @mention at the beginning that you would like to see on the Posts section natively, is to place a period before the @ (for example: .@sproutsocial) in order for it to show in the main view.
Metadata
What is metadata?
Metadata is a preview of the link added to a post. It includes the link title, description and an image.
Which networks allow metadata to be edited?
You can only edit metadata for LinkedIn and Facebook. However:
Facebook requires that the domain is owned and verified through Business Manager, as outlined here.
For LinkedIn, the description is limited to 300 characters. This specifically refers to the link description, and not the text content in Compose.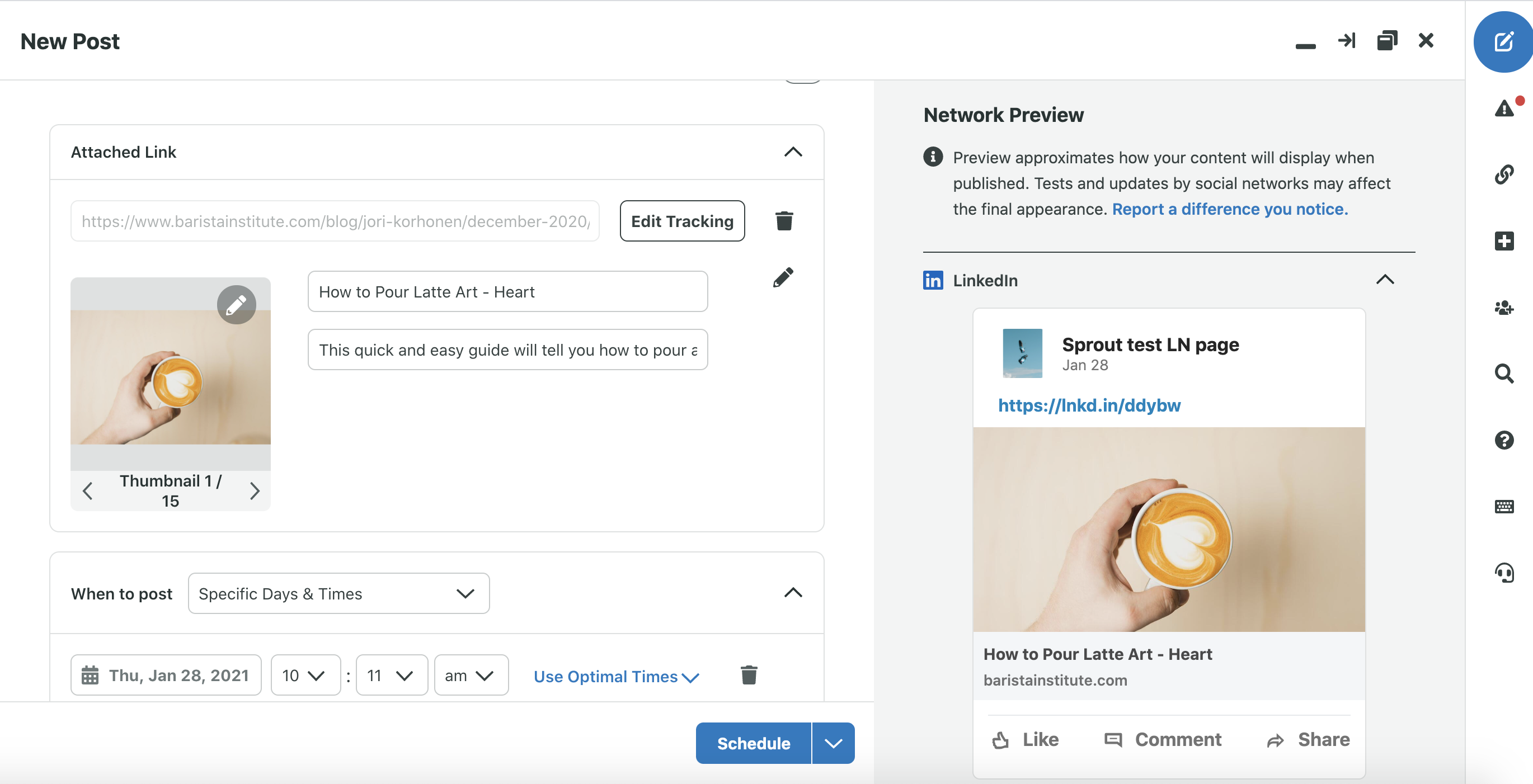 Can I check how my link will post natively before I schedule it?
Yes, several networks have tools for this, you can use the following links:
Facebook:  https://developers.facebook.com/tools/debug/sharing/ 
X: https://cards-dev.twitter.com/validator
LinkedIn: https://www.linkedin.com/post-inspector/
Drafts
How can I save my post as a Draft?
Drafts are accessible through the Compose window and using the This is a Draft toggle. There is a yellow banner at the top of the Compose window once it's enabled.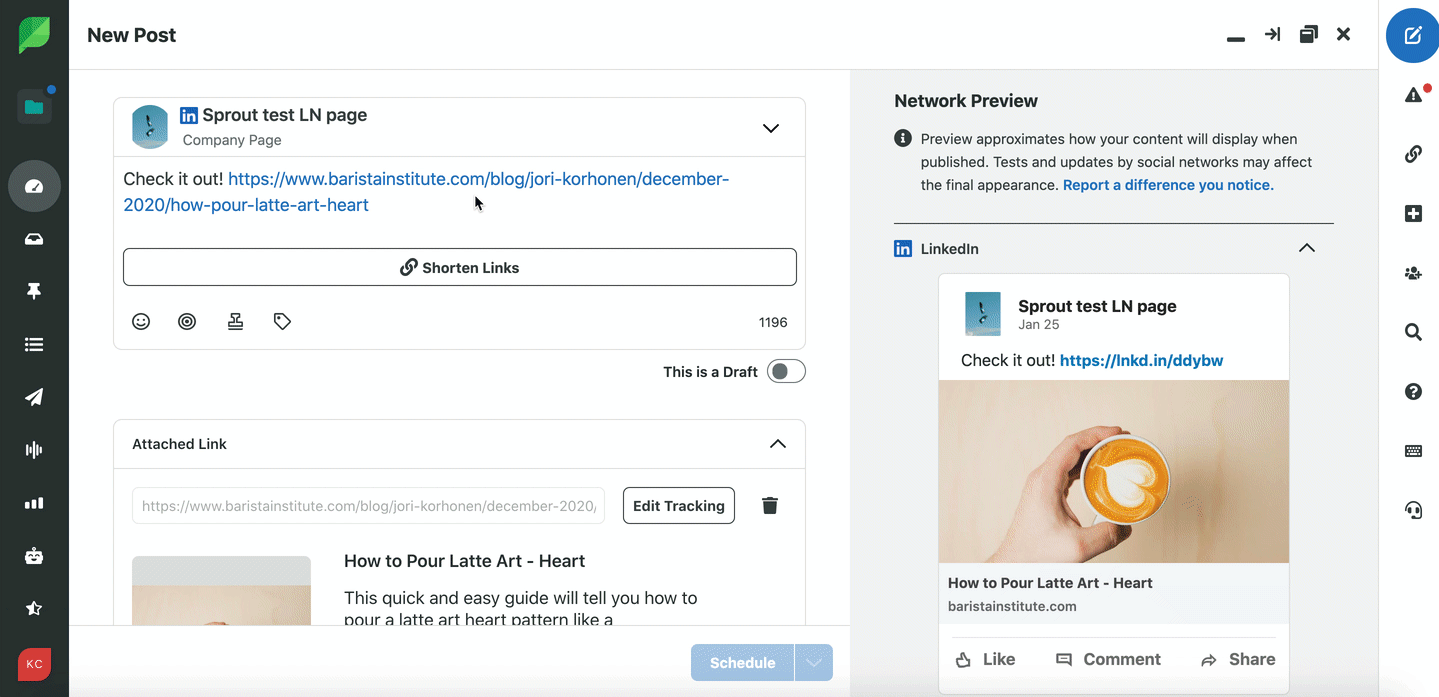 How do Drafts work?
Drafts can be scheduled with a fictional time/date, yet this does not mean they'll publish at the scheduled time.

If the draft isn't changed to a scheduled message before its scheduled publishing time, the Draft falls off the Calendar, the date is removed and the post is only accessible from the Drafts folder in the Publishing tab. 

If you are creating a draft with multiple social profiles selected in the profile picker, the draft splits into individual copies for each network. 

Drafts submitted for approval shouldn't have the date picker option, meaning these won't appear on the Publishing Calendar. 

All Drafts can be accessed via their dedicated folder in the Publishing section of Sprout.

Drafts can only be deleted individually. To delete a draft, click the pencil icon to edit and click

Discard

.
You can read more about Drafts in this helpful article.
Scheduling
How far in advance can I schedule posts?
You can schedule posts up to 180 days in advance.
How many messages can I schedule in advance?
While on a Sprout trial, you can schedule up to 1,000 messages in advance.

Otherwise, you can schedule up to 10,000 messages in advance.