Drafts
If you need to quickly jot down an idea for a piece of content, or you start work on a message that you want to come back to, saving your message as a draft is an easy way to save your progress and retrieve it later. Depending on your team's workflow, drafts can also be used as collaborative messages that multiple users can manage.
This article will cover how to navigate the Drafts section, as well as managing drafted messages.
Any message saved as a draft can be found in Publishing > Drafts. In this section, you will see drafted messages for every profile for which you have at least Read Only privileges.
The right bar allows you to filter drafts by author and by profile.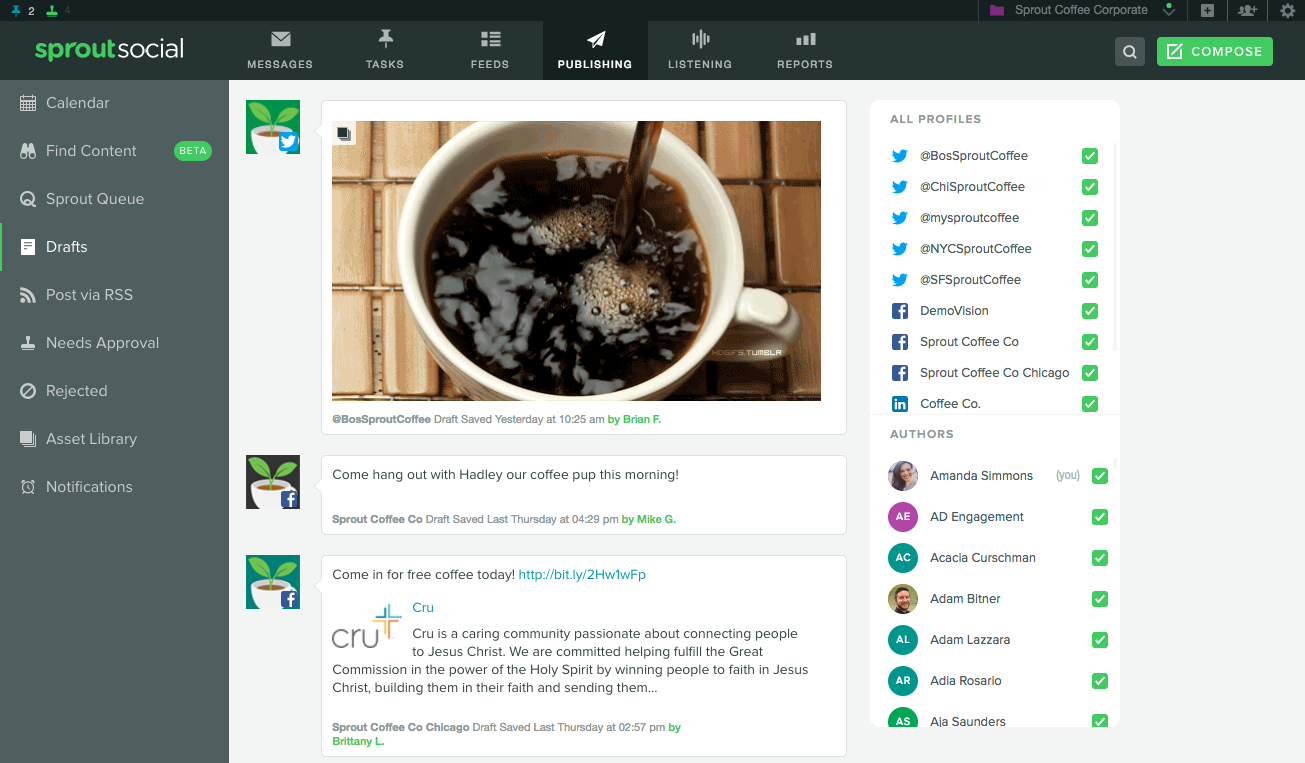 The most recently saved drafts appear at the top of the list, and each draft displays the original save time and author. Any subsequent changes to a draft will not affect these pieces of information. Any user with Needs Approval, Can Reply, or Full Publishing privileges for a profile will be able to edit drafted messages for that profile, even if they were not the author of the original draft.
To make any changes to a draft, hover your mouse cursor over the message and click the edit pencil icon that appears in the bottom-right corner of the message.
When editing a draft, you can save, schedule, or queue it, just like when composing a brand new message.
You may also discard any drafts by clicking Discard. When you select this option, you can add an optional note, and the individual who authored the post will receive an email letting them know their post has been discarded.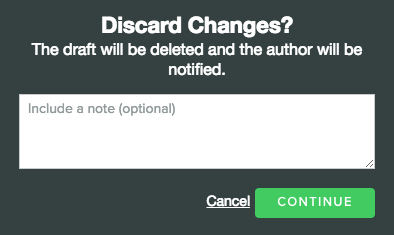 Note: When discarding a draft you originally created, you will not have the option to include a note.
It is not possible to recover discarded drafts.
Drafted messages will also appear on the calendar if you toggle Show draft on calendar and assign it a potential day and time.
Tip: If you're looking to craft similar posts for multiple profiles, but want to individually tailor them for each network, select the desired social profiles in the Compose box and then save the post as a draft. Individual drafts will be created for each network selected, so you can edit them individually to ensure they are personalized for each audience.
Next Steps
You're just scratching the surface when it comes to learning about all of the powerful publishing features Sprout has to offer.
If you're ready to learn more about Sprout's publishing suite of tools, continue on to the Additional Publishing Features section