YouTube Videos Report
New to Sprout Social? Learn all about Sprout's social media reporting here.
With the YouTube Videos Report you can easily understand the immediate and long-term impact and success of your YouTube videos. You can quickly review your top performing videos at a glance or dive into your YouTube performance data to uncover engagement metrics for each video.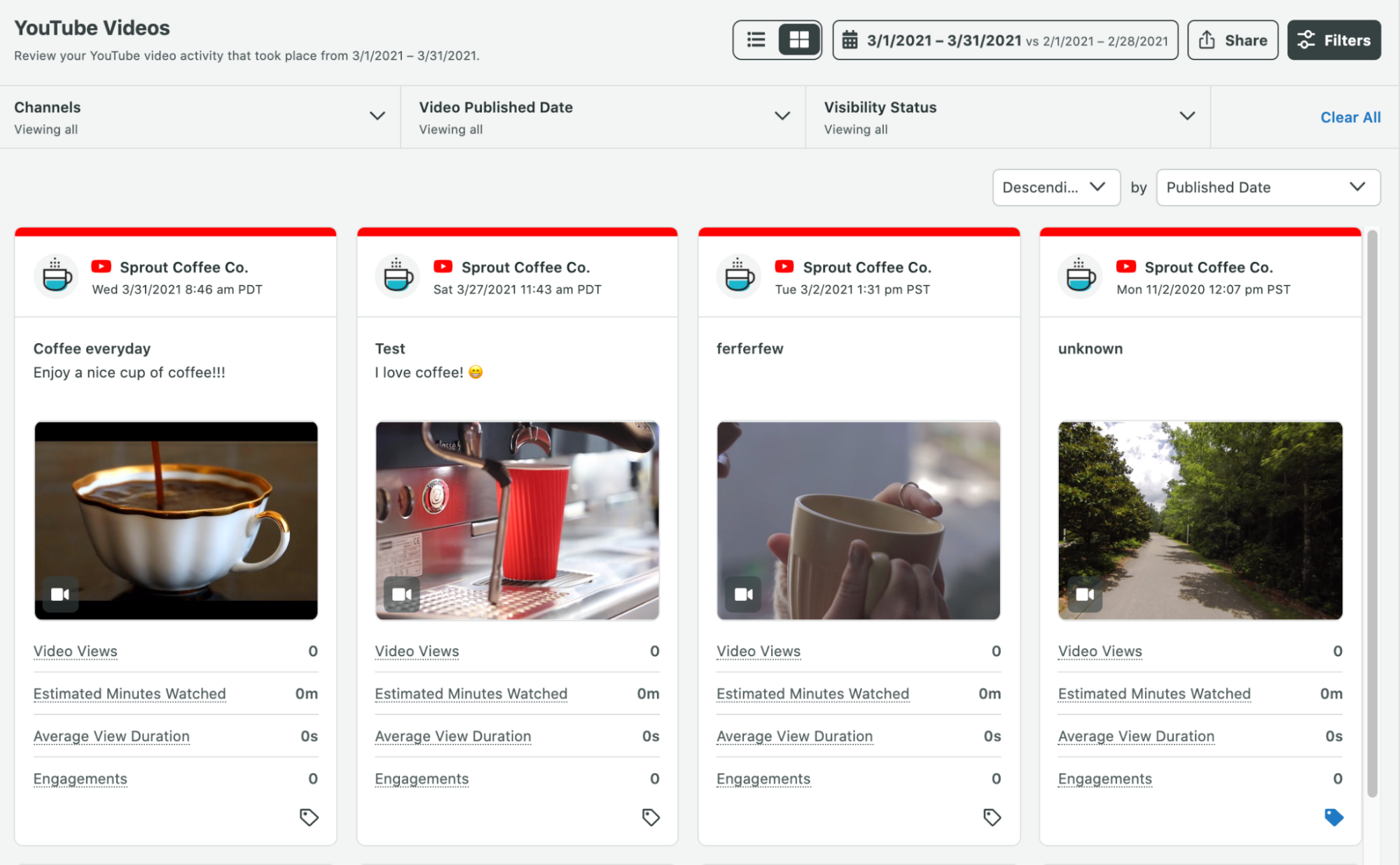 Unlock even more data with Premium Analytics and view statistical graphs showing trends of your video performance over time.
Navigating the Report
Navigate to the Reports tab, and then click YouTube Videos under the YouTube Reports dropdown.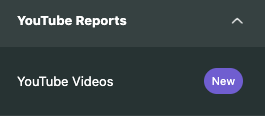 Choose the YouTube channels, video published date, visibility status and tags you want to include in the report from the Filter Menu.

Customize the report date range by clicking the date range in the top right of the report. Then, select one of the presets or set a custom date range using the calendar dropdown.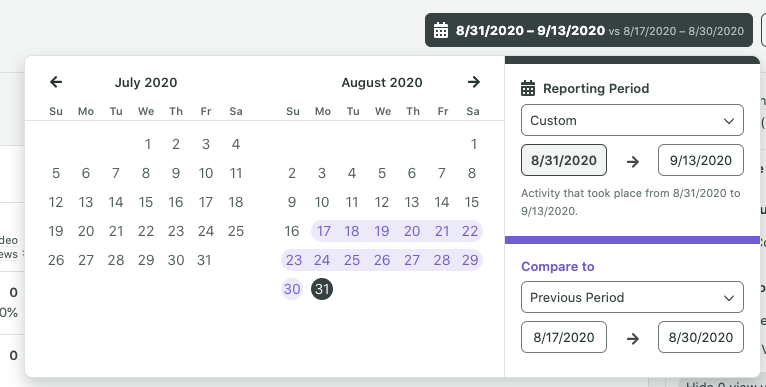 You can also apply the hide 0 view videos filter to focus your analysis on videos that had activity during the reporting period you selected.
Use the Visibility Status filter dropdown to only see Public, Private or Unlisted videos.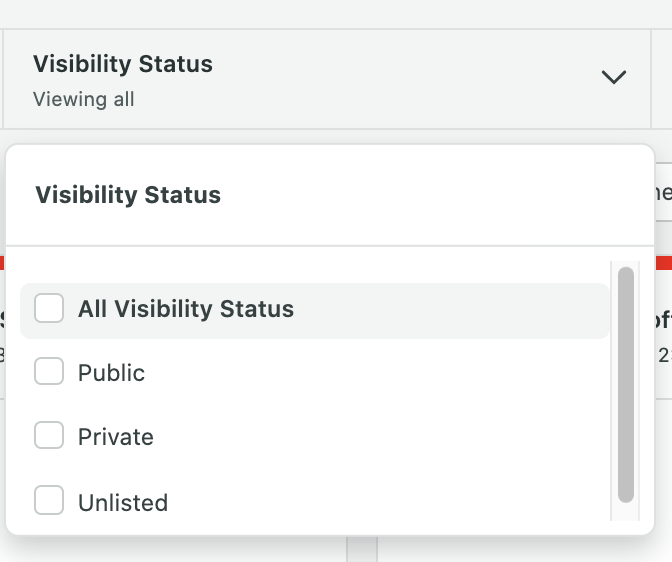 Navigate through the report by scrolling down and up to view different posts in the post-focused view or scroll left and right to explore additional post metrics in the list view.
If you're a Premium Analytics user, you can filter the report by tags in the Right Bar.
Viewing the Report
You have two options when it comes to viewing the data in your YouTube Videos Report. You can either view the report as a list for a specified date range, or as a post-focused view to see your videos at-a-glance.
Note: YouTube videos and their metrics are delayed by 36-48 hours. You'll see a new video in Sprout around two days after it was published.
To switch between the views, click the view toggle to select the list or post-focused.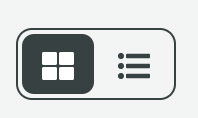 For the list view, you can sort the available data by clicking the ascending and descending arrows next to the column names.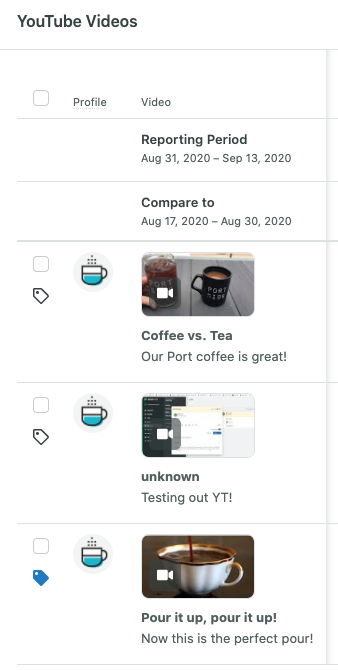 For the post-focused view, you can select ascending or descending, and then refine the view by selecting an additional metric like Published Date or Average View Duration.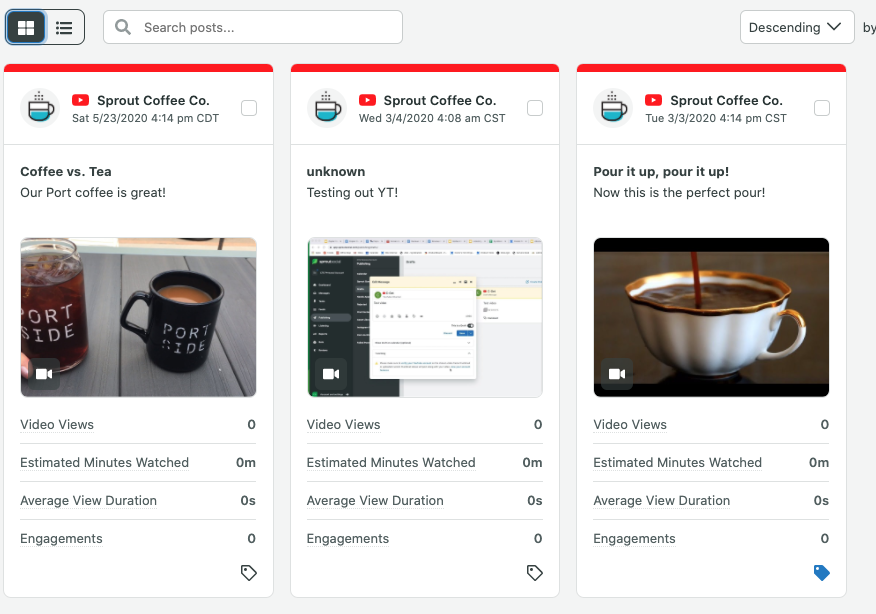 You can also export these views into PDFs so your stakeholders can see how your videos performed and the thumbnail of the video your audiences saw.
Customizing the Report
Hover over any column header to view a tooltip containing the definition of the column name.
You can view which videos performed the best by clicking the top of any column to sort videos by that particular metric.

For example, you can sort by Video Views, Average View Duration and Engagements.