What's included with Premium Analytics?
New to Premium Analytics or not sure how to get started? Dive deeper to define your story with a Premium Analytics demo here. 
Premium Analytics is the most comprehensive way to analyze the performance of your owned and paid social programs. Premium Analytics enhances existing Sprout reports with selectable metrics, interactive charts, filtering capabilities, report link sharing, an analytics API and additional metrics.
Premium Analytics empowers you to dig deeper and configure reports in a way to meet your exact needs. 
The following Sprout reports are enhanced by adding Premium Analytics:
Custom Reports

Cross-Network

Profile Performance

Post Performance

Paid Performance

Competitor Posts

Tag Performance

Profiles by Network

Facebook Pages

Instagram Business Profiles

Twitter Profiles

LinkedIn Pages

YouTube Videos

TikTok Profiles 

Paid by Network

Facebook & Instagram Paid Performance

Twitter Paid Performance

LinkedIn Paid Performance

Competitors by Network

Facebook Competitors

Instagram Competitors

Twitter Competitors

Internal Performance
The rest of this article covers the additions you see in Sprout by adding Premium Analytics to your plan.
Selectable metrics
You can select the metrics that you want included in a section of your reports. This quickly streamlines your reporting. Click

to choose the metrics you want included in charts, tables and graphs.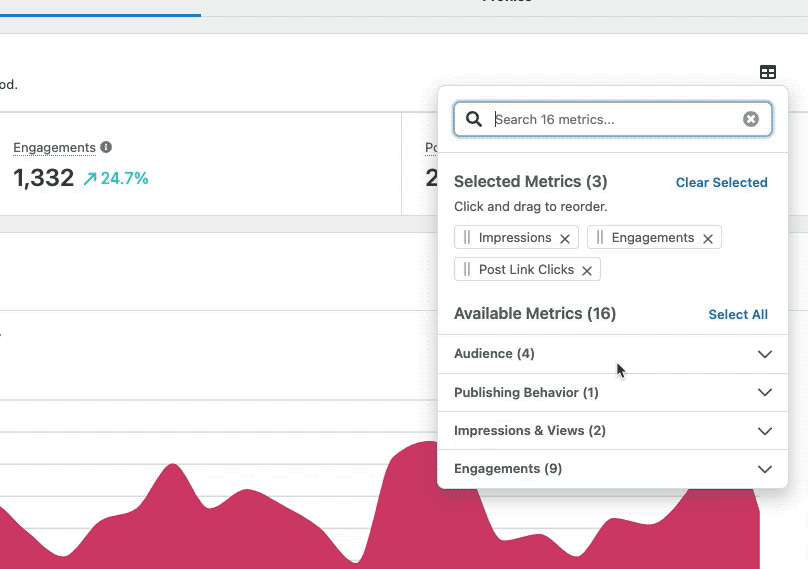 Interactive charts & graphs
By changing dimensions or criteria, in a chart you can quickly look at data from a different vantage point. This type of customization can help you isolate the most important insights.
Select the drop down menu available underneath the title of each widget in a report to change the way your data is visualized.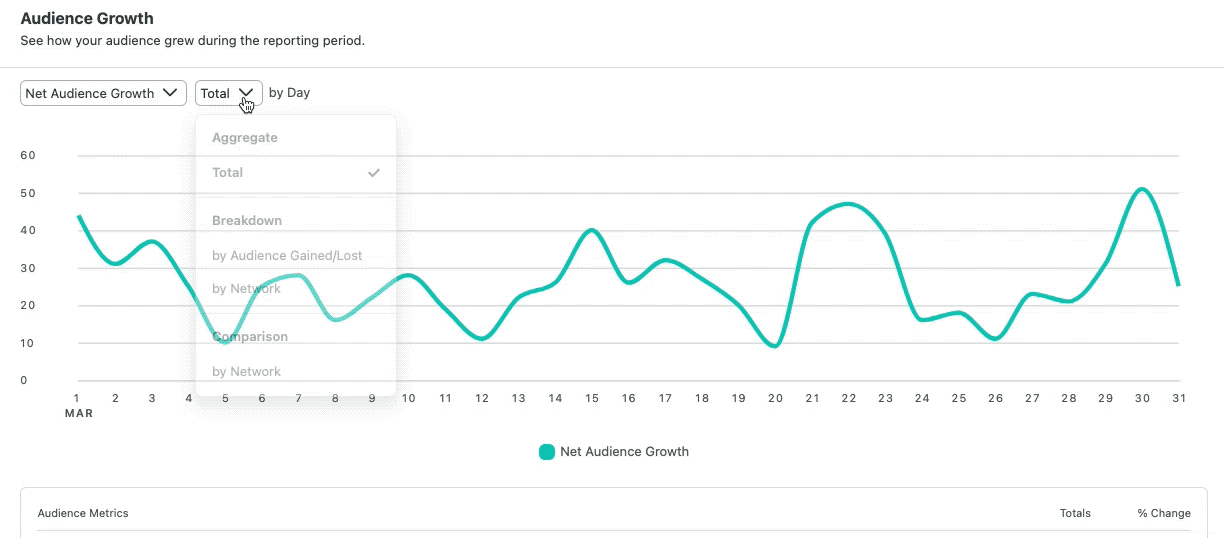 Advanced filtering
You can use these filters to reduce your time to insight and quickly focus on the data that's most relevant for your strategy.
Note: Post tag filtering is only available if your plan includes tagging.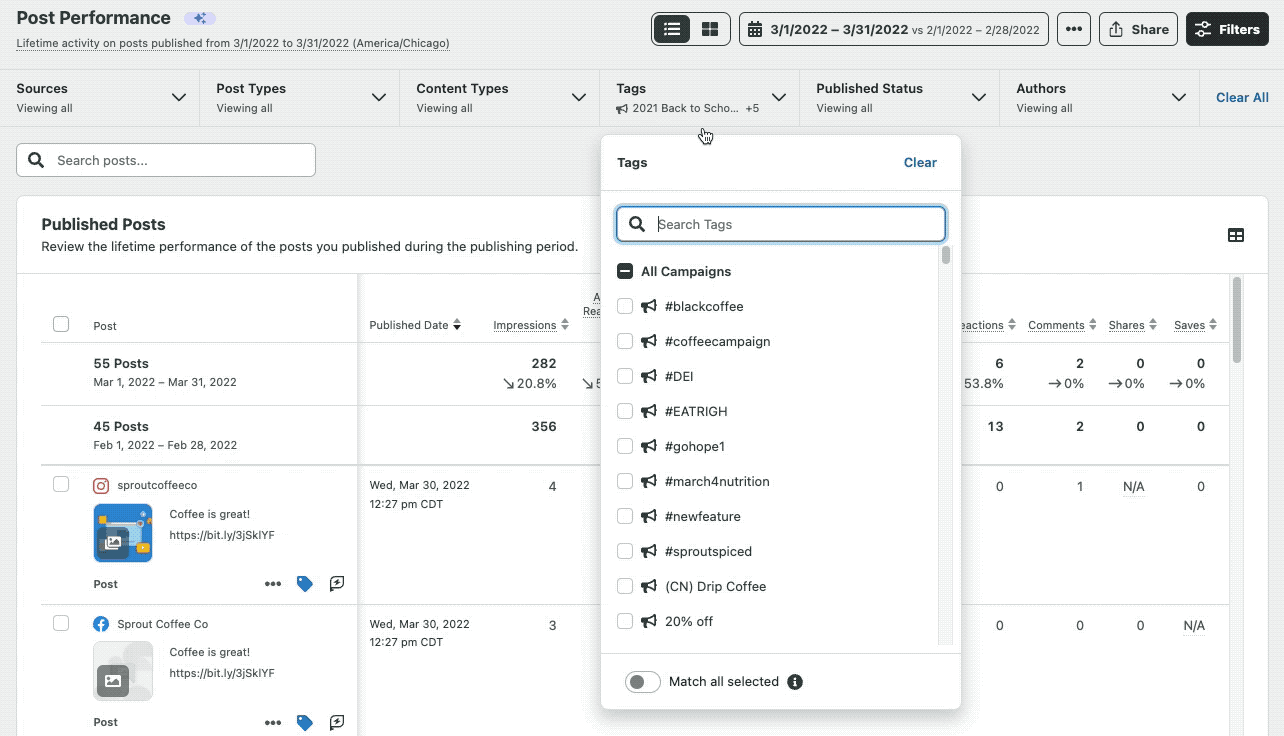 Configurable Engagements
You can select which metrics are counted in Engagements. Customize your Engagement definition to include the metrics that matter to you. Learn how to set up configurable Engagements in this guide.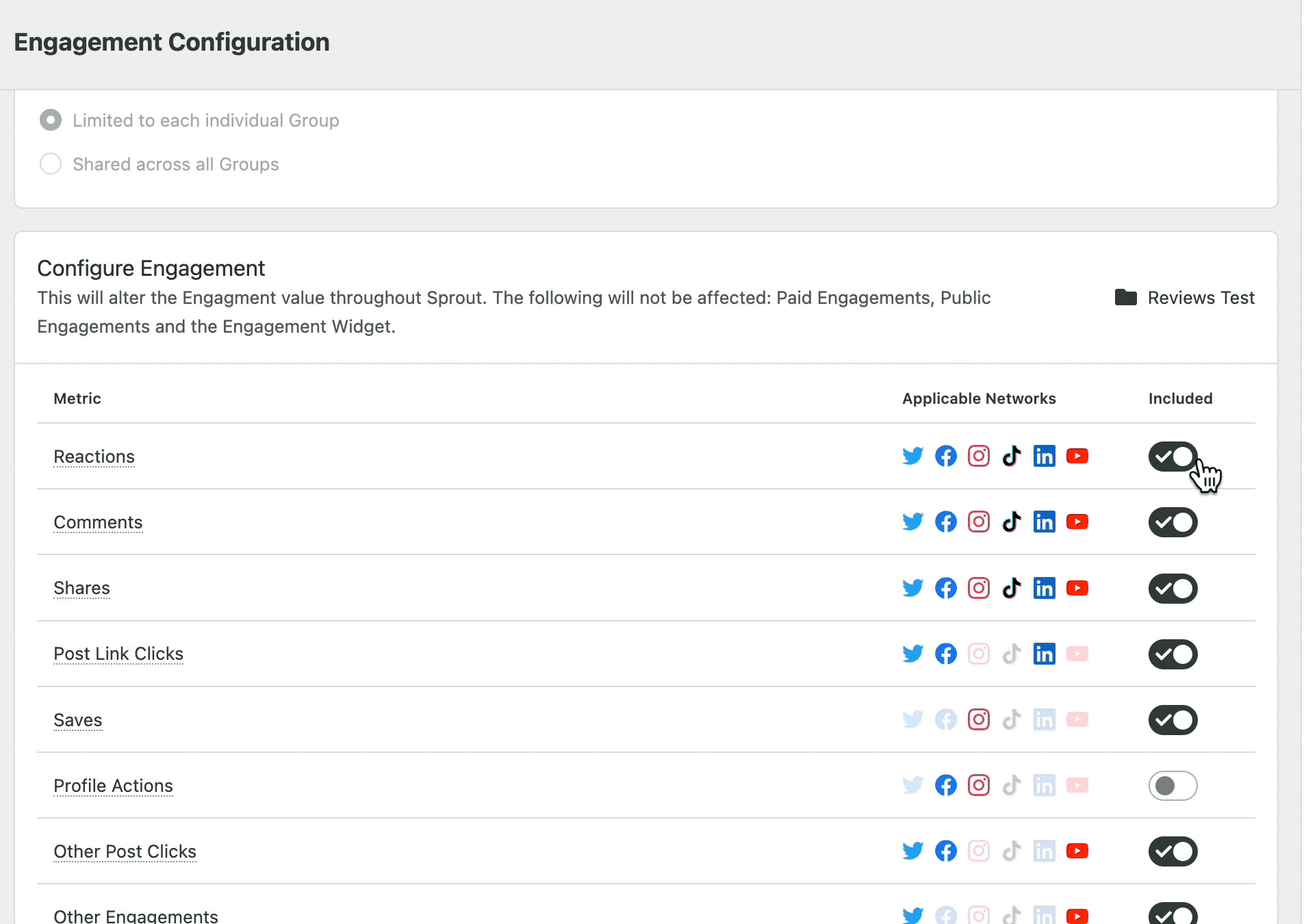 Report Builder
An enhanced version of Sprout's Report Builder comes bundled with the Premium Analytics package. Additional metrics are included in this version of Report Builder and you can filter data that appears in each widget. Learn more about using our Custom Report Builder here.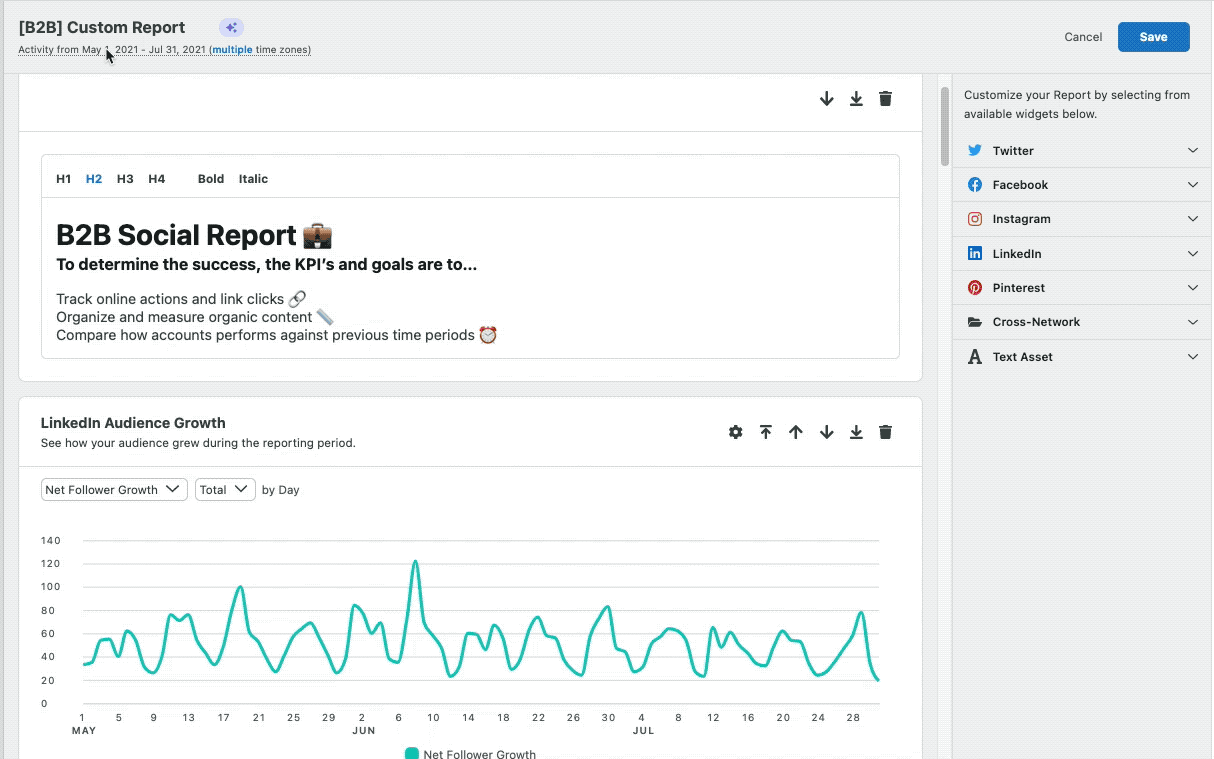 Unlock up-plan reporting
Depending on your plan-level, Premium Analytics may give you access to network reports are otherwise not available on your current plan.
For example, Sprout's paid social reports are only available on the Professional and Advanced plans, but Standard plan owners can gain access to those reports with Premium Analytics.
Note: Reports tied to platform functionality or workflow—like the Tag Performance, Bots and Twitter Feedback Report—are only available if your plan includes that functionality.
Report Link Sharing
Share your reports with colleagues, departments and stakeholders outside of Sprout with link sharing. Learn more about this feature with this overview.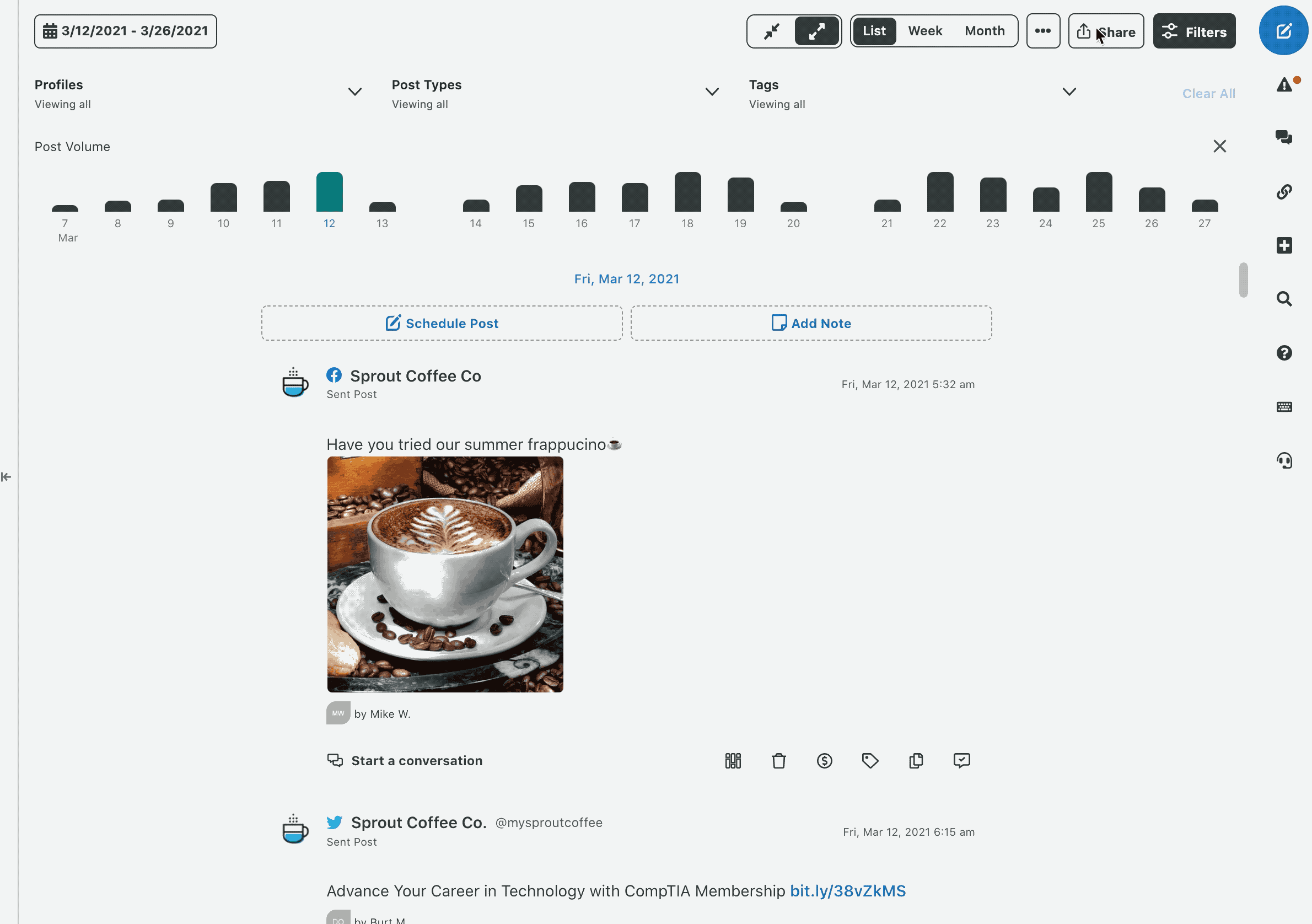 Analytics API
With the Sprout Analytics API you can extend the functionality of Sprout's analytics tools so you can integrate your owned social data with your analytics and business intelligence tools outside of Sprout. Learn more about the Analytics API with this overview.
Additional insights
There are many more metrics available in Premium Analytics as compared to Sprout's core reporting.
For example, Viral Impressions, Page Views and Post Reach are a few of the additional metrics available for Facebook on Premium Analytics. As another example, Comments, Engagement Rate and Click Conversions are some of the Instagram metrics that are only available in Premium Analytics.
Find a complete list of all additional metrics in our Premium Analytics Metrics article.
Premium Analytics FAQ
Will selected metrics stay saved when returning to a report?
Yes. Selected metrics will become the default so when you return, you won't have to reselect them.
Will metrics be saved across reports? For example, if I remove Comments from engagement scoring on Instagram, will it be reflected in my engagement metrics for Facebook?
No. You will have to adjust metrics for each report separately.