Reviews
Reviews in Sprout Social enable you to identify, organize and reply to customer reviews from Facebook, Google My Business, Apple App Store, Google Play Store, Glassdoor, Yelp and TripAdvisor to optimize engagement and build brand loyalty.
This article contains the following sections:
Connecting Facebook Pages and Google My Business Locations
Connecting Facebook Pages or Google My Business Locations for Reviews is the same process as connecting any social profile to Sprout. Anyone with the Manage Profiles company permission can connect a Facebook Page or Google My Business Location.
To connect a Facebook Page or Google My Business Location:
 Navigate Account & Settings > Connect a Profile.
Click Facebook, Google My Business. If you clicked Facebook, click Connect Page.
Follow the prompts in the connection wizard. You get sent to the corresponding network's site to authorize the profile.
Note: If you're connecting a Facebook Company Page, ensure you are an admin of that Page. If Facebook Reviews are disabled natively, you must enable them. Once enabled, the Reviews tab in Sprout automatically updates to reflect Facebook Reviews from the time period you select.
Adding a TripAdvisor Location
There are two options for connecting a TripAdvisor Location:
Navigate to Account & Settings > Connect a Profile.
Click TripAdvisor. Then select from the following options:
Option 1: Automatic Lookup
With Automatic Lookup Sprout attempts to automatically look up your TripAdvisor Locations by searching those that match Facebook Pages you connected to Sprout.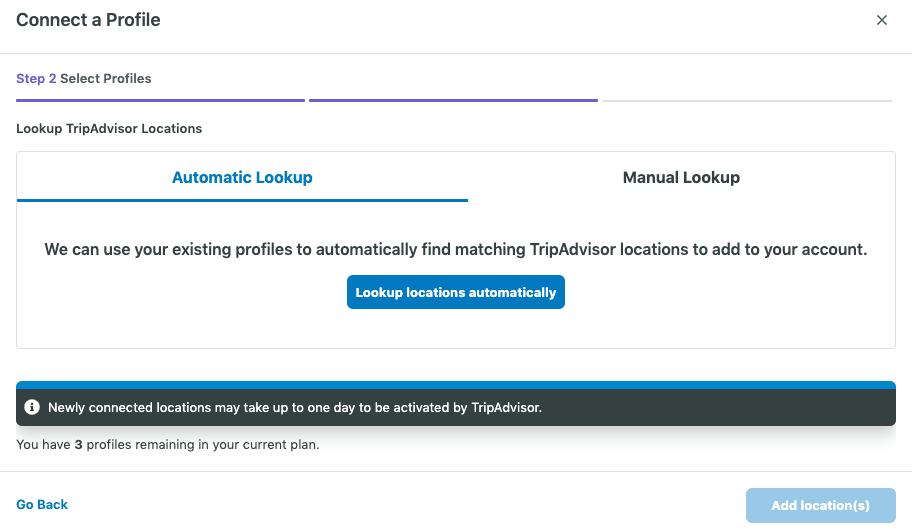 Option 2: Manual Lookup
If you select this option, visit the native TripAdvisorLocation page you want to add to Sprout, then copy and paste URL into the search field.
Note: Once you select the profiles you want to connect to Sprout, TripAdvisor must authenticate the connection before reviews start populating. This process can take up to 24 hours.
Alternatively, you can click Reviews to add a Facebook Page, verified and published Google My Business Location or TripAdvisor Location.
Adding a Yelp profile
Yelp uses a different connection process than the other review networks. Refer to this article for more information about Yelp.
Adding a Glassdoor profile
Glassdoor uses a different connection process than the other review networks. Refer to this article for more information about connecting Glassdoor. 
Adding a Google Play Store profile
Google Play Store uses a different connection process than the other review networks. Refer to this article for more information about connecting Google Play Store. 
Managing reviews
To read, reply to or manage Reviews, click the Reviews tab.
Reviews are featured in a single stream and are sorted Newest to Oldest by default. You can filter by date range, Profiles, Ratings, Tags or Sentiment. Or you can search your reviews by keywords or phrases. For more information, see Inbox Search.
You can see the number of reviews that have not yet been marked Complete on the top bar.

Click the overflow menu

on a review to uncover additional actions you can take, like emailing the review.
Note: You must have the Manage Message Status Reviews feature permission in order to take action on your review messages.
Replying to reviews
To reply directly to a Facebook Page or Google My Business Review, click

.
To reply directly to a TripAdvisorReview, click 

.
If a review doesn't require any further action, you can mark the review complete by clicking


Note: TripAdvisor's integration doesn't allow direct reply functionality from any partner platforms. Clicking

takes you directly to the native TripAdvisor message in a new browser window, where you can respond.
Creating Cases
You can also assign reviews as Cases to members of your team for immediate attention and response. To learn more about Cases, see this helpful how-to.
Saving custom views
Managing many Facebook Profiles, Google My Business Locations, TripAdvisor Locations or Glasdoor profiles can lead to disorganization. With Views you can group reviews by profile, rating and/or tags. 
To create a custom view:
Click

Create New

under Reviews.

Select your view criteria from the Filter Menu.

Click Save

.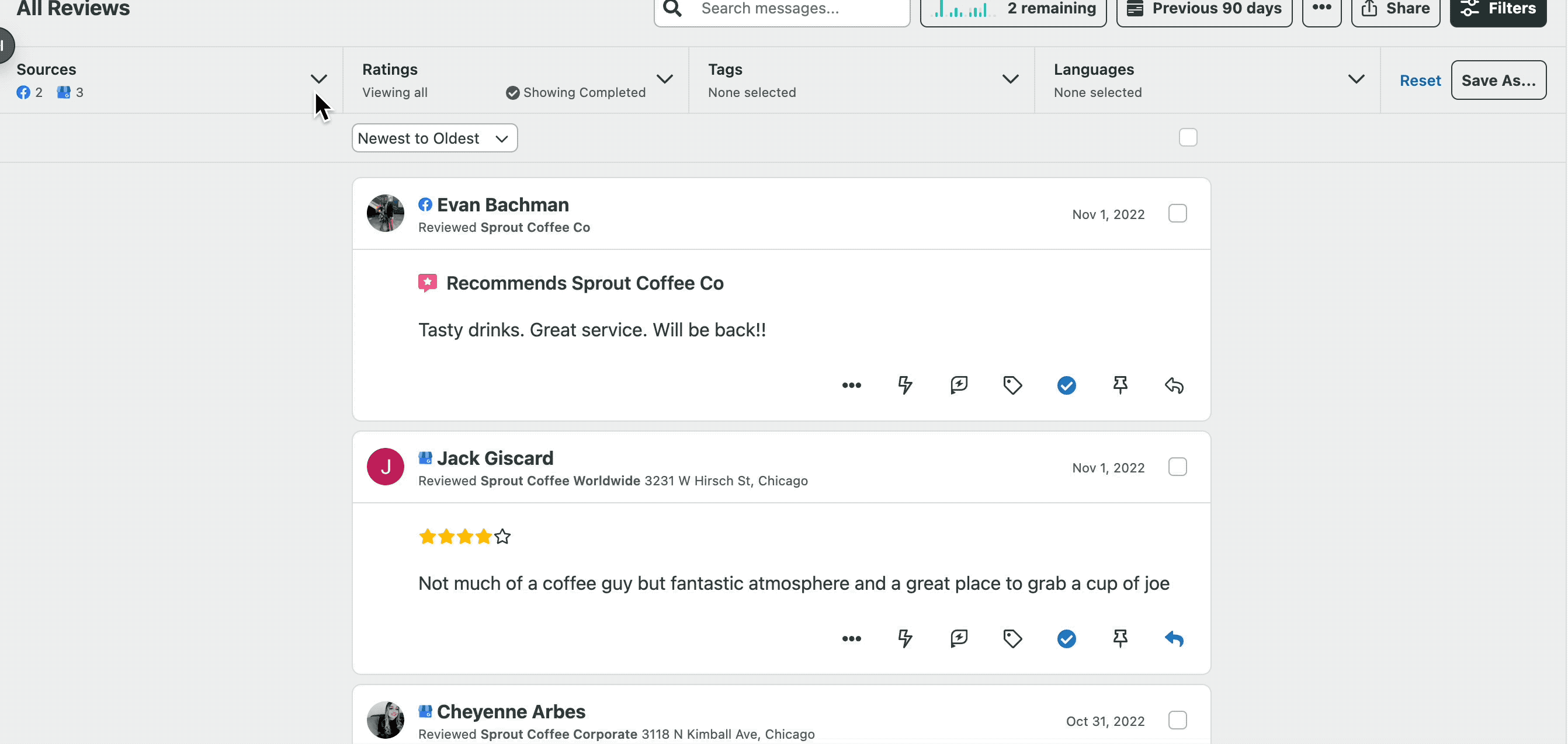 You can delete or edit a View by clicking

 at the top of the screen after you select a view.
Managing review notifications
You receive popup notifications in app, as well as email notifications each time you receive an incoming review message. You can manage these notifications by navigating to Account and Settings > Notifications under Global Features. From here, you can toggle on/off the types of notifications you want to receive about review messages.

Reviews FAQ
Can I tag or create Cases from Reviews?
You can tag reviews from the Reviews tab. If you tag reviews, they also appear in the Tag Performance Report. You can create cases from all reviews.
Can I customize what my pages are called in Sprout?
At this time, Google My Business doesn't allow Location customization. For Facebook, you can choose to activate the Page Username as the Profile Name in Sprout within Account Settings.
If I respond to a Facebook Review natively, will the response appear in Sprout?
Yes; however, Sprout won't take into account the fact that a response was sent natively, so you'll have to click a Review to see that is has been replied to. The native reply does not get counted in reporting.
I have a Google location but don't know how to get started with Google My Business. Where can I find more information?
To learn more about Google My Business, creating accounts and adding location, see this article.
How do I verify and publish my Google My Business location in order to connect it to Sprout?
For assistance with Google My Business verification, see this article.
I can't respond to my Google My Business reviews. How can I fix this?
If you can't respond to reviews in Sprout, check to see that you can respond to reviews natively on Google. If you're unable to do this, please visit the Google Support Center.