Sprout Billing FAQ
Sprout understands that procurement and payment can be complicated. Here are some points of contact:
For questions regarding your account or plan, please contact successteam@sproutsocial.com.
For questions about an existing invoice or payment, please contact billingteam@sproutsocial.com.
Sprout also comes across certain questions more than others. For quick help with those, please read on.
What is your billing address?
This is the appropriate address to use for billing purposes and remittance of payment:
Sprout Social, Inc.
Dept. CH 17275
Palatine, IL 60055-7275
What if Sprout requires more documentation?
Sprout Social is happy to provide any relevant banking, tax, or vendor information to help you coordinate payment. Here is a link to Sprout's W-9 form.
Sprout can provide other information, such as verification of taxable residencies and banking details to Sprout users as needed.
If you require specific paperwork for organizational or governmental proof, Sprout can help. Please email billingteam@sproutsocial.com.
Can you help us meet internal procurement requirements?
Team Sprout is able to provide assistance in discussing plans or creating quotes and proposals for internal budgeting. Please feel free to email successteam@sproutsocial.com or your specific Sprout contact at any time.
Sprout is also happy to help during procurement by attaching purchase orders to invoices or entering details in vendor systems. If you need to have anything specific reflected on your invoice, if that invoice needs to be sent to a special inbox, or if you require multiple copies, please contact billingteam@sproutsocial.com.
What payment methods does Sprout accept?
Sprout Social accepts payments via credit card or PayPal, entered into the app, and charged on a monthly or annual basis. Some plans qualify for invoiced payment, where Sprout will issue an invoice payable via check, wire transfer, ACH transfer, credit card, or PayPal.
For questions regarding your existing payment method, or to discuss changes, please contact successteam@sproutsocial.com.
For questions regarding payment status, contact billingteam@sproutsocial.com.
Can I add more than one payment method in Sprout?
You can add a second credit card or PayPal account as a backup payment method and Sprout can charge this card automatically if your primary credit card fails. By adding a backup payment method, you can avoid billing-related account disruptions and have time to fix any issues with your primary billing method.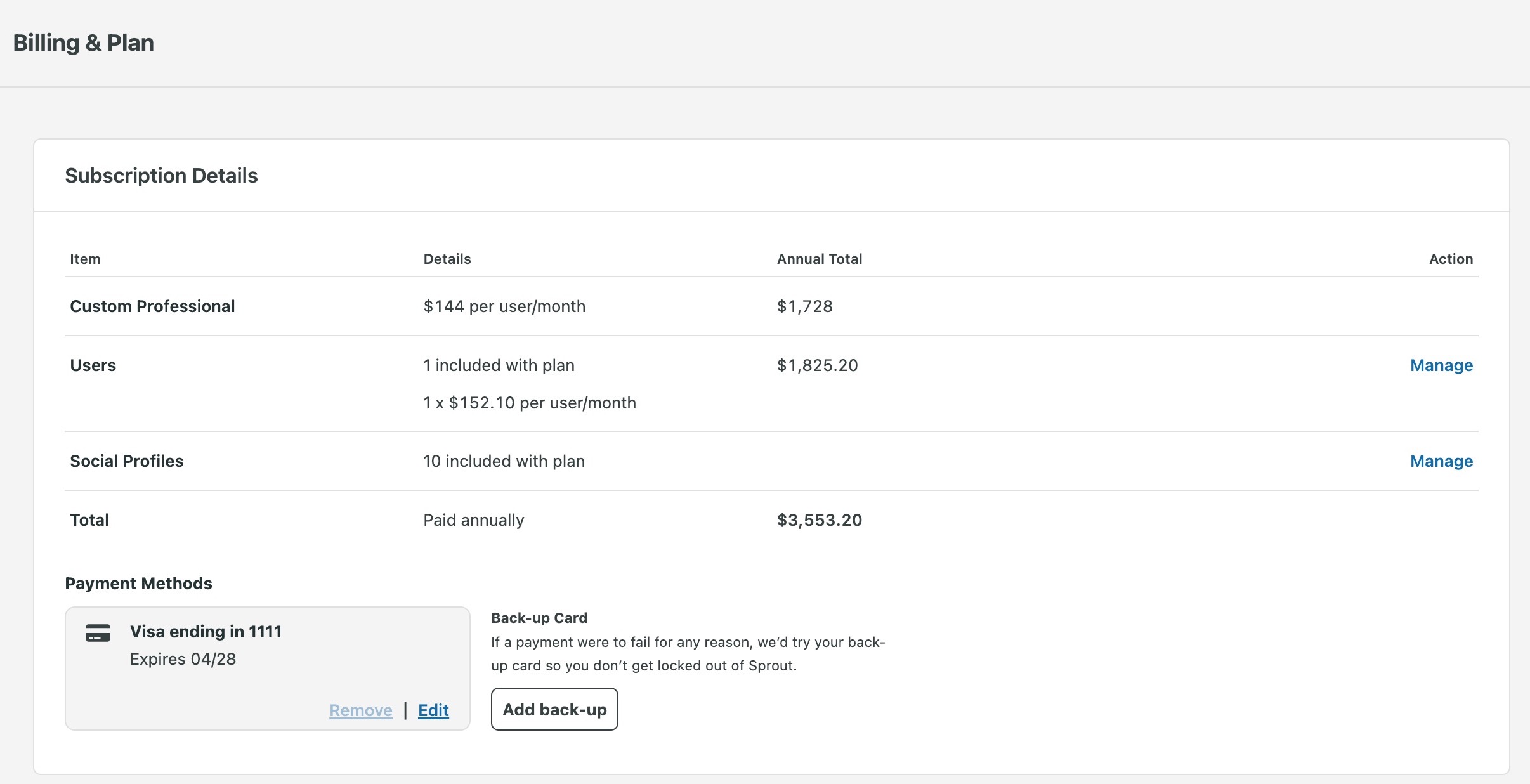 If the primary method fails, the backup is charged and you receive a Payment Confirmation email. You'll know the backup was charged based on the payment method identified in the confirmation email.
What taxes does Sprout apply, and what if we are a nontaxable entity?
Under law, Sprout Social must assess the appropriate taxes based on your and Sprout's location. This includes several states in the United States where Sprout must assess sales tax, and various other taxes in some municipalities. You can find more details here.
If you believe you are exempt from taxes shown on your Sprout Social invoice, please contact billingteam@sproutsocial.com. Please provide the relevant proof of exemption and Sprout Social is happy to assist with the proper adjustment.