Two-Step Verification
Two-Step Verification allows you to further secure your Sprout Social account by requiring an additional verification code generated by a third party application. We recommend using Google Authenticator.
Enabling Two-Step Verification
To configure Two-Step Verification, navigate to the Security page in Settings.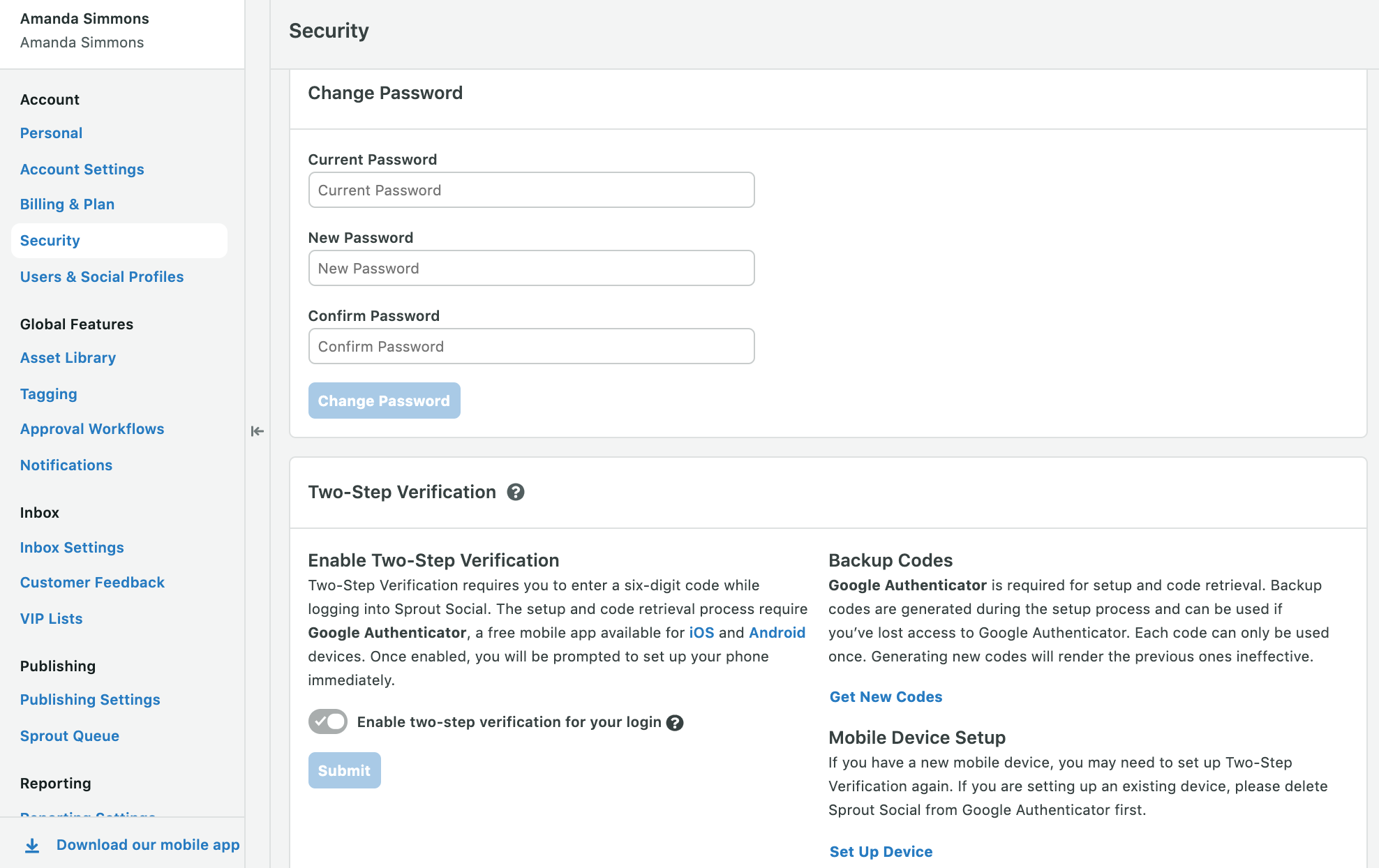 Any user can optionally enable Two-Step Verification for their login. Additionally, the Account Owner can require that all users on the account configure Two-Step Verification.
Click Submit to begin configuring Two-Step Verification, then follow the instructions to complete setup.
Note: If Require two-step verification for all users is enabled, all users on the account will be logged out and required to configure Two-Step Verification once they try and log back in.
Configuring Two-Step Verification
To ensure seamless setup of Two-Step Verification, download the Google Authenticator app to your mobile device.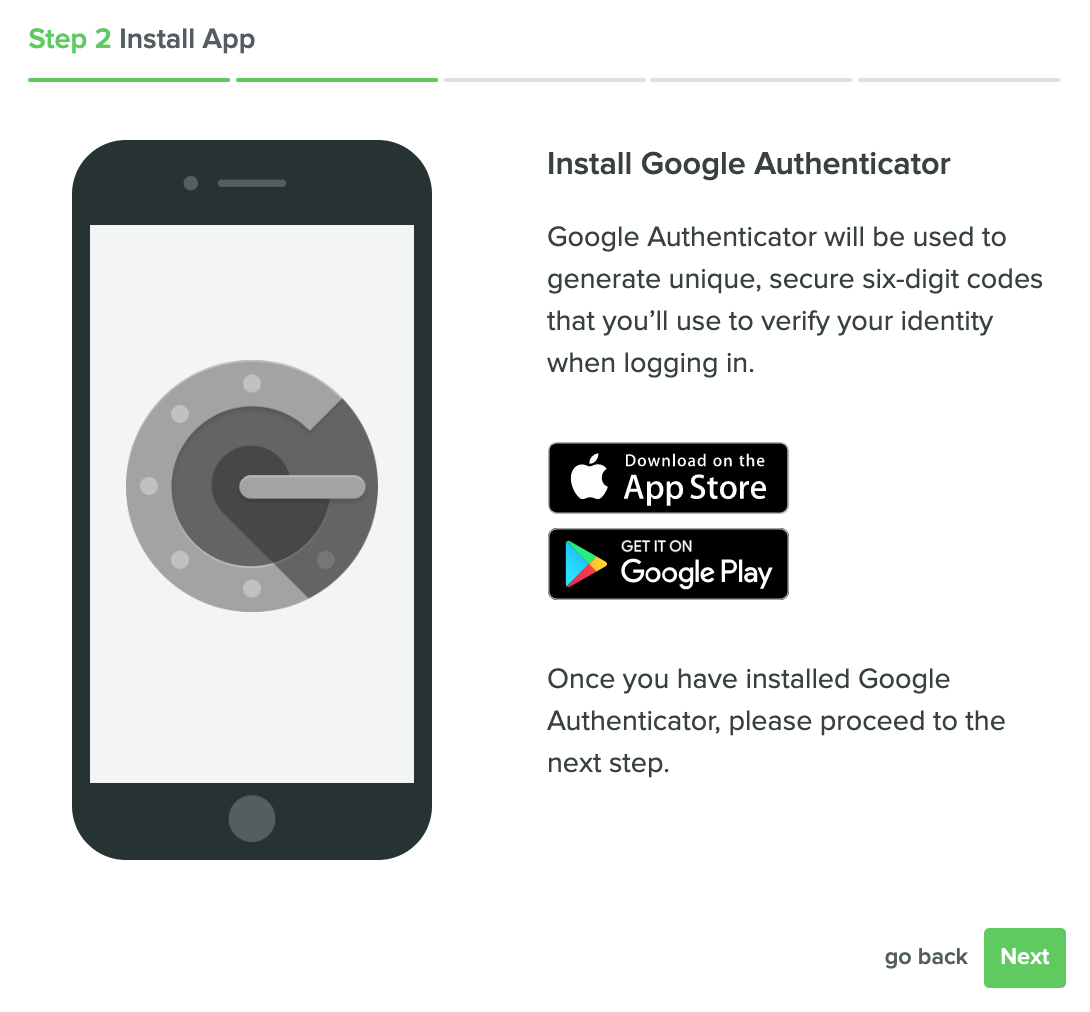 After you download Google Authenticator, click Next to proceed to the next screen.
Sprout Social will produce a QR code. Scan that with your phone within the Google Authenticator app.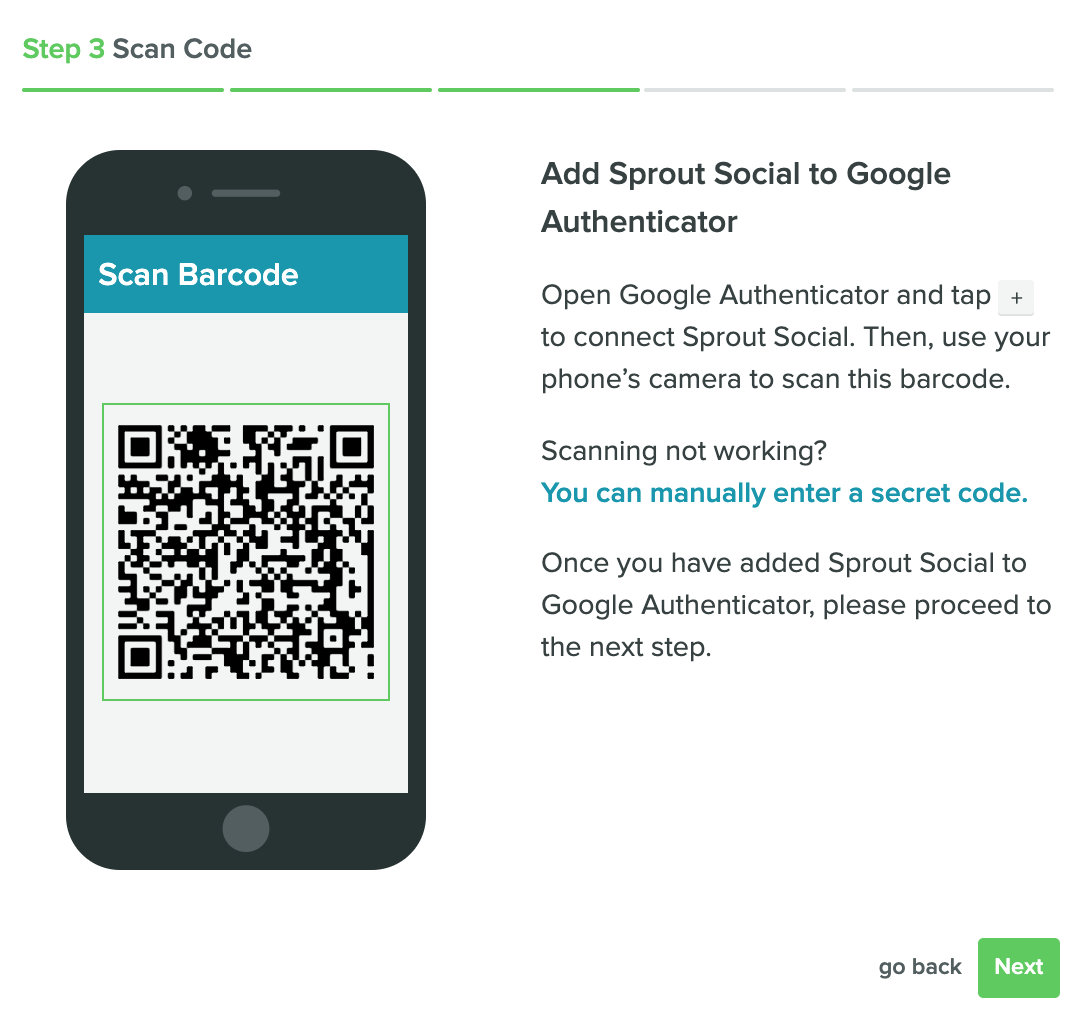 Note: It's also possible to configure by manually typing in a secret code. Select that option in Google Authenticator and click the link labeled Or, you can manually enter a secret code in Sprout Social.
Once you scan the QR code, click Next. Sprout Social will ask you to verify your device with a six digit code produced by Google Authenticator.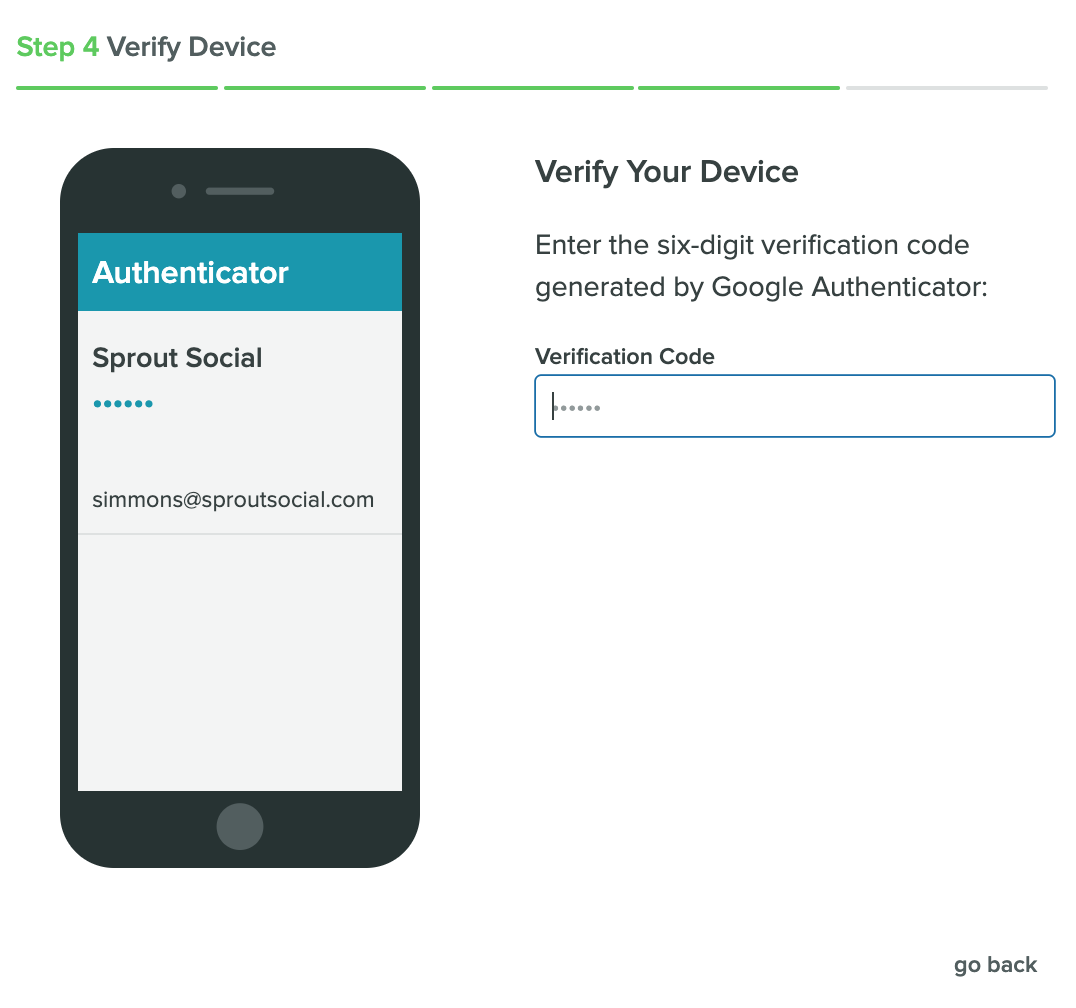 After verifying your device, Sprout Social will produce 10 backup codes. These codes can be used to verify your account in the event you do not have access to your mobile device and Google Authenticator.
Each backup code can be used only once. Make sure to write these down or print them out and save them in a secure place accessible only to you.
If you use all of your backup codes, or you lose them, new codes can be regenerated from the Security page at any time.
After you've saved your backup codes, click Done to complete the Two-Step Verification setup.
Logging into Sprout with Two-Step Verification enabled
Once Two-Step Verification is configured, any time you try to log in to Sprout Social on the web or on mobile, you will be prompted for a verification code after you type in your password.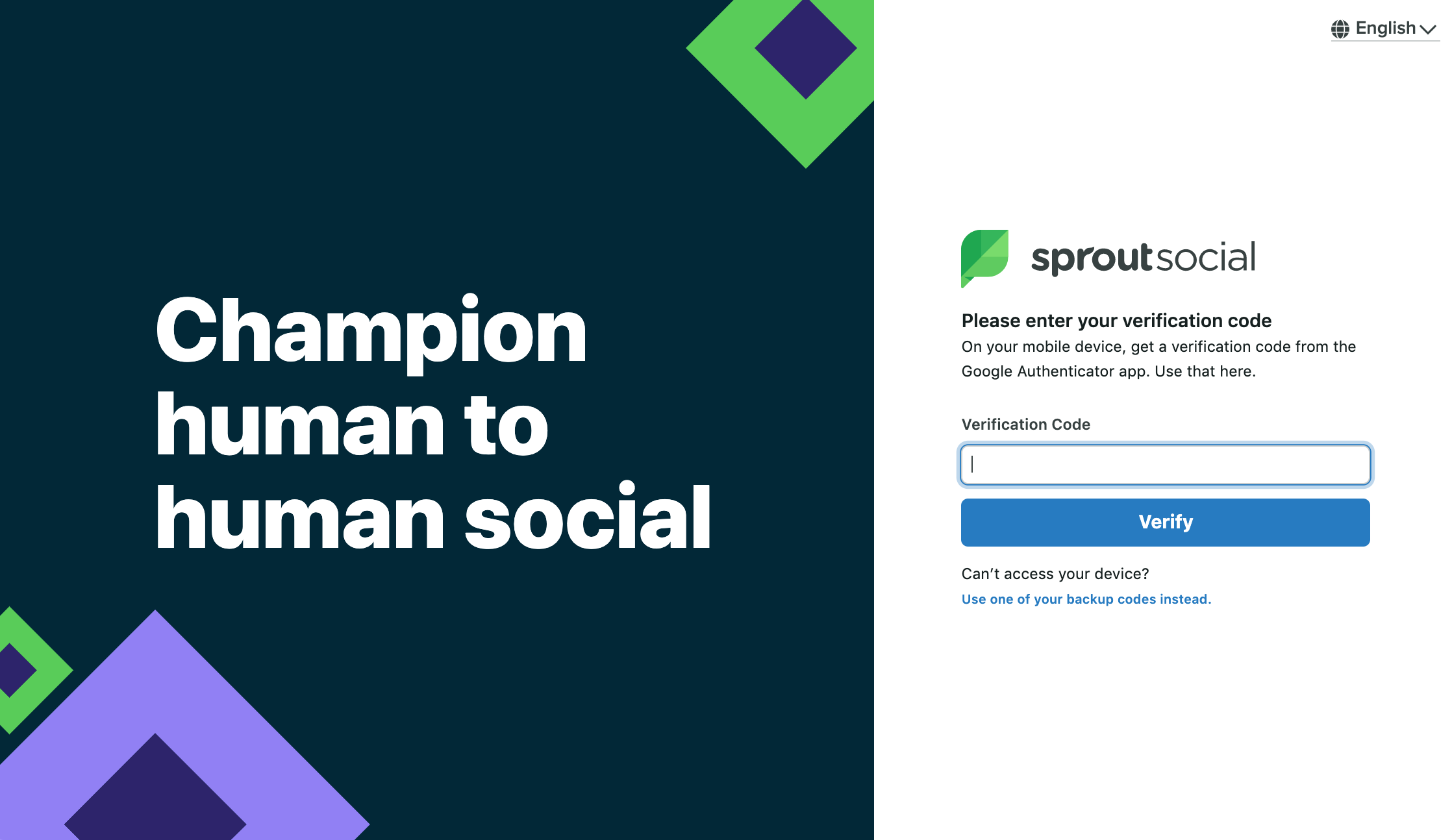 Using Google Authenticator
Google Authenticator produces a new verification code on a short timer. To ensure access to your Sprout Social account, be ready to type in the verification code presented in Google Authenticator when Sprout prompts you for verification.
For security purposes, Google Authenticator only stores your configuration locally on your device. If you delete and reinstall Google Authenticator, or you replace your mobile device with a new one, your previous configuration profile for Sprout Social will no longer be available. In the event that this happens, you will need to use one of the generated backup codes to log into your Sprout Social account and reconfigure Two-Step Verification from the Security page.
If, for whatever reason, you no longer have access to neither your Google Authenticator app and your backup codes, contact Sprout Support.