Organize Users & Social Profiles
Sprout Social is built to scale with changes to your social media strategy, and to support flexible account structures for all company types—from small to medium businesses, enterprise organizations and agencies. This article explains how to structure your account and profiles so you can set permissions for individual users in a way that makes the most sense for your business.
Note: The permissions described in this article apply to the Standard Plan. Read about Advanced Permissions.
This article contains the following sections:
Groups
A Group is a collection of related social profiles that help you organize and report on your social media efforts. You can organize your profiles in logical groups based on how your business operates and grant team members access to specific profiles depending on what they manage.
Use Groups to align your profile management and reporting with your enterprise business needs. Some common uses for groups:
Group your social channels by internal teams or organizations to manage their respective social profiles

Streamline engagement by grouping profiles according to language or geography

Group profiles to separately manage reporting and social networks for your clients
Create a Group
You can create a Group in two ways. To use the first method:
Open the Left menu bar.

Click

Add New Group. You're navigated to the Users & Social Profiles section of your settings.

To use the second method:
Navigate to

Account and settings

>

Settings

.

Click

Users & Social Profiles

.

Click

Create a group

in the upper right corner of the screen.
Now you can create your Group. To finish creating your Group:
Enter a name for your Group.

Choose

From New Profile

or

From Existing

by clicking the tab you want.

Select Twitter Profile or Facebook Page if you're creating a Group from a new profile or select the Group you want to use from your existing Groups.
Note if you're creating a new Group, you'll need to authorize either the Twitter Profile or Facebook Page.
Click
Proceed
. The Group is created and you can start managing the profiles and team members associated with it.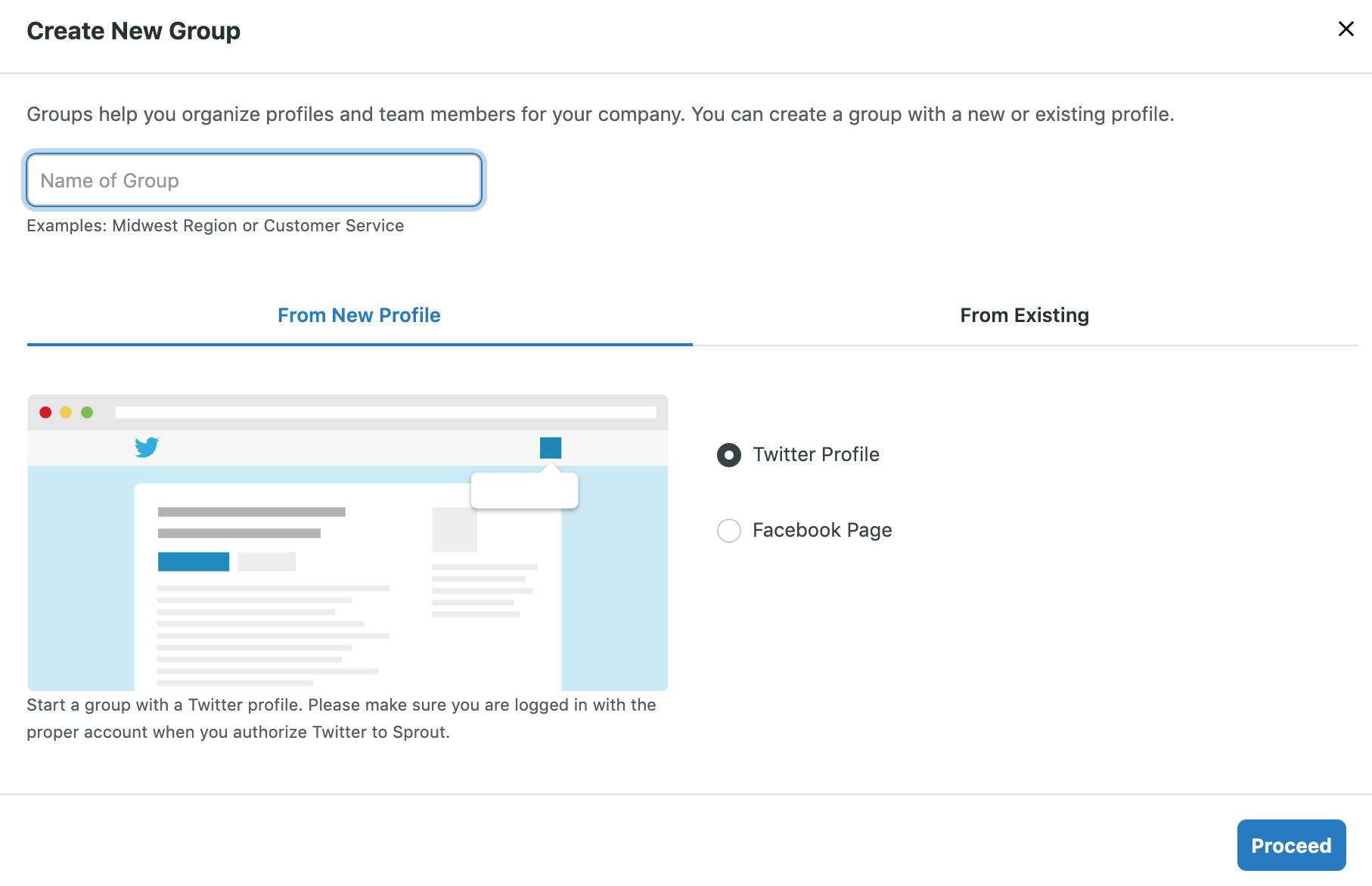 Invite New Team Members
After you create your Groups you can add your entire social team to Sprout to collaborate and manage your social channels.
Note: A user must have Manage profiles & permissions and Invite New Users company permissions to invite other team members to Sprout.
To invite team members:
Navigate to

Account and settings

>

Invite Team Members

.

Add the name and email address of the user you want to invite to Sprout. Click

+Add

to invite multiple users.

Select the Group(s) and profile access for the user(s).

Click

Send Invites

. The users you added receive an email notification to join.
Configure User Permissions
After you invite your users, it's important to set the appropriate permission for each user in your Group. To set permissions:
Navigate to

Account and settings

>

Settings

.

Click

Users & Social Profiles

.

Select the user from the left-hand side.

(Optional) Set additional administrative options for the user, like Tag permissions or manage profile permissions.

Customize access to features and reports using Advanced Permissions.

Click

Save.

Role Permissions
Sprout has two role permissions for users: Account Owner and Manager.


The Account Owner is set by Sprout during account creation. Account Owners have full administrative access to the entire Sprout account, including billing. The Account Owner is typically the person who opened the account with Sprout.
A Manager role is applied when Manage profiles & permissions is selected for a user. A Manager can:
Create and manage competitor and keyword reports

Create and manage Brand Keywords

Create and manage Listening Topics

Create and manage new Groups

View all Tasks

Manage profiles and assign permissions for social profiles they have access to

Create, edit and assign roles to team members
Managers can also, optionally, invite other users to the Sprout Groups they have access to.
Removing Users
If you happen to remove a user in the middle of your billing period, the seat will remain open until the next billing cycle, in the event you would like to replace that user.
If you wish to remove a user from your account, navigate Account and settings > Settings > Users & Social Profiles. Select the user you'd like to remove from the list beneath Your Company, then click

in the top-right.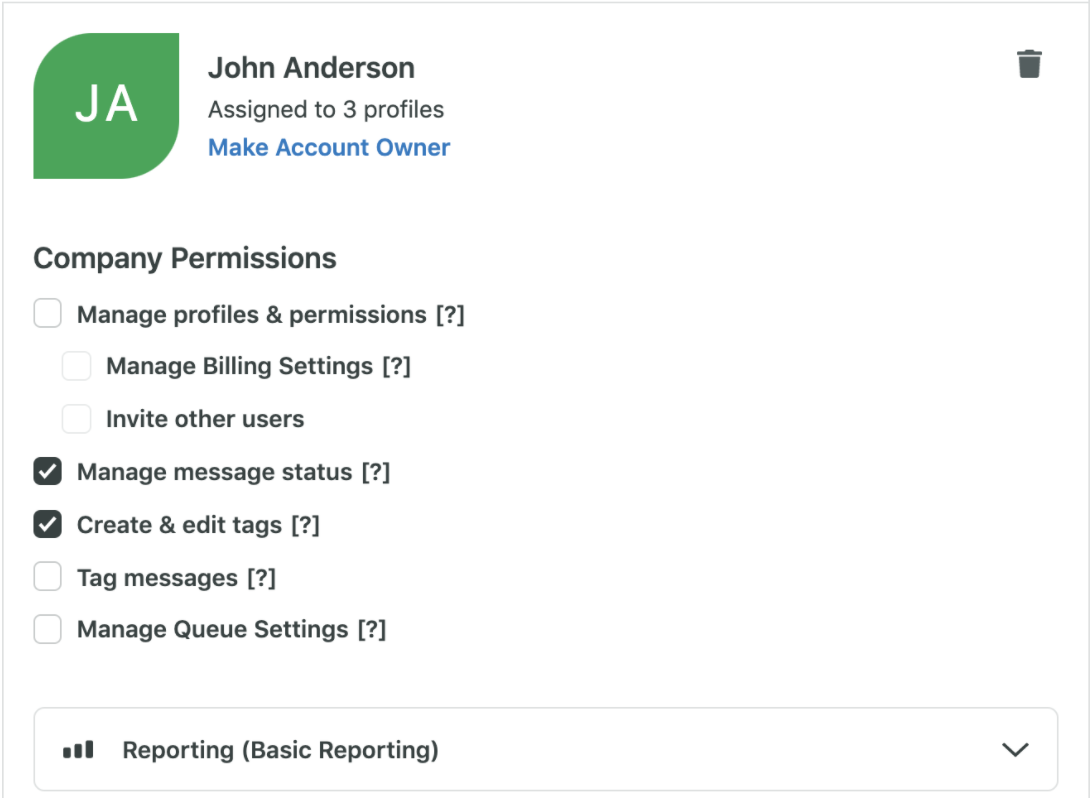 Next, you will see a confirmation modal. Notice that all tasks assigned to the user you are about to delete will be reassigned to the account owner. Any content that the user had scheduled, added to the Sprout Queue or saved as a Draft will remain intact. Click Remove to finalize the process.