Organize Users & Social Profiles
Sprout Social is built to scale with your social media strategy and support flexible account structures for all company types —from small to medium businesses, enterprise organizations, and agencies. This guide explains how to successfully structure your account and profiles and set permissions for individual users in a way that makes the most sense for your business.
Note: The permissions described in this guide apply to the Standard Plan. Read about Advanced Permissions.
Topics:
Use Groups
Connect Social Profiles
Invite New Team Members
Set Permissions
Use Groups
A group is a collection of related social profiles that help you organize and report on your social media efforts. You can organize your profiles in logical groups based on how your business operates and grant team members access to specific profiles depending on what they manage. Groups can be used to organize different social channels within your business or to effectively manage multiple clients.
Create a Group
1. There are a couple of ways to create a new group. To use the first method, click the name of the current Group to reveal the Group dropdown. Select +Add Group at the very bottom of the dropdown to create a new group.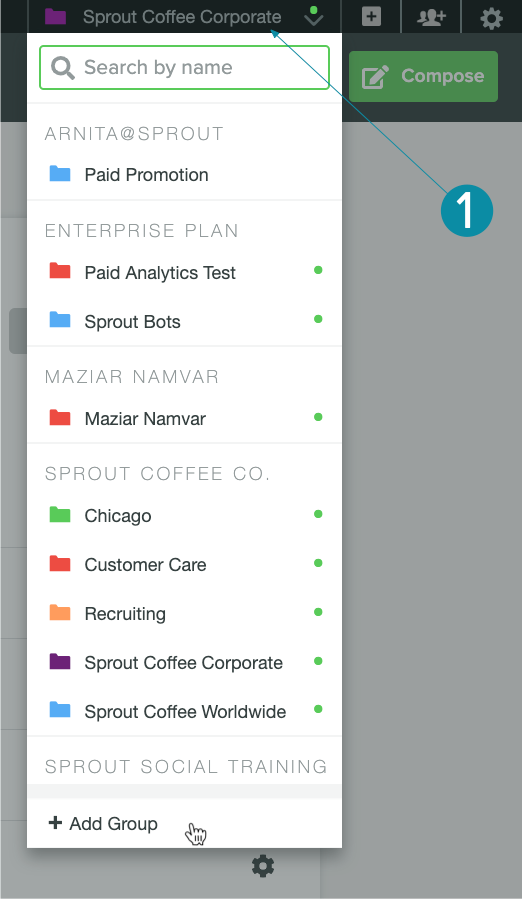 2. Use the second method by first navigating to Settings » Users & Social Profiles, then click +create new group.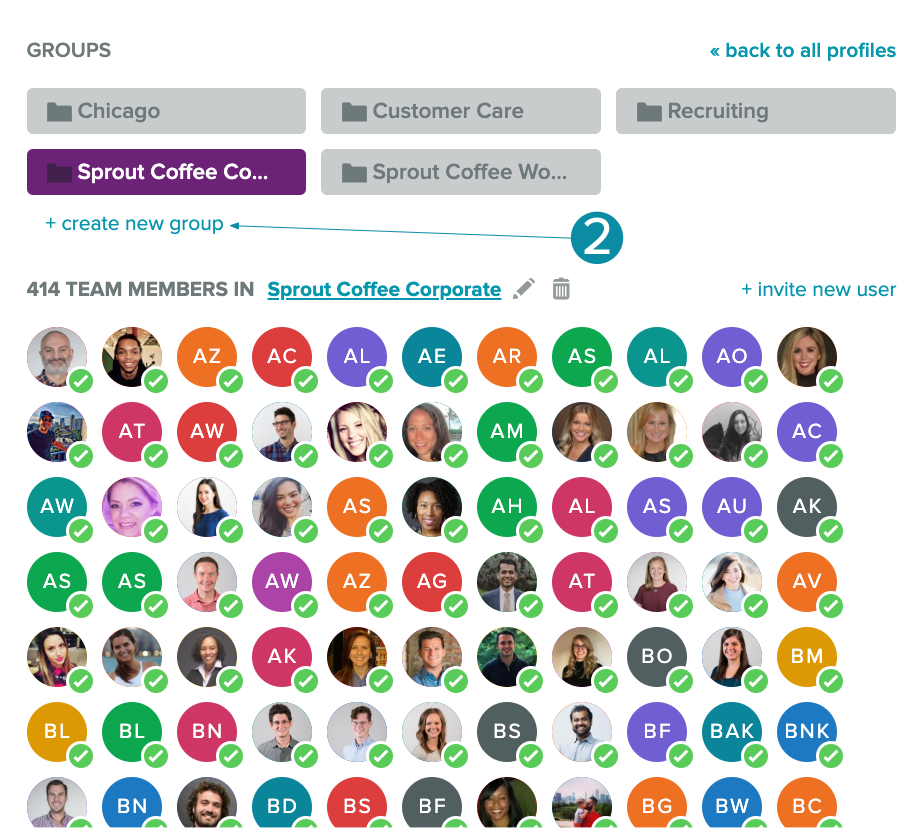 3. After using one of the methods above, choose to either create a new group associated with a newly added social profile or create a group from an existing social profile in Sprout.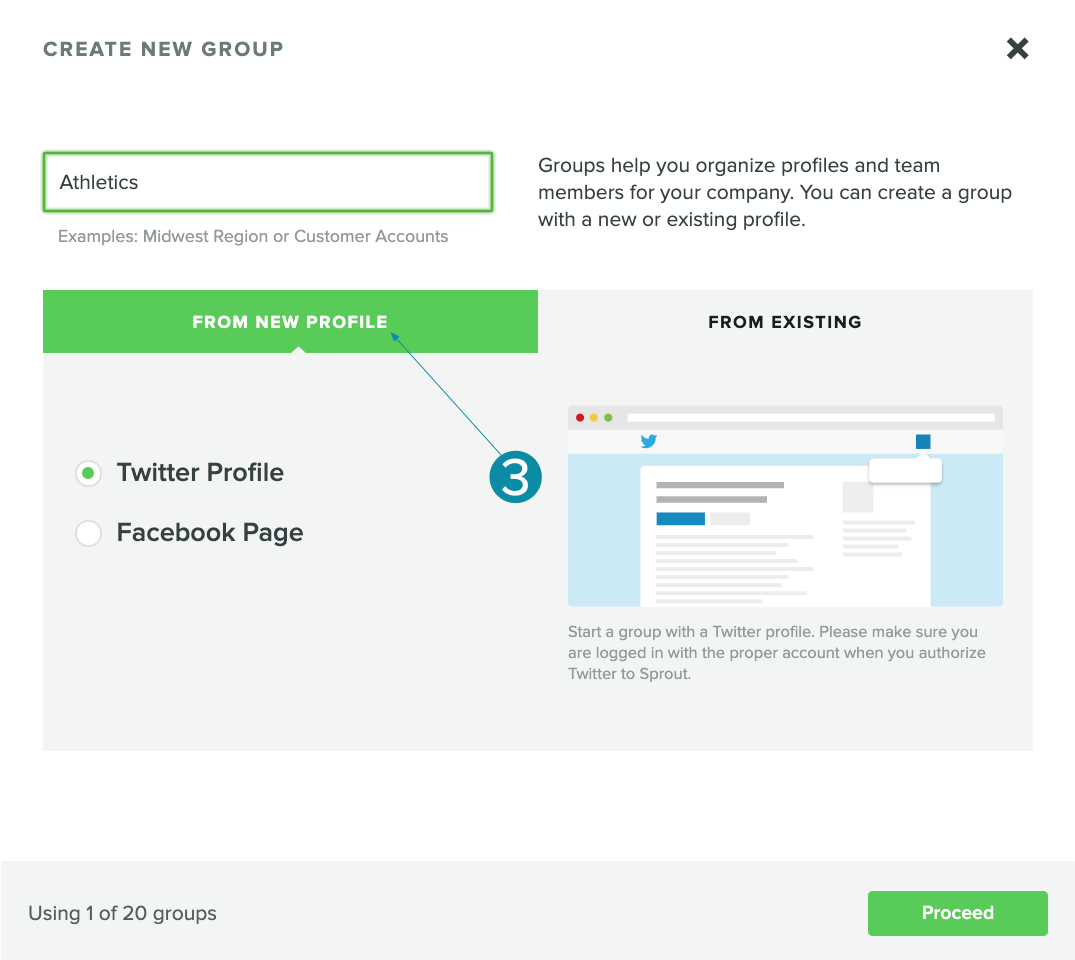 Delete or Edit a Group
4. Select the group, then click the icons to delete or edit.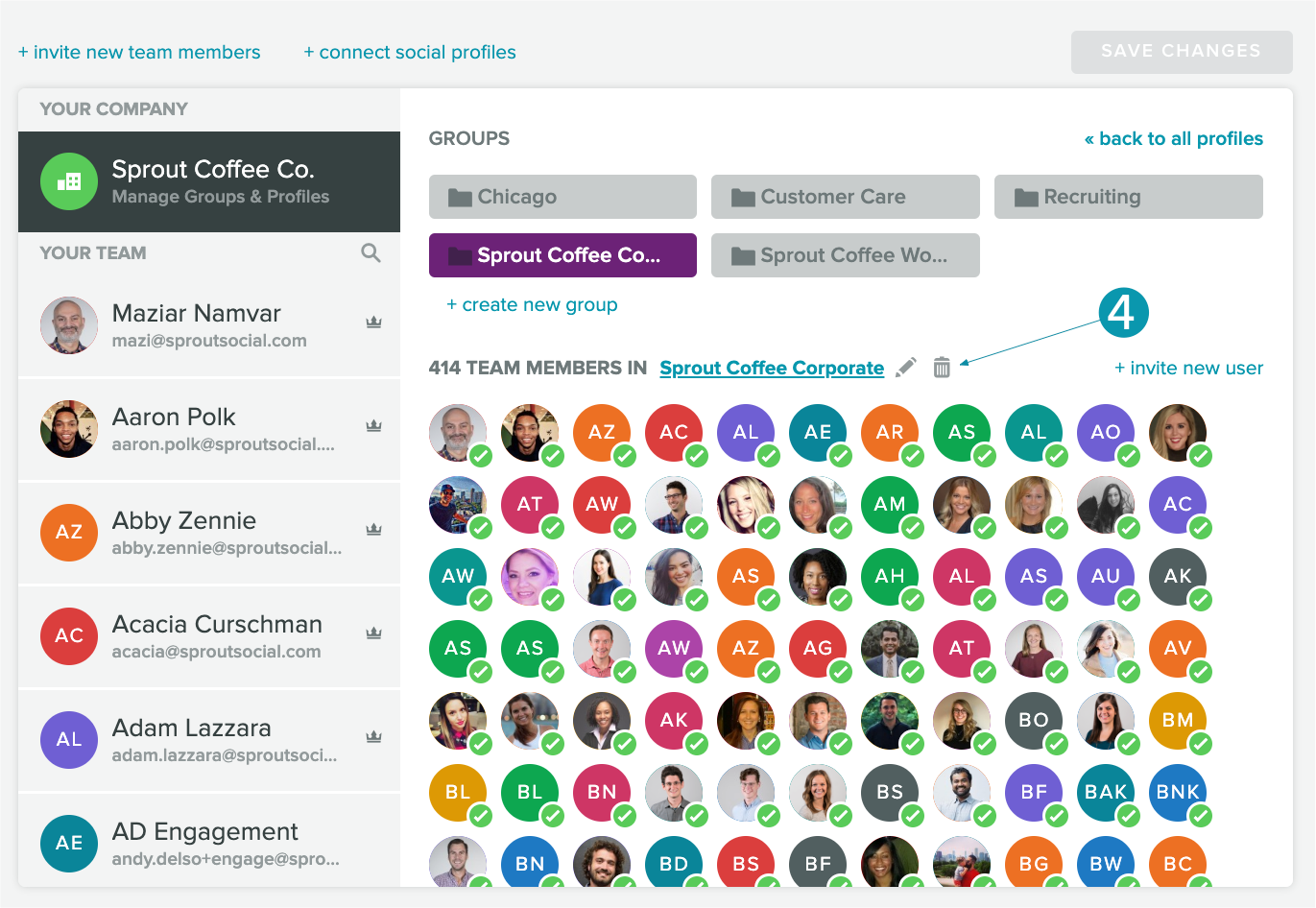 Sprout Tip
Use Groups to align your profile management and reporting with your enterprise business needs. Some common uses for groups:
Group your social channels by internal teams or organizations to manage their respective social profiles

Streamline engagement by grouping profiles according to language or geography

Group profiles to separately manage reporting and social networks for your clients
Connect Social Profiles
A social profile is a third-party social network that you link to your Sprout account for seamless management of engagement, publishing, and analytics. Connect social profiles to your group(s) to begin managing those profiles in Sprout.
Connect a Social Profile
1. Click on 

in the upper right corner of the application. You may also connect a profile under Settings » Users & Social Profiles.
2. Select the group that the profile will belong to from the In Group dropdown.
3. Click the social network you wish to connect.
Sprout integrates with Twitter, Facebook, LinkedIn, Pinterest and Instagram. Profiles also include your Google Analytics and Feedly accounts.
Note: We do not integrate with Facebook groups, LinkedIn groups or LinkedIn university personal profiles.
You must be an admin for a Facebook, Instagram Business or LinkedIn company page in order to connect it. Learn more about troubleshooting Facebook and Instagram connection issues by reading our Converting and Reconnecting Instagram Business Profiles article.
It's worth noting that Google Analytics, Feedly and LinkedIn Personal pages do not count against your profile count.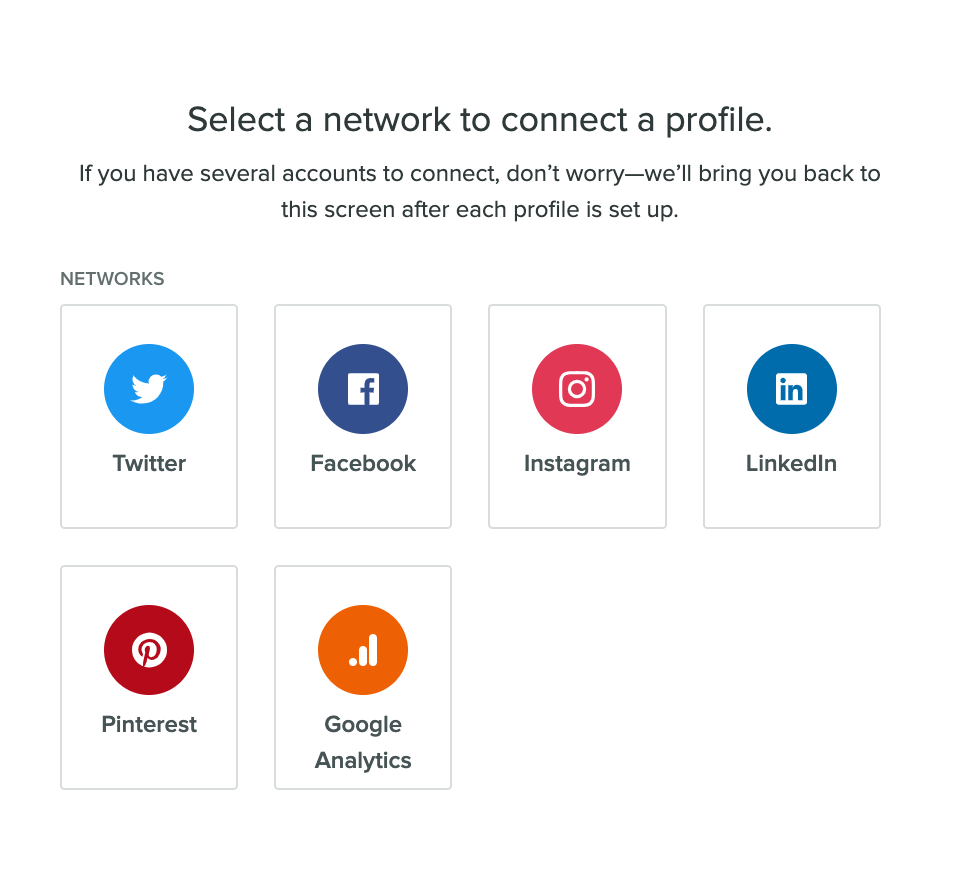 Remove a Social Profile
1. Click on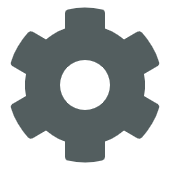 next to the profile you'd like to remove and then select View Profile.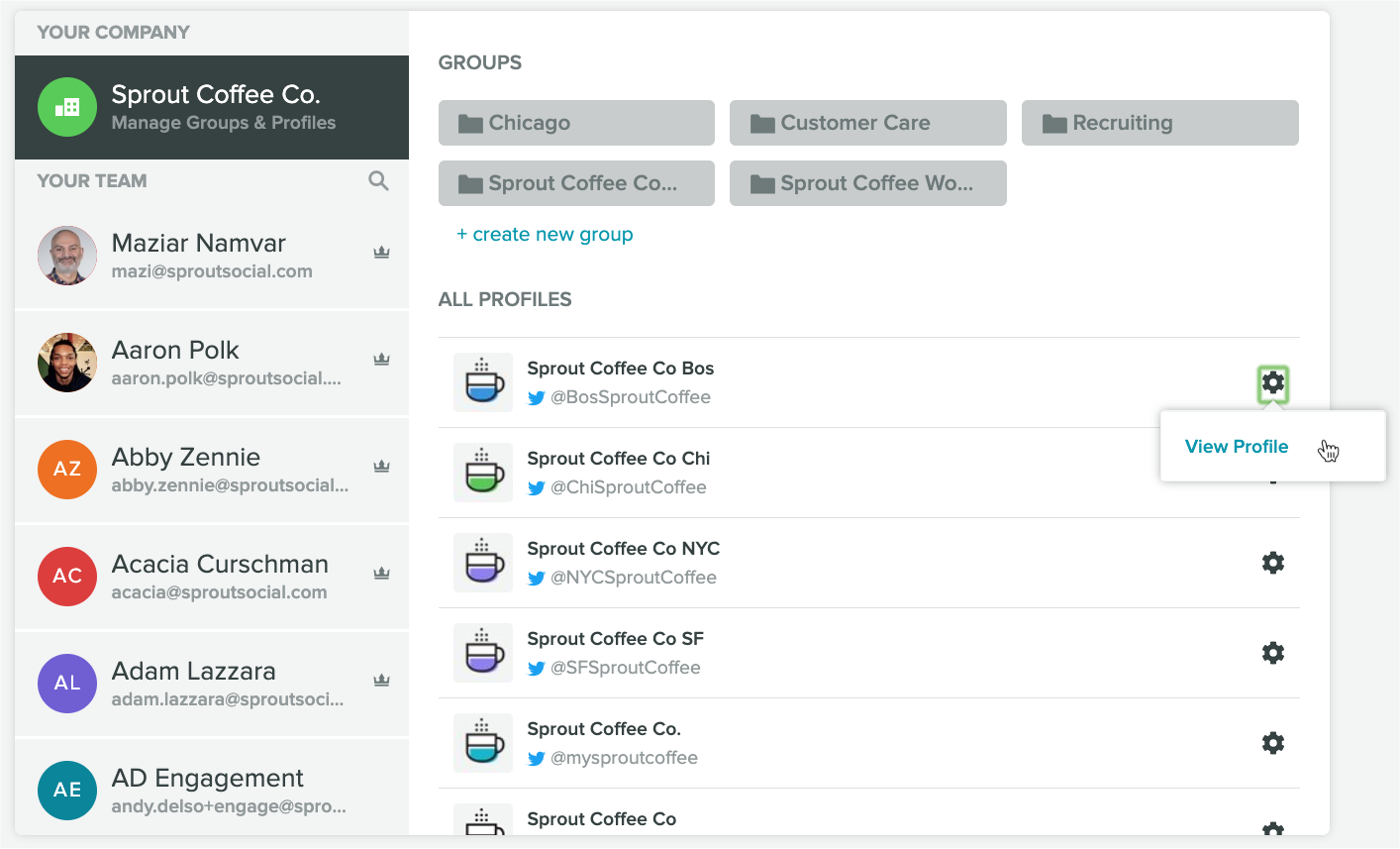 2. Click on the 

 to remove the profile.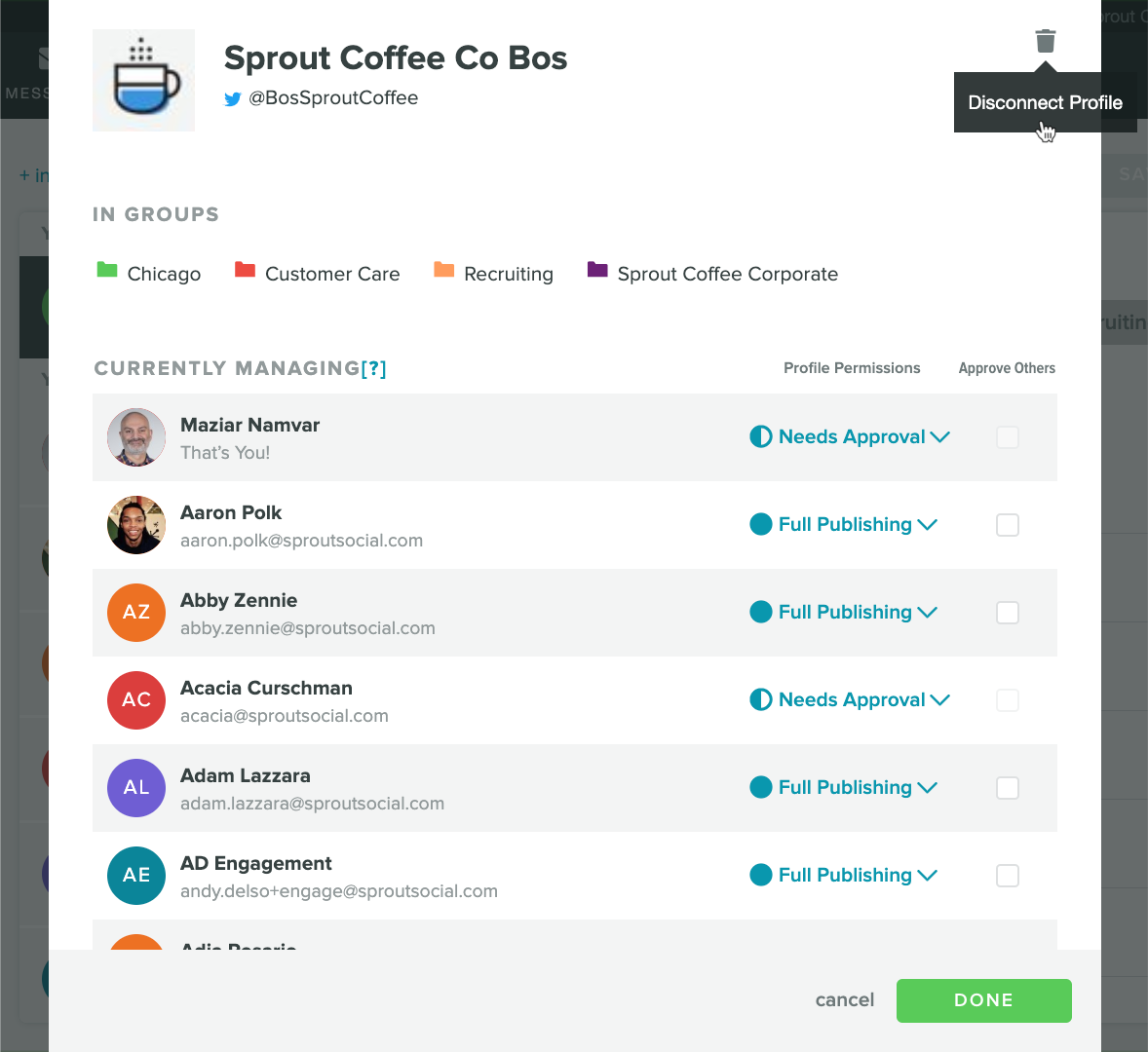 Invite New Team Members
Easily add your entire social team to Sprout and effectively collaborate to manage your social channels.
Invite a New Team Member
1. Click on the team member icon in the upper right hand corner of the application. You may also connect a user under Settings » Users & Social Profiles or within the Your Team sidebar.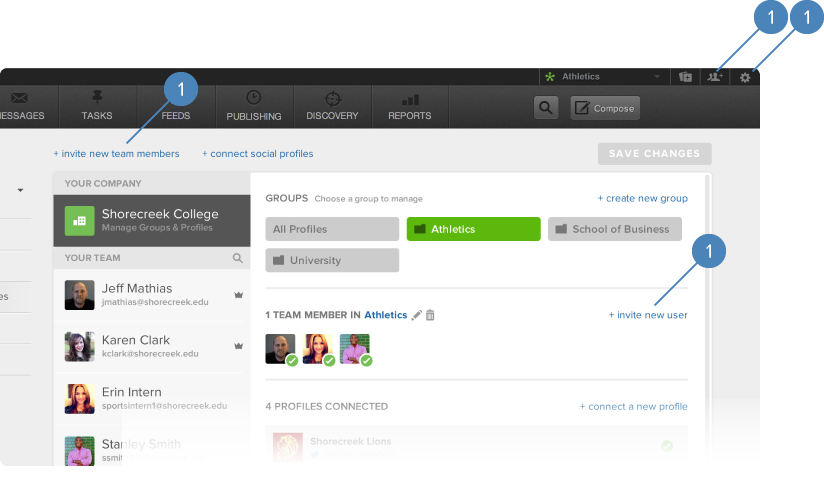 2. Add the name and email address of the user you wish to invite. Click the + icon to add multiple users. 
3. Choose the group(s) and associated profile access for the user. Click Send Invites and the user(s) will receive an invite email notification.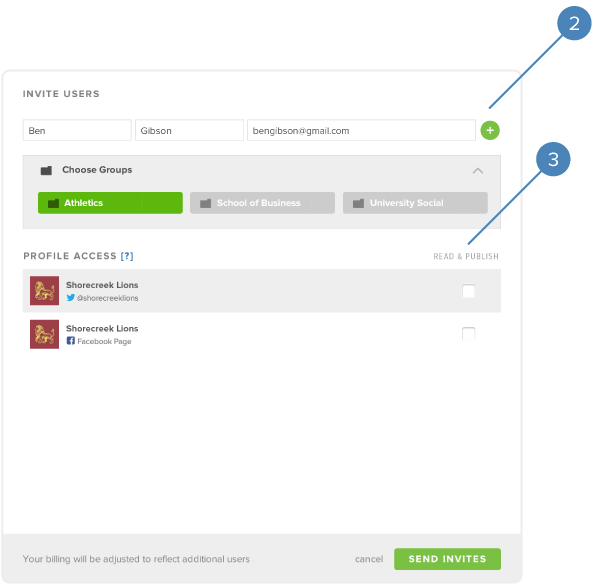 Read the Making Changes to Your Plan article to learn about removing users from Sprout.
Set Permissions
Configure User Permissions
1. Select Grant Manager Access to give a user additional administrative access to manage profiles & permissions. Click Allow to Invite Others to give your Manager permission to add other users to your account.
2. Give each user customized reporting access to Basic, Engagement, and/or Team Reports. 
Read about Advanced Permissions.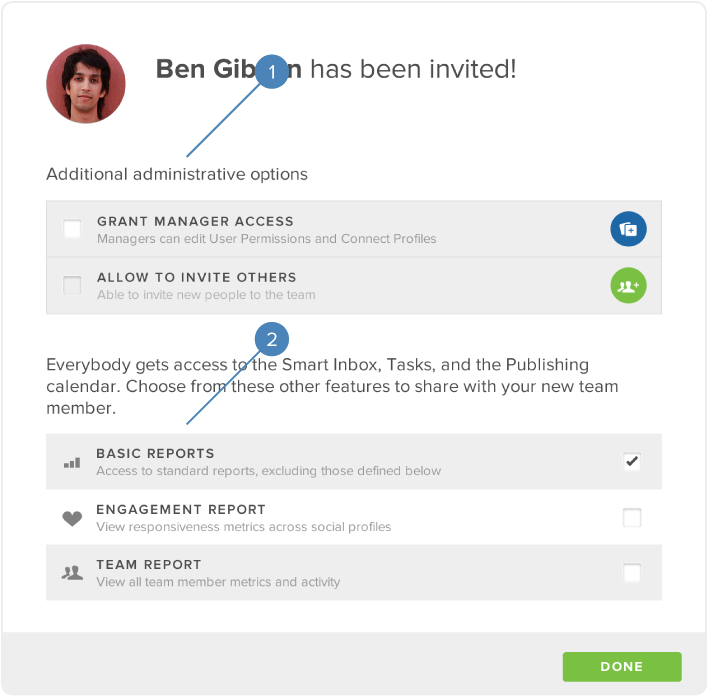 Roles Permissions 
Account Owner
Full administrative access to the entire Sprout account, including billing. Sprout automatically configures this role for the user that opens the new account.
Manager
When a user is given Manager access, the user can manage and grant other existing users access to profiles. However, they can only grant access to profiles that they have been given access to. These types of Managers don't necessarily have access to all profiles in a group and do not have access to billing.
Note: A user must be a Manager to be able to invite other team members to Sprout. 
Example Use Case 
How to Successfully Manage Social Profiles with User Permissions
Shorecreek College, a fictional higher education institution, has six different social profiles that they need to manage—two for the university as a whole, two for their Athletics program, and two for their School of Business.
1. Their Director of Communications, Andrea, opens an account with Sprout, which makes her the Account Owner. She has the ability to connect all of the school's social profiles to her single account while still allowing each department to manage their respective profiles separately by Group. She may also give certain employees different access based on their responsibilities.
2. Andrea creates three groups in the Sprout platform, one for each of the three departments. Then, she adds several users as Managers. Andrea allows those departments to manage their assigned profiles, without directly managing billing information for the Sprout account. Andrea also gives each Manager access to Invite New Users to build out their social media team.
3. Each Manager then adds two team members to manage their social engagement and publishing. Jeff, who is the Athletics manager, adds a student intern as a Basic User with only 'Read & Publish' access to his two managed social profiles. Because the intern will only be responding to messages and publishing content but shouldn't have access to reporting. Jeff then adds their Social Media Associate access as a Basic User, but also allows the associate Basic Reporting access so that she can pull reports and keep Jeff updated on their social performance.