Configuring Customer Feedback
Before you and your team can send feedback to your customers and measure the success of your customer care efforts on Twitter, you must set up your feedback settings.
Note: This feature is only available on the Advanced plan and you must have the Manage Advanced Inbox Features feature permission enabled.
Configuring Customer Feedback Settings
Before you can send feedback requests on Twitter replies, enable Twitter Feedback for your Twitter profile(s). To do this, navigate to Account and settings > Settings and then click Customer Feedback under Inbox.
At the top of the Customer Feedback screen, use the profile picker to choose the profile you'd like to configure. Then select Enable Feedback for this profile to begin configuring the settings.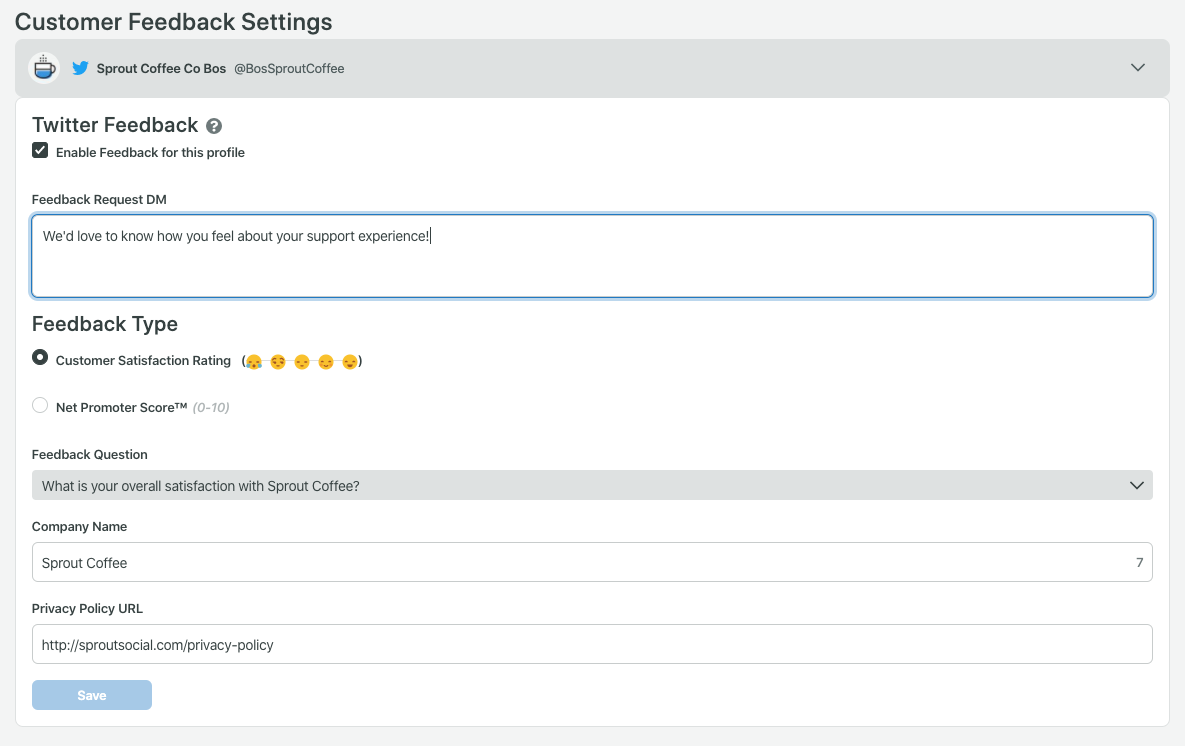 In the Feedback Request DM box, type the message you'd like your customers to see when you send a feedback request.
Choose the Feedback Type you want, either Customer Satisfaction Rating (CSAT) or Net Promoter Score (NPS). This is the rating your customer can select when they agree to take the survey on Twitter.
Feedback Question selections are pre-populated based on the feedback type you select.
Enter a Company Name to specify how the survey question refers to your company. This is helpful in situations where you have multiple profiles (such as a support profile), but you'd still like to ask your customer how they would rate your company as a whole.
Enter the full URL to your company's privacy policy in the Privacy Policy URL section.

Note: You must complete this step to ensure that Twitter Feedback is configured correctly.
Click Save to finish configuring, or Reset Settings to start over.
After you complete your feedback gathering, you can see results in the Twitter Feedback Report.
Sending Twitter Feedback from Sprout
After you complete the steps above,

appears in Compose when replying to Tweets from any profile you enabled feedback for. Click this to send a feedback request to your customer.
Note: You can only send feedback requests to customers you can direct message. Customers can only complete the feedback survey via one of Twitter's official mobile apps.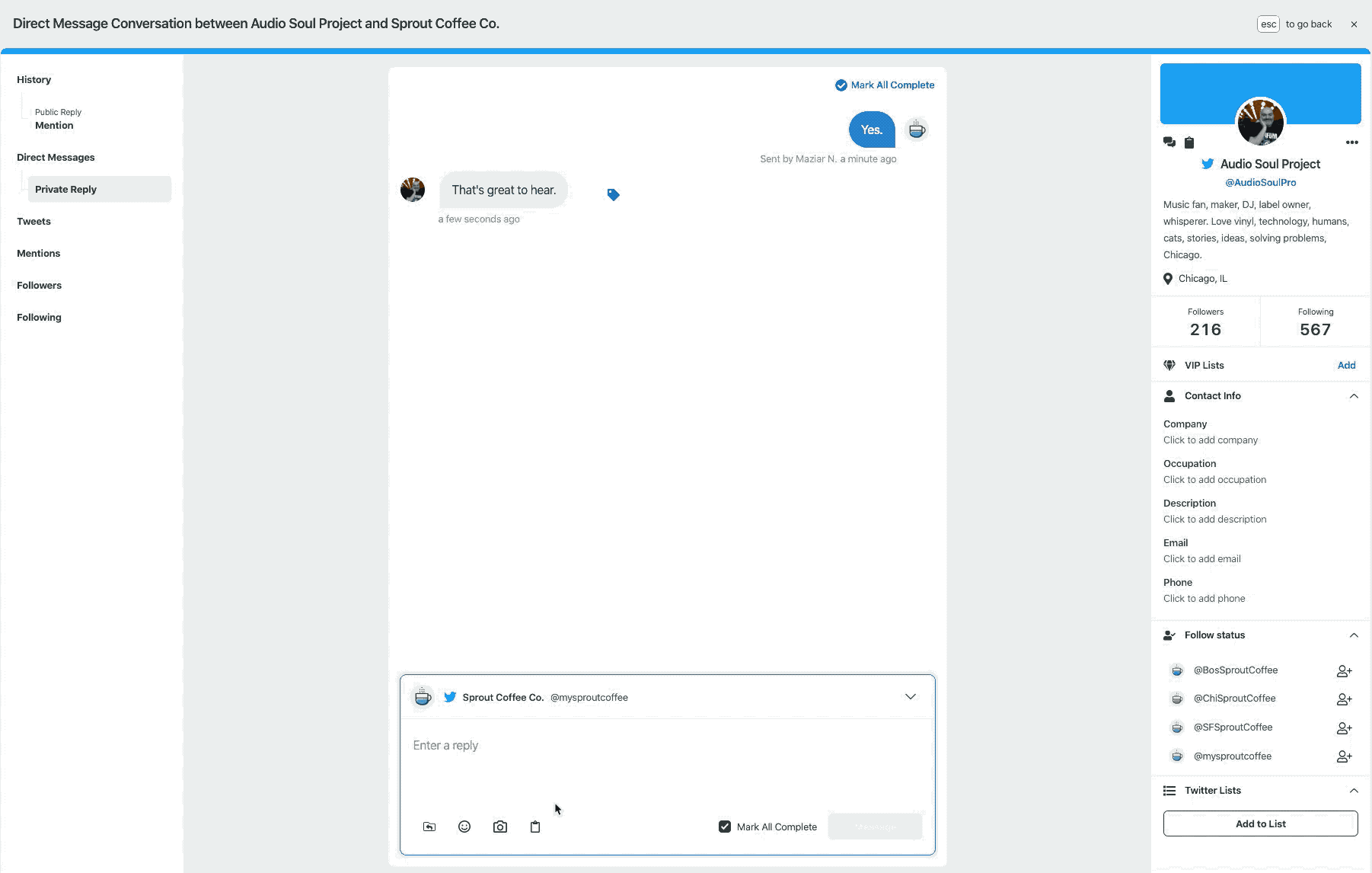 If you selected Net Promoter Score as the Feedback Type, your survey appears like the following: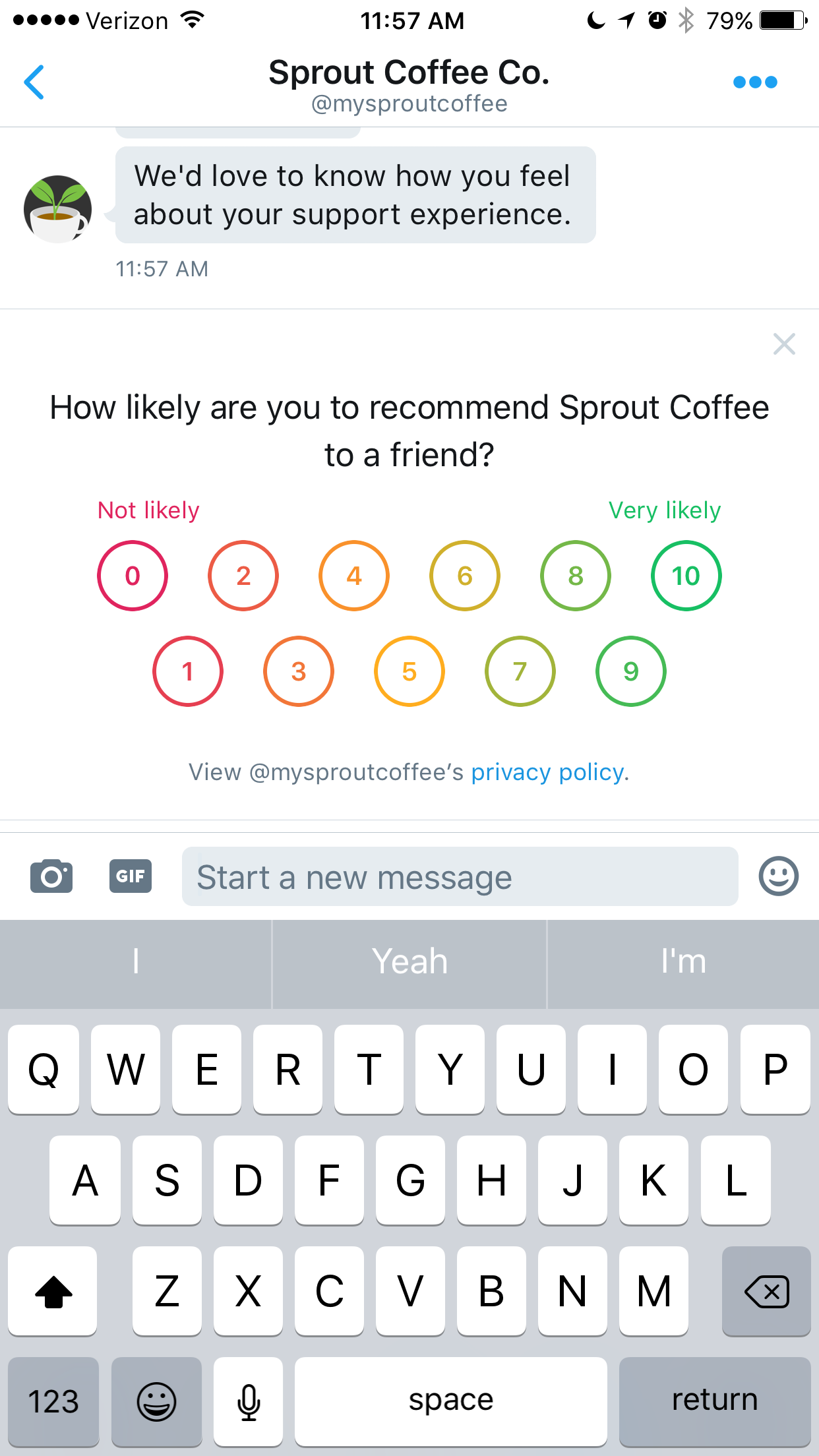 Customers can complete your Feedback Card and type a free-form response. When they complete the survey, you can see the results in the Customer Feedback Report.
Keep in mind that Feedback Cards don't appear in DM conversations on Twitter's desktop experience. This means that customers who are viewing DMs on Twitter's website won't see Feedback Cards. However, they will see them in Twitter's iOS and Android apps.
To alleviate confusion for your audience, use an accompanying message with the Feedback Card that invites your customer to leave feedback in a manner that is agnostic to the rating feature in the card.
Here are some examples:

Thank you for reaching out to us on Twitter. If you have time, we'd love your feedback on the support specialist you connected with.

If you have time, please provide feedback on your conversation with us today.

Thanks for reaching out to us today. Please let us know how we're doing below.
Each of these examples allow for free-form input as a message, conveying similar interest in either Feedback Card or free-form responses.