WooCommerce Connection Troubleshooting
Why can't I connect my WooCommerce account to Sprout?
You must be logged into your Wordpress account to connect. If you're not logged into your WordPress account, you'll receive a prompt asking you for your WooCommerce credentials which will not be recognized in the authentication flow.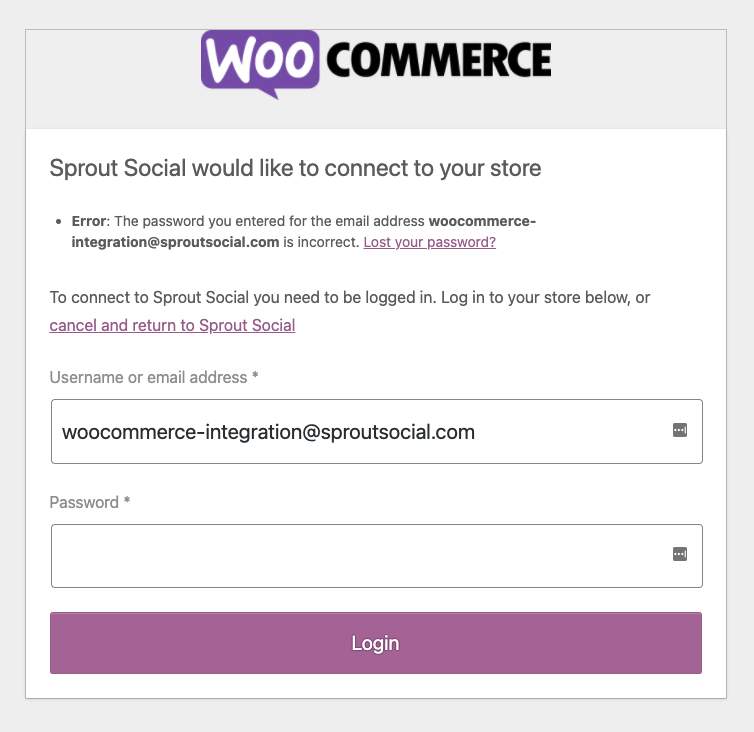 I'm logged into Wordpress and I'm still being prompted to enter my WooCommerce credentials. What do I do?
Follow these steps:
Close all open Sprout Social tabs.

Log out of Wordpress and then log back into Wordpress.

Click the WooCommerce menu item on the left side navigation bar in Wordpress.

Navigate to the My Subscriptions page.


Confirm your WooCommerce account is linked to your Wordpress account.



Return to the Sprout Social Integrations page in Settings.

Click Connect for WooCommerce, and then enter your store URL address. You should now be prompted with an authentication page.


If the steps above don't fix the issue, contact Wordpress support.