Yelp integration
Yelp reviews provide valuable insights about your brand and brand experiences. Businesses and brands that neglect reviews end up with a poor brand reputation and can find themselves losing ground with their audiences. With Sprout's Yelp integration, you can actively moderate and respond to reviews to support your brand image and continue to build strong relationships with your customers, all from one platform. You can create a Case, tag and manage your Yelp reviews to ensure your brand reputation is strong.
Note: Yelp accounts count towards your overall profile count.
Connecting Yelp locations
To get started reviewing your Yelp reviews in Sprout, you need to connect your Yelp locations. To connect your locations:
Note: You must have the Manage Profiles permission to connect.
Navigate to

Account & settings

>

Connect a Profile.



Click

Connect

for Yelp.




Grant Sprout permission to access and publish to Yelp on your behalf by clicking Go to Yelp.

Enter your credentials in Yelp and authorize Sprout.

Select which Yelp locations to add to Sprout. Each location counts as one profile.

Set the team permissions for Yelp profiles to complete profile connection.  
After you connect your Yelp profiles, you can start responding to and managing your Yelp reviews in Sprout. To access your Yelp reviews:
Navigate to the

Reviews

tab in Sprout.

Select your Yelp profiles from the Sources dropdown.


The stream updates to show you only your reviews from Yelp by Newest to Oldest. You can also filter by date range, ratings or tags. You can also search through the reviews for keywords or phrases.
Managing reviews
To reply directly to a review click

.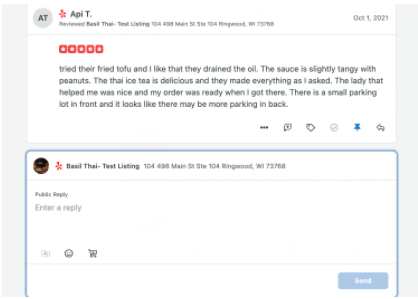 If a review doesn't require any further action, you can mark the review complete by clicking

to remove them from the stream.
You can start Conversations on reviews, forward the review to your support team for immediate action, tag the reviews or create a Case for your Customer Care team.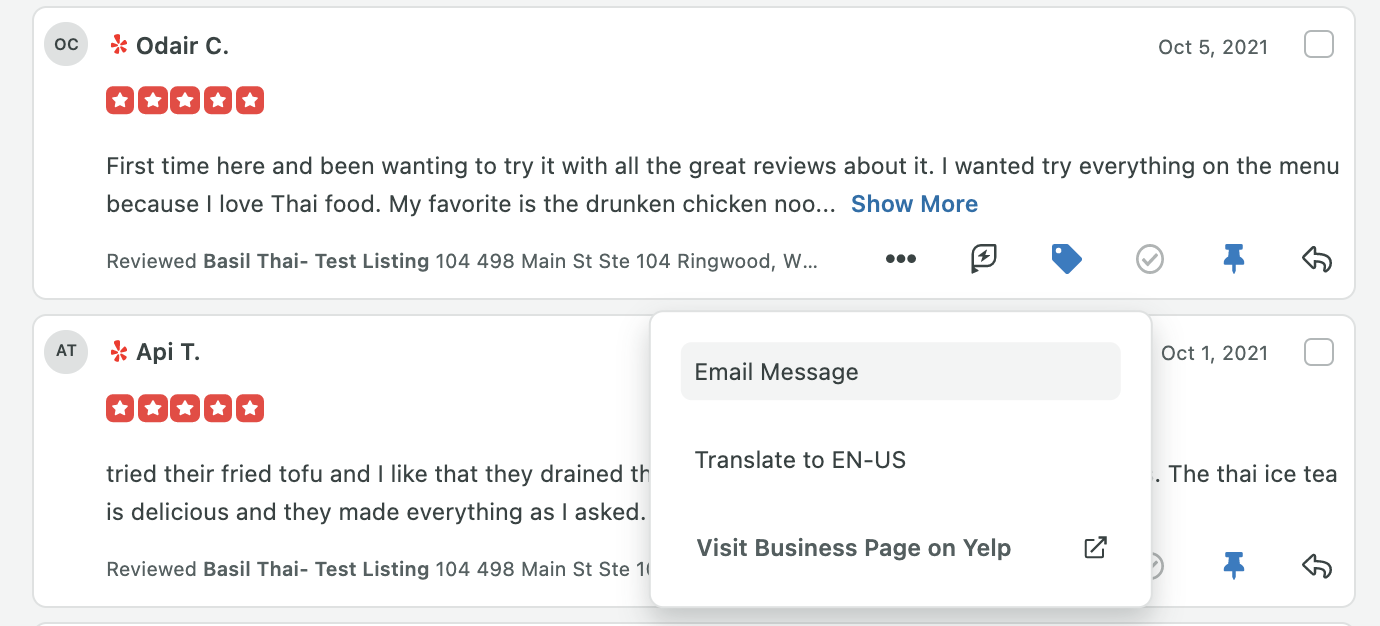 FAQs
Does Sprout show all Reviews for each Yelp location? 
Sprout receives the most recent 200 reviews when you add a new Yelp location. Any reviews that are older than the most recent 200 aren't ingested or available in Sprout. This is a Yelp API limitation. 
Are "not recommended" reviews available in Sprout? Can we reply to them from Sprout? 
Yes, however, there is no indication in Sprout if they aren't recommended natively. This information isn't provided through the API, and Yelp's algorithm may move reviews in and out of the "not recommended" section at any time. 
Sometimes when I click the timestamp on a Yelp review it doesn't take me to the Yelp review, it just takes me to the business page. Is that expected?
Yes, this means the review is currently "not recommended" by Yelp. 
Does Sprout support "updated" reviews?
Yes, Sprout supports updated reviews which are displayed as net new reviews in the Reviews Feed.
Can Yelp profiles be linked to our CRM and Help Desk integrations? 
No.
Can we see other reviews left by the same user?
Yes, in the Reply window there's a link to view the user's profile on Yelp and from there you can view all reviews written by that user 
Will Yelp Reviews show up in the Tag Performance Report?
No, Yelp reviews are not supported in the Tag Performance Report.
How often are new reviews ingested?
New reviews should be ingested almost immediately. 
Does Yelp show up in the Inbox Activity Report or the Inbox Team Report?
No, Reviews networks are not supported in those reports.