How do I set up SproutLink in bio?
With SproutLink you can create a customized SproutLink site to drive traffic to your website. The SproutLink site is a clickable replica of your Instagram grid with unique links associated with each of your Instagram posts. By creating a SproutLink site to share your individual post links directly from Sprout, you can further automate your scheduling and publishing workflows, save time and increase your audience engagement.
You can retroactively add links to previous posts, add links directly to your Instagram posts when scheduling and monitor the engagement activity on each of your links.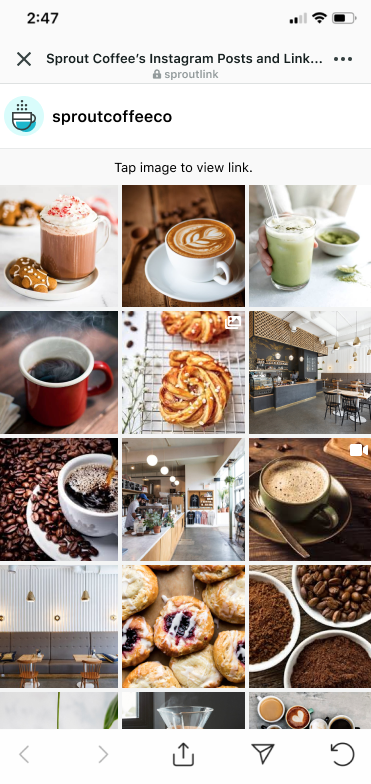 This article contains the following sections:
Enabling SproutLink in Bio
To enable SproutLink in Bio for your account:
Note: You must have Full Publishing permission for a profile to enable SproutLink.
Navigate to

Publishing

>

SproutLink in bio

.

Select the Instagram profile you want to enable SproutLink for from the dropdown menu.

Click

Enable SproutLink

.
The SproutLink in Bio tab populates with your last year of Instagram posts (up to 1,000 posts). From here, you can go through and add post links to your previously published Instagram posts.

Using the SproutLink in Bio tab
From the SproutLink in Bio tab in Publishing you can publish the following post types:
Instagram carousel posts, published using the mobile workflow

Note that mobile-published posts can take longer to appear on your SproutLink site, roughly five minutes after publishing using the mobile workflow.

Instagram single-image or video posts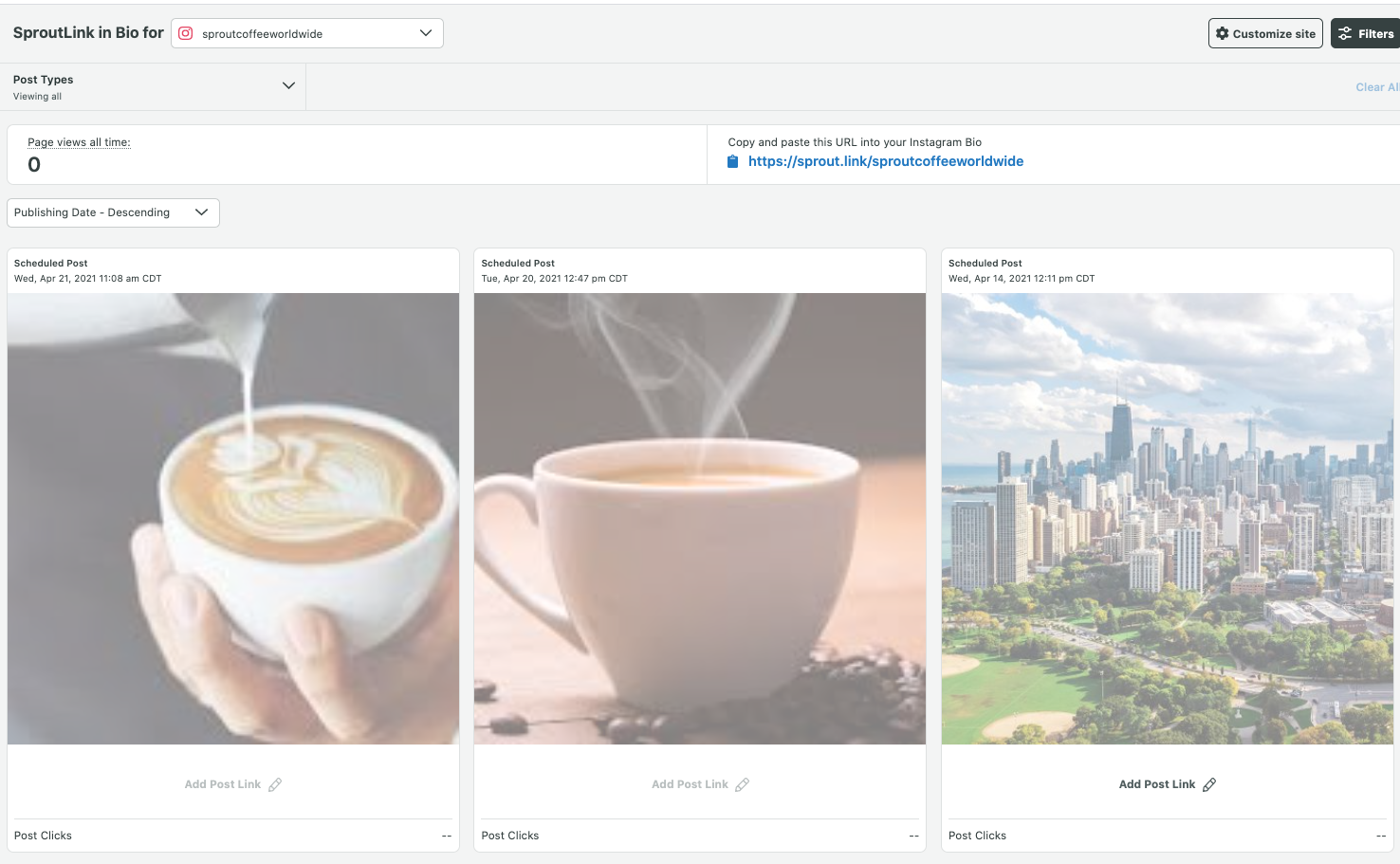 Add links to your existing Instagram posts using Compose

Click

Add Post Link

to open Compose and add a link to any website.

Edit any pending link posts

View the amount of post clicks on your published posts, updated hourly




View the amount page views per day for your live site, updated hourly

Filter and sort posts

Customize your public link site

Sort the page by profiles and post types
UTM parameters are automatically applied to any links added to sent posts if you have link tracking rules set up in Sprout.
Using the SproutLink site
You can customize your public link site directly from the SproutLink in Bio tab. Click View live site to view your site, once you create it or click Customize site to make changes.
Creating your SproutLink site
For each of your Instagram profiles that's connected to Sprout, you can create a custom link site for your posts. This site collects all of your Instagram posts so your audience can quickly select a post and get taken to a site for your brand or products.
Click Enable SproutLink and then click Customize site from the SproutLink in Bio tab to get started.
The Site Builder opens. From here you can:
Add a page logo

Add a button to appear at the top right of your link site

Choose your Layout Customization, with or without a Hero section

Choose Hero Custom Text up to 180 characters

Choose Hero Image and Custom Text

Choose only a Hero Image

Update your SproutLink URL
Once you make your adjustments and your site has the look and feel you want, click Save.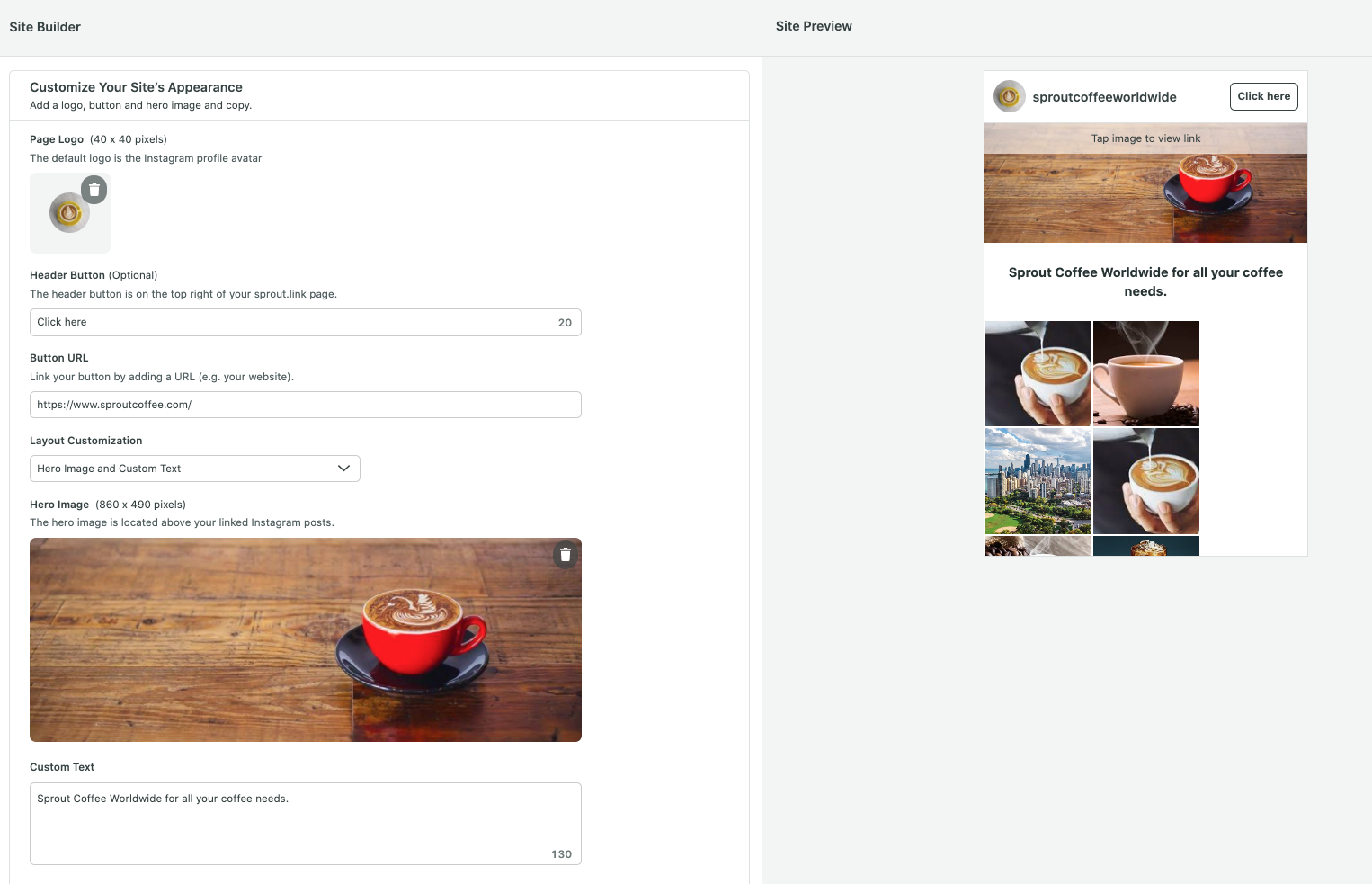 You can also delete your site at any time. Note that if you do this, the site is permanently deleted and can't be retrieved.
After your site is saved, copy the link from the top of the SproutLink in Bio tab and paste it into your Instagram Profile.

Updating your SproutLink URL
Sprout automatically detects if your Instagram username changes. If Sprout detects a change in your Instagram username, a banner appears on the SproutLink in bio page so you can customize the URL.

You don't have to wait for this banner, though. If you want to update your SproutLink URL you can do this any time by navigating to Customize site from the SproutLink in bio tab.
Note: Sprout doesn't offer customization for your link, it has to match your Instagram username exactly.
To update your SproutLink URL:
Navigate to the SproutLink in bio tab.
Click Customize site. The Site Builder appears.
Click Show advanced settings.

Click Refresh username. Note that when you click this button, your current SproutLink in bio URL immediately stops working.
Paste your new URL into your Instagram bio.
Previewing your SproutLink site
You can preview your SproutLink site on desktop and mobile. From the SproutLink in Bio tab, click Preview site to see how your site will appear to your audience. If something doesn't look quite right, head back to Customize your site and make adjustments.
Note: The Tap image to view link banner always appears and can't be edited.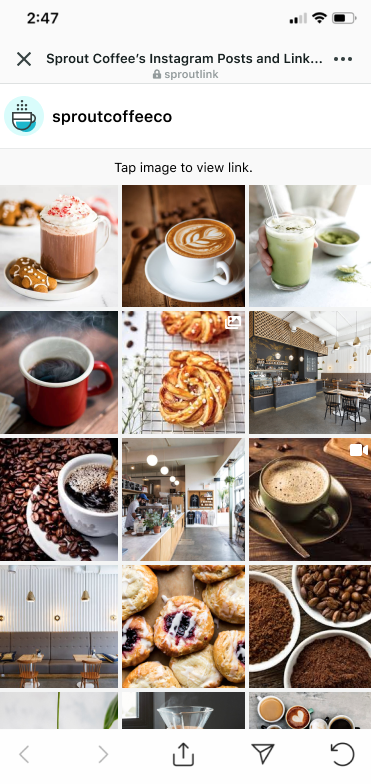 Adding links to your Instagram posts
After you get your SproutLink site set up, you can start adding links to your posts. You can either add links from the SproutLink in Bio tab or you can add links as you're creating your Instagram posts in Sprout.
Adding links in Compose
You can add a Post Link directly in Compose when you're crafting your Instagram content. To add a Post Link:
Open Compose.

Select the Instagram Profile you want to post to from the Profile Picker. If the Instagram Profile you pick doesn't have a public site yet, you can enable SproutLink in Bio directly from Compose.

Craft your post with text and media.

Add your post URL in the

Post Link

box. If you're using UTM parameters, those parameters are automatically added to your SproutLink in Bio site once you save the link.

Press Enter or click outside of the Post Link field.

Schedule your post or follow any approval workflows.

Click

Submit

or

Schedule

. Now your post has the appropriate link attached to it and will appear on your SproutLink site.

Copy your SproutLink site URL from Sprout.

Navigate to Settings > Edit Profile in Instagram and paste your SproutLink site in the Website field.
Click Submit so you have a clickable link.
Adding links from SproutLink in bio
Note: You must have Full Publishing permission for a profile to add links to sent posts or customize your site.

You can add post links to any posted or scheduled Instagram posts from the SproutLink in Bio tab. Click Add Post Link to add a link to a post. When you click Add Post Link, Compose opens and you can enter the link directly in the Post Link box.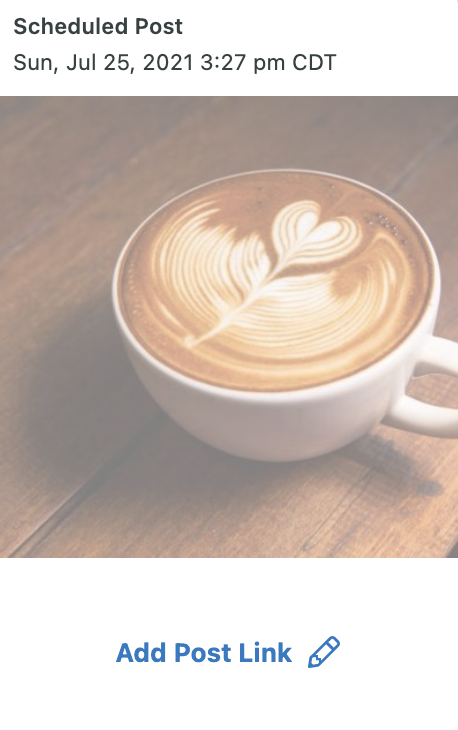 You can also edit links from the SproutLink in Bio tab. Click

to edit a link. Compose opens and you can update the link in the Post Link box.
SproutLink in Bio FAQs
How quickly will my posts appear on my SproutLink site?
Sprout automatically fetches your profile's posts about five minutes after you tap Share to Instagram on mobile. If the post takes longer than five minutes to complete, you can fetch the latest posts by tapping the checkmark icon on your notification under Notifications > Publishing in the mobile app or by setting the Complete action on the Instagram Notifications tab in the desktop version of Sprout.
What happens if I delete a post on Instagram natively?
If you delete a post, Sprout hides that post from your SproutLink site. A placeholder image will also appear for that post on the SproutLink in Bio tab.
Can Sprout automatically upload the SproutLink URL to the Instagram website field?
No, Sprout doesn't automatically upload the SproutLink URL to the website field in Instagram. After you set up your SproutLink site, copy and paste the URL from Sprout into the website field in Instagram.