Advanced tagging automation and insights
After you start using internal tagging for outgoing posts and incoming messages, you can enhance your tagging strategy by streamlining your workflows. 
You can create Automated Rules that automatically apply tags to your incoming messages and any comments you receive on your social posts. This takes the manual step out of the tagging process, ensures messages never get missed and your reporting stays on track.
Tagging and Automated Rules
Pairing multiple internal tags together can provide deeper and richer insights into your social performance across networks. You can tag each response to your outgoing posts with up to 20 individual tags. For example, you could apply a Tag that indicates the type of customer question and a Campaign Tag to understand what kinds of questions you receive about your campaign.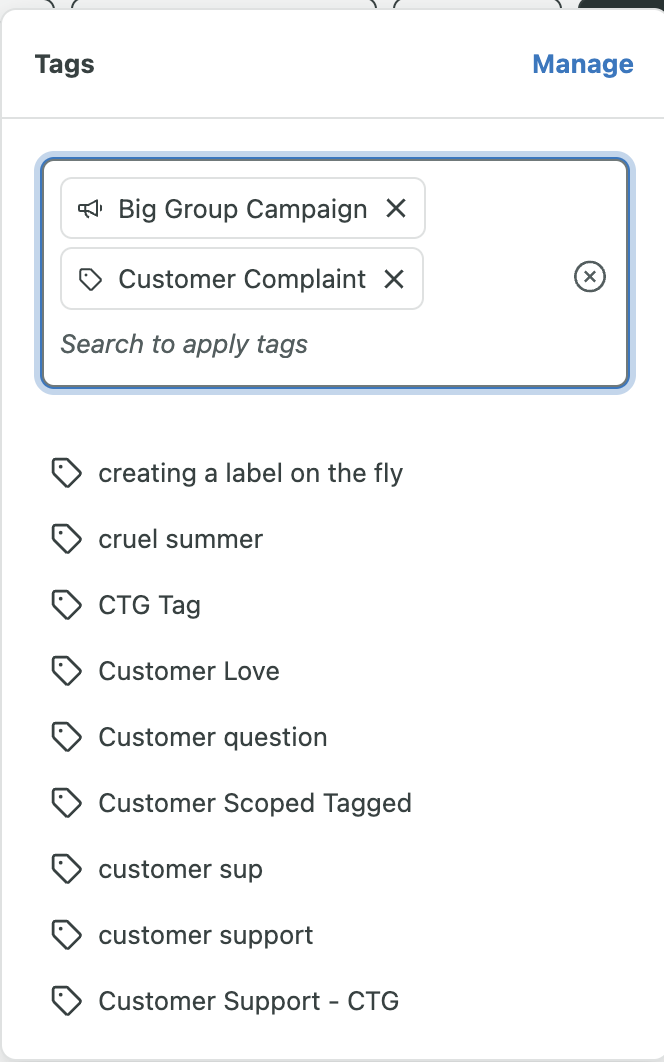 Instead of manually tagging each of these messages, you can create an Automated Rule that automatically applies a Tag to messages containing specific keywords. Before you create the rule, you need to create your tags.
Automate internal tagging
Navigate to Account and Settings > Global Features > Automated Rules. Click Create new rule to automatically apply your sentiment tags. Enter Customer Complaint for the Title and add a brief description for the rule, like, "automatically add complaint tag to messages." 
From the If an incoming message dropdown, select "has word or phrase," and then enter phrases like bad, complaint and refund separated by commas. 
From the Then take these actions dropdown, select "Apply Tags" and then select the Customer Complaint tag from the dropdown.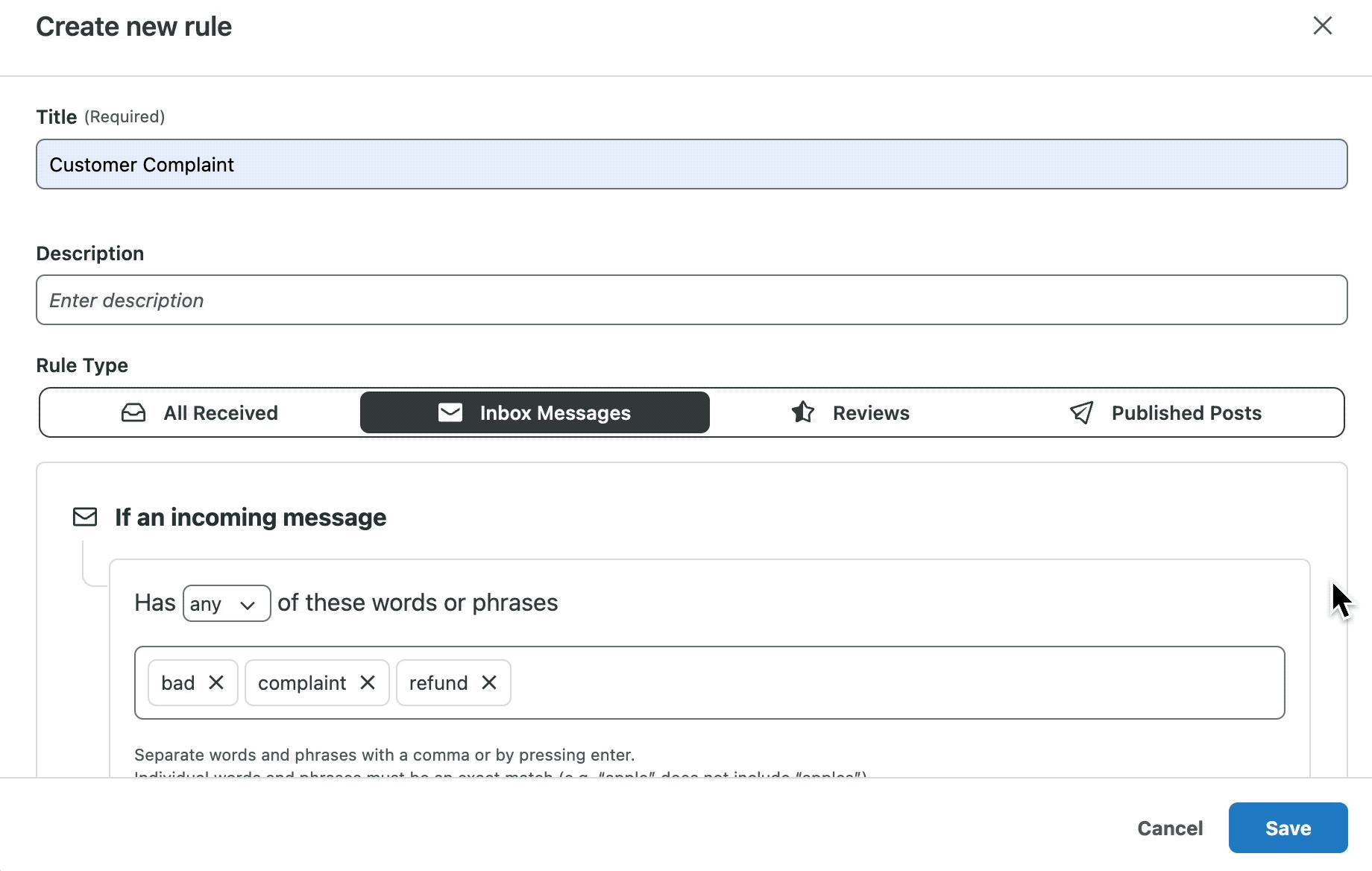 Click Save and now your incoming messages that contain your keywords get the Customer Complaint tag automatically applied to them. 
You can turn off the rules at any time for your messages. Turn off the rule by toggling the Status column and no new incoming messages will receive a tag for sentiment.
Reviewing performance with the Tag Performance Report
After you run your Automated Rules to automatically tag your incoming messages, you can view these messages in your Tag Performance Report. Not only can you understand the kind of messages you receive, but, if you paired your tags with additional campaign or content type tags, you can reveal how your audience feels about certain content you're sharing.

Now by seeing that your audience feels positively about your video content, but negative about your linking content, you can adjust your social strategy to focus more on videos, rather than links.
Automate comment tagging
You can take your tagging strategy a step further with automatic comment tagging. Comment tagging is a great way to see the amount of interaction a particular campaign or promotion is garnering at a deeper level.
Imagine that you're running a social contest at Sprout Coffee Co. where you're giving away samples of a new line of coffee beans. As the social media manager, you want to see how many entries you receive from your audiences across Facebook and Instagram.
Apply internal tags
Initially, you tag each post across Facebook and Instagram with "Coffee Bean Giveaway Contest." While you'll get more details in your Tag Performance Report to see how much publishing support went into this campaign, you're only getting half of the story.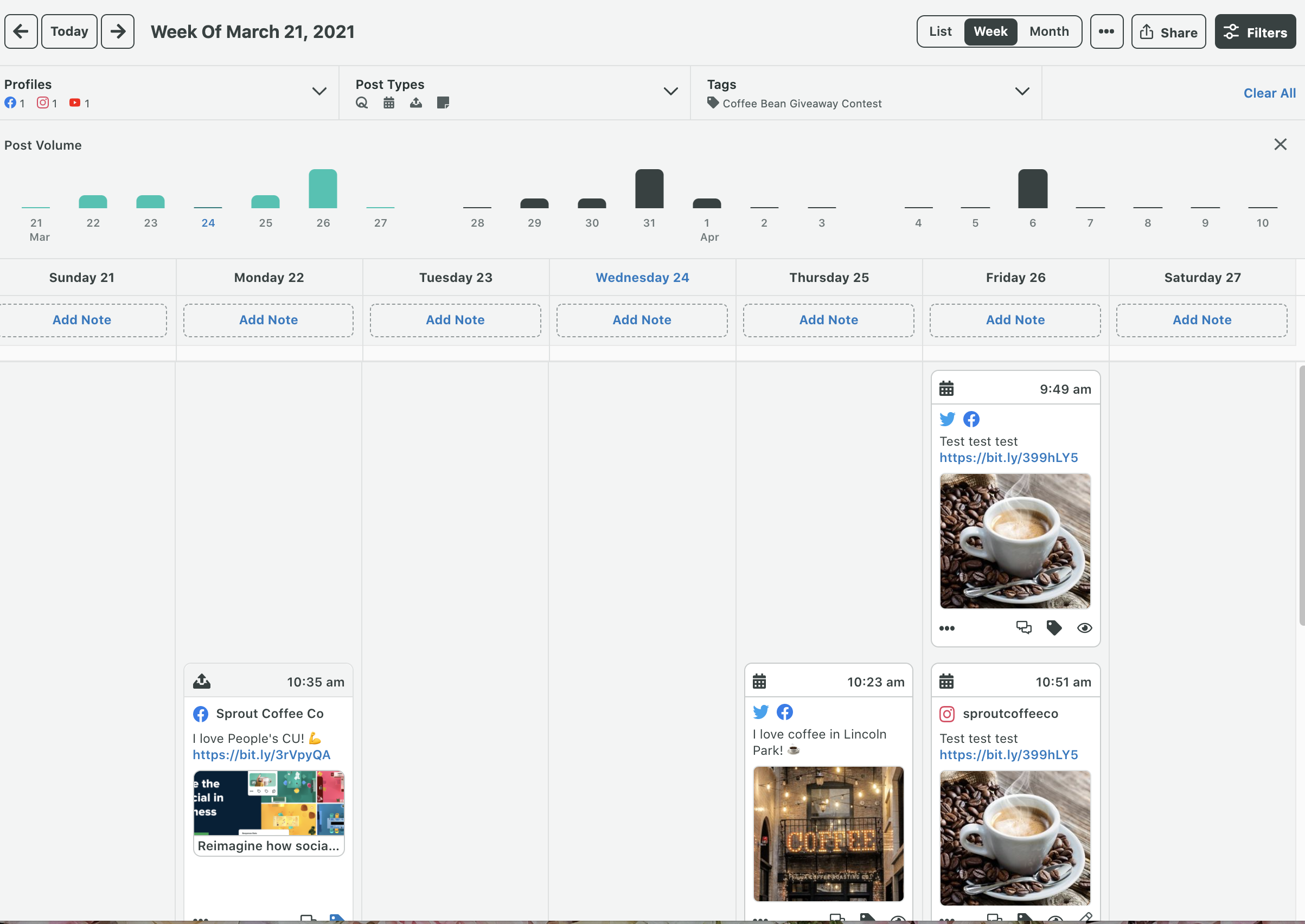 You know you're going to get a lot of entries in this giveaway, so you want to quickly see how many users are commenting on those posts to try and win. You could tag each inbound comment on your giveaway posts, but this could be a massive time commitment because you're posting to profiles with 100,000+ followers. 
Enable auto-tagging
Instead, you can enable auto-tagging of all Facebook and Instagram comments left on your coffee bean giveaway posts. When you enable auto-tagging, each comment received from Facebook and Instagram is automatically tagged with "Coffee Bean Giveaway Contest".
So, if you tagged each Facebook post with "Coffee Bean Giveaway Contest," each comment you receive on those posts from Facebook users is also tagged with "Coffee Bean Giveaway Contest" automatically. 
Reviewing engagement rates with the Tag Performance Report
Now your Tag Performance Report can tell both sides of the giveaway story by showing the rate of engagement on your outbound posts. You can measure how successful the giveaway was by seeing how many users entered between Facebook and Instagram.