Social scheduling with tagging
You can discover rich data when adding internal tags to your posts on social. Leverage label tags to get deeper insight or use campaign tags to measure stickiness of your campaigns. Employing tags for campaign and content tracking can better inform your social strategy and make ROI easier to understand.
Internal tags are different from hashtags. Internal tags in Sprout help you organize your posts, track content performance and help to create deeper levels of data in your Reporting suite; whereas hashtags are great to ensure your posts show up for users searching for relevant conversations on social.
Let's dive into two scenarios where tags really shine when scheduling your content on social:
Learn how to use tagging for social scheduling in our Learning Portal with this course.
Tags vs. campaigns vs. labels
Before you start applying campaign tags to your content it's important to understand the difference in tag types.
Sprout Tags include Labels and Campaigns.

Labels - universal tags to organize, filter and report on your content. Tag posts and Inbox messages for more in-depth content analysis.
Campaigns - a specialized tag to monitor and report on your social marketing campaigns. Tag posts, Calendar notes, Inbox messages and track activity in the Campaign Planner.
Tagging campaigns
Let's say you work at Sprout Coffee Co. as the social media manager and you're running three campaigns across your social profiles. Your supervisor asked for the campaign results after they're done running, and they want to know which campaign performed best.
Your campaigns are focused on winter lattes, the give-back program and a new VIP coffee club. In order to understand the performance of each of these campaigns, you need to create a Campaign for each.
Create campaigns
After you verify you've got tagging permissions in Sprout, you can create social campaigns with a specific Campaign tag from the Campaign Planner in Publishing. Navigate to Publishing > Active Campaigns, and then click Create Campaign.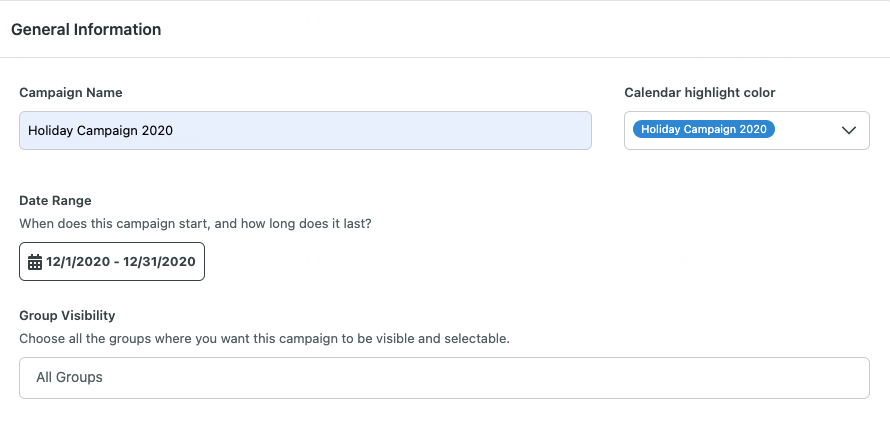 Alternatively, as you're creating posts you can create a campaign tag directly from the Compose window, provided you already have an existing Campaign. When you create posts in Compose, you can into the Sprout Tags dropdown, enter a Campaign tag and then click Create a new campaign.

Add the appropriate Campaign tags to each outgoing post in Compose
Whenever you or your team creates posts in Compose, you can add the appropriate campaign tag to the message before sending or scheduling it.
Review all the tagged messages in the Publishing Calendar
After all of your campaign posts are crafted, tagged and scheduled, navigate to your Publishing Calendar. At a glance, you can see from your month or week view how many posts are scheduled for each campaign. Make sure you've got a good balance across networks and campaigns.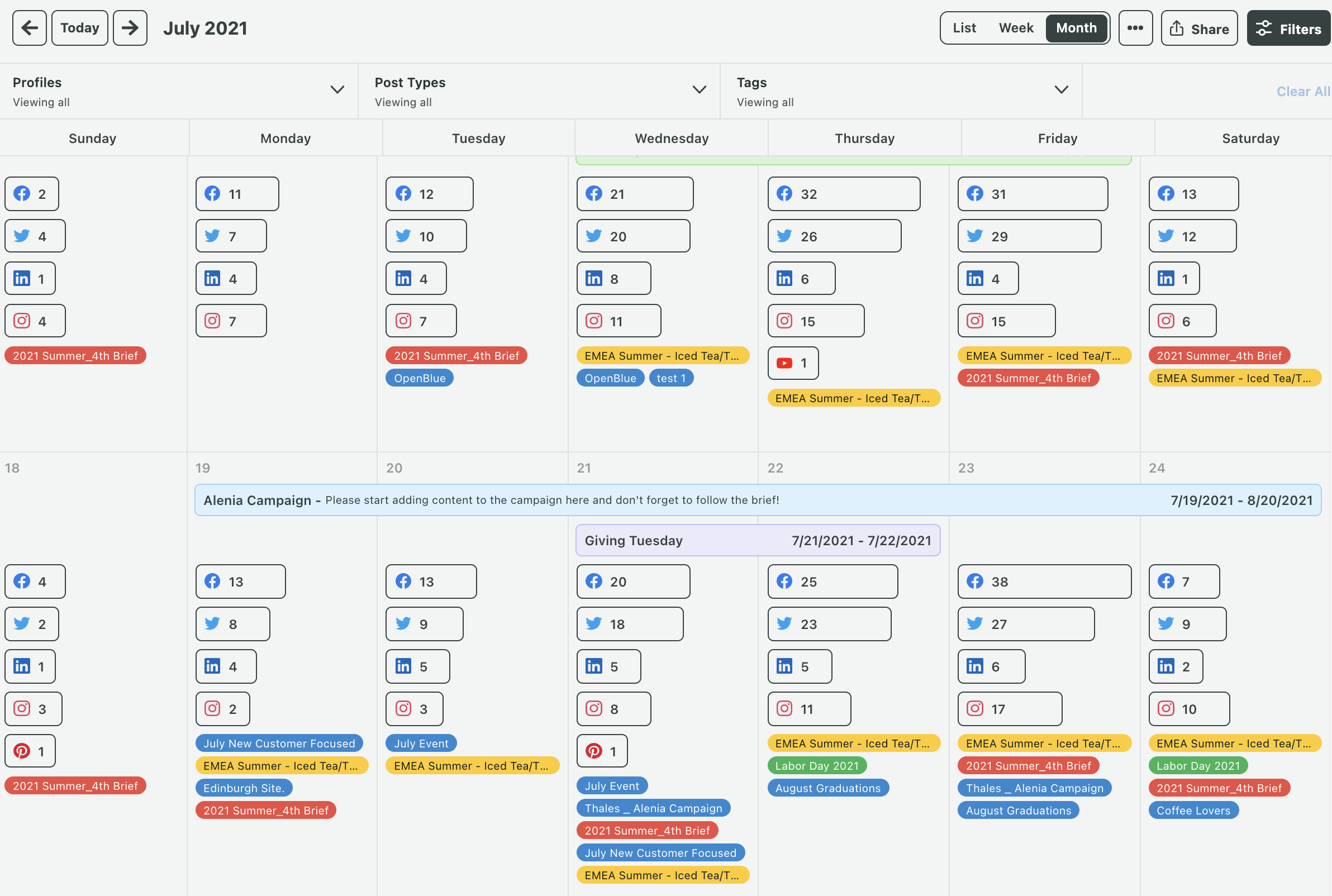 Monitor the success of your campaigns using the Tag Performance Report
During your campaign, you can track performance to see which campaign is more successful. You can use the Tag Performance Report to compare how each campaign performed against the others.
Navigate to the Tag Performance Report and select each campaign tag from the filter bar. You can start analyzing metrics like impressions, trends and top posts. You can even see the messages that had the most engagement.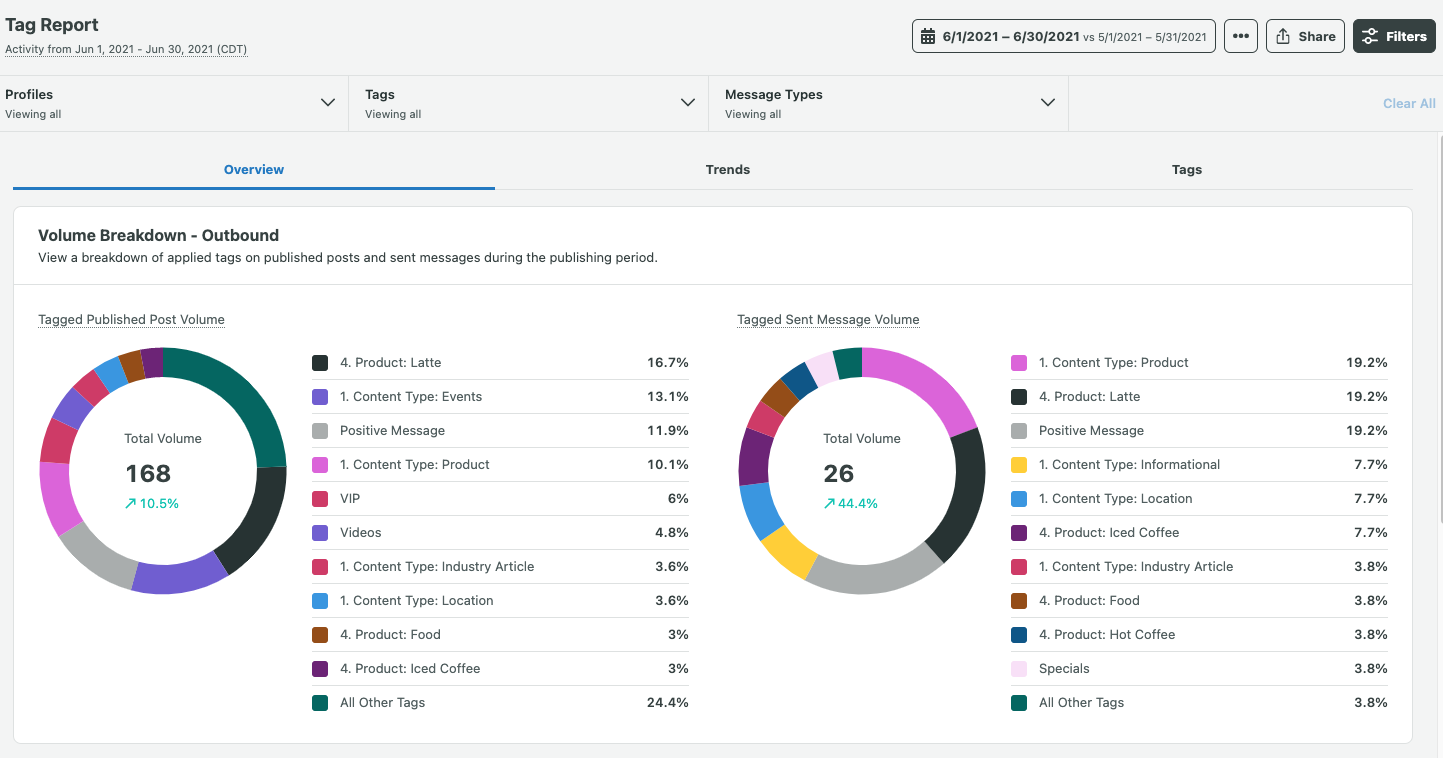 You can schedule this report to arrive weekly or monthly via email, so you never miss an update. Note that this feature is only available for the Advanced plan.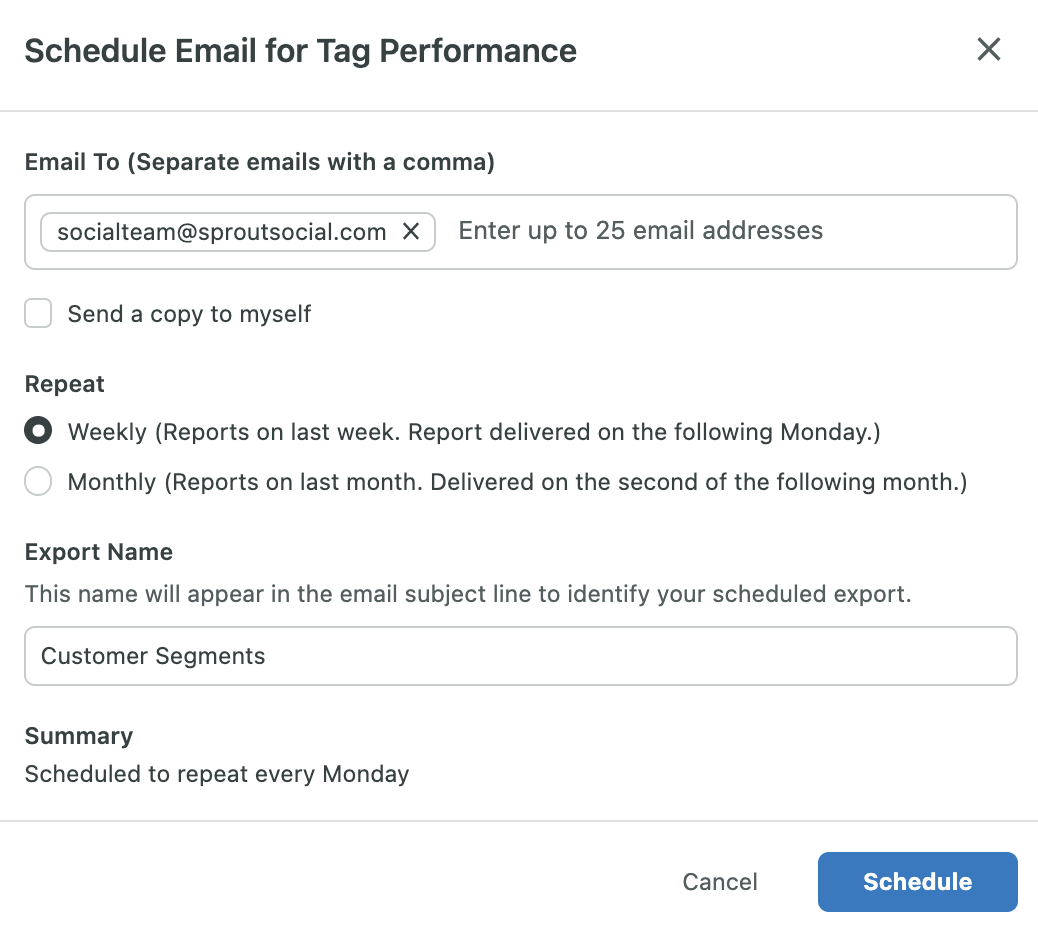 When the campaigns do end, you can share which campaign had the most impressions, engagements and link clicks and compare the strategies you used for each campaign to influence your social strategy moving forward.
Tagging content types
Let's say you work at Sprout Coffee Co. as the social media marketer and you want to know which types of media your audience interacts with most, so you can decide what kinds of assets you need to ask your design team for.
Specifically, you want to know if images or videos perform better on your Facebook profile.
Create tags specific to the content types you want to track
After you verify that you have tagging permissions in Sprout Social and navigate to Account and settings > Settings. Click Tags under Global Features. From here you can create a video tag and an image tag.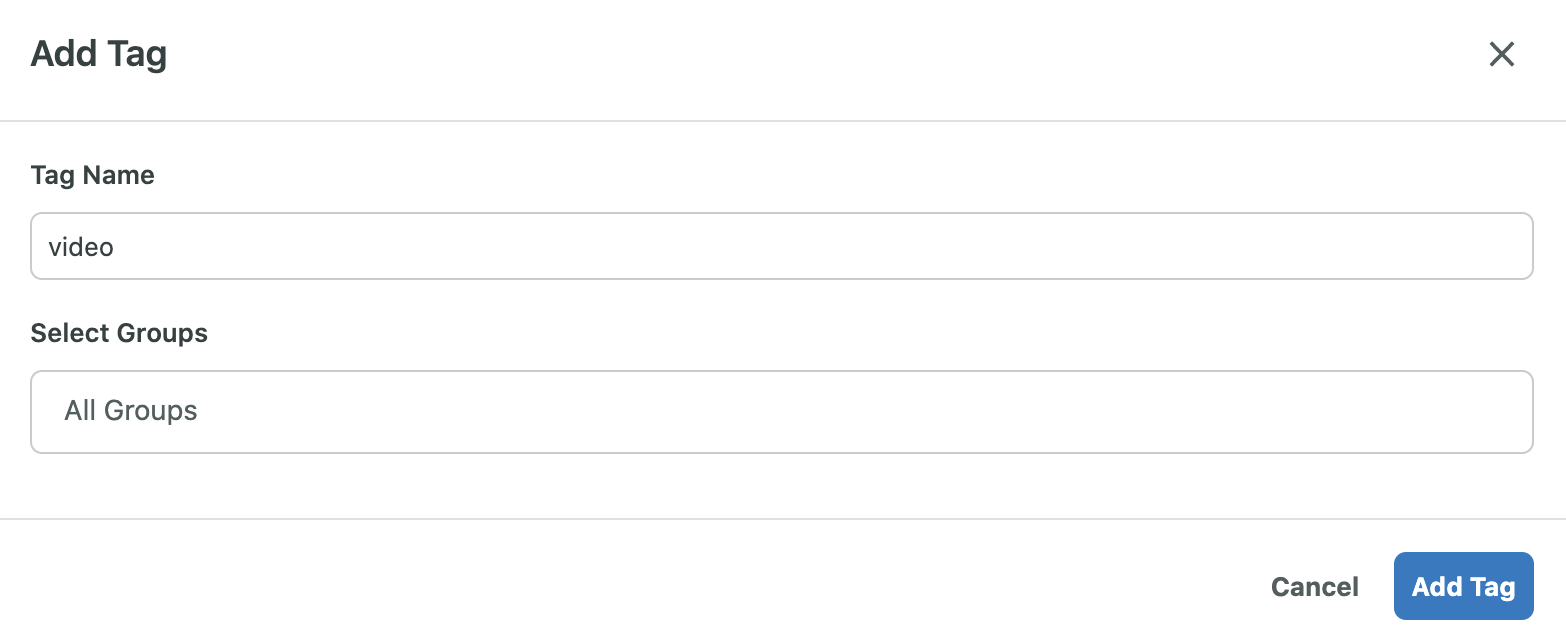 Add the appropriate tags to each outgoing message in Compose
Whenever you or your team schedules posts to Facebook, you can add the video or image tag, depending on the media you're sharing. As your team starts tagging your outgoing posts, you realize that some posts with media also contain a link. You think this might provide another data point to better understand audience engagement. You create a tag on-the-fly called 'links.'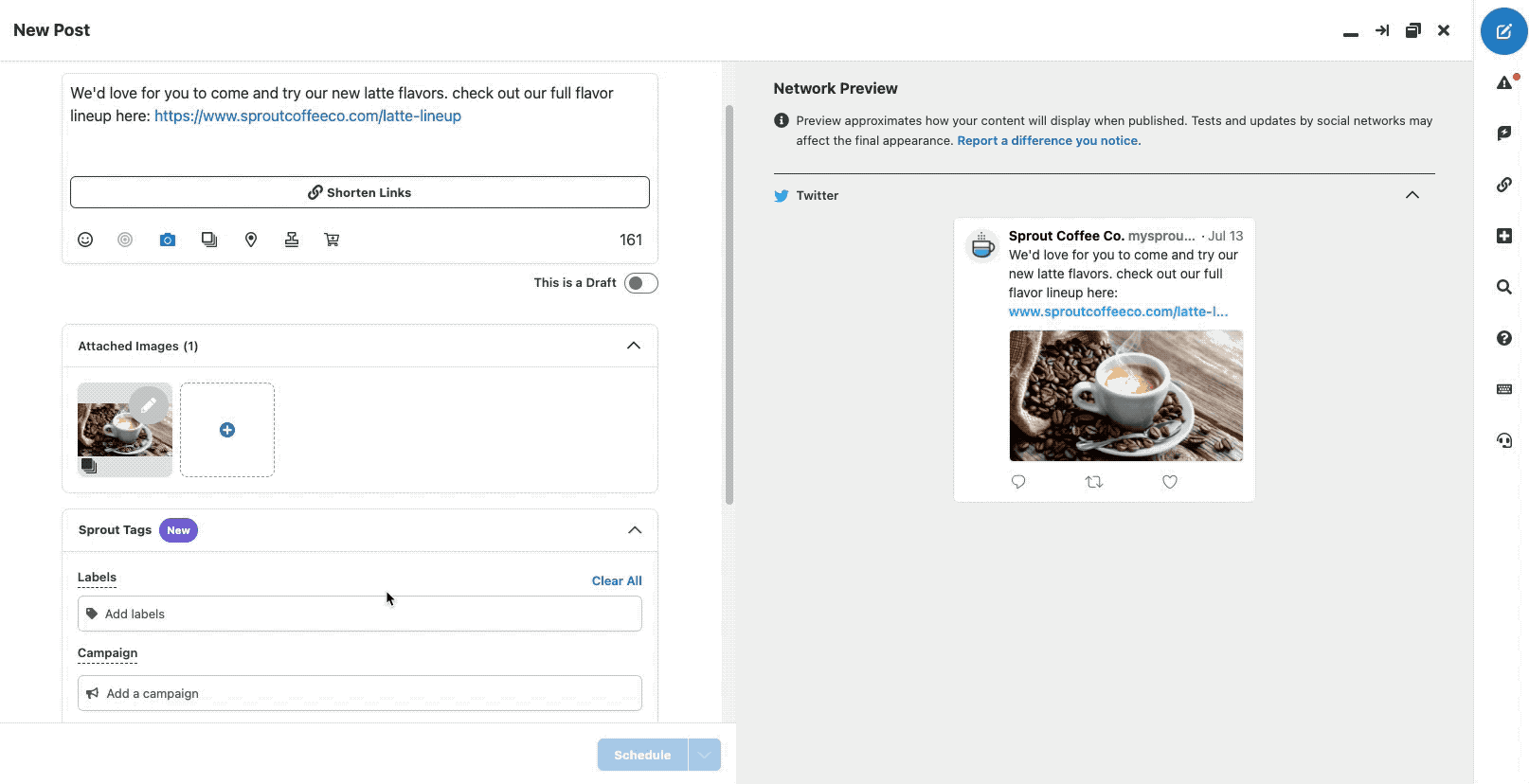 Analyze your content using the Post Performance Report
Note: Adding tags as a filter in the Post Performance Report is only available if you're on the Professional or Advanced Plans and you have Premium Analytics.
After you decide on your reporting period, schedule your media posts to Facebook with the appropriate tags.
When the reporting period ends, you can dive into your Post Performance Report to see how each content type performed. Navigate to the Reports tab > Cross Network Reports > Post Performance. Select your Facebook profile, and then select your tags from the filter bar.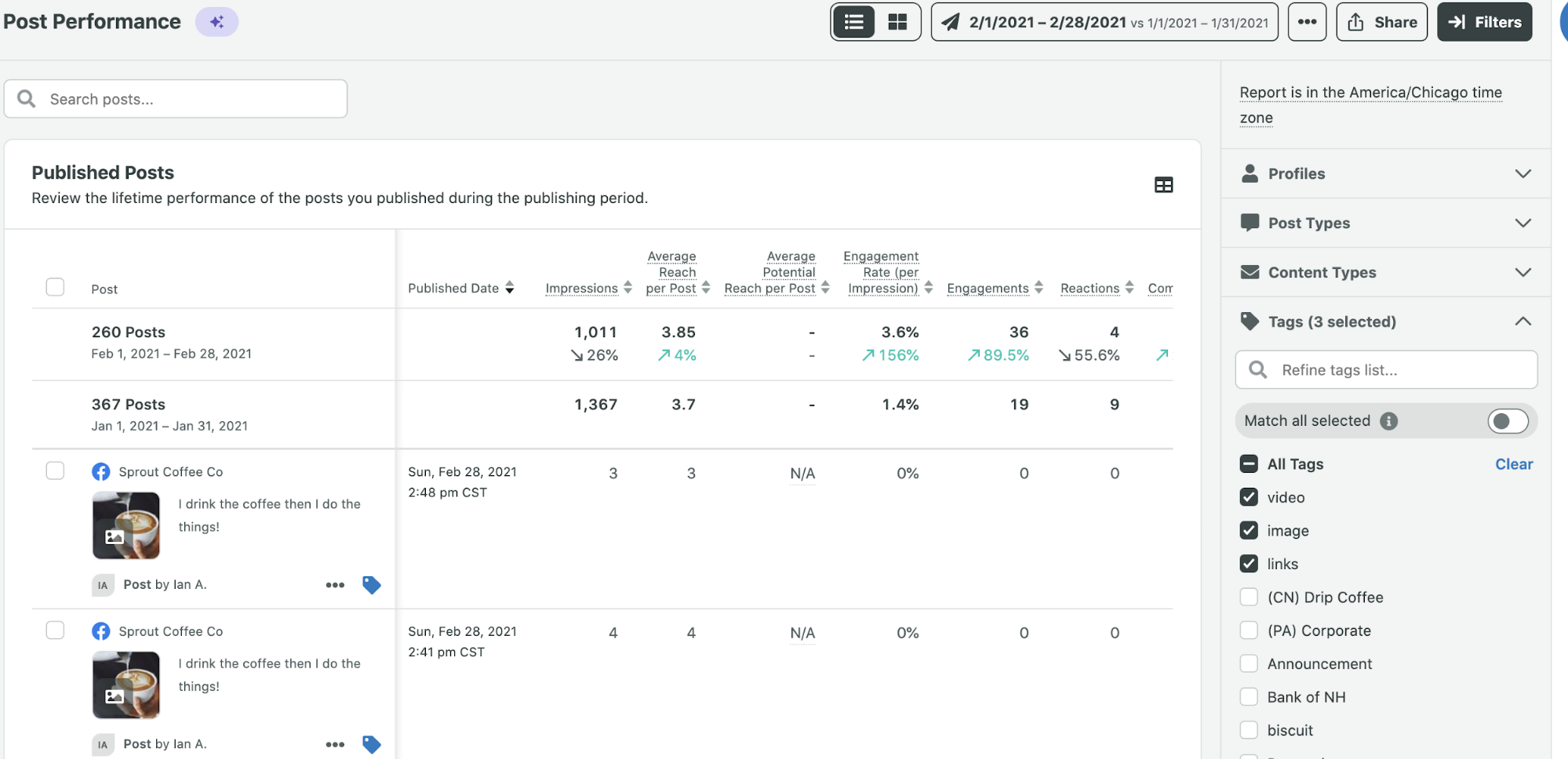 The Post Performance Report shows key performance metrics, including the overall impressions and engagements for each post. Now you can see which content type resonates most with your Facebook audience and include more of that content type into your Facebook strategy.