Automatic comment tagging
Tagging is a great tool to use to help you uncover trends about your brand health and the impact your published content has on it.
Note: This feature is only available for Professional plans.
Automatic comment tagging Scenario
Imagine that you're running a social contest at Sprout Coffee Co. where you're giving away samples of a new line of coffee beans. As the social media manager, you want to see how many entries you receive from your audiences across Facebook and Instagram.
Initially, you just tag each post across Facebook and Instagram with "coffeebeangiveaway." While you'll get more details in your Tag Report to see how much publishing support went into this campaign, you're only getting half of the story.
You know you're going to get a lot of entries in this giveaway, so you want to quickly see how many users are commenting on those posts to try and win. You could tag each inbound comment on your giveaway posts, but this could be a massive time commitment because you're posting to profiles with 200,000+ followers.
Instead, you can enable auto-tagging of all Facebook and Instagram comments left on your coffee bean giveaway posts. When you enable auto-tagging, each comment received from Facebook and Instagram is automatically tagged with "coffeebeangiveaway".
So, if you tagged each Facebook post with "coffeebeangiveaway," each comment you receive on those posts from Facebook users is also tagged with "coffeebeangiveaway" automatically.
Your Tag Report can tell both sides of the giveaway story by showing the rate of engagement on your outbound published content. Now you can measure how successful the giveaway was by seeing how many users entered between Facebook and Instagram.
Enabling Auto comment Tagging
Enabling Auto comment Tagging is a great way to ensure you get accurate data around your campaigns. To enable Auto comment Tagging:
Note: You must have the Manage profiles and Manage Tags company permission to enable this feature.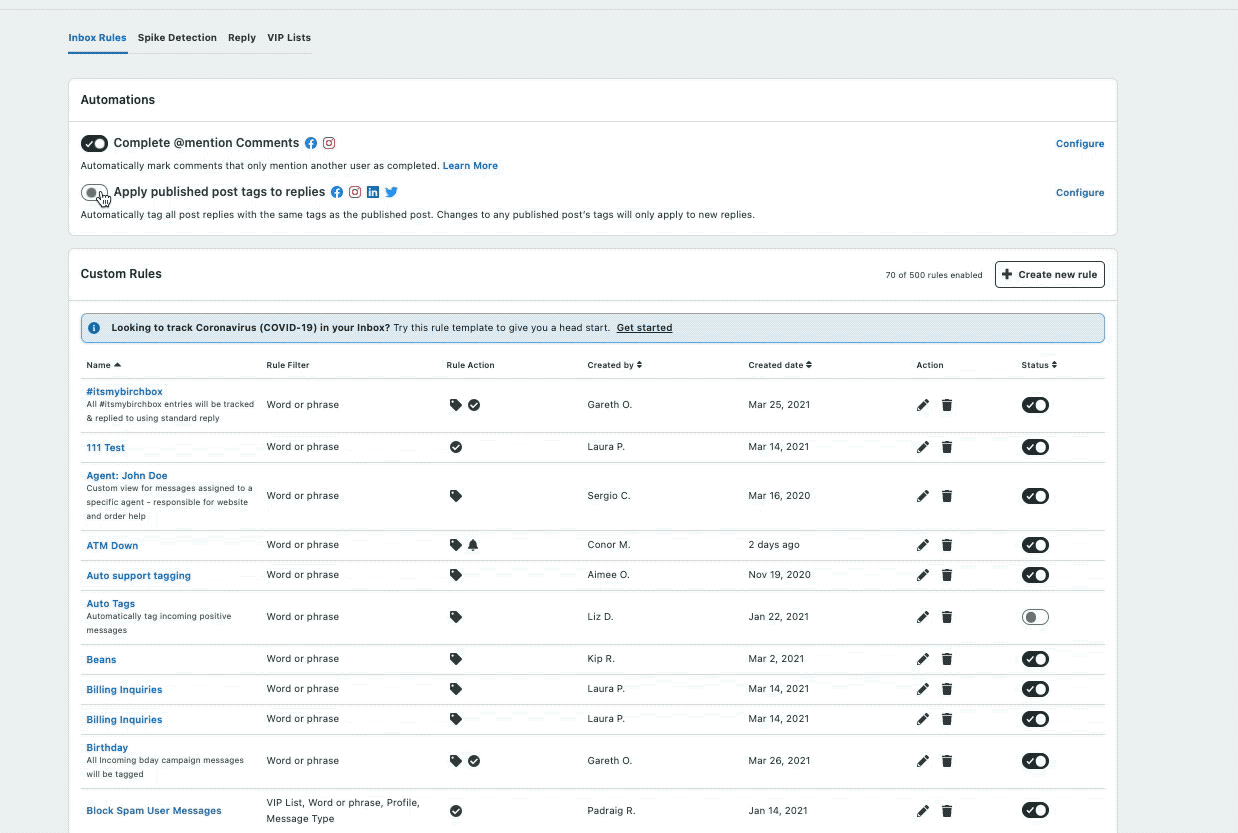 Navigate to

Account and settings

>

Settings

.

Click

Inbox Settings

under Inbox in the left-hand navigation bar.

Click the toggle for Apply published post tags to replies. A popup appears.



Select the profiles you want to enable auto tagging for.

Click Save.
Now, any incoming comments from Twitter, Facebook, Instagram or LinkedIn receive the same tag applied to the original published post. You can come back any time and click Configure to change the profiles that have Auto Tagging applied.
Auto comment Tagging FAQs
How are nested comments tagged?
If you reply to a comment and use a different tag for that comment, any new comments to that response only contain the tag of the original post.
This means, if you tag a post with "holidaydrinkcampaign," the comments will all get tagged with "holidaydrinkcampaign."
If you respond to a comment, and tag your response with "unhappycustomer," and your response receives a new comment, that new comment is tagged with "holidaydrinkcampaign" and not "unhappycustomer."
What if a post doesn't have a tag applied to it?
Then the comments you receive won't receive an automatically applied tag.
What if I decide to change the tag on my original published post?
If you change the tag, any comments you received prior to the change will keep the original tag. Any new comments you receive after the tag change, receive the new tag.
Will incoming wall posts and corresponding comments under it get tagged from Facebook?
No. Tags are only automatically added for comments on published posts.
If I reply to an incoming comment, does my response get auto tagged?
Yes. Your sent comment is also tagged because your comment qualifies as a comment under a published post with a tag.
Do automatic tags get applied to all comments on my Tweets?
No. Only top-level replies to your posted Tweets are automatically tagged. Other replies like nested replies, reply threads and Retweets and Quote Tweets can't get automatically tagged due to an API limitation.