Reply Approvals
The Reply Approvals workflow enables oversight into message replies to ensure your responses to your audience are on-brand, compliant and error-free. More consumers are turning to social media for customer service and the caliber of support is important. Reply Approvals give you and your team a dedicated space in the Smart Inbox, along with a seamless workflow, to organize and track replies to both public and private messages.
Note: You must have Can Reply or Full Publishing profile permissions to use the Reply Approvals workflow.
Reply Approval Notifications
Turning on email notifications is a great way to stay on top of your Reply Approvals. You receive both in-app and email notifications when you're sent a reply approval or when your reply gets approved, rejected or deleted.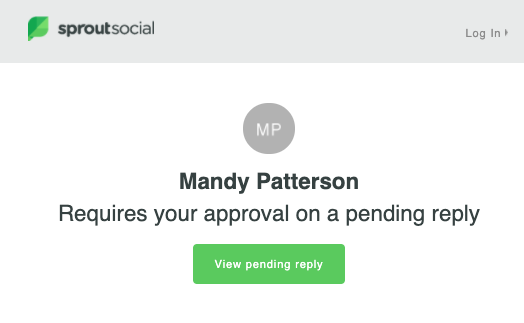 Approvers can leave notes for rejected replies and these notes appear in your notification email.
Submitting a reply for approval
Submitting replies for approval is a great way to introduce an additional peer review to make sure your responses to questions and comments are on-brand.
To submit a reply for approval:
Navigate to the

Messages

tab.

Select the inbound Message you want to respond to.

Click , and then enter your response.


Click the drop-down in the bottom-right of the response message, and then click Submit for Approval.
Sometimes, messages already have pending replies attached to them. In the instance where you might go in to write your own reply that doesn't require approval, you receive a popup prompting you to reject or keep the pending reply and send your reply instead.
Selecting Approvers
Once you complete your reply to your inbound message, click the Select an approver dropdown in the Message reply window and select your desired approver(s).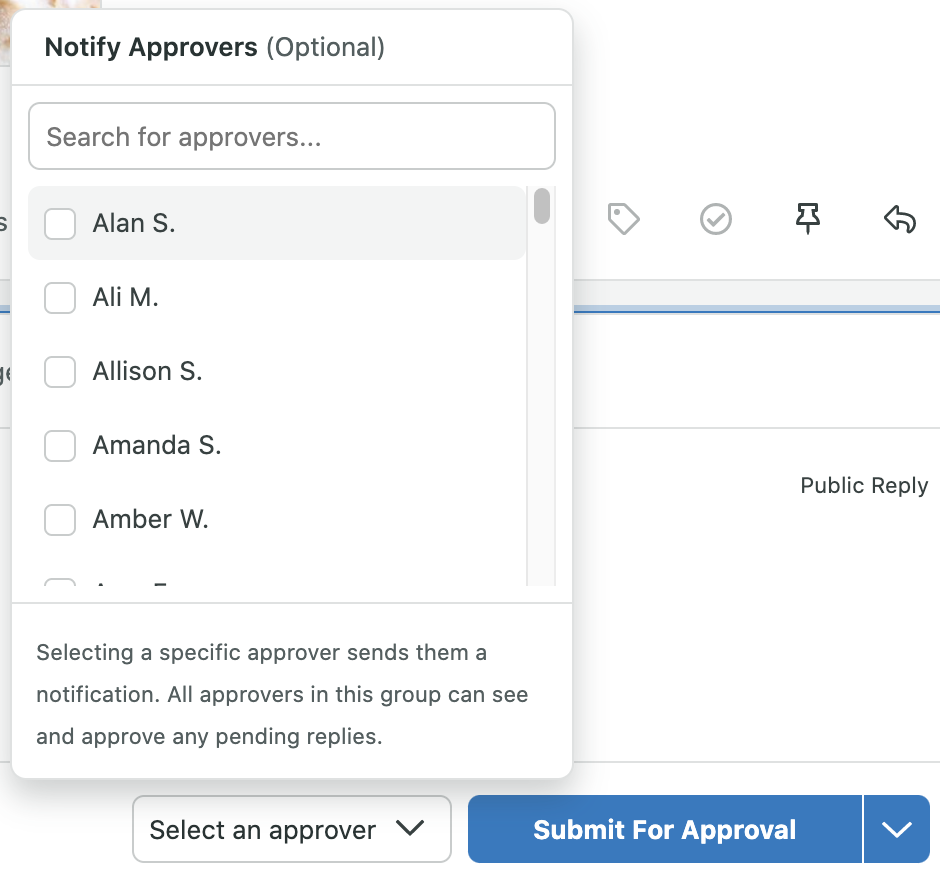 Note: If you select multiple Approvers, only one Approver needs to approve the reply to send it.
Responding to replies
If you're an Approver, you receive a notification in the Notifications Drawer or via email when a reply is awaiting your approval, depending on your notification settings.
To respond to a reply:
Click the notification, and then click

View pending reply

. The Message appears in the Smart Inbox.

Decide the course of action you want to take for the reply.

Click to approve the reply and publish it.

Note: If you approve a reply with multiple pending replies, a popup appears to alert you of the potential reply conflict. Click to Approve this reply, reject others or Approve this reply, keep others.

Click to reject the reply and provide reasoning as to why the reply wasn't appropriate.
Click to delete the reply and write a new reply.
Viewing Reply Approvals
You can check the status of Reply Approvals in the Reply Approval tab. In this tab you can see pending, approved and rejected replies to your inbound messages.
To view Reply Approvals:
Navigate to the

Messages

tab.

Click Reply Approval on the left-hand navigation panel.


Search your Reply Approvals by selecting Newest to Oldest or Oldest to Newest from the drop-down at the top of the screen.
Filter your Reply Approvals by:



All Groups or single Group - toggle on/off the Show replies from all groups filter.
Approval Status - select Pending, Approved or Rejected.
Authors - select the author's name or search for the author's name in the Refine Authors search bar.