Bit.ly Custom Integration
Sprout offers an integration with Bit.ly. If you have a custom Bit.ly domain, you can use it when adding links to posts that you're creating in Compose or when responding to your customers from the Smart Inbox. This will enable you to shorten any link using branded Bit.ly links, instead of a generic Bit.ly link.
How to Connect Bit.ly to Sprout
To connect your Bit.ly account to Sprout, click Account and settings > Settings > Account Settings.  Scroll down so that you can see the Settings by Group listing.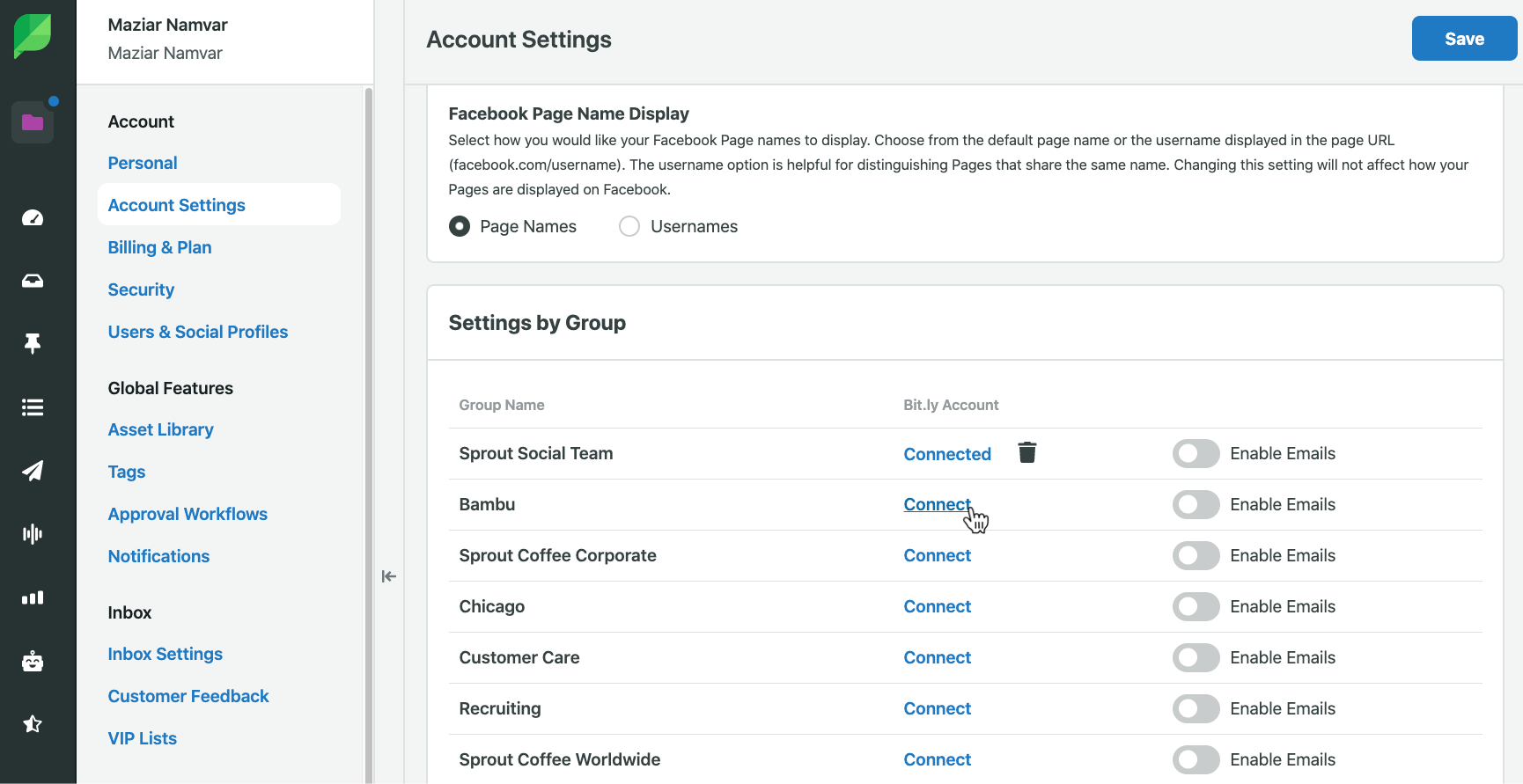 Click Connect for any group where you want to use your custom Bit.ly account. This initiates the process to authorize Sprout for access to your Bit.ly account.
Note: You must have either a Basic or Enterprise Bit.ly account in order to use your account in Sprout. A free Bit.ly account cannot be connected to Sprout.
Bit.ly FAQ
Why is Bit.ly giving the same URL each time I shorten a link?
If you shorten a link to a site on Sprout more than once, the shortened link is the same both times (this is why adding a string like ?campaign1 at the end of the URL can be helpful). 
If you shorten a link in Sprout and the same link on the Bit.ly website (or by using the Bit.ly bookmark extension), the shortened URLs will are different and you get different click data.
Why do the Bit.ly links I shortened using Sprout look like t.co links in Twitter?
Every link turns into t.co on Twitter. Sprout can still track the original Bit.ly clicks, but the link may look like a t.co in other platforms.