How do I use the Inbox Team Report?
Sprout's Inbox Team Report enables you to evaluate agent response performance more accurately, identify bottlenecks within your team's workflows and closely monitor each agent's activity for quality assurance or training purposes.
Note: This report is only available for Professional and Advanced Plans.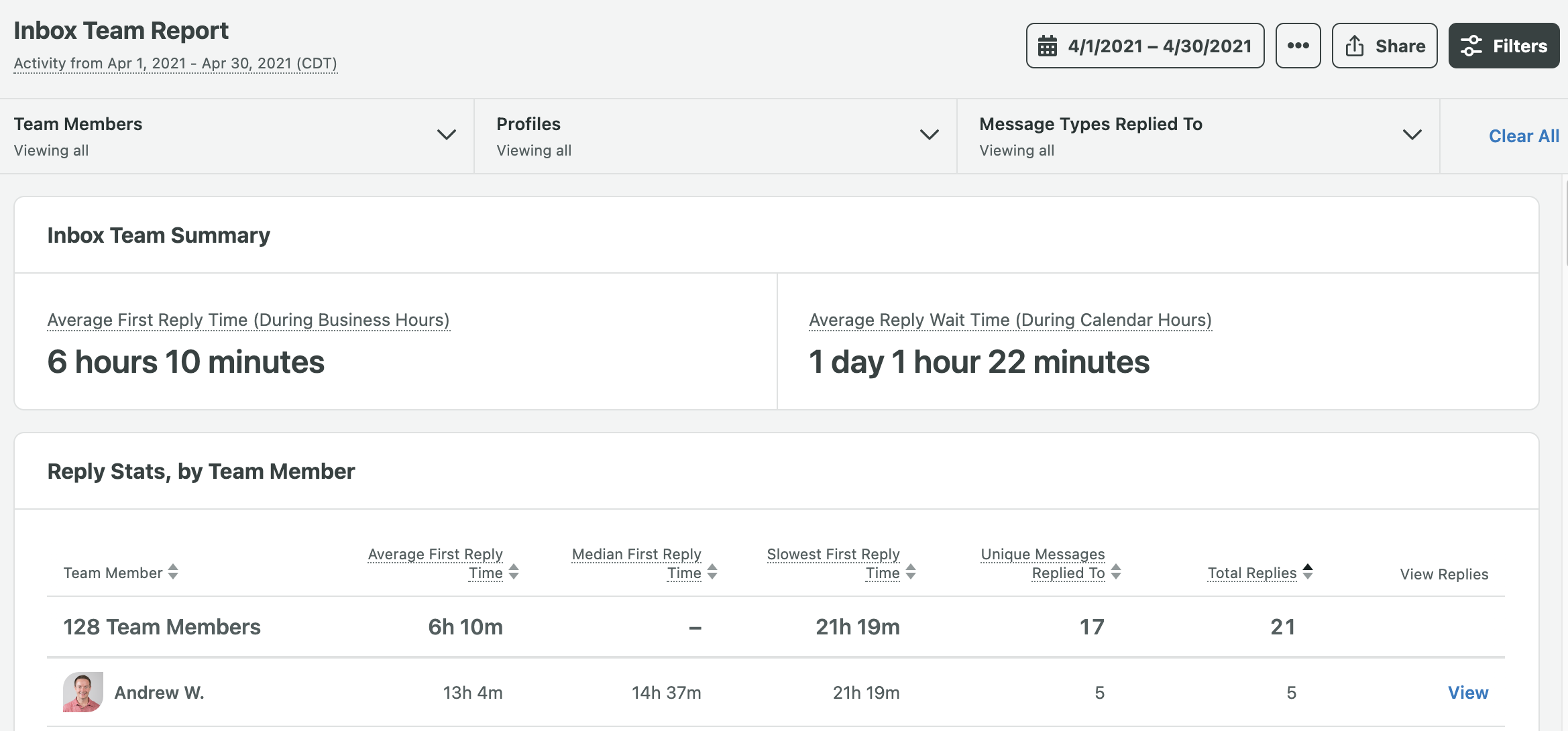 This report refreshes in real time and reflects your team's latest performance.
Permissions
Users with Reporting Access within the selected Group and the Enable Team Reports feature permission can view the Inbox Team Report.
To grant access:
Navigate to Account and settings > Settings.
Click Users & Social Profiles.

Click the team member you want to give permission to.

Navigate to Reports in the Feature Permissions.
Select Enable Team Reports.
Click Save.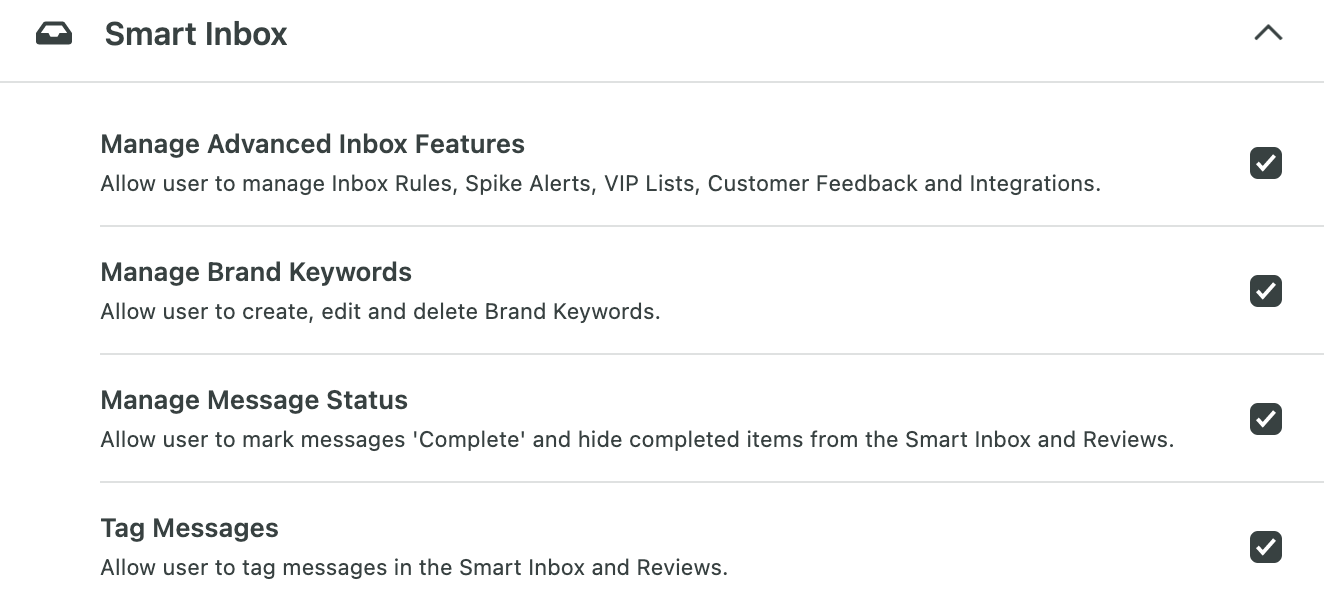 Customize Business Hours
To see the most realistic and accurate reporting on your team's reply performance, set custom business hours. To do this:
Navigate Account and settings > Settings.
Click Reporting Settings.
Click to edit your Business Hours.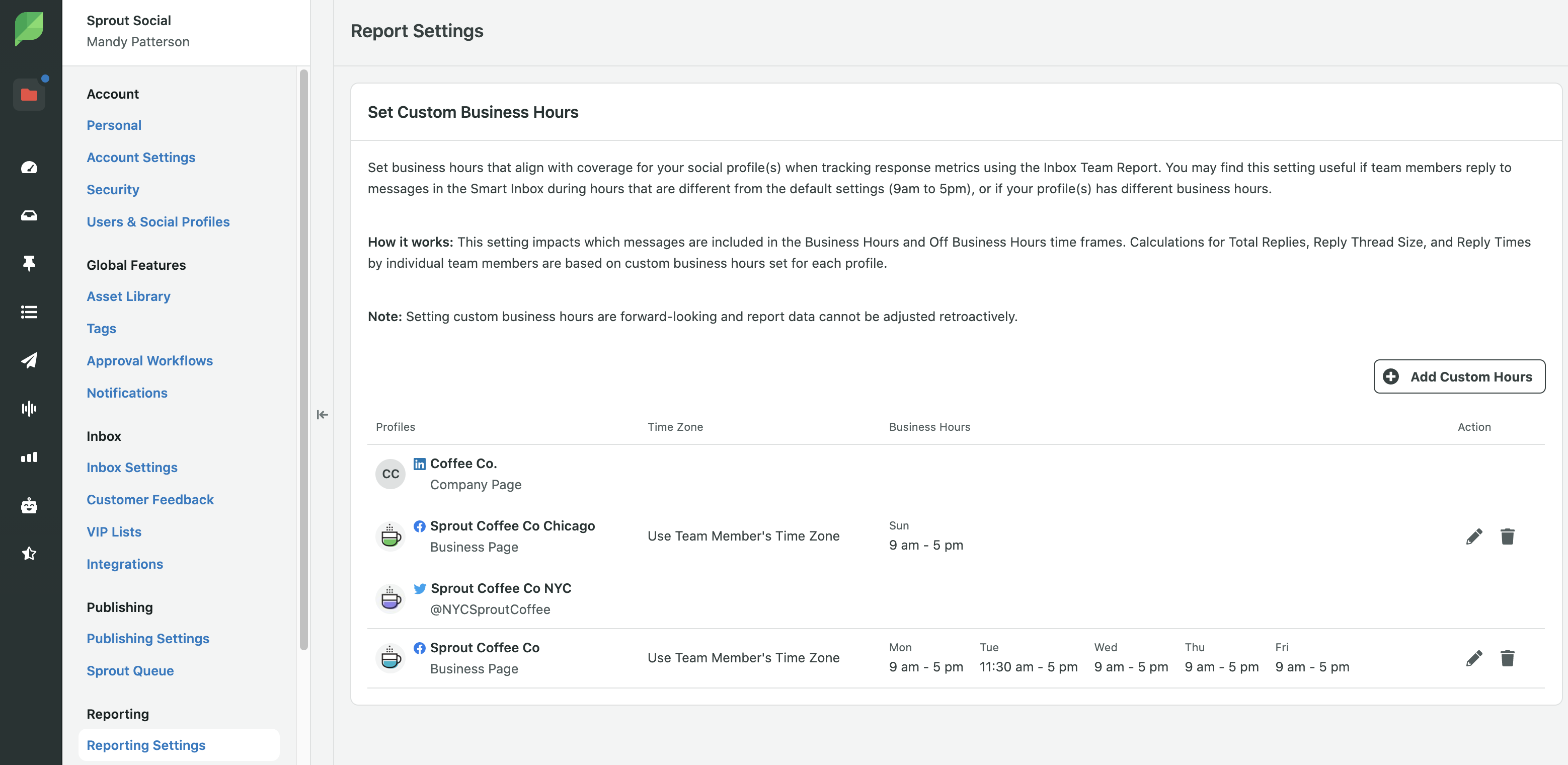 If you don't set custom business hours, calendar hours are used to calculate the First Reply Time for each agent.
Note: Account Owners and those with the Manage Profiles company permission can set custom business hours for LinkedIn, Twitter, Facebook and Instagram. If you select multiple profiles within the custom business hours modal, the selected time zone and work hours apply to all selected profiles. Custom business hours can also be set by clicking

at the top of the Inbox Team Report.
Filtering
Adjust your date range at the top. Use the Filter Menu to filter by Team Members, Profiles and message types replied to. You can also view messages from all team members who have at least one reply for the selected reporting period. Click View to see replies by a specific team member.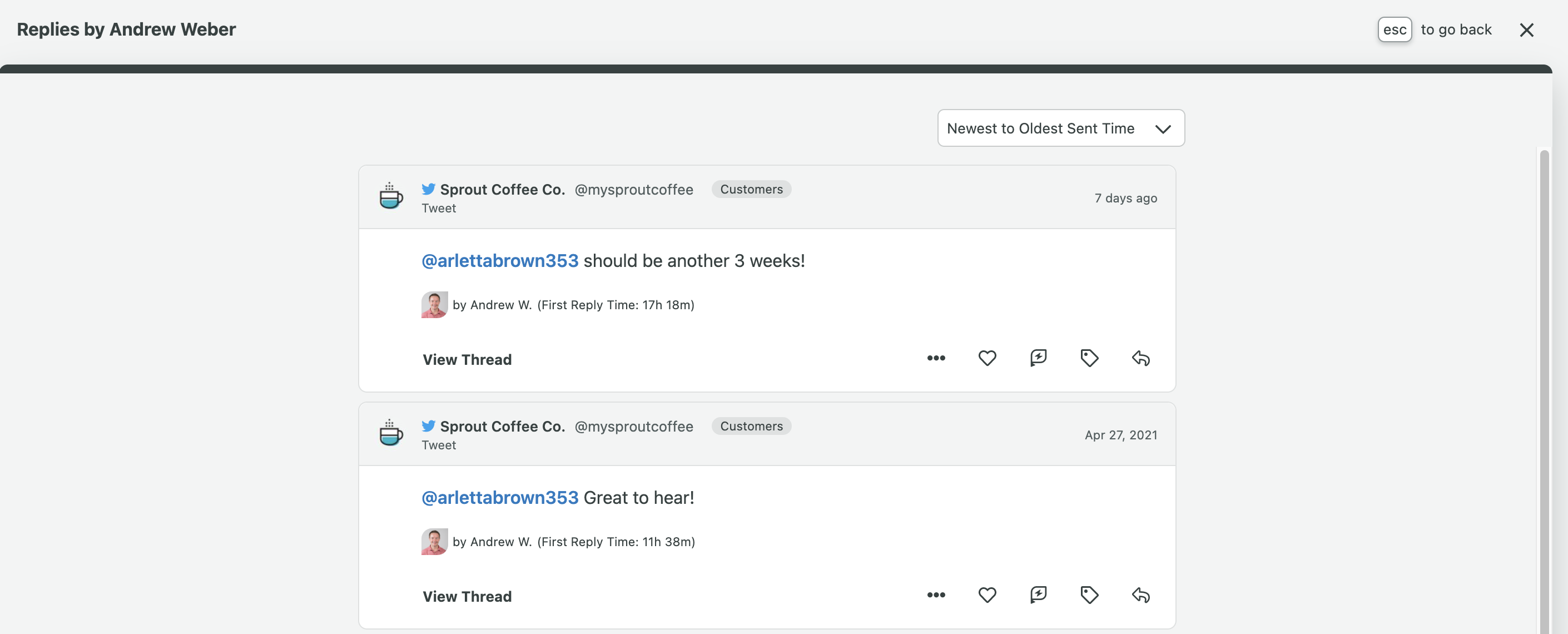 If an administrator has removed a team member, that user will appear as inactive for the next year.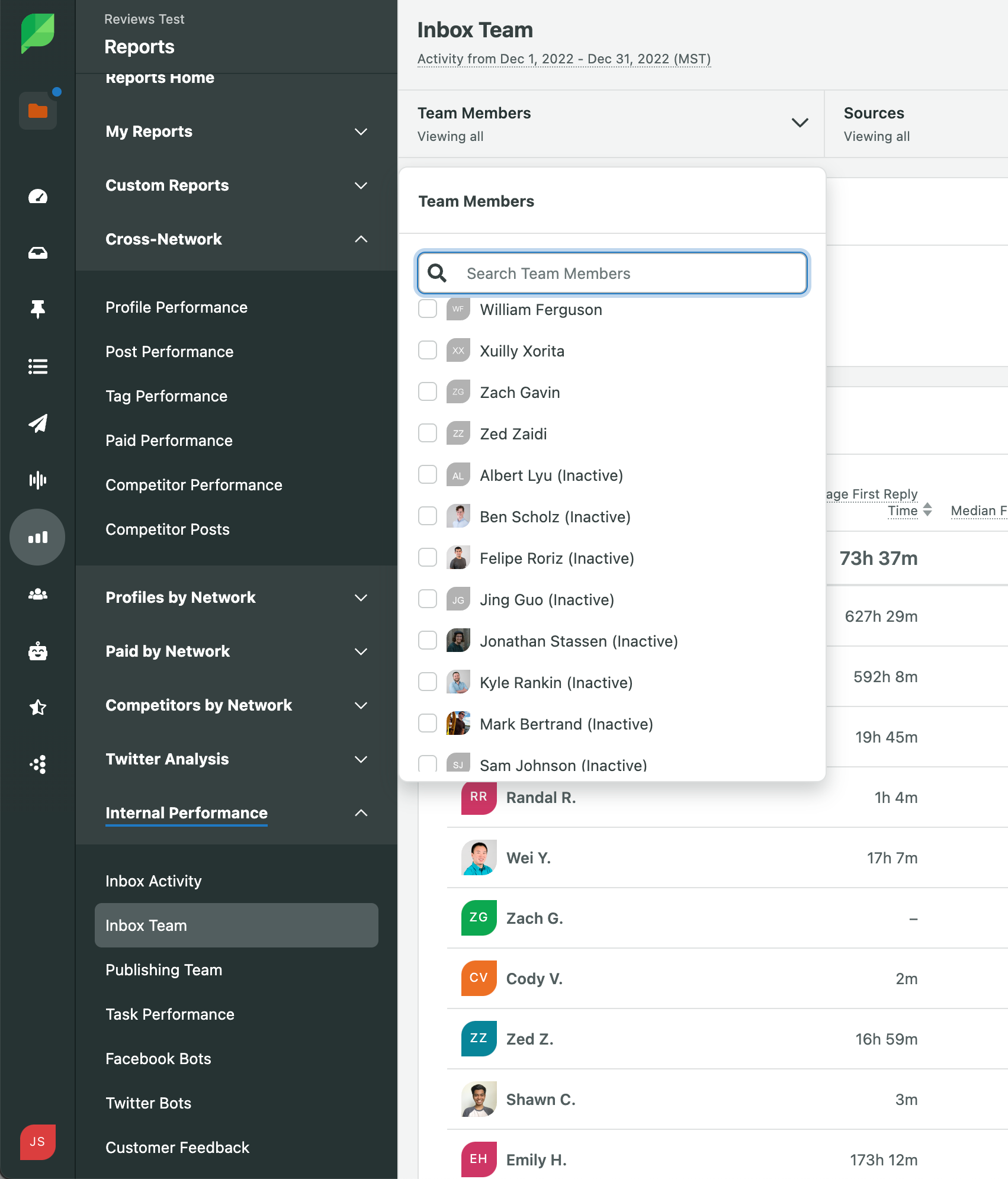 Understanding the Data
To better illustrate the metrics within the Inbox Team Report, here's an example:
At Sprout Coffee, custom business hours are set 9AM-5PM.
On Monday at 9AM, Arletta, a Sprout Coffee customer, sends a message to Sprout Coffee: "Hi Sprout. Where's my delivery?"
The following day at 9AM, Mazi, the Sprout Coffee agent, replies, "Hi! I'm Mazi, and I'm happy to help."
One minute later, at 9:01AM, Mazi sends another message: "What's your order number, Arletta?"
Almost an hour later, at 10AM, Arletta replies, "Thank you, Mazi! My order number is 1234."
Five minutes later, at 10:05AM, Mazi replies, "Thank you for that information. Let me look into this for you."
Average First Reply Time is the average time it took to send out the first reply to an inbound message within business hours. In this scenario, the 9AM-5PM business hours equates to an eight-hour chunk of time. With his first reply to Arletta's question on Tuesday morning, Mazi replied eight hours, or 480 minutes, later. His first reply to Arletta's message containing her order number was five minutes.
480 + 5 minutes = 485 minutes. Divide this by two as the interaction spanned two days, and Average First Reply Time comes out to 242.5 minutes.
Average Reply Wait Time (During Calendar Hours) is the average time customers waited for their first reply during calendar hours. The first reply Arletta received from Mazi came 24 hours, or 1440 minutes, later. After sending her second message, Mazi's first reply for that interaction came five minutes later. 1440 + 5 = 1445 minutes. Divide this by two as the interaction spanned two days, and Average Reply Wait Time (During Calendar Hours) comes out to 722.5 minutes.
Unique Messages Replied To would be two: Arletta's initial message on Monday, as well as her message on Tuesday containing her order number.
Total Replies would be three: all of Mazi's replies to Arletta throughout this interaction.
#SproutTip: Come across a term used and not exactly sure how it's defined? Leverage Sprout's built-in tool tips! Simply hover over a term to see its definition.
Median First Reply Time doesn't appear in the aggregate summary because this isn't currently supported by Sprout.