Inbox Export
You can export messages from the Smart Inbox. Take the following steps to export your Smart Inbox.
Using the Right Bar, configure the Smart Inbox to show only the messages you'd like to export.
Click

above the Right Bar and select Export Inbox.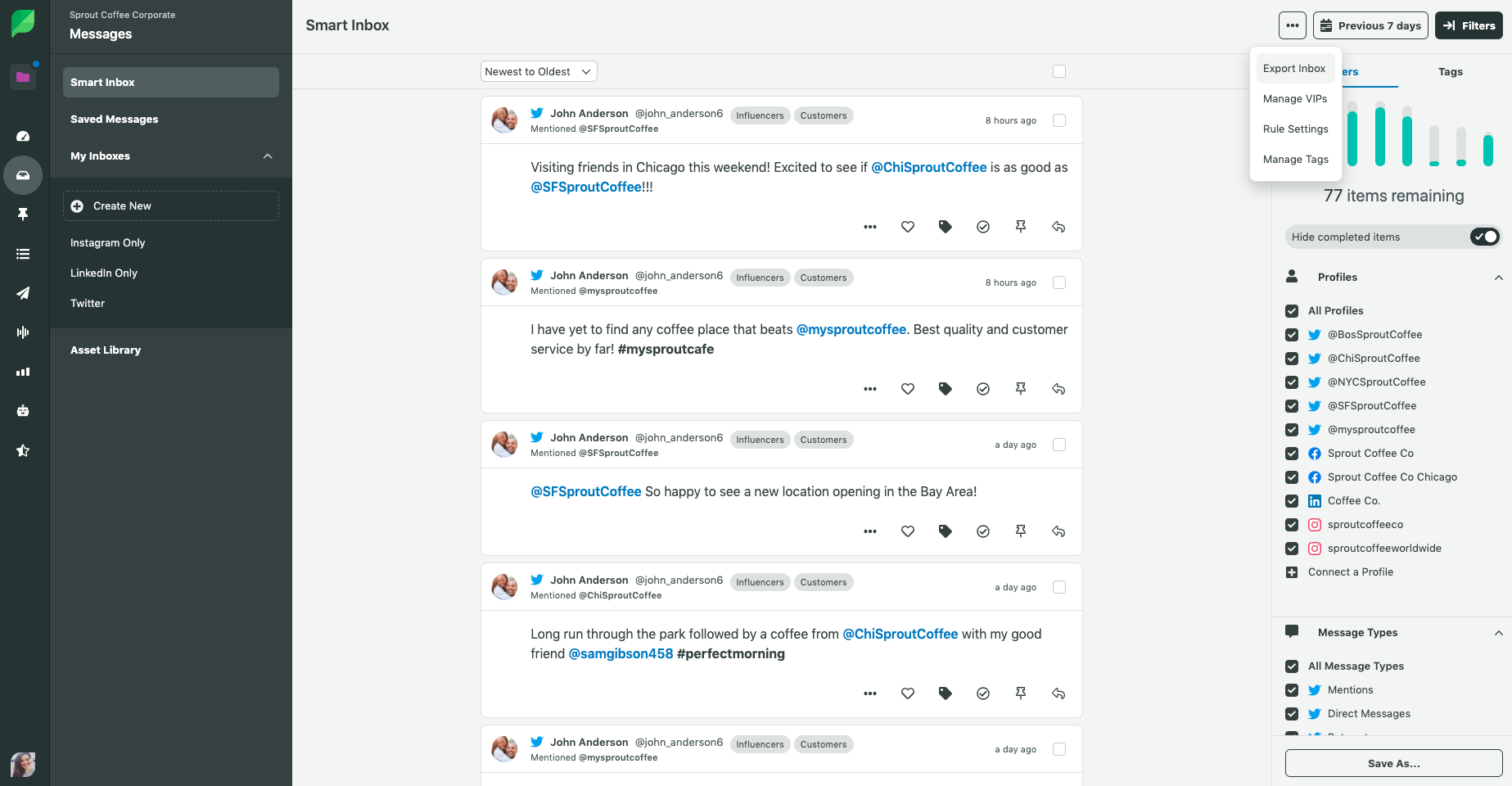 Choose a date range by clicking on the calendar or selecting a preset date range. Next, enter up to 25 email addresses to whom you'd like to send the exported CSV file.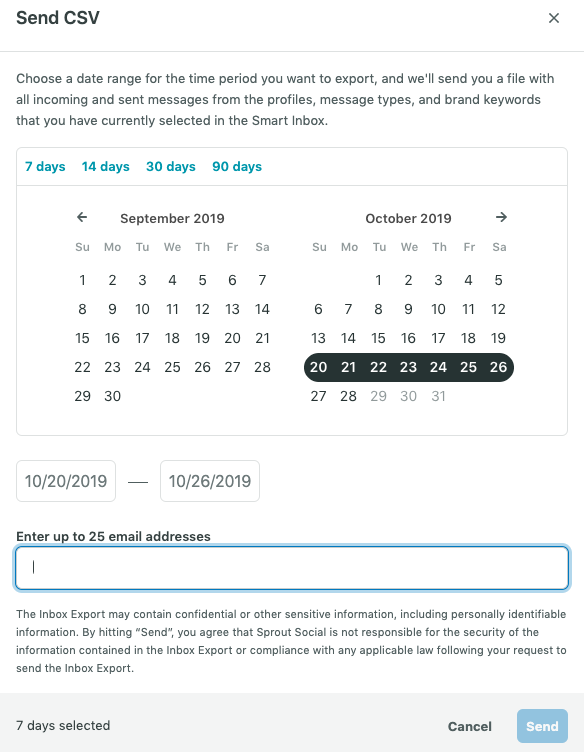 Click Send and then click Close. Whoever receives the exported CSV file will then be able to download the file to their computer.
Inbox Export FAQ
How will files be exported?
You must select at least one email address to which you will send the exported CSV file. Then, email recipients will be able to download the spreadsheet from that email.
Which file types can be exported?
CSV only.
What data fields are included?
Date (including timestamp), type, channel, message type, connected profile, Brand Keyword, from name, link, message, tags, completed status (Y/N for incoming messages, or blank if sent message)
What types of messages can be exported?
All message types in the Smart Inbox across all networks can be exported - including Brand Keywords and Sent Messages.
How far back can I export messages?
Message data can be exported as far back as the time period you select.
Can I export from Isolation Mode?
No.
How many people can I email the CSV to at once?
You can send the email to up to 25 email addresses.
Will the Export Inbox function honor the Hide Completed Items toggle?
Yes. If you hide completed items, completed items won't appear in the Smart Inbox, so they will not appear in the export. If you do not hide completed items, they will be included in the export.
Will the Inbox Sort preference apply?
No. The export will display messages from oldest to newest. You can sort the messages however you prefer in the CSV by using an app like Google Sheets or Microsoft Excel.
Am I able to exclude a specific timeframe?
No, but you can choose a customizable date range from the Send CSV modal.
Can I export based on the tags filter?
Yes, you can export the Smart Inbox or a custom Inbox View with tags selected.
Will chatbot messages be included in the export?
Yes, as long as they appear in the Inbox before you export.
How is this different from full archiving services?
Exported messages are available for the time period you select - this does not include a recurring or scheduled export of all message data.
Can I send this to non-Sprout users?
Yes. But please be mindful that this export can contain sensitive information. Within the Send CSV modal that pops-up upon clicking the Export Inbox button, there is a disclaimer, "The Inbox Export may contain confidential or other sensitive information, including personally identifiable information. By hitting "Send", you agree that Sprout Social is not responsible for the security of the information contained in the Inbox Export or compliance with any applicable law following your request to send the Inbox Export."
Is it possible to limit access from Read Only users?
No. Read Only users are able to see inbox messages so it makes sense for them to be able to export as well.
Is there a way to undo an export request if, for example, someone typed in the wrong email?
No. Please make sure to double check the email addresses you submit before sending.
Does Inbox Export support non-Latin characters in the export?
Yes. If you receive a message in a language that does not use the Latin alphabet, those messages will appear in Sprout as well as in the exported file in the original alphabet used.
Does the export include data on the completion status of incoming messages?
Yes. As of January 2018, the export has been enhanced to indicate whether incoming messages have been completed, and by whom. (This data is not available for sent messages as sent messages cannot be completed.)