Bulk Mode
The Smart Inbox makes it easy to manage messages directed at your social profiles. Occasionally, though, you may want to complete or tag more than one message at a time. Bulk Mode makes it easy to manage multiple messages at once.
Note: You need Tag Messages permissions to bulk tag messages and Manage Message Status permissions to bulk complete messages.
This article contains the following sections:
Using Bulk Mode
If you want to complete or tag multiple messages:
Click

at the top of the Smart Inbox. This selects all visible messages currently loaded.

Select and/or deselect the checkboxes for the messages you want to tag or complete.

Click to tag the selected messages or click

to mark the selected messages as complete.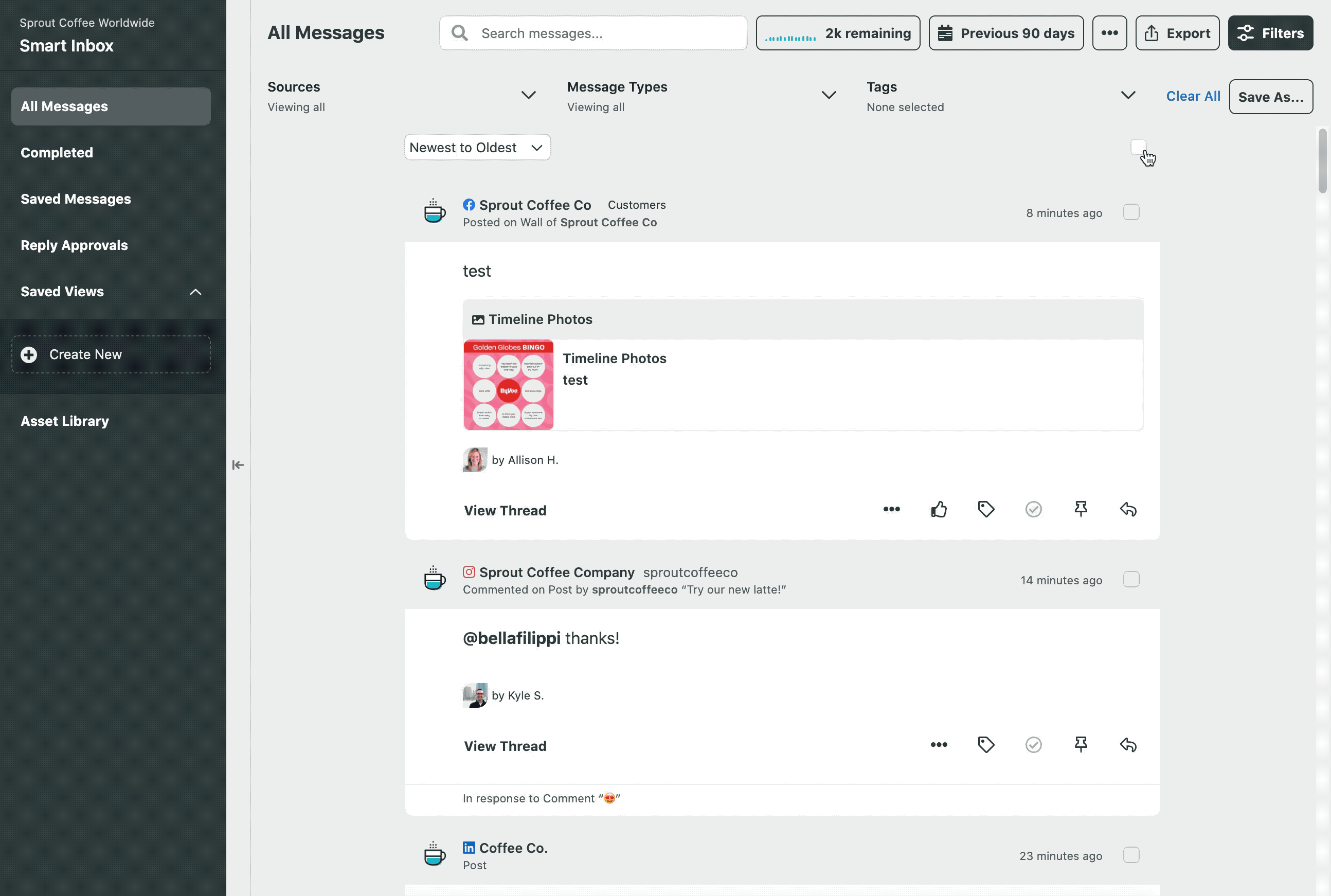 Additionally, you can enable it by hovering your cursor over any message in the Smart Inbox and clicking

.

Tip: Marking messages as complete in Bulk Mode immediately marks those messages complete and disables Bulk Mode. If you want to tag those messages, we recommend tagging before marking as complete. Do note that Bulk Mark as Complete is available on all plan levels. Bulk Tagging is available on Professional and Advanced plan levels.
Marking Complete in Bulk
You can bulk-complete messages prior to a date you specify.
Note: When you use Mark Complete in Bulk for messages prior to a specific date, it marks all message types and brand keyword results in all your profiles across all your groups in Sprout. It can't be undone.
To mark messages complete in bulk:
Click

at the top of the Smart Inbox.

Click Mark Complete in Bulk. The Mark Complete in Bulk popup appears.

Select a date that you want to complete all the messages prior to.


Click Mark Complete. All messages across all your profiles and groups are marked complete prior to the date you selected.