How do I assign Tasks in Sprout?
As you work your way through messages in the Smart Inbox, you might come across a question or piece of feedback that may be better suited for someone else. In that case, you can delegate the message to a specific team member by clicking

to assign a task.
To assign a message as a task:
Click .
Choose a Task Type. Choose from General Task, Sales Lead or Support Issue.
(Optional) Choose Mark High Priority to add an extra visual indicator in the Tasks section.
(Optional) Leave an internal comment to add additional information.
Assign the task to a Sprout user from the dropdown. You can assign the task to any team member that you share at least one group with, unless cross-group assignments were disabled.
Click Create Task to assign the task.
After you assign a task to a team member, they receive an email and Notification Drawer alert.
You can also Mark Message as Complete, to remove the message from the Smart Inbox view, but keep it in the assignee's Open Tasks.

Managing Tasks
If you were assigned a task, you can see it in the Tasks section. Tasks are sorted by most recent activity first.
Tasks with blue dots beside them are unread, and the Task Type is displayed as an icon. To the right of that icon, the subject line of each task displays the last action taken. Any items marked as high priority are highlighted by a red bar.
Click a task to view details.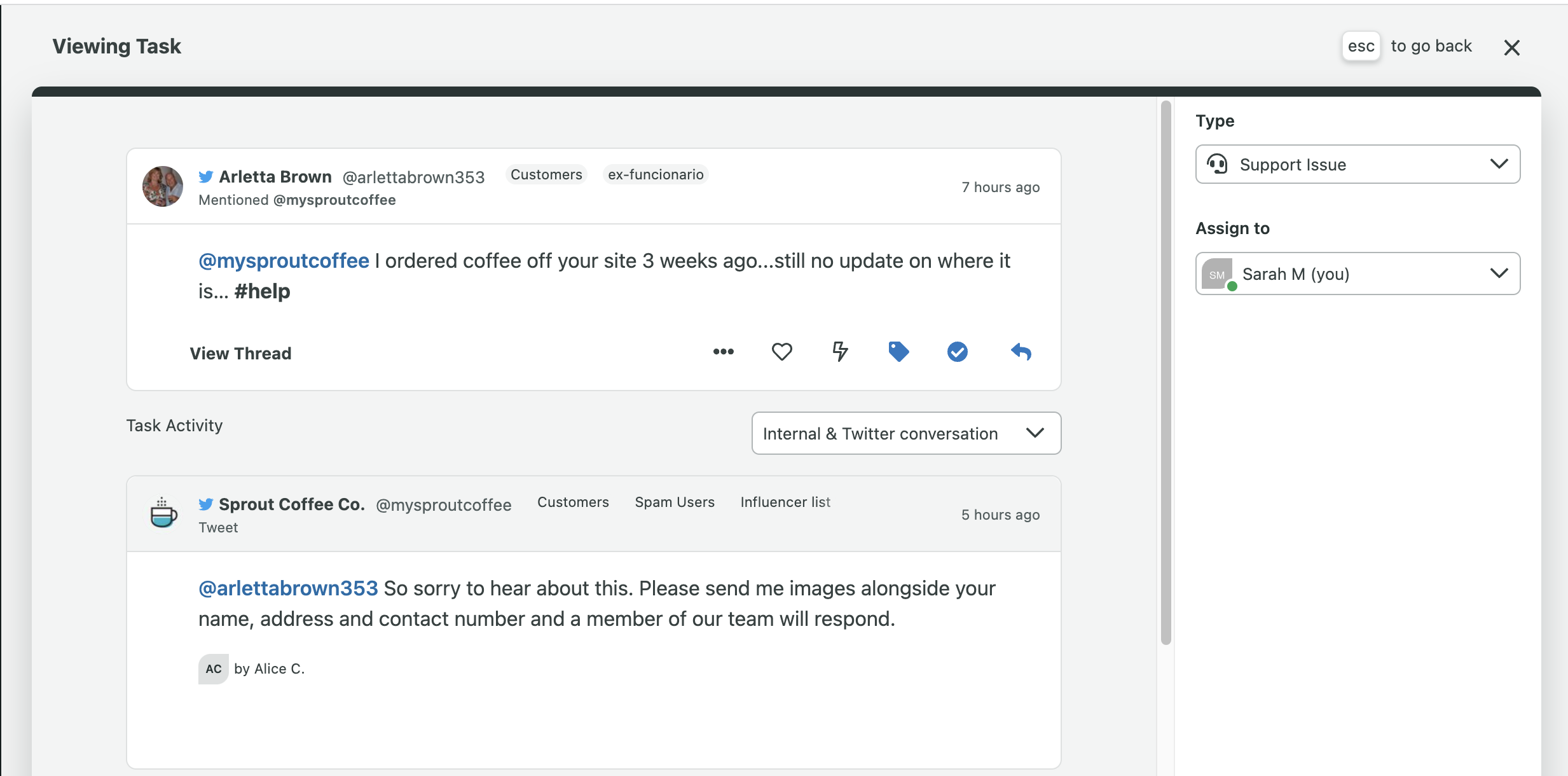 Task details show any and all internal comments associated with the message in view. You can easily reassign the task to another team member by selecting them from the list on the right side of the screen. The new assignee sees all comments and events in the Task Activity section. After you've taken the appropriate action, select Close Task before you Save & Exit to close the task.
Access closed Tasks from the Closed Tasks section in the left navigation bar. Deselecting Close Task reopens the task and places it in the Open Tasks section.
Users who don't have admin permissions enabled see a left navigation bar section called Assigned By Me. Selecting this displays all tasks assigned to others by the individual.
Account Owners and users will full admin permissions see a left navigation bar section called All Tasks (Across Team). Selecting this shows all tasks assigned across the team, giving you oversight into your team's task activities.
Messages and Tasks
All follow-up messages are added to the task until it's closed. Once a task is closed, any new messages from the private conversation are considered untasked, and you can add them to new tasks if desired. If you re-open a task, any follow-up messages created after the task was closed will be automatically associated with that task.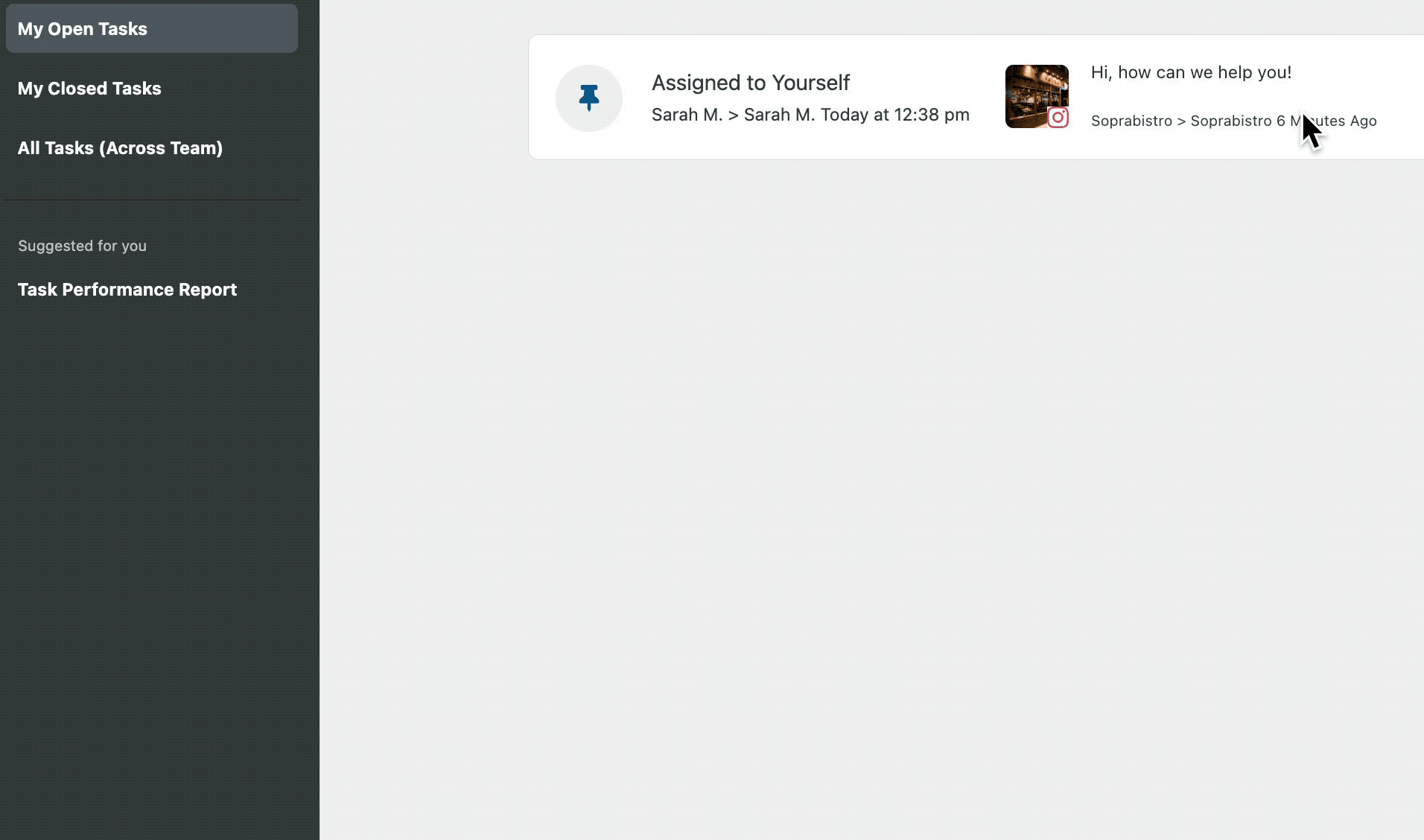 FAQs
Can I add or remove individual messages from a task?
No. A single private message is tasked manually, after which the follow-up messages will automatically be added to the task until the task is closed.
How do follow-up messages in Tasks impact the Task Performance report?
The Active Task Time metric remains the same and indicates how long a task remains open after it is assigned to a user, regardless of whether the task includes one or many messages.
Can I reopen any task in a private conversation?
No. The same private conversation may contain many tasks, but only one task in the conversation can be open at a time.