Brand Keywords
New to Sprout Social? Learn more about Brand Keywords and our entire social media monitoring solutions here.
Oftentimes, people will talk about your brand, a product you sell or a hashtag campaign you're running, and they don't take the time to mention you directly on social. If you aren't actively searching for these types of messages, you may miss out on important conversations.
Brand Keywords are custom Twitter searches that are constantly running and will display results in your Smart Inbox, which you can interact with just like any other message.
Adding Brand Keywords
To add a Brand Keyword, scroll to the bottom of the Right Bar in the Smart Inbox and click Manage Keywords.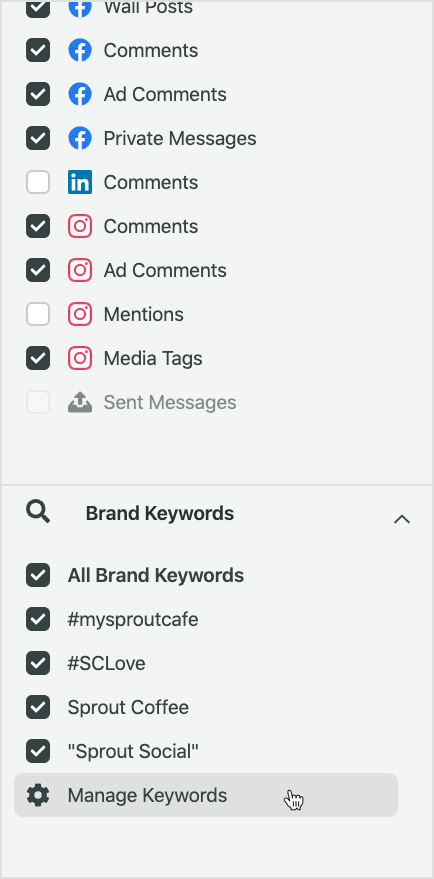 Note: Only Account Owners and users with Manage profiles & permissions enabled may add keywords.
A modal will open up in the middle of the screen. Click Add Keyword at the bottom of the modal.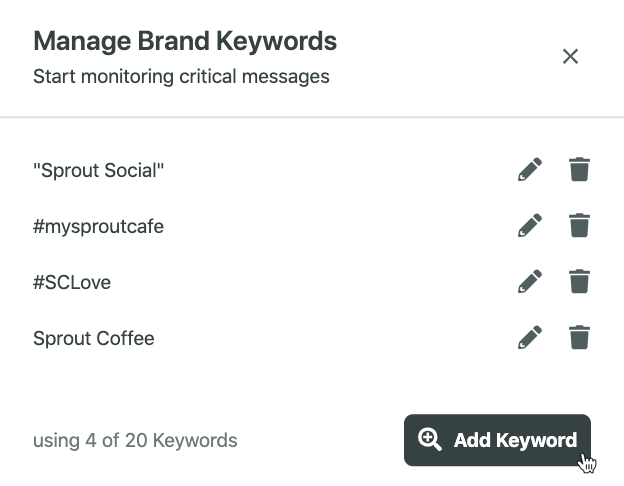 Begin typing your keyword in the Keyword Query text box at the top.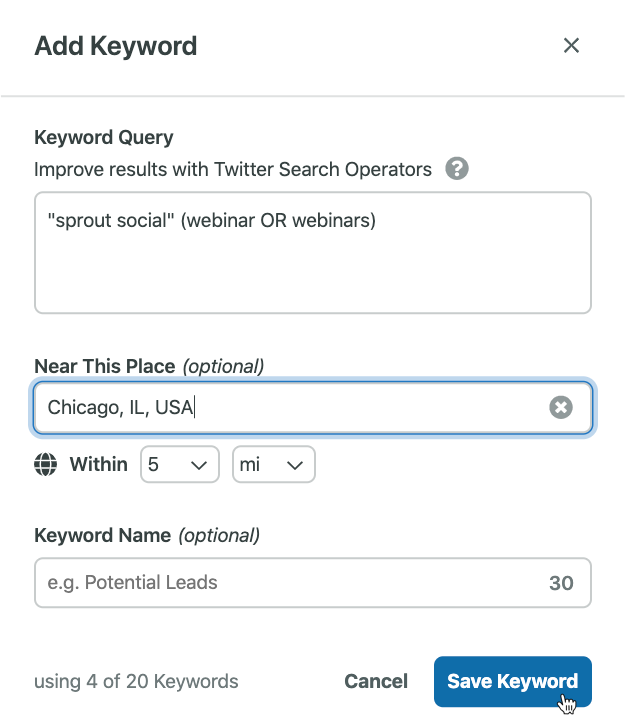 Brand Keywords support targeted location searches. You can enter a location in Near This Place and choose to surface results from 5, 10 or 25 miles or kilometers away.
In the event your Brand Keyword gets intricate, you may name your keyword via the Name Keyword box to make it easier to reference in the Smart Inbox.
Once your Keyword is complete click Save Keyword. Results will begin to populate as new messages in the Smart Inbox.
You can reply, task and perform contextual message actions to Tweets surfaced by Brand Keywords like any other message.
Creating More Complex Brand Keywords
Through the use of one or more multiple search operators, Brand Keywords may be made more complex to find specific conversations about your brand.
Click

to display a list of Advanced Search Options.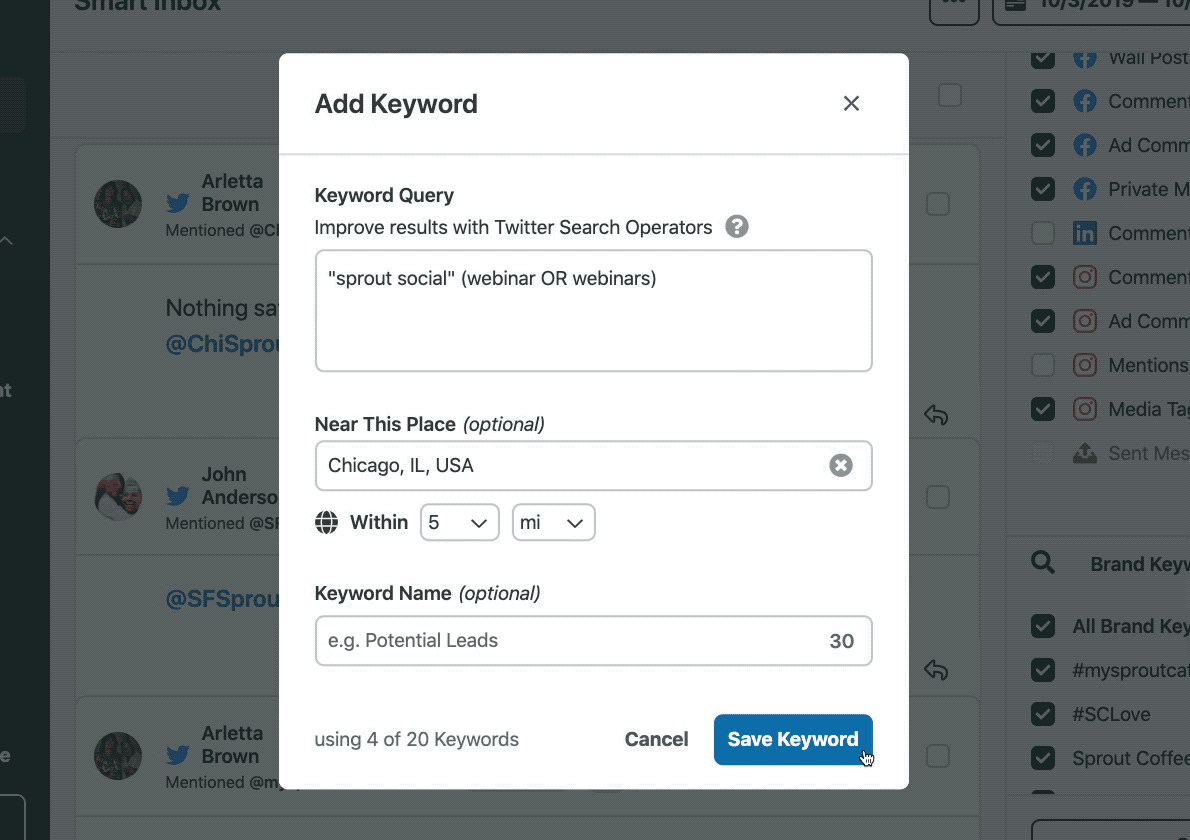 Use Cases
To illustrate potential use cases, we'll use the fictional brand Sprout Coffee Co. They have an active social audience and customers often tweet photos of their barista coffee creations. Sprout Coffee Co. wants to see, engage with and potentially retweet their customer's messages and other relevant content to their audience as a part of their brand marketing strategy.
Here are a few examples of advanced search options and keyword strings Sprout Coffee Co. might want to use:
1. Aggregate a series of phrases related to Sprout Coffee Co. in one search by coupling the "exact phrase" and OR operators. This search will pull Tweets where any or all of these phrases are used.
"want Sprout Coffee" OR "love Sprout Coffee" OR "need Sprout Coffee"
2. Find audience members who share links to Sprout Coffee Co.'s website (including interior pages, product pages or blog posts that start with the root URL) in English (lang:en), filtering out any posts that are coming 'from' the Sprout Coffee Co. Twitter handle.
mysproutcoffee.com -from:mysproutcoffee lang:en
3. Identify people who tweet to @SuperstarCoffee, Sprout Coffee Co.'s competitor, but also about "Sprout Coffee".
"to:SuperstarCoffee "Sprout Coffee"
4. Find common misspellings of the Sprout Coffee brand.
"sprout coffe" OR "sprout cofee" OR "sprot coffee"
5. Monitor a recent campaign where audience members were encouraged to share a photo of a Sprout Coffee location.
"sprout coffee" has:media
Note: Brand Keywords should follow Twitter best practices for best results. Searches can be limited due to complexity. If too many keywords and operators are combined in a single search, Twitter may not be able to provide results. If your search is not able to return any results, try adjusting your keyword/operator string to reduce complexity or specificity.
Now that you know how to control message visibility and find new conversations about your brand, let's discuss how to take action on the messages in your Smart Inbox