Asset Library
The Asset Library simplifies collaborative publishing and asset management within Sprout Social's publishing suite on the Advanced plan. You can easily create, organize, edit and publish assets from a central location to create and deliver visually engaging social posts.
Topics
Configuring Asset Library Settings
Managing the Asset Library
Using Assets
Configuring Asset Library Settings
To ensure all team members in Sprout have appropriate levels of access to the Asset Library, it's important to configure Asset Library permissions.
These permission settings can be accessed by clicking

in the upper right corner of Sprout, selecting Settings from dropdown menu and then selecting Asset Library along the left bar.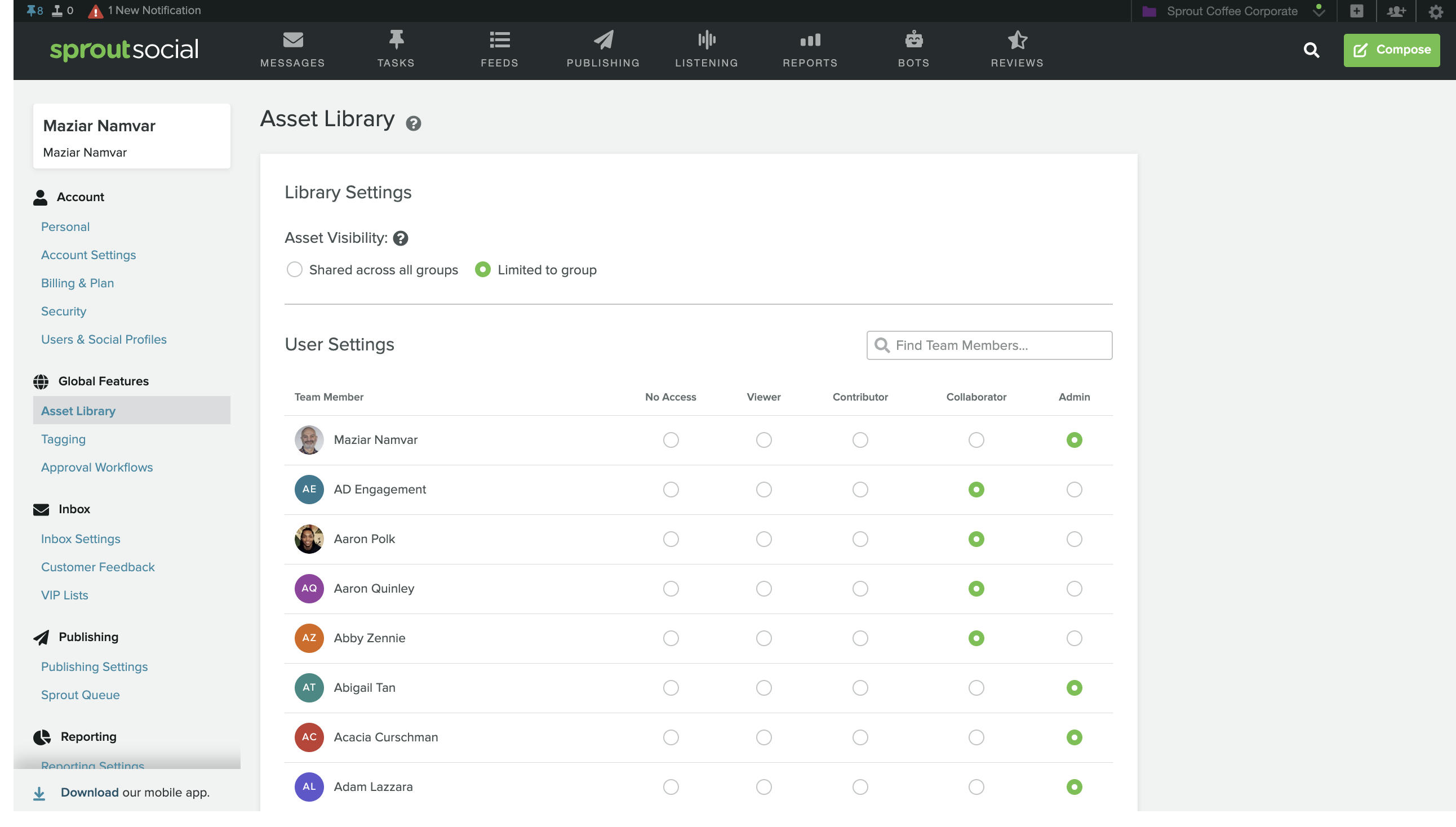 You can choose to limit assets by groups or show assets across all groups. When selecting to limit assets by group, the asset will only show in the group you upload it to. If an asset is needed in multiple groups, but not all, upload it individually to each group. Adjustments to this setting are not retroactive and will only take effect after the new setting has been selected.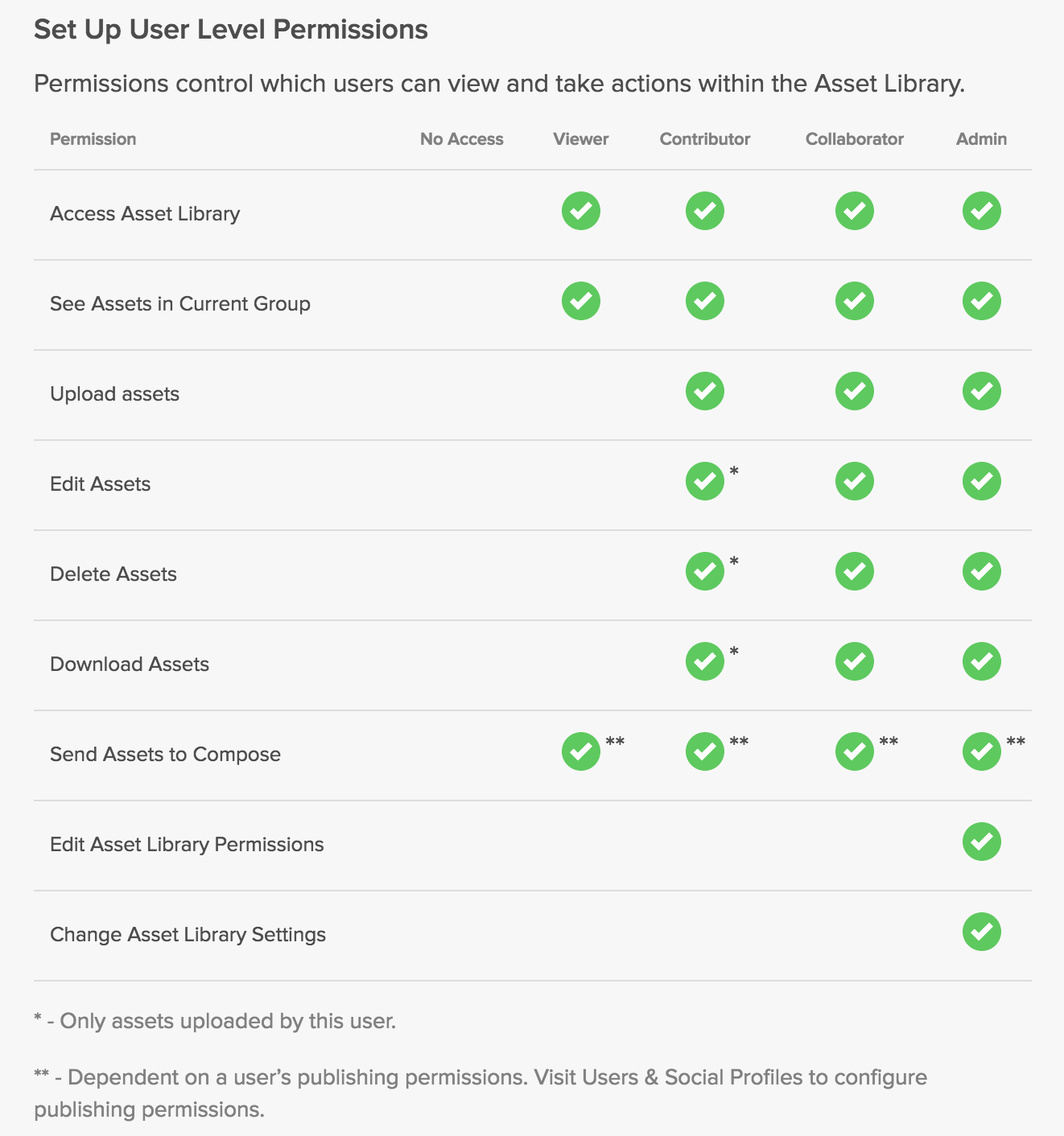 Managing the Asset Library
Managing assets can be done from Asset Library located in the Messages or Publishing tabs.
Choose how you would like to view the Asset Library, by toggling between the grid view and list view with the (

) icon.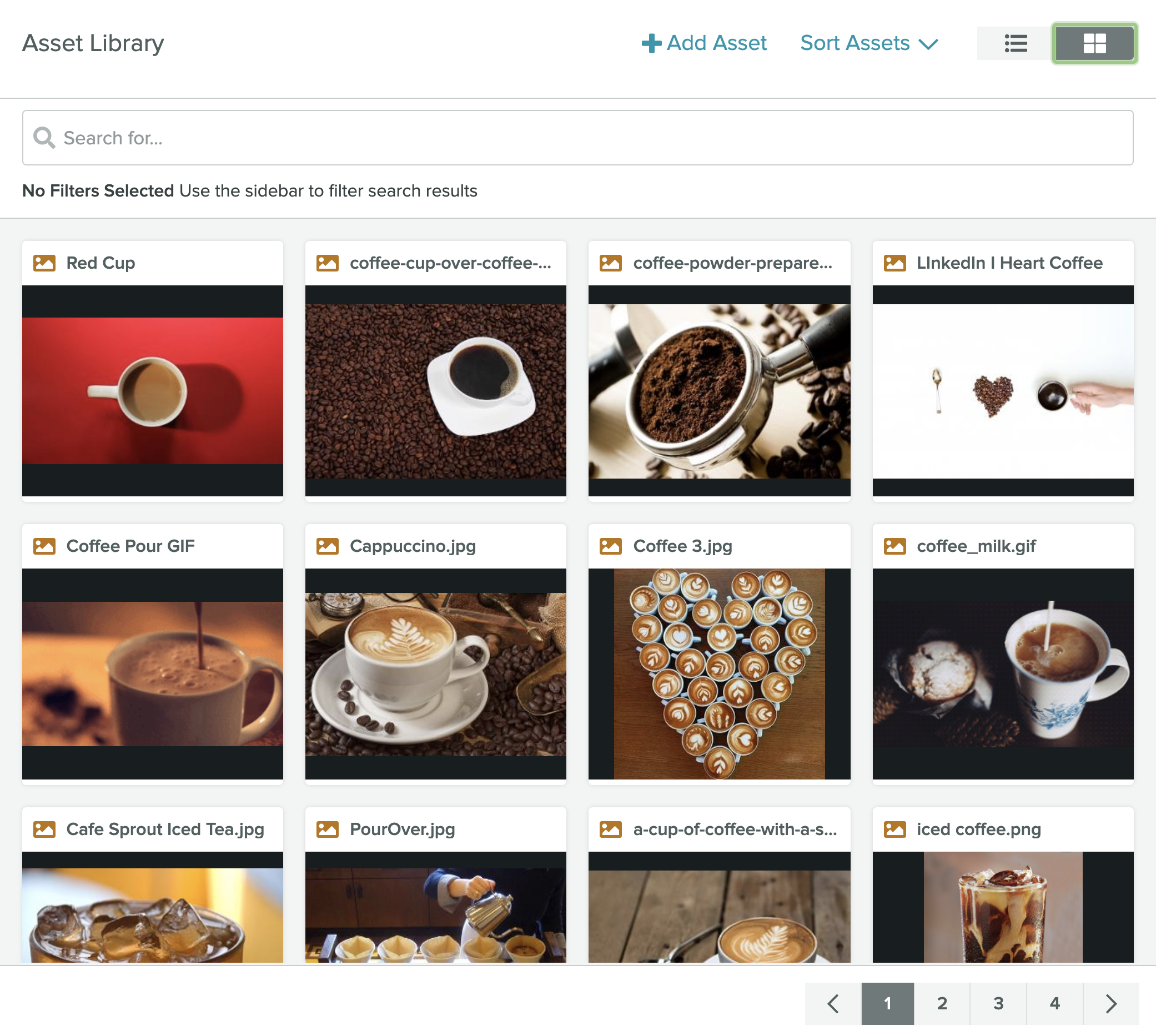 The grid view allow users to view all assets with larger previews.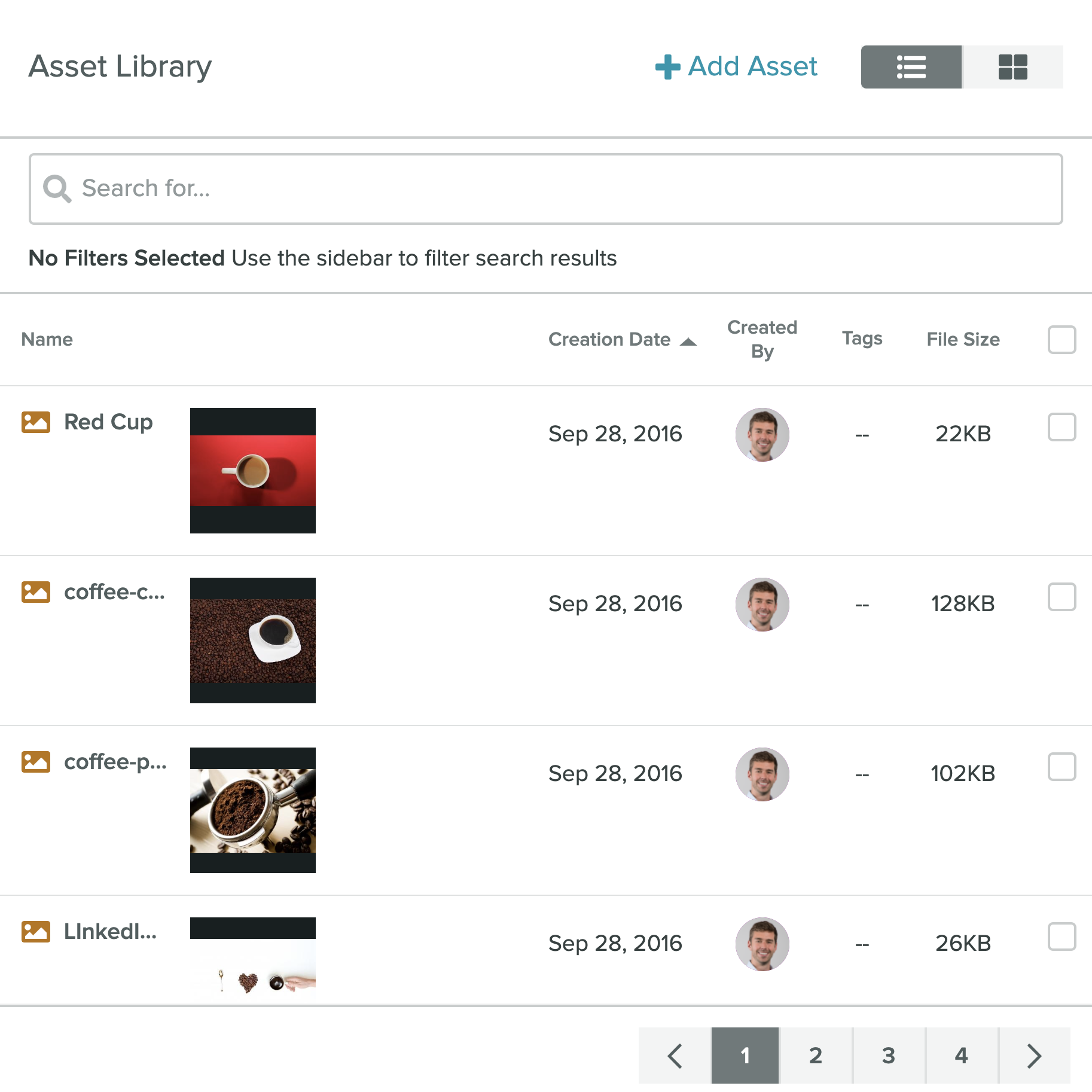 The list view allows users to view assets by assets detail, including a small image preview. Sort assets by Name, Creation Date, Created By or File Size by clicking the specific column header.
In the right bar of the Asset Library, you can filter your view by Asset Context, Asset Type, Tags or Authors to find your desired asset faster.
Uploading Assets
To add an asset to the library, select + Add Asset and choose which asset type to add, image, video or text.
Supported image filetypes: JPEG, PNG and GIF (maximum size of 8 MB).
Supported video filetypes: MOV and MP4 (maximum file size per video upload is 1.75 GB).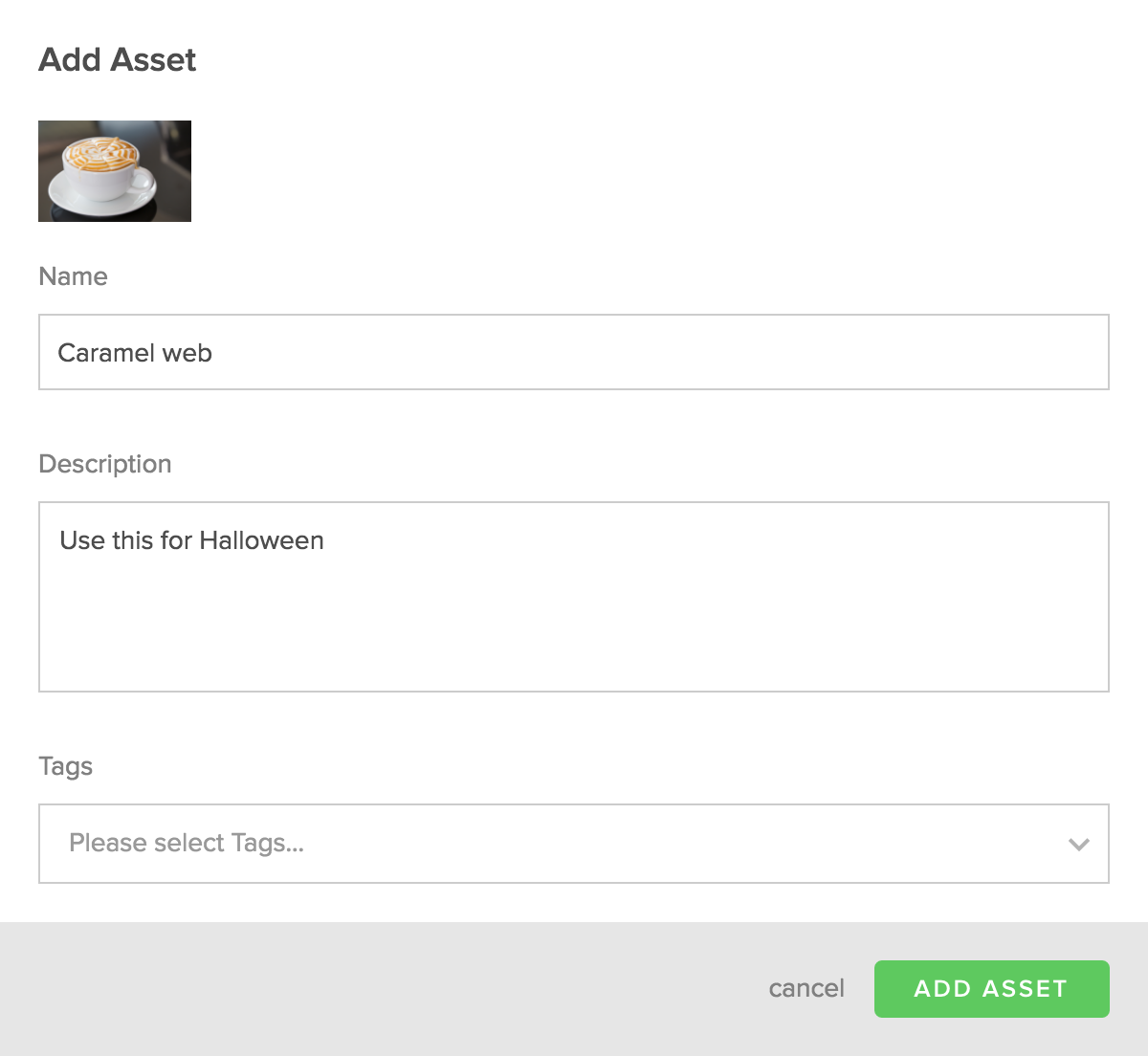 Enter a name, description, and tag if necessary.
Note: Sprout's tag management system is universal. The tags available are the same ones available for your group in the Smart Inbox and when composing messages.
For text assets, be sure to select the Context, either Compose, Reply or Both Compose and Reply. This allows you to easily determine how the text can be used in the future. For example, if you're running into similar questions repeatedly, you may want to save a reply for you and your team to reuse so you can save time in your responses.
View Assets
Click an asset in Asset Library to view the name, description, who uploaded the image and when it was uploaded.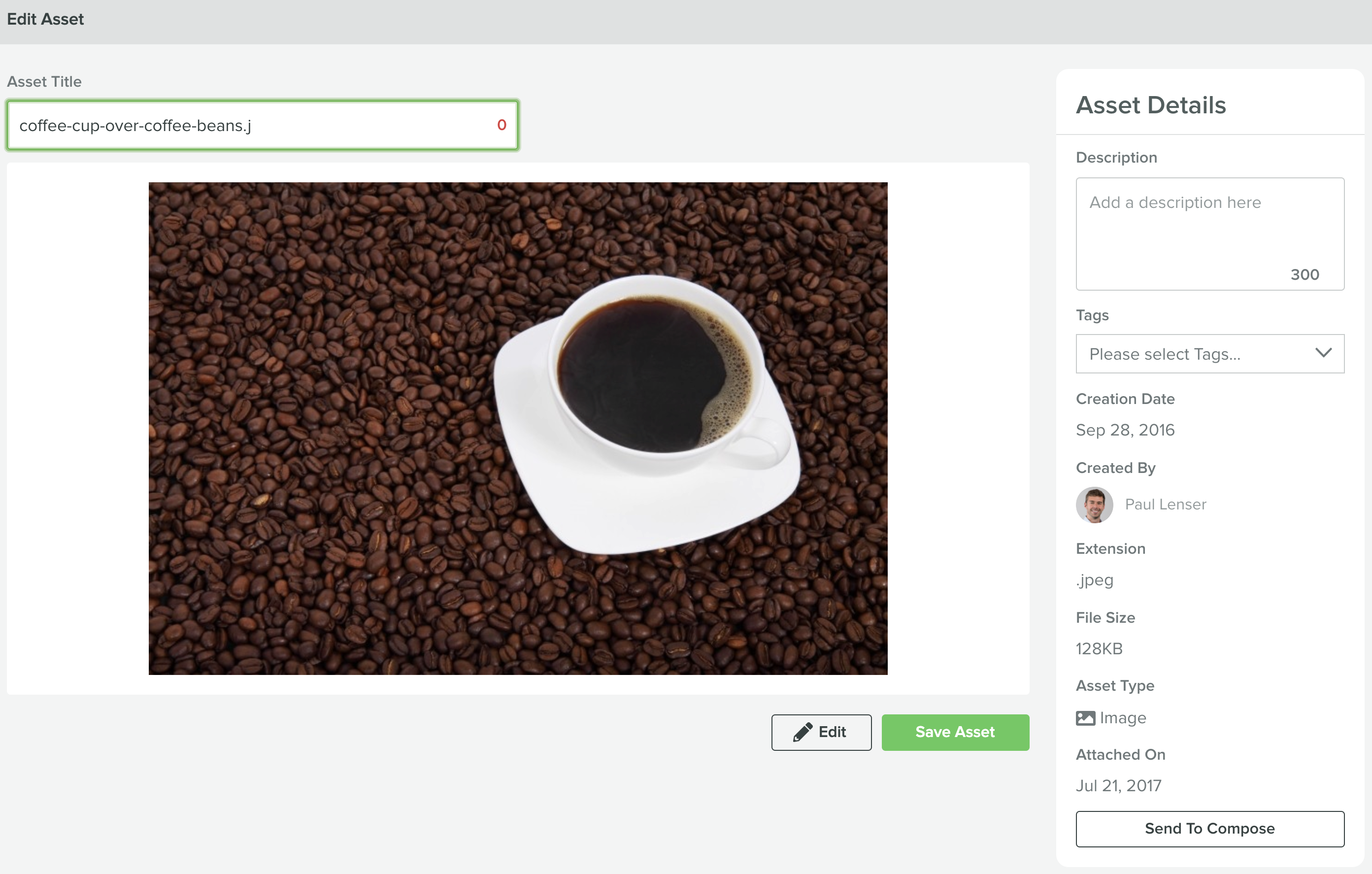 Other asset information available includes file size, extension, who the last person was to attach the asset to Compose and when. Also, send the asset directly to compose from this view.
Editing Assets
Images in the Asset Library can be edited with Sprout's image editor. View an asset and click the Edit button to edit it.
The edited image will be saved as a separate new asset, while the original will remain unedited.
Using Assets
After assets are added to the library, it's easy to attach them to new messages from the library itself, or when composing a new message.
Send Asset to Compose
Select the asset(s) you want to publish by clicking the checkbox in the upper left corner of the image, then select Send to Compose.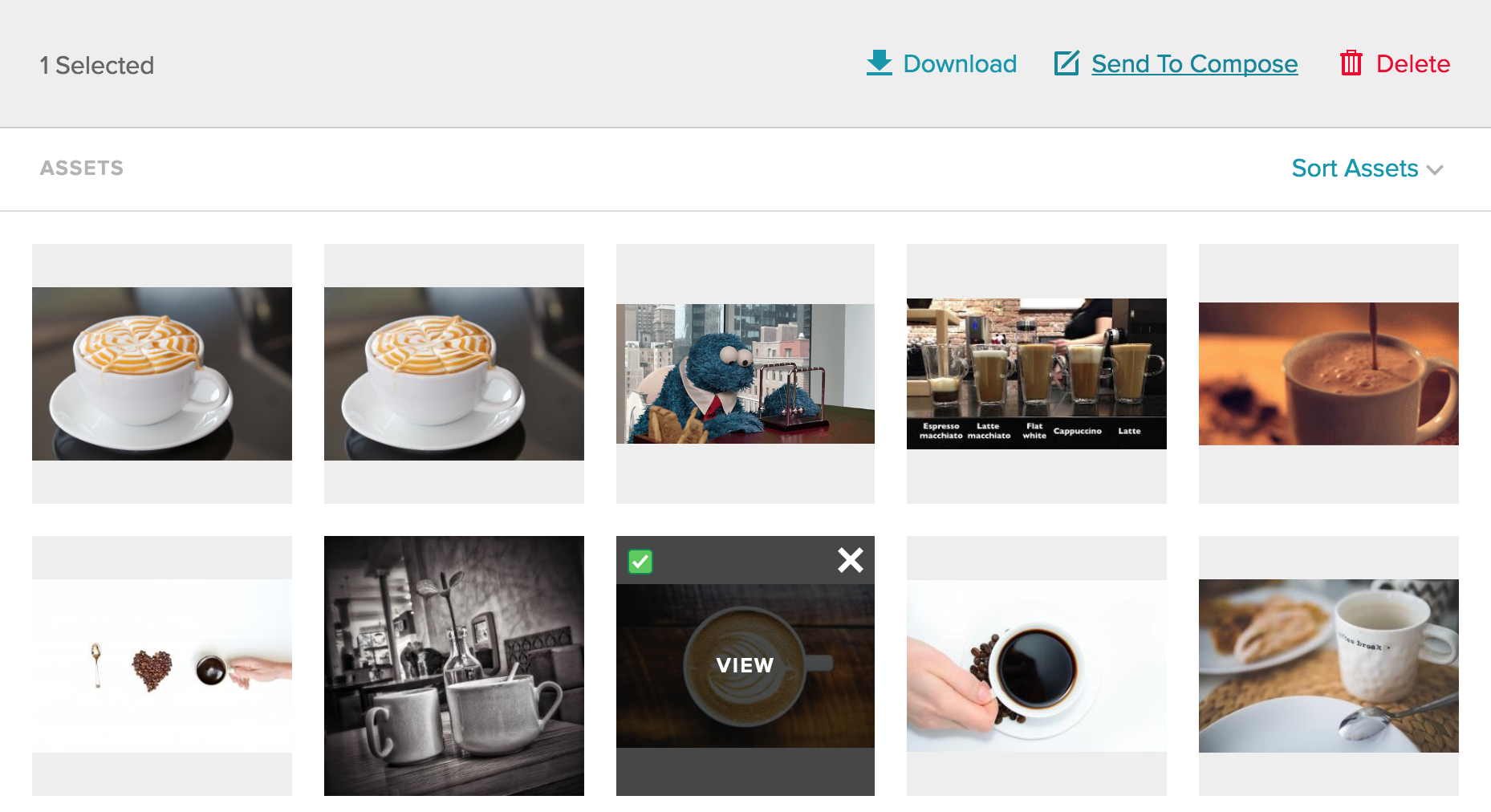 Compose: Attach from Asset Library
When composing a new message, click the camera icon and choose Asset Library.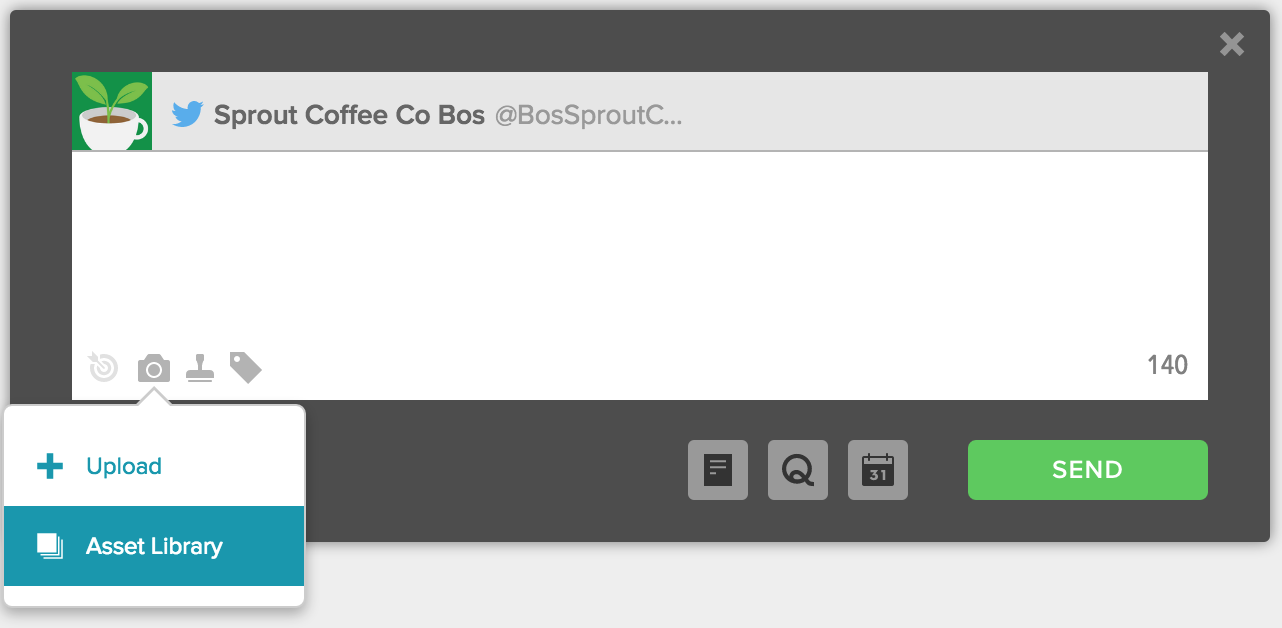 Select the asset(s) you'd like to attach to the post and click Send to Compose. The library can be viewed in list or grid format in this view.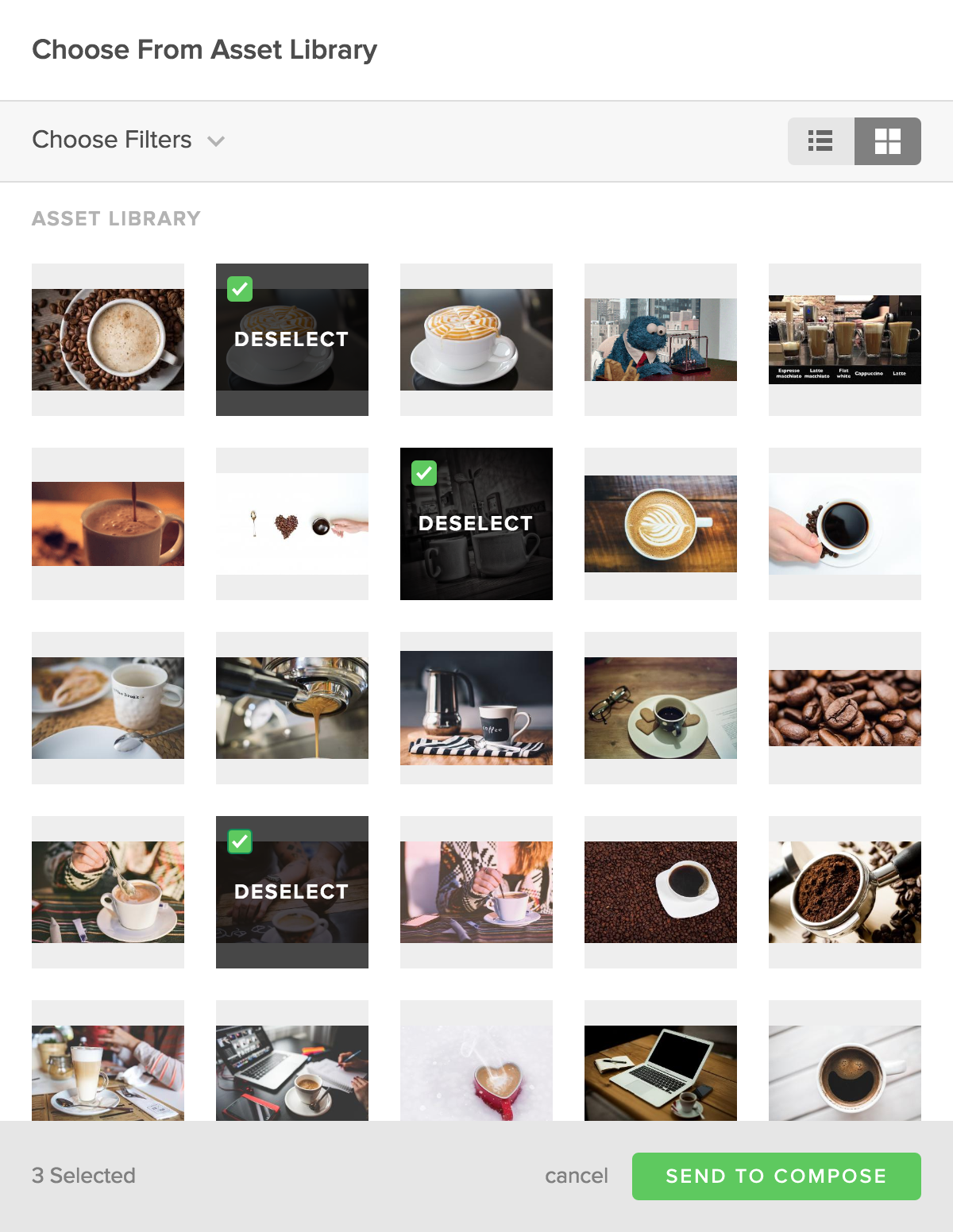 Compose: Instagram First Comment
You can include your commonly used hashtags to use when posting an Instagram First Comment.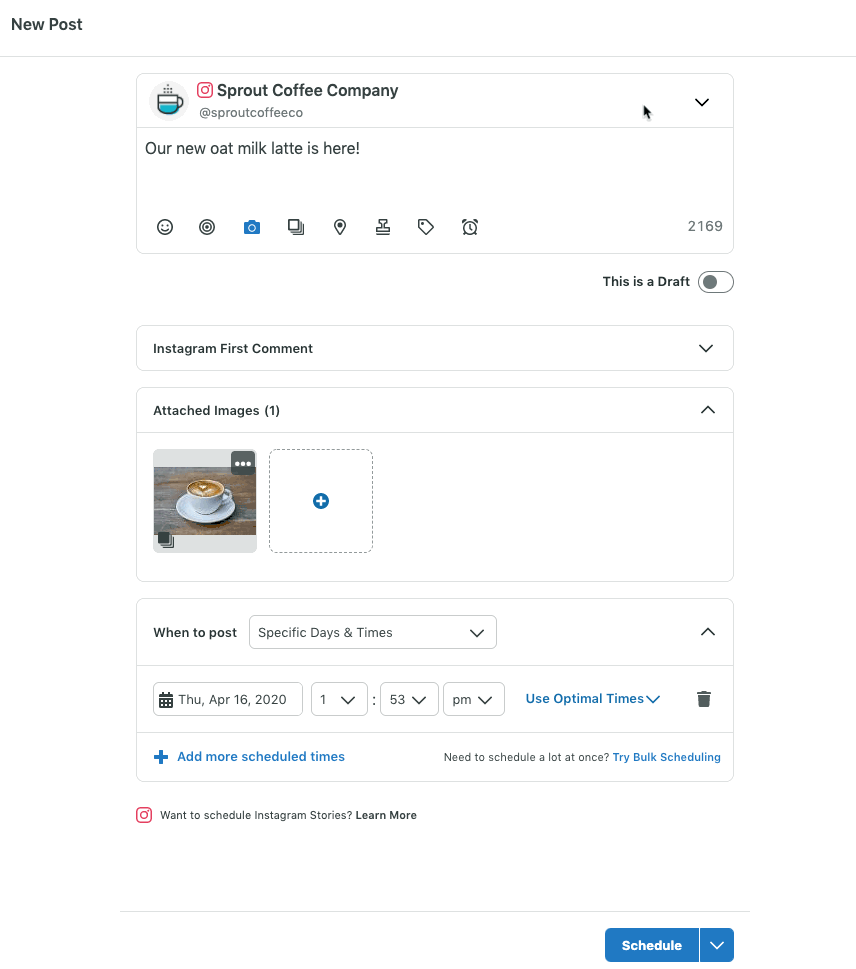 When composing an Instagram message:
Select your desired Instagram Business profile.

Add the media and text you want to post.

Click

, and then type the name of the text asset or click

Filter by Tags

to find the tagged text asset you want to use.
You can also save hashtags to the Asset Library directly from the Instagram First Comment box. Following the same process, add your hashtags in the Instagram First Comment box, and then click

. Name your asset in the Add Asset popup up, and then click Add Asset.
Reply: Attach from Asset Library
Text assets in the library can also be attached via the reply window. Click

to open a list of saved replies to choose from. These can be filtered by tags.
Additionally, if you write your own reply that you'd like to save for you and your team to use in the future, click Add current reply to Asset Library.
Asset Security
Protecting your data is our priority at Sprout Social. All assets are securely hosted on Amazon's Simple Storage Service (S3).