Message Tagging
Tagging in Sprout Social enables teams on the Professional and Advanced plans to group and categorize messages to match their workflow, business objectives and marketing strategies.
This guide will cover managing permissions around tagging, and how to apply tags to inbound and outbound messages.
Topics
Permissions
Managing Tags
Assigning Tags to Messages
Tags in the Sent Messages Report
Permissions
Define who on your team has the ability to create and manage tags, as well as who can add tags to messages.
Message Tagging introduces two permissions for users that can be applied when inviting them, or by accessing Users & Social Profiles from the gear (

 ) menu in the upper right corner.
Users with Create & Edit Tags enabled have complete ability to add new tags and manage existing tags. This includes renaming them, archiving and unarchiving existing tags, and including tags in specific groups.
Users with Tag Messages can assign tags to messages in the Smart Inbox.

Additionally, any user with Needs Approval or Publish permissions will be able to assign tags to outbound messages from the Compose window.
Managing Tags
Users with the Create & Edit Tags permission have a simple interface available for creating and managing tags. Access this from the Settings menu and select Tagging.
In this screen, it's possible to filter tags by searching for a specific tag name, or by selecting a specific group from the dropdown list.
Click Add New Tag to create a new tag. From here, name the tag and choose the groups in which it will be available.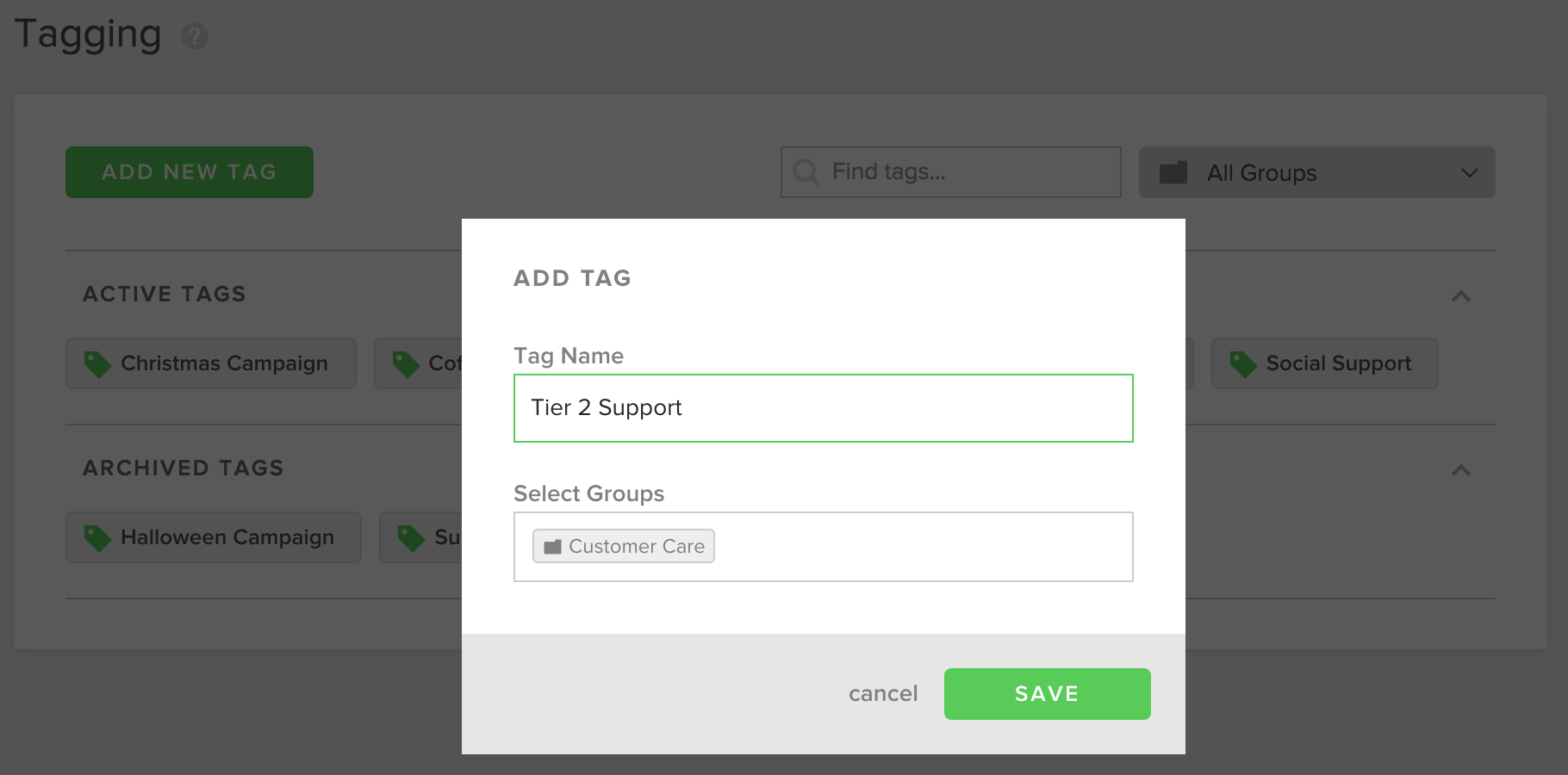 Click on an individual tag to edit its name or group assignment, archive, or delete it.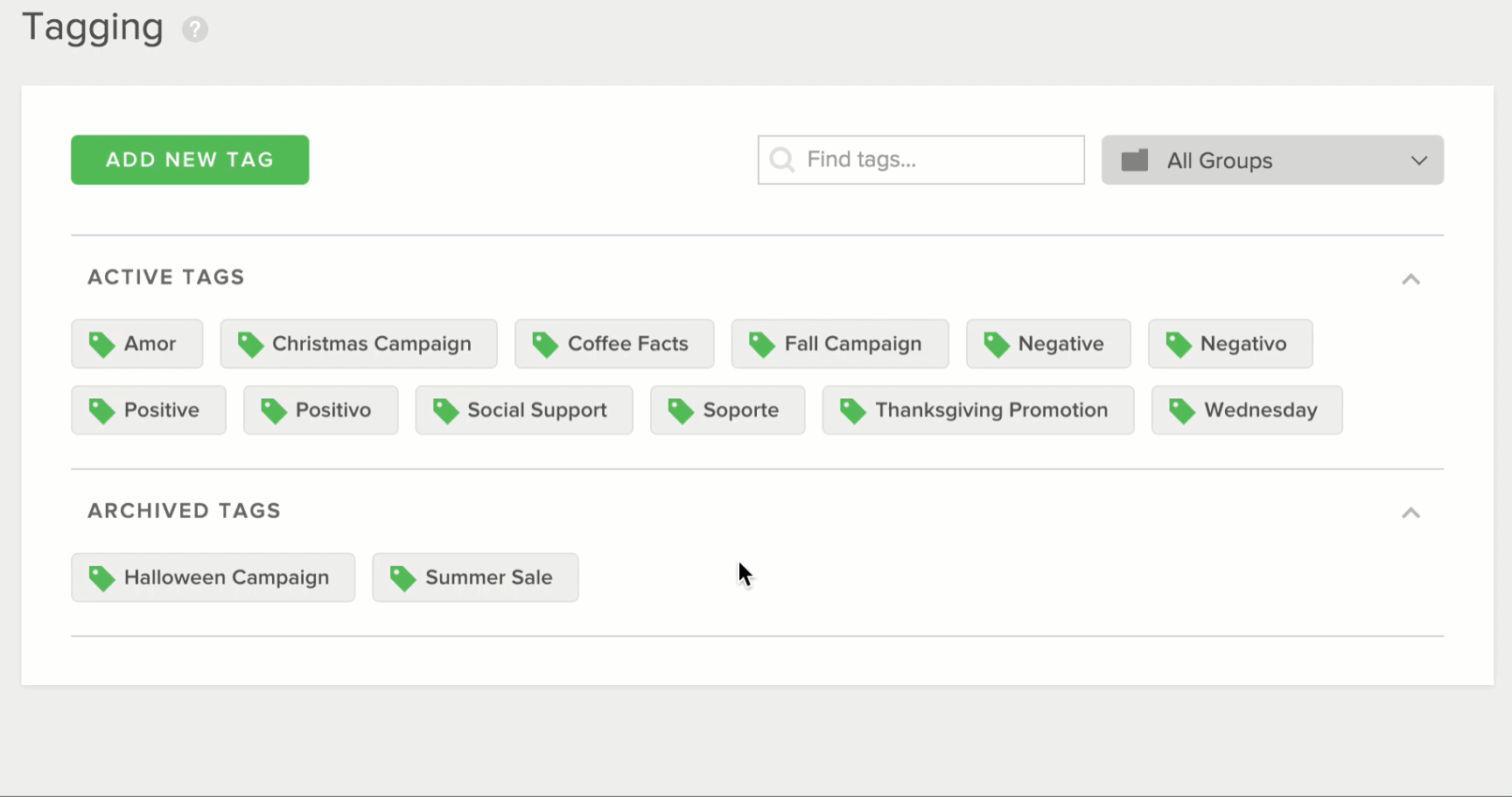 Archived tags can not be applied to messages while they remained archived, but they can be unarchived at any time and used again as normal.
Note: Archived tags are not deleted, and will remain applied to any messages to which they were assigned. Deleting a tag will completely remove it from your account, and no record will remain of it within Sprout Social.
A maximum of 200 tags per Sprout Social account can be active or archived at any time.
Assigning Tags to Messages
Smart Inbox
Tags can be assigned to messages in the Smart Inbox by users with the Tag Messages permission. Any message, inbound or outbound, can have up to 20 tags applied.
To apply a tag, click the tag icon. Search for the tag name or simply select it from the list. Additionally, any users with the Create & Edit Tags permission can create a new tag by typing in a name in the search field and clicking Create Tag.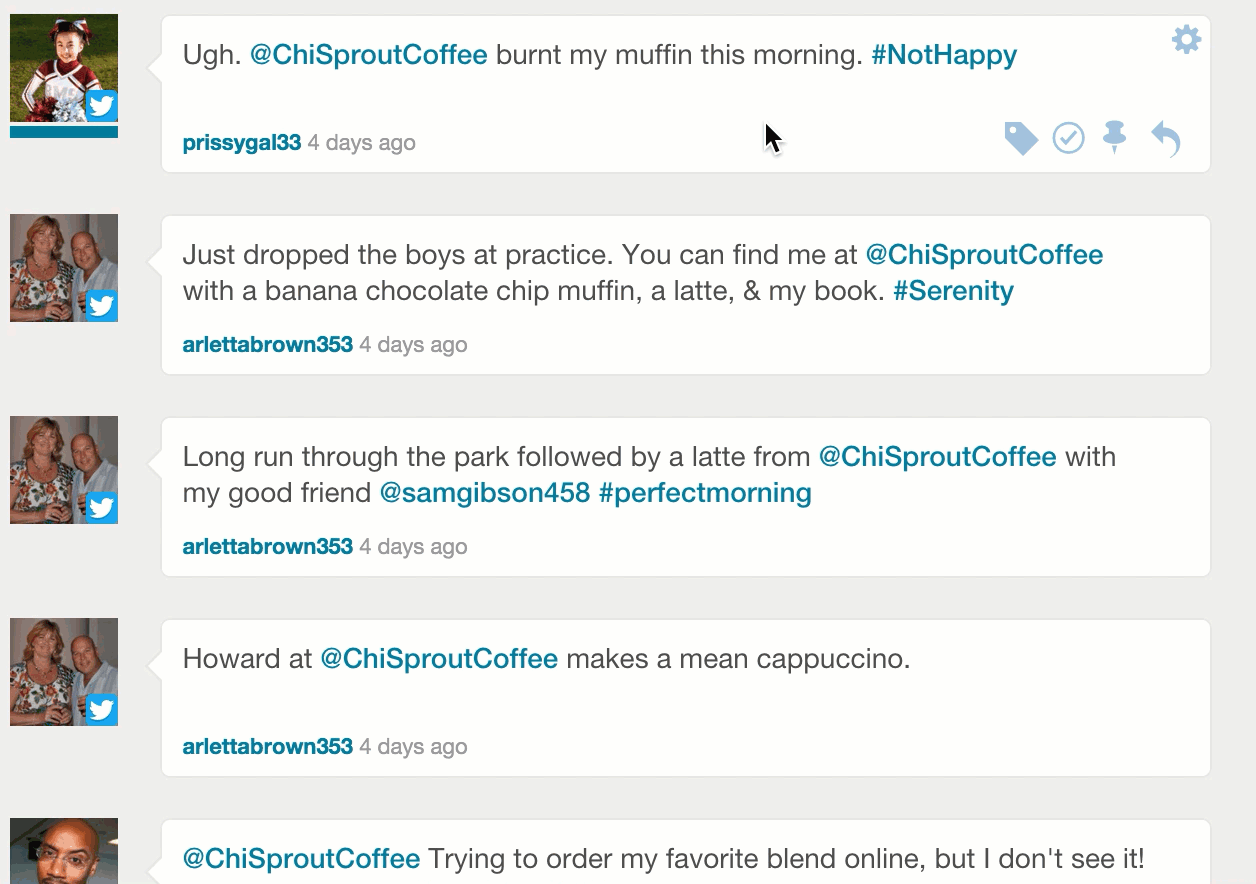 Filters
The right bar allows you to toggle between message types filters and tag filters. Clicking Tags at the top of the right bar will switch to the tag filter view, where you can choose to show tags on Incoming or Sent Messages.
Also toggle any tag on or off at any time to show or hide it from the inbox.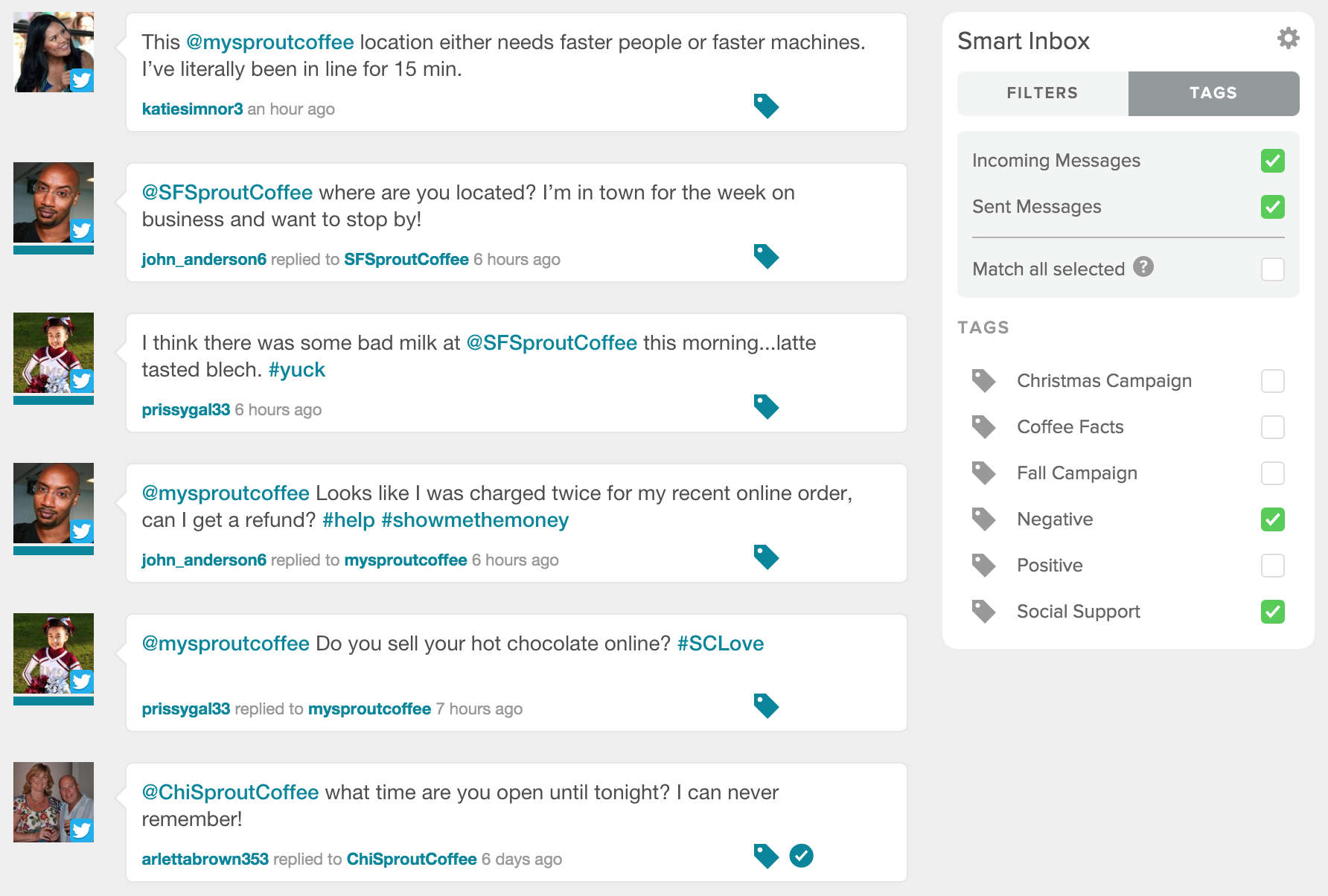 Clicking Match All Selected will alter the filter to use AND logic. All current tag filters will be deselected, and you can choose up to three filters to find messages that contain all selected tags.
Compose
Any user with Needs Approval or Publish permissions can apply tags to messages as they are being composed. Click the tag icon to choose up to 20 tags from the list. Just like applying tags in the Smart Inbox, any user with the Create & Edit Tags permission can also create tags simply by typing in the name and clicking Create Tag.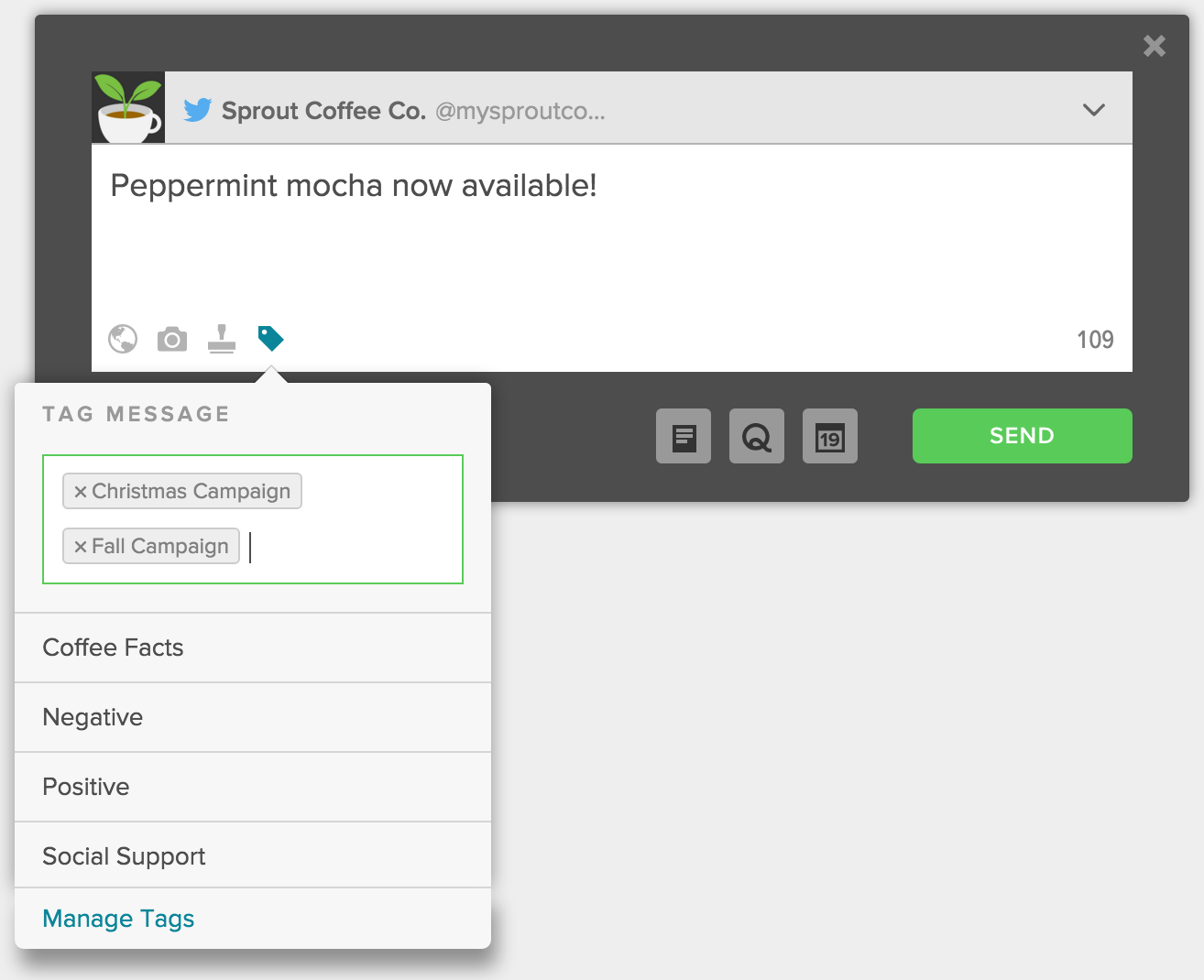 Tags in the Sent Messages Report
Tags applied to a composed message will appear in the Sent Messages report. Any message with at least one tag will display the tag icon. Hover over the icon to see which tags were applied to the message.


The Sent Messages CSV report will also show applied tags, making it easy to export and filter this data in a spreadsheet program.