URL Tracking
URL Tracking is the process of adding unique parameters to your destination URLs to better measure how effective specific campaigns are with respect to organic vs. paid marketing.
Read more about URL Tracking for campaigns.
URL Tracking in Sprout Social makes it seamless to append tracking data to the links you post from Sprout so that you can easily identify your social traffic in Google Analytics. Define campaigns upfront and let Sprout automatically generate the relevant URL parameters, instead of requiring your team to use an additional tool like Google's URL Builder to generate rich destination URLs each time. This functionality is available on our Advanced plan.
Note: URL Tracking can be configured by Account Owners and users with Manage Profiles and Permissions enabled.
Topics:
Campaign Set Up
Example Use Case
Edit Tracking
Google Analytics
Campaign Set up
To create a new campaign, go to Settings > Publishing Settings and under URL Tracking click Add URL.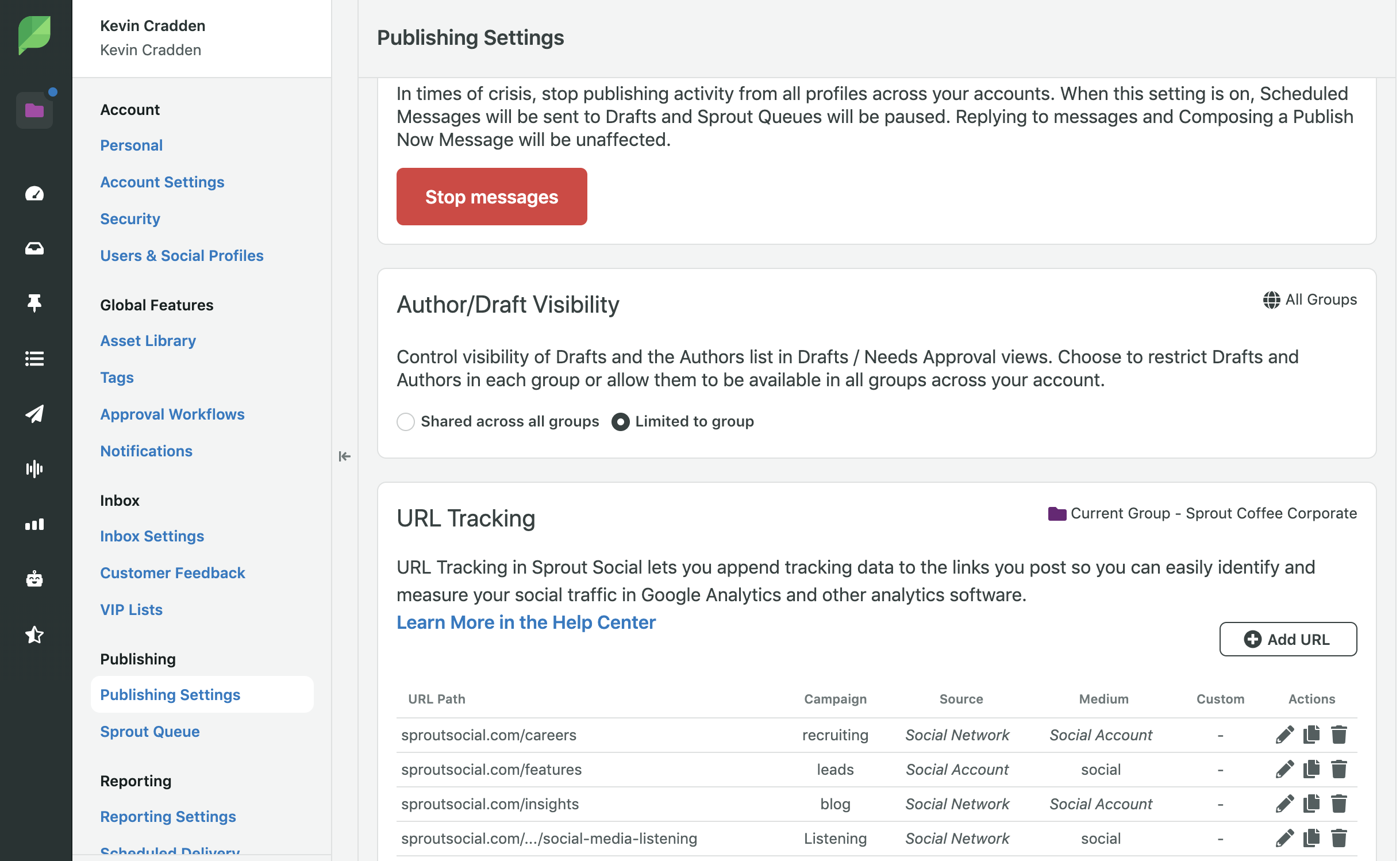 All of the parameters below can be enabled or disabled using the corresponding toggle switches on the right edge of the modal.
URL to be tracked: Enter the URL that will be tagged. When a URL using the domain is identified, the appropriate UTM parameters will automatically be added. This is based on an exact match of the specified domain.
Example: If the domain entered is 'www.sproutsocial.com,' UTM parameters will only be attached when the link 'www.sproutsocial.com' is entered into the compose window. 'sproutsocial.com' without the subdomain 'www' is treated as a separate link and would not have UTM parameters included.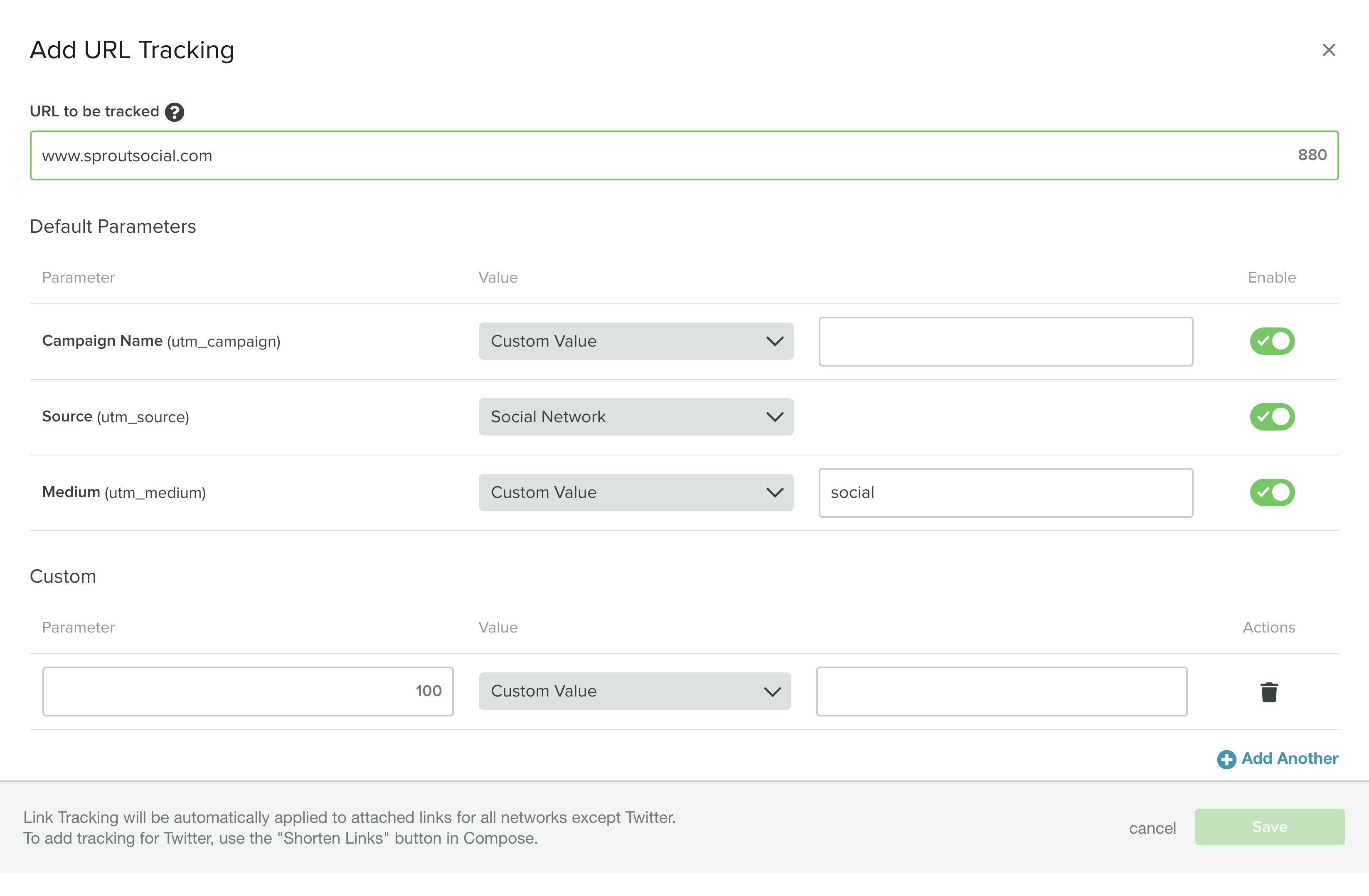 Campaign Name: Define the utm_campaign parameter by entering a Custom Value or selecting an automated entry based on Social Network, Social Account, Message Tags or Unique ID.
Source: Define the utm_source parameter. The default is set to Social Network which will be formatted as follows:
Twitter only: utm_source=twitter
Facebook only: utm_source=facebook
LinkedIn personal profile only: utm_source=linkedin
LinkedIn company page only: utm_source=linkedin_company
Multiple networks: Displayed as comma-separated list of network names in alphabetical order. For example utm_source=facebook,pinterest,twitter
Medium: Define the utm_medium parameter. The default is set to 'social' as a Custom Value. You can also select Social Network, Social Account, Message Tags or Unique ID as automated parameters.
Custom: Add and define additional parameters. Use

to delete any custom parameters and the Add Another button to create additional ones.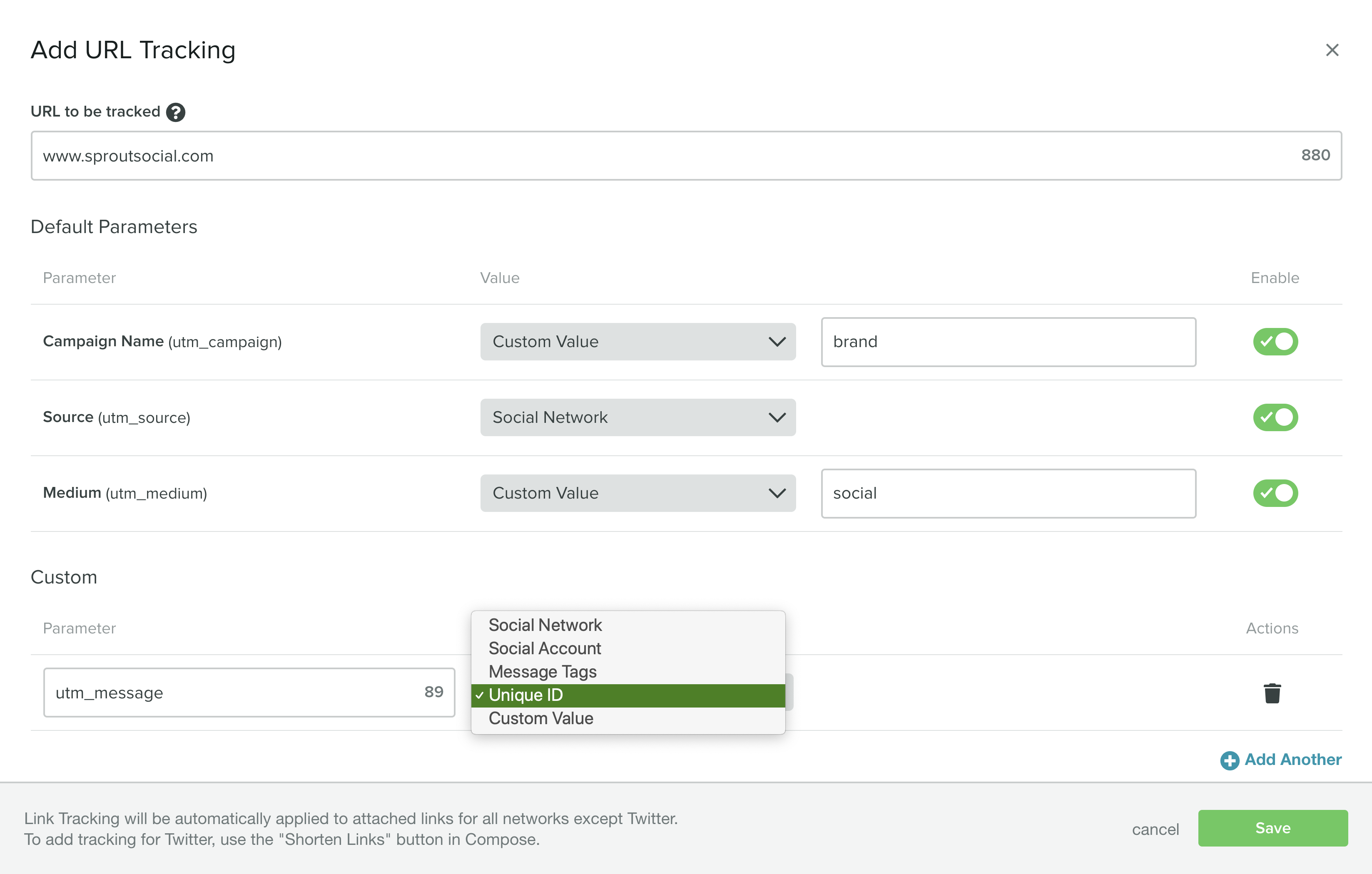 When saved link tracking is in use, UTM parameters are added differently in the Attached Link area vs. the link included in the Message Text area. To distinguish these two components of Compose, this is the Message Text area: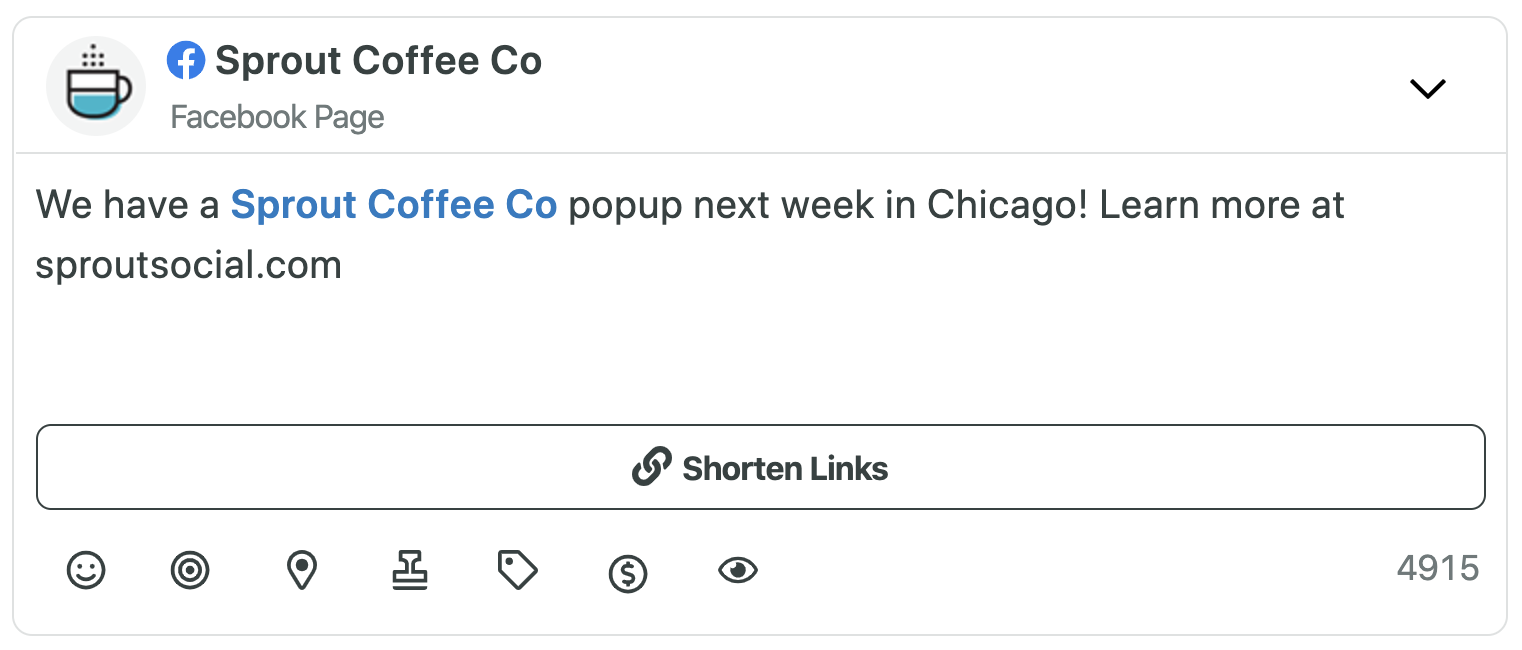 And this is the Attached Link area: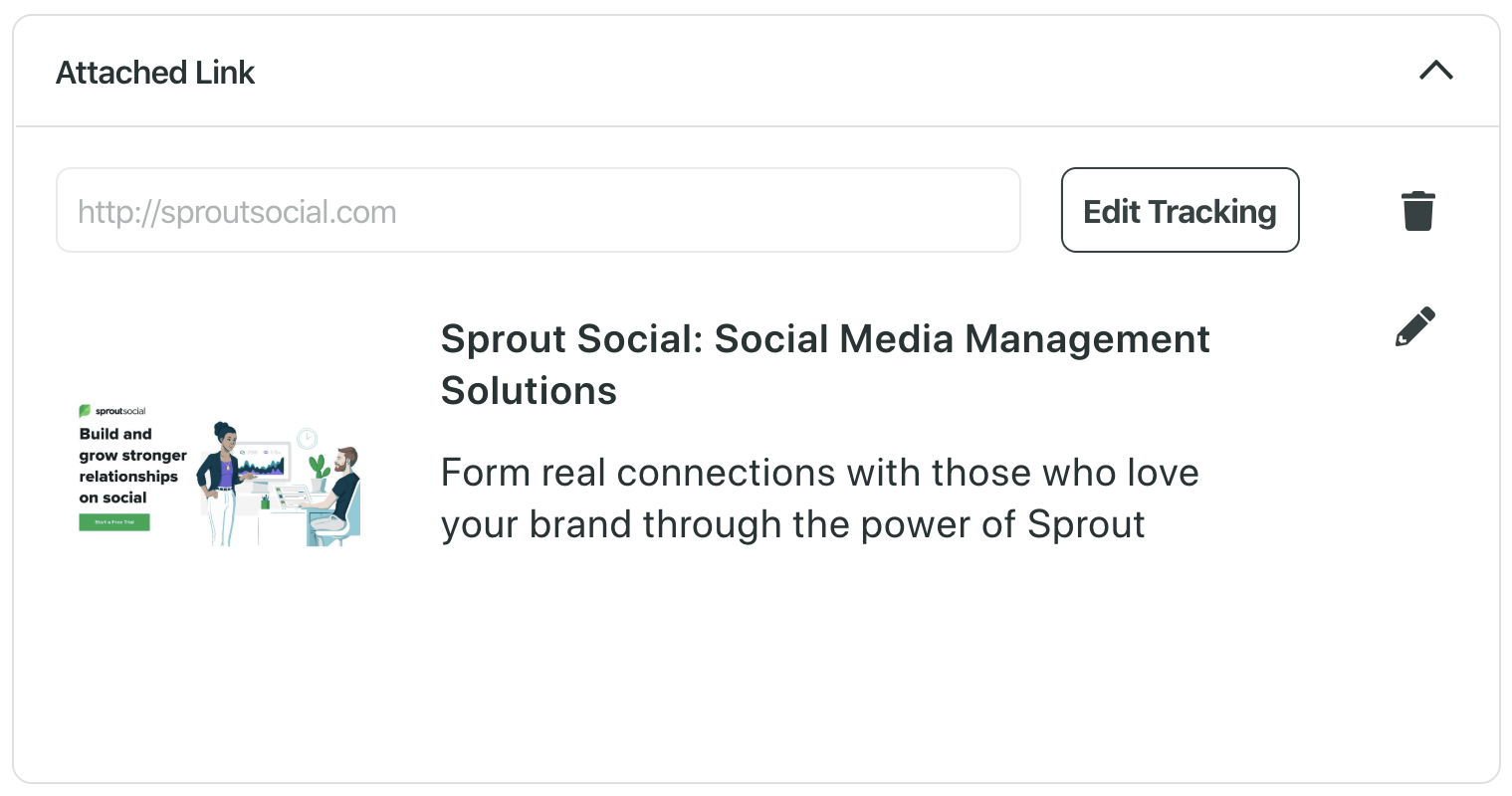 Use the chart below to ensure your links are appended properly. URL tracking is added: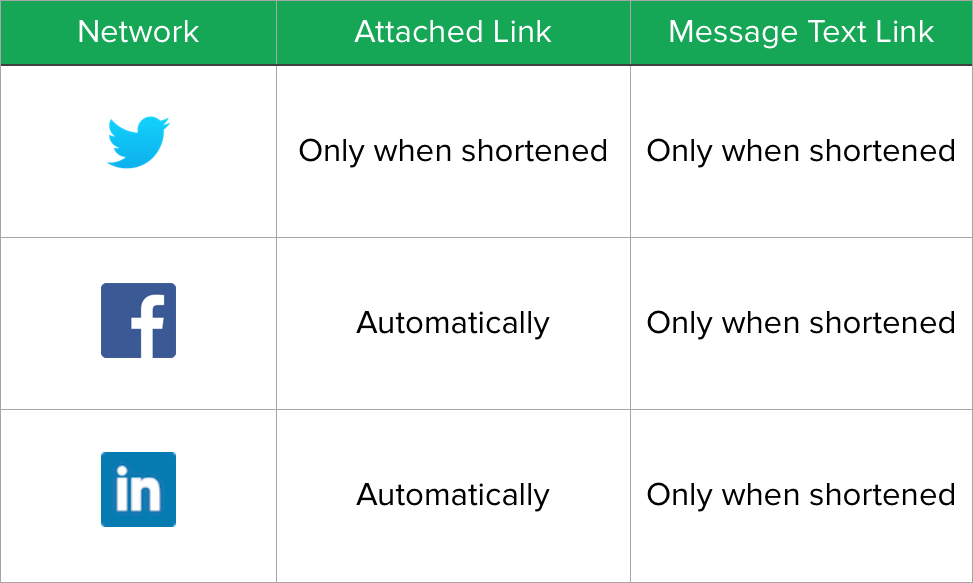 Note: Once links are shortened, the tracking parameters are frozen and will not update by network when leveraging the Schedule + Duplicate feature in Sprout.
Example Use Case
In this example, Sprout wants to measure traffic from their social channels to the site www.sproutsocial.com/careers for the announcement of a new set of roles that have just become available at the company.
utm_campaign: We will set the campaign name to a Custom Value and enter 'recruitment'.
utm_source: We decide to leave the value here as Social Network. The source will show as the name of the network this post is published to - for example, the source will display as twitter or facebook, if we publish to either of those networks. If we publish to multiple networks at the same time the name of each network will appear in alphabetical order separated by commas.
utm_medium: We'll keep the the default value of 'social' because any incoming traffic is resulting from posts to one of our social channels.
Custom Parameter: Here we'll enter utm_content and select Unique ID as the value. This means Sprout will generate a unique ID every time we use this URL so we can attribute any incoming traffic to specific outgoing messages.
Link Preview: A live preview is generated in real time, as we've been building the URL.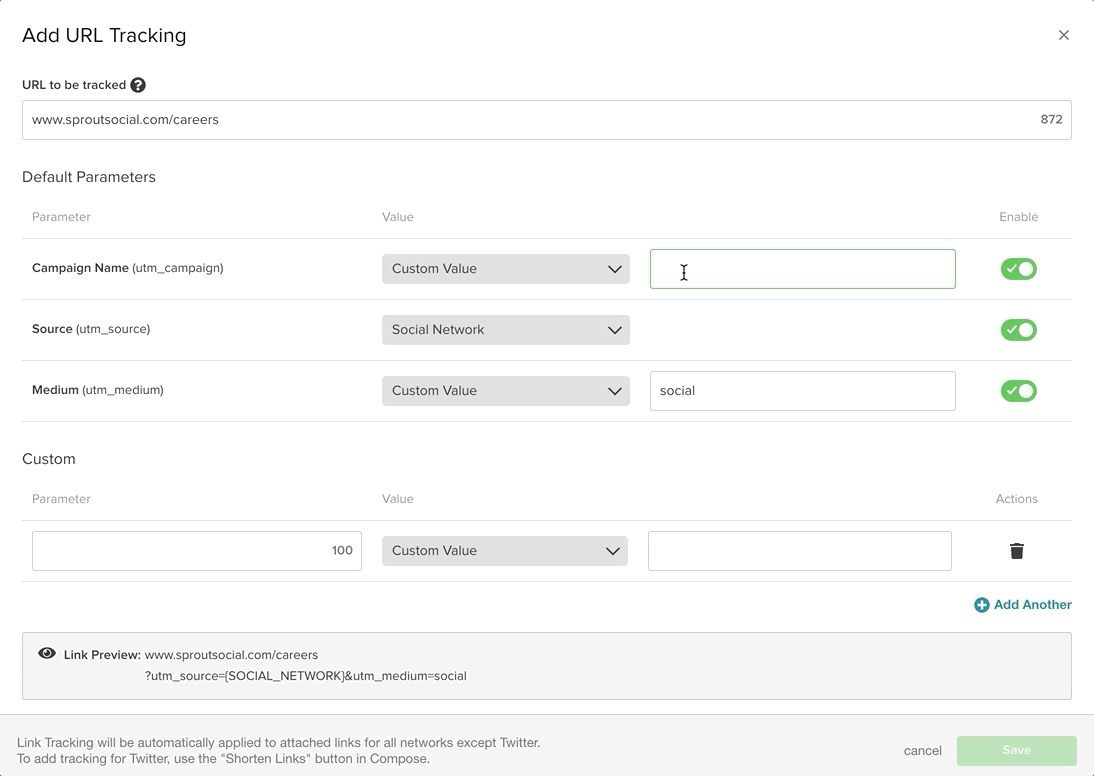 Edit Tracking
You can edit or add URL tracking to attached links from within Compose when creating a new message.
Select your desired LinkedIn Company Page or Facebook Page from the Profile Picker. Create your message text and desired link. Attach any desired assets, location or tags. Within the Attached Link area, select Edit Tracking to open the URL tracking form.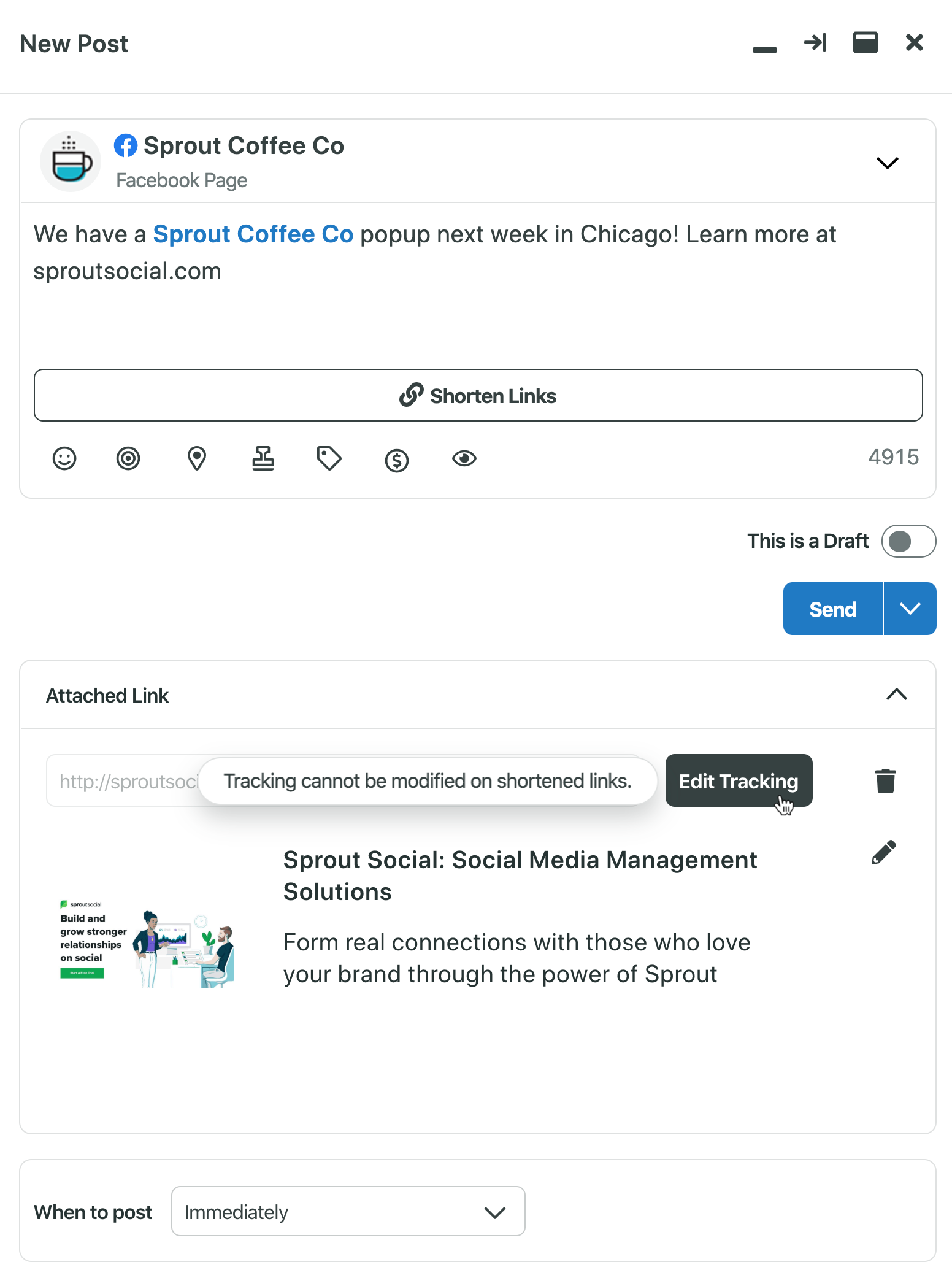 Update the default parameters or custom parameters for your attached link and select Save.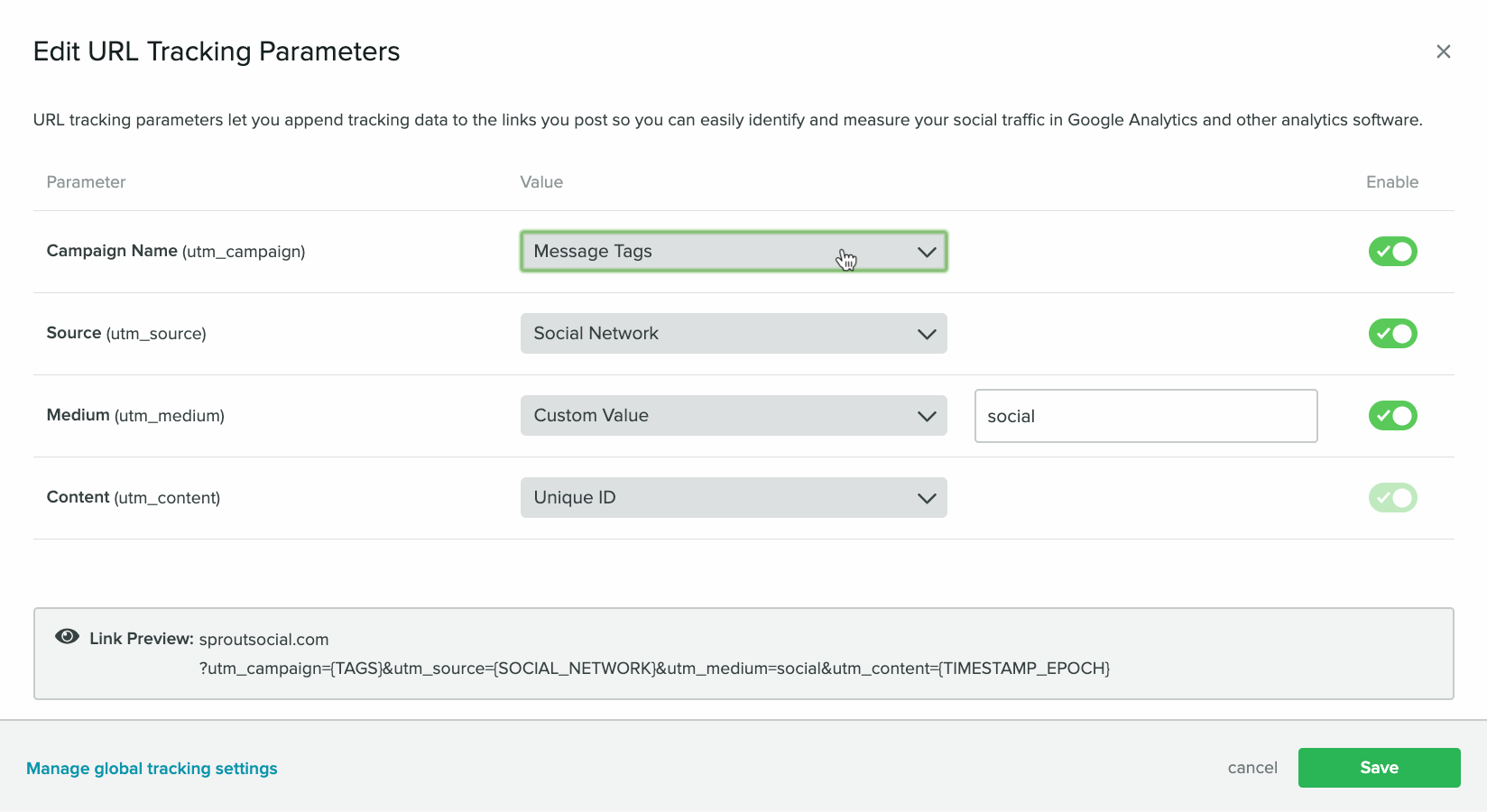 Finish composing the message by selecting your desired delivery method (Send Now, Schedule, Queue, Save as Draft or Submit for Approval).
Sprout's URL tracking for Facebook & LinkedIn
Sprout does not update the link in the Message Text area when editing from the Attached Link area.
UTM changes edited from Compose, will update in the Attached Link area for Facebook and LinkedIn, but not in the Message Text area and not for Twitter (even if a Twitter profile has been selected in the Profile Picker).
Remove the link from the Message Text area when editing UTM parameters from Compose so your audience only has one link to click.
Sprout's URL tracking for Twitter
UTM changes only work with the current Setting Rules when editing the link from Compose.
If you need to edit campaign names frequently for Twitter, set up URL Tracking under Publishing Settings. Once there, set the Campaign Name equal to Message Tags. Now, you'll be able to use a message tag to change that field on the fly from Compose. Remember to only shorten the link once all edits have been made.
Since links and message text are considered one entity on Twitter, the attached link section will not appear as an option in Compose when only Twitter profiles have been selected in the Profile Picker.
The UTM will not update using the Schedule + Duplicate workflow if the link is shortened.
Google Analytics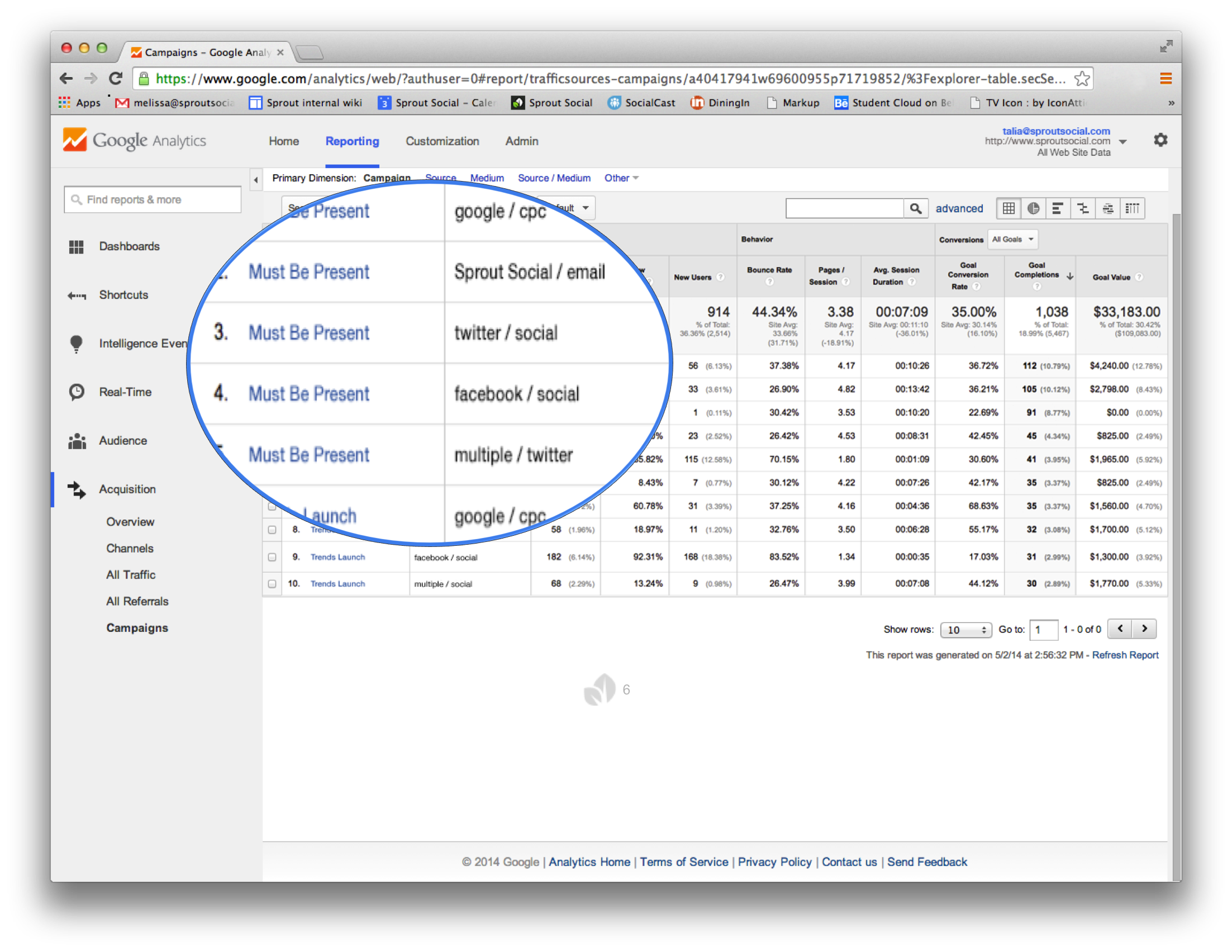 Within Google Analytics, navigate to Reporting -> Acquisition -> Campaigns to view your URL Tracking data. Sort and analyze campaign data by Campaign, Source, Medium, or Content (Ad Content) parameters to evaluate the performance and ROI of your social campaigns sent from Sprout
Here are some other common use cases for URL Tracking:
A company wants to easily roll up all social traffic to their domain from posts made from Sprout within Google Analytics so that they can see it as a single channel.
A marketing manager asks a community manager to promote the launch of a new product and wants to make it easy to track conversions on the new website without the community manager having to think about it at all.
A community manager wants to compare the conversions occurring as a result of posting to individual networks at one time, vs. multiple.
If a customer is running one campaign at a time (seasonal or ongoing), or running multiple campaigns to different microsites, this works great. However if they have multiple campaigns driving back to the same domain at the same time, they will not be able to track all of the campaigns.