How do I set up user teams?
You can create and manage teams of users across Sprout for better collaboration within your Sprout instance. You can then @mention User Teams to ensure Conversations and comments on messages are received by the appropriate groups of users for replies and triage. Now you can have cross-departmental conversations and app-wide conversations across your Sprout instance.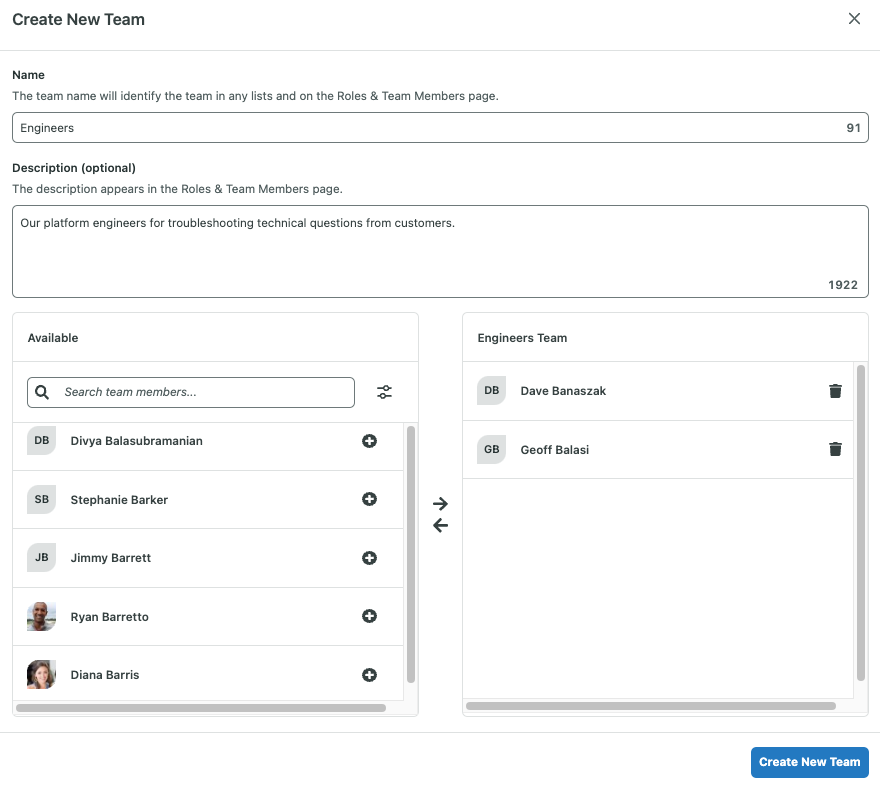 User Teams are different from User Roles. Where User Roles are a determined preset of permissions applied to a single user, User Teams are a collection of multiple users who can all have different User Roles.
Note: You must have the Manage Permissions administrative permission to create and manage User Teams.
To create a User Team:
Navigate to

Roles & Team Members

.

Click

Add new team

in the upper right corner of the Teams section. The Create New Team popup appears.

Enter the following:

Name:

Enter a descriptive name for the user team. For example, Engineers.

Description:

Enter a description to appear in the Roles & Team Members page.




Add members to your User Team. You can either click users directly from the list or search for a team member by name. Selected Team Members appear in the Team List.





You can also filter by Group Access by clicking

. Select the Groups you want to filter by.

Click

Create New Team.

Your team is now created.




After you assign a user to a User Team, they receive toast, Notifications Drawer and email notifications. Users can opt in or out of receiving new User Team invite notifications by choosing their preferred delivery methods in their Notifications settings.
To delete a User Team:
Navigate to Roles & Team Members.

Click

in the Actions column for the User Team you want to delete. A popup appears to verify your action.

Click

Delete Team

.
To @mention user teams within Sprout:
Note: Any user can @mention user teams regardless of permissions.


Click

to open Conversations from the right-nav or start a Conversation on a message in the Smart Inbox by clicking .

Enter an internal comment then enter

@




A list of available User Teams to @mention appears.




Select the team you want to mention from the list, or enter the team name.

If you mention a User Team and a member of that team doesn't have permission to view the Conversation, a toast notification appears to alert you of the missing permissions.
The User Team you mentioned now receives a notification to respond to the Conversation.