How do I use Custom Post Variables?
You can use Custom Post Variables to create a single post with variables like URLs, locations and websites that are unique to each of your social profiles. Create up to 10 custom variables on your Facebook, Google My Business, Instagram Business, LinkedIn Business, LinkedIn Personal and TikTok posts.
Note: This feature is available on the Advanced Plan.
This guide includes the following sections:
Enabling the Manage Custom Post Variables permission
You must have the Manage Custom Posts Variables permission to create and delete post variables. To enable the Manage Custom Posts Variables permission:
Navigate to Settings > Roles & Team Members.
Select the team member whose permissions you want to update.
Click Manage Custom Post Variables under Publishing.

Adding and deleting variables
To add a variable:
Note: You'll need to have Full Publishing permission to add a variable to a social profile.
Navigate to Settings > Publishing > Custom Post Variables.

Click Add New Variable.

Select the variable type you want to create. You can create text (email, location name, phone number etc.) or URL variables.

Create a variable name and click Save.
Select the profile that you'd like to assign a variable to on the Custom Post Variables page.
Type the variable's value and hit tab or click elsewhere on the page to save.

To delete a variable:
Navigate to Settings > Publishing > Custom Post Variables.
Click on the variable name you want to delete.
Select Delete Variable.

Using custom variables in a post
To use a custom variable:
Open the Compose window.
Select the profile(s) you'd like to post to.
Create your post. When you're ready to insert your custom variable, click the icon.
Select the variable to insert.

Select any workflow or tags and schedule or send your post. You can preview how variables will appear on your post in Compose or by clicking on the preview option from the Publishing calendar.

Using URL variables as attached links
You can use a URL variable to create an attached link in your Facebook posts. Please note that you won't be able to upload custom thumbnails, titles or descriptions for attached links if they contain a URL variable.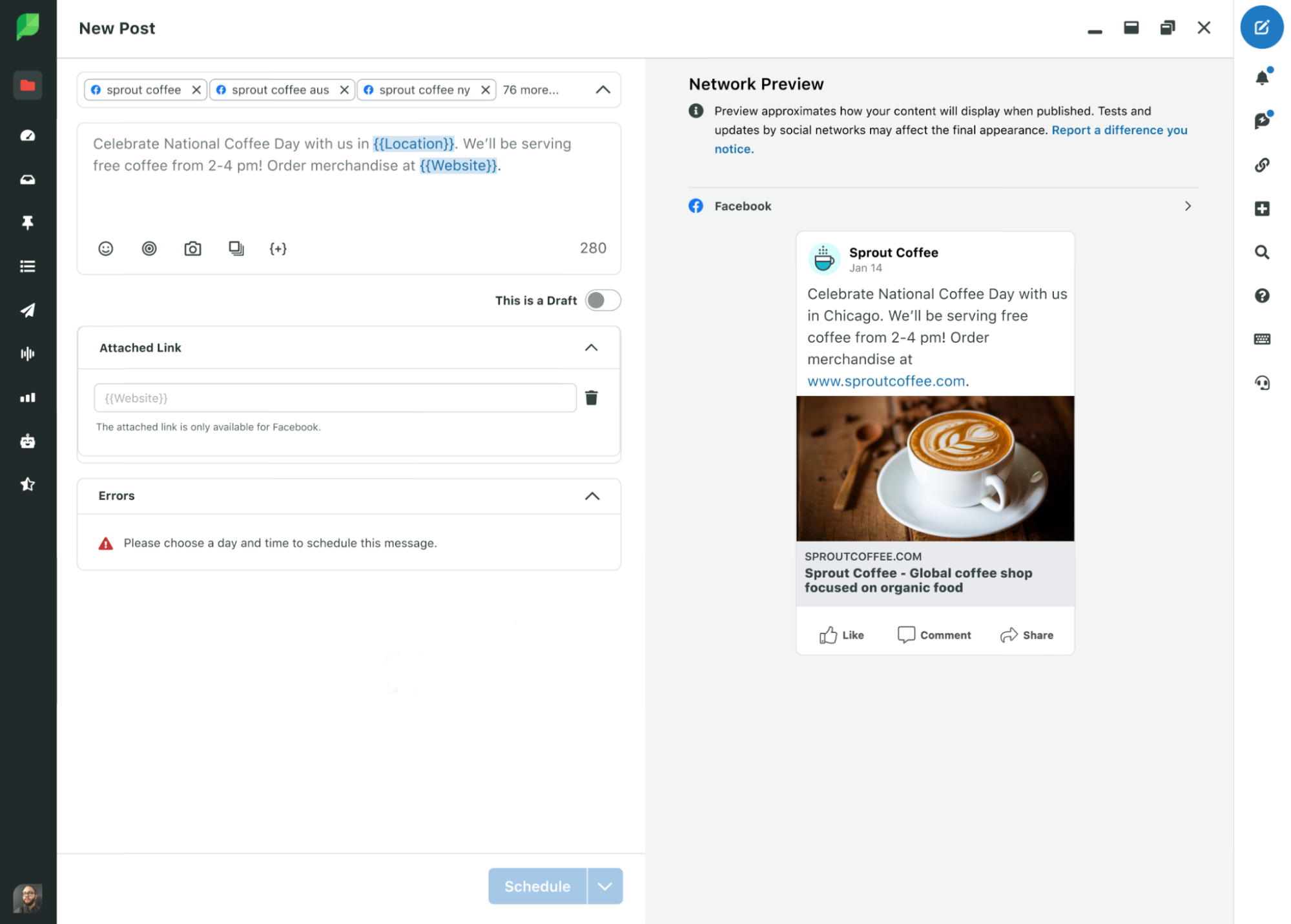 You can use both URLs and text in your attached links.