Sprout Social's Bulk Scheduling feature makes crafting, planning and scheduling messages more efficient with a single import. By uploading a .CSV file to Sprout, you can easily schedule up to 350 posts at a time to one or more profiles.
Note: If you are currently in a trial of Sprout Social, you will be limited to 50 posts at a time.
Bulk Scheduling is currently rolling out to Sprout Social accounts. It will be available on Corporate and Enterprise plans.
This guide will cover the finer details of Bulk Scheduling.
If you've already created your .CSV file, skip ahead to learn more about Importing Your .CSV into Sprout.
Getting Started with Bulk Scheduling
To bulk schedule messages in Sprout, you'll first need a properly-formatted .CSV file. Sprout provides a template in the platform. You can also download it here.
Note: .XLS files are not supported. If you are using Excel, please export your spreadsheets as .CSV files and be sure to verify that proper formatting has been maintained. If you are using Google Sheets, saving your spreadsheet as a .CSV should not produce any formatting errors.
The following column headers are required for the .CSV to be determined valid in Sprout:
date - must be in dd/mm/yyyy or mm/dd/yyyy format, depending on the the import preferences you specify in the platform.
time_24hr - must be in 24-hour format. Messages must be scheduled at least 10 minutes apart from one another, and at least 10 minutes after the time you upload the .CSV to Sprout.
message_text - the message's text. Cannot exceed the maximum character count for the network.
If these column headers are deleted or edited, the messages will not import successfully.
The following column headers are optional, and expand the capabilities of Sprout's import ability:
link_url - the link included with the message. These should be well-formed links, including HTTP or HTTPS (ex. https://www.sproutsocial.com, rather than just www.sproutsocial.com). Not currently compatible with Tweets. To include a link in a Tweet, please add the link to the message_text column.
Note: If you include a link in the message_text column when you're scheduling posts for Facebook, LinkedIn or Google+, and you do not include the link in the link_url column, Sprout will automatically add the last URL in the message text to the link_url column to use as the target for the link post.
public_image_url - link to the image you want to include in the message. This must be a publicly accessible link that does not require a login to view.
tags - specify which tags will be automatically applied to this message. These tags must already be created in your Sprout account. Separate multiple tags with a comma.
Tip: An easy way to determine if your public_image_url is valid is to paste the link in a private or incognito browser window and see if it renders properly.
You can add additional columns to your spreadsheet, and these will not affect the import process. If you or your team rely on additional columns to help enable better organization or collaboration, feel free to continue using them.
Importing Your .CSV into Sprout
Once you've added all of your messages to the spreadsheet, you can upload the .CSV file to Sprout by navigating to Publishing > Calendar.
In the lower right corner, click the Import/Export button in the lower right corner and select Import messages. The Import Messages screen will appear.
Note: Due to changes in Twitter's API, we recommend only including one Twitter profile at a time when uploading your .CSV. Choosing multiple Twitter profiles will cause your scheduled posts to fail.
Read more about Twitter's API changes.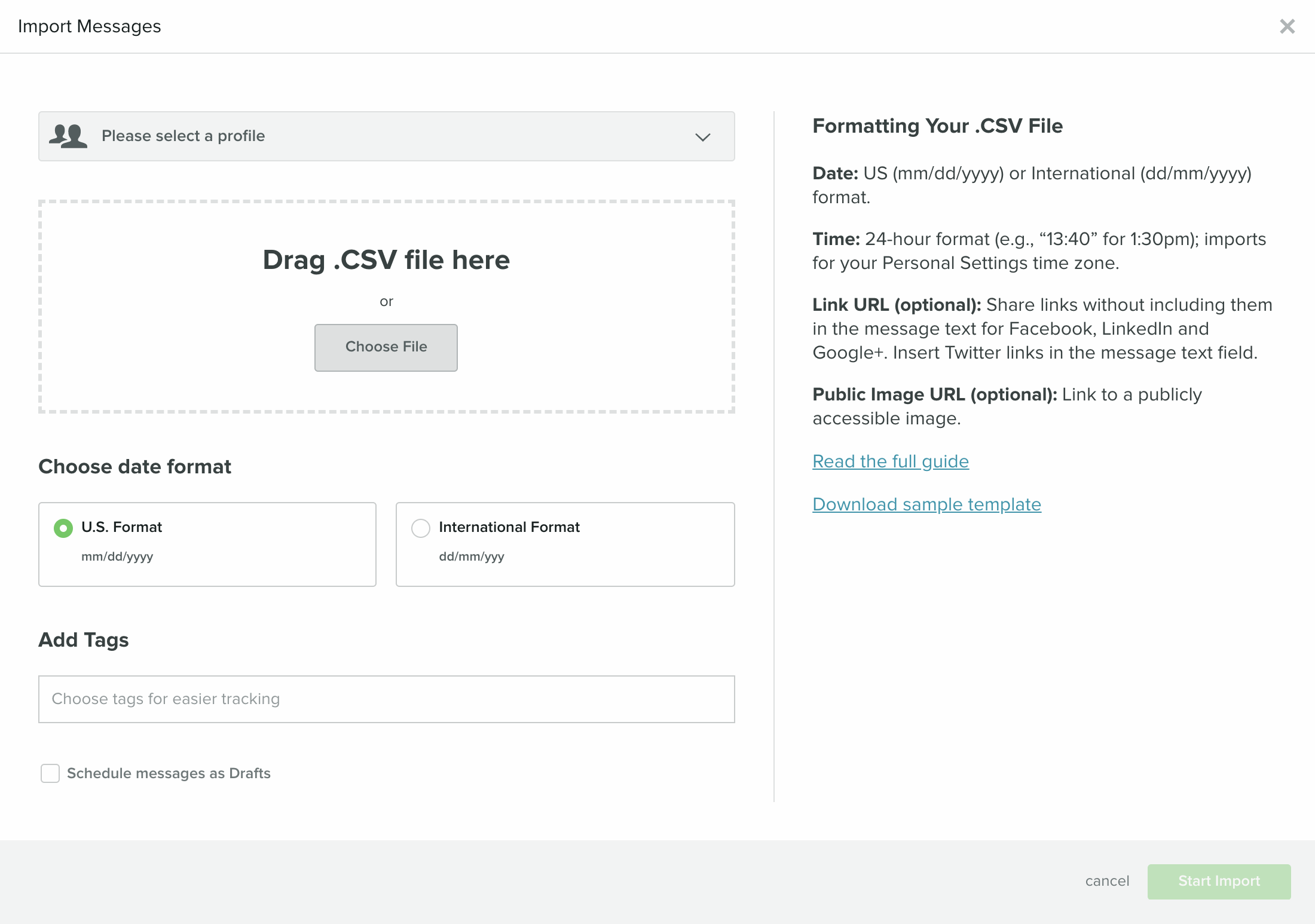 From the dropdown menu at the top, select the profile(s) for which the messages in the .CSV should be scheduled.
Note: Currently, messages imported for Instagram profiles will be automatically saved as drafts.
Upload the .CSV file via the prompt and ensure the date format that corresponds to the one you used in the spreadsheet.
Additionally, you can choose to import all messages as drafts by selecting Schedule messages as Drafts.
Click Start Import to finish. If the .CSV file fails validation, error messages will alert you to the issue preventing successful import.
Depending on the number of messages included in the .CSV, the import process can take some time. You can safely close the import window and use Sprout as normal. You will receive an email when the import is complete.
If Sprout detects any errors in the formatting of your messages, you will be able to download a separate .CSV file of the messages that could not be imported.
Tagging Imported Messages 
You can apply existing tags to your messages within the .CSV. If you'd like create a new tag, then you can do so upon the uploading the .CSV from the Import Messages window.
Managing Imported Messages
Messages imported into Sprout will appear on the Calendar at the times specified in the spreadsheet. They can be edited like any other scheduled message.