Connecting & Managing Social Profiles
A social profile is a third-party social network profile or page you add to Sprout Social. With each social profile you connect to Sprout, you can manage conversations, plan and publish content as well as view extensive analytics. Sprout recommends that you add any social profile you want to manage as soon as possible after creating your Sprout account, because Sprout can't start collecting data from your profiles until they're authorized.
Social Profiles Overview
Currently, Sprout integrates with the following social networks:
Twitter
Facebook
LinkedIn
Instagram
Pinterest
YouTube
Depending upon your plan level and when you created your Sprout account, your profile limit varies. The following profile types count against your profile limit:
Twitter profiles
Facebook Pages
Facebook Groups
LinkedIn Company Pages
Instagram profiles
Pinterest profiles
YouTube profiles
Note: Following a policy change by Facebook in 2018, it isn't possible to publish to Facebook personal profiles from Sprout or any other third party application.
You can connect the following accounts to Sprout and they don't count against your profile limit:
Facebook Ad Accounts
LinkedIn personal profiles
LinkedIn Campaign Manager
Google Analytics
Twitter Ad Manager
Note: Sprout doesn't integrate with LinkedIn groups or LinkedIn university personal profiles.
Sprout integrates with the following platforms in the Reviews section. Each location for these services counts against your profile limit:
Google My Business
TripAdvisor
Glassdoor
Yelp
Facebook
Note: Sprout supports Facebook Reviews as well. If you have reviews enabled for a Facebook Company Page, you see them in the Reviews section.
Sprout supports integrations with the following services, which do not count against your social profile limit:
Feedly
ZenDesk
Microsoft Dynamics 365
Dropbox
Google Drive
Slack
Bit.ly
HubSpot Service Hub
Salesforce
Shopify
Connecting Social Profiles to Sprout
Anyone with the Manage profiles & permissions privilege can connect a social profile to Sprout.
To connect a profile:
Navigate Account and settings > Connect a Profile. You can also connect a profile by clicking + Connect social profiles within Users & Social Profiles.
Select the Group the profile belongs to from the In Group dropdown.
Select the network you want to add. There may be additional options based on the network you choose.
Click the button in the lower right corner of the Connect a Profile screen. You are sent to the corresponding network's site.
Follow the prompts to authorize the profile.
You must be an admin for a Facebook, Instagram Business or LinkedIn Company Page in order to connect it. Learn more about troubleshooting Facebook and Instagram connection issues by reading our article.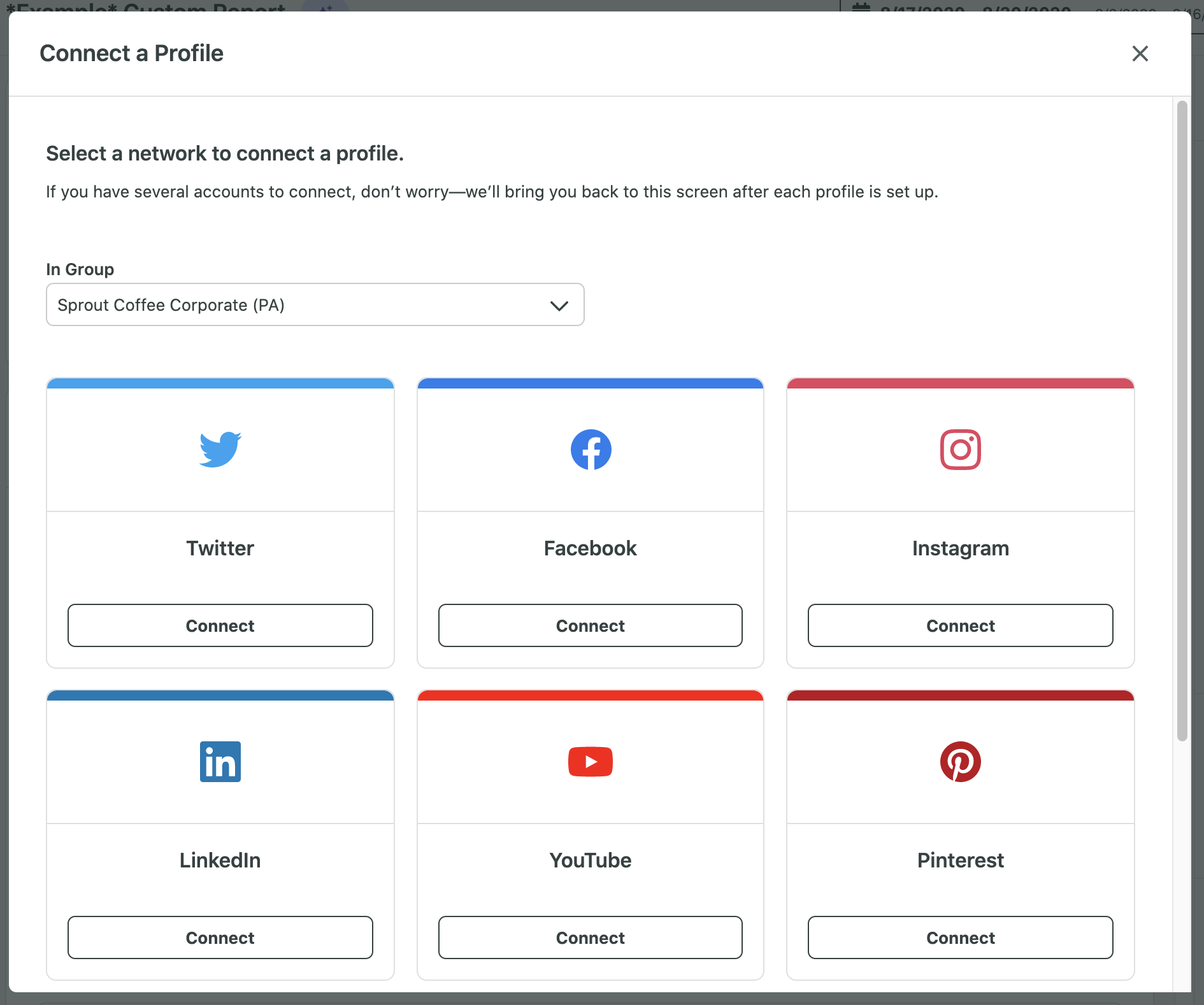 #SproutTip: Be sure to log out of your personal profiles on networks like Twitter or Instagram before attempting to add your company's profiles for those networks, so you don't accidentally connect your own profiles to Sprout.
Removing Social Profiles
Anyone with the Manage profiles & permissions privilege can remove a social profile as long as they have at least Read Only publishing permission for that profile.
To remove a profile:
Navigate Account and settings > Settings > Users & Social Profiles.
Scroll through All Profiles to find the profile you want to remove.
Click and View Profile.
Click to disconnect the profile. Ensure you are removing it from the proper Group. Click Confirm to complete the disconnection.