Instagram Publishing
Sprout Social allows you to schedule and publish images and videos to Instagram using a variety of workflows. Depending on the type of media you want to publishing to your Instagram profile, the process may change, and we want to make it as easy as possible to plan and manage your content from within the platform.
This article will cover the various Instagram Publishing workflows in Sprout.
Publishing a Single Photo or Video Directly to an Instagram Profile
Accounts that have connected their Instagram Business Profile(s) to Sprout have the option to directly publish a single photo or video from Sprout to Instagram. This publishing workflow closely mirrors the experience you already have when publishing content to Twitter, Facebook and LinkedIn in Sprout.
Getting Started
The first things you'll need to make sure you've done is convert your Instagram profile to an Instagram Business Profile, and then connect that Business Profile to Sprout.
If you're not familiar with Instagram Business Profiles, the following articles will help you learn more:
Read about Instagram Business Profiles
Read about converting to an Instagram Business Profile
Publishing Directly to Instagram
Once your Instagram Business Profile is successfully connected to Sprout, you can directly publish images or videos to your profile using Sprout's Compose feature. Currently, you can only publishing a single image or video at a time. To directly publish one photo or video from Sprout desktop to Instagram follow these steps:
Select an Instagram Business Profile from the Profile Picker in Sprout's Compose window.
Add a single image or video from your computer or from the Asset Library (Advanced plans only).
Add optional text for the single image post.
Select your content delivery option (Publish Now, Sprout Queue, Schedule Manually or Save as Draft).
You're all set!
When publishing a video to Instagram in this way, you can choose a thumbnail from 20 frames that Sprout pulls from the video. The Instagram API only allows for choosing frames from the video. It's not possible to upload a custom thumbnail.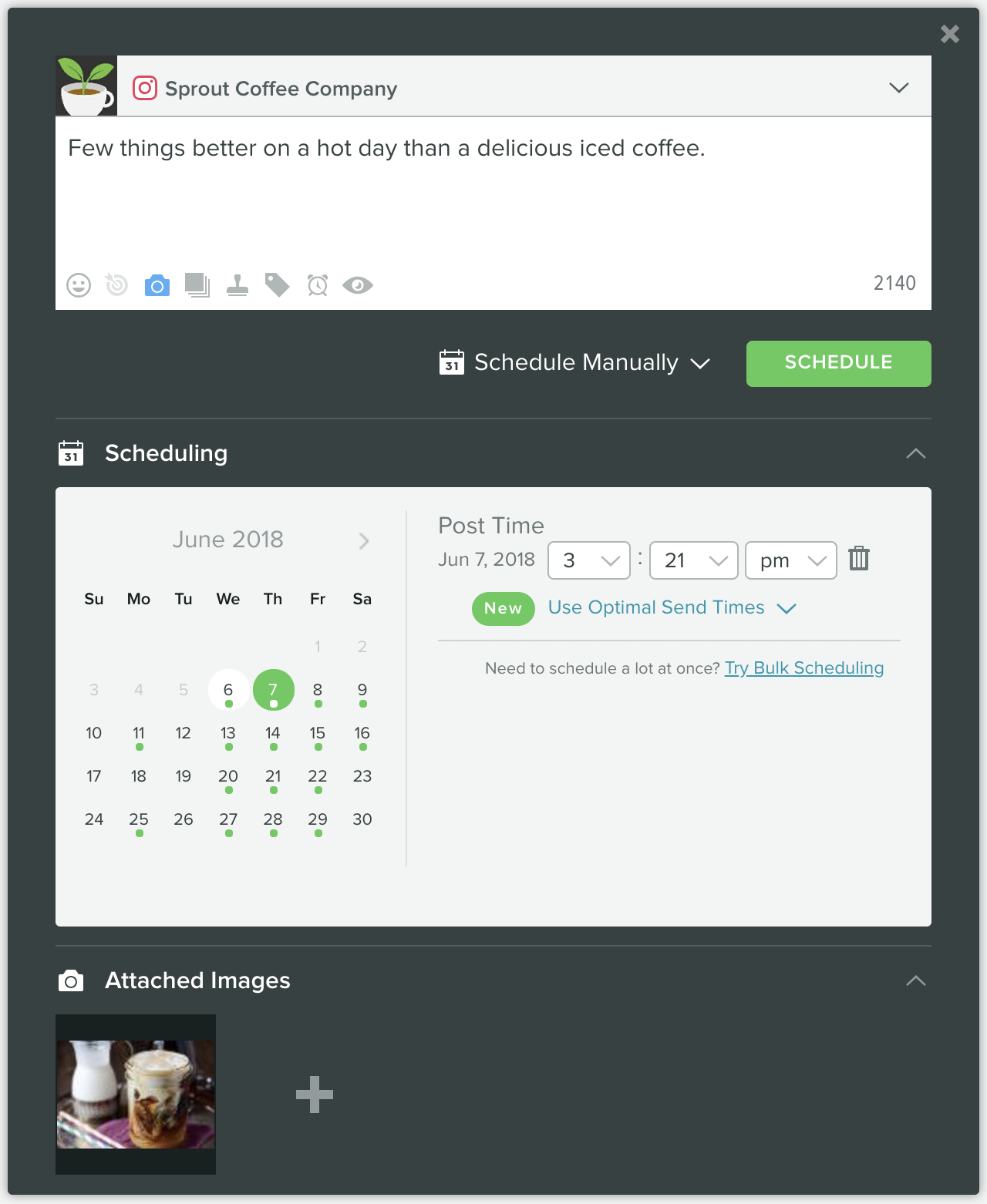 Tip: A quick way to verify if your Instagram Business Profile has been successfully connected to Sprout is to check the

and see if it's gray. If it is, that means that choosing a Publisher for your Instagram post is optional and the image can be published directly to your profile.
Publishing Multiple Photos
If you need to publish multiple photos to your Instagram profile, you can use the mobile app publishing workflow. The following video will show you how to do this:
Instagram Publisher
The Instagram Publisher in Sprout Social is the person who will be responsible for actually publishing a post to Instagram. If a person shows up in the Choose Publisher list in the compose window, it means they have both Full Publishing permissions for that Instagram profile, and they've also enabled push notifications in their Sprout Social mobile app.
If a team member disables Sprout Social push notifications on their mobile device, they will no longer show up in the Choose Publisher list.
Note: Only one person can be selected as a Publisher. Publishers can be changed prior to the scheduled posting time by editing the post.
Instagram Notifications
When an Instagram post is ready to be published, the Instagram Publisher will be sent a push notification to their device. The Notifications section under the Publishing tab will allow you to monitor and manage these notifications.
Notifications can be Marked as Complete, Deleted or Resent.
If a push notification has been sent to the Instagram Publisher but not pushed into the Instagram app, a yellow clock icon will appear in the upper left corner of the notification.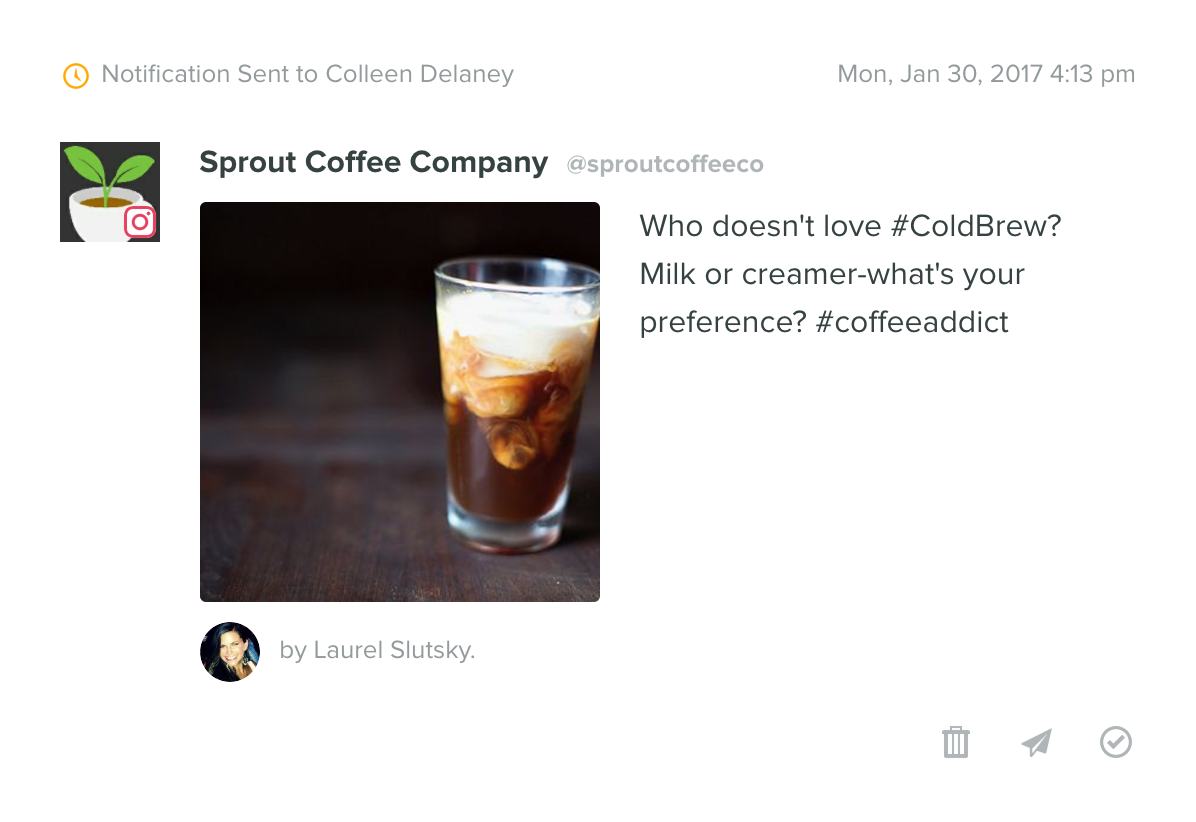 Once the Instagram Publisher sends the post to Instagram via the mobile app, the yellow clock icon will switch to a green paper airplane icon.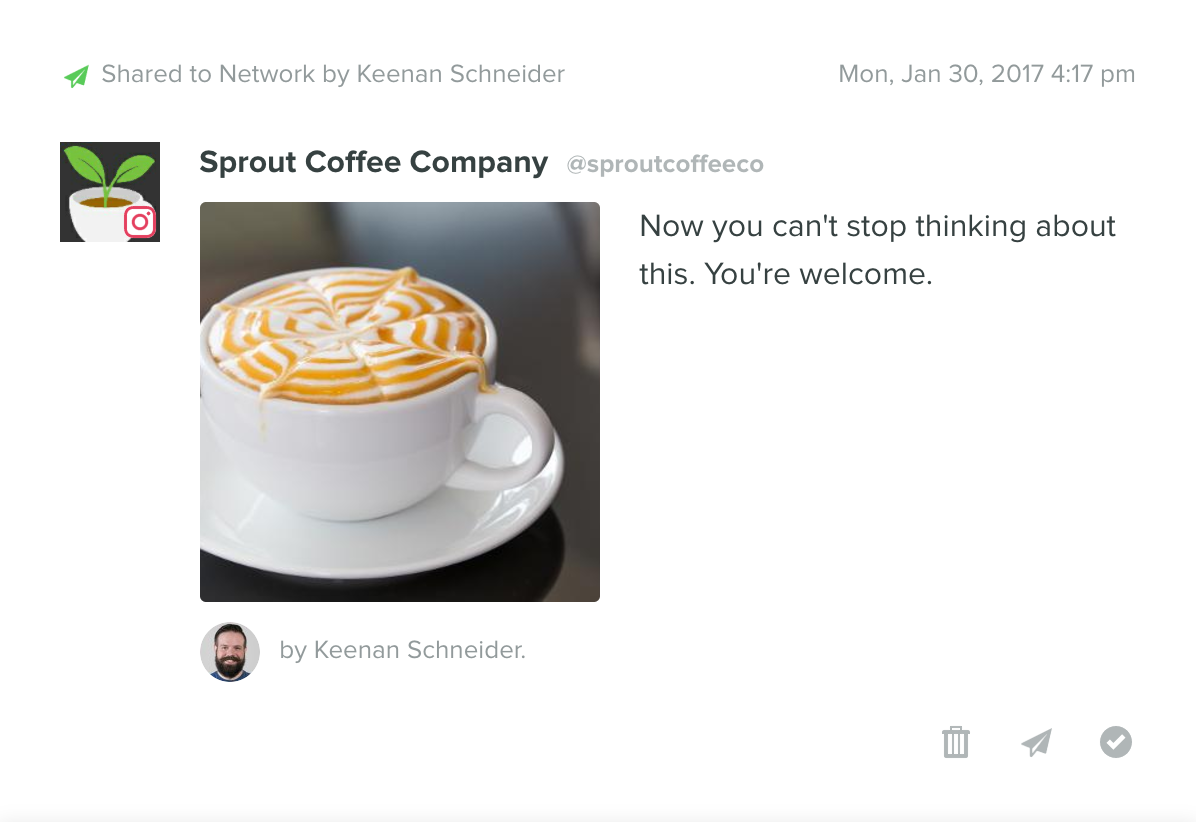 To verify if the post was successfully published to Instagram, use the Post Performance Report.
Note: Instagram Publishers cannot be changed after the notification has been sent. If you need to choose a different Publisher after a notification has been sent, delete the notification and recreate the Instagram post.
Message Tagging
Customers on our Professional and Advanced plans can easily incorporate Instagram content as they plan out their content calendar by tagging messages as they're being composed. However, due to API limitations, Instagram posts that are tagged as they're composed will not retain their tags after they've been published. To gather reporting data for the Tag Report on these posts, they will need to be tagged from the Post Performance Report after they've been successfully published to Instagram.
Publishing Instagram Stories from Sprout
Sprout Social supports publishing Instagram Stories using the mobile publishing workflow described above.
Note: You can only publish one photo or video to a Story at a time.
iOS
When the Instagram Publisher accesses their assigned message in the Sprout mobile app, they can tap Share on Instagram. Once they do that, they will be taken to the Instagram app and prompted to publish the photo or video as a Story or to the Feed.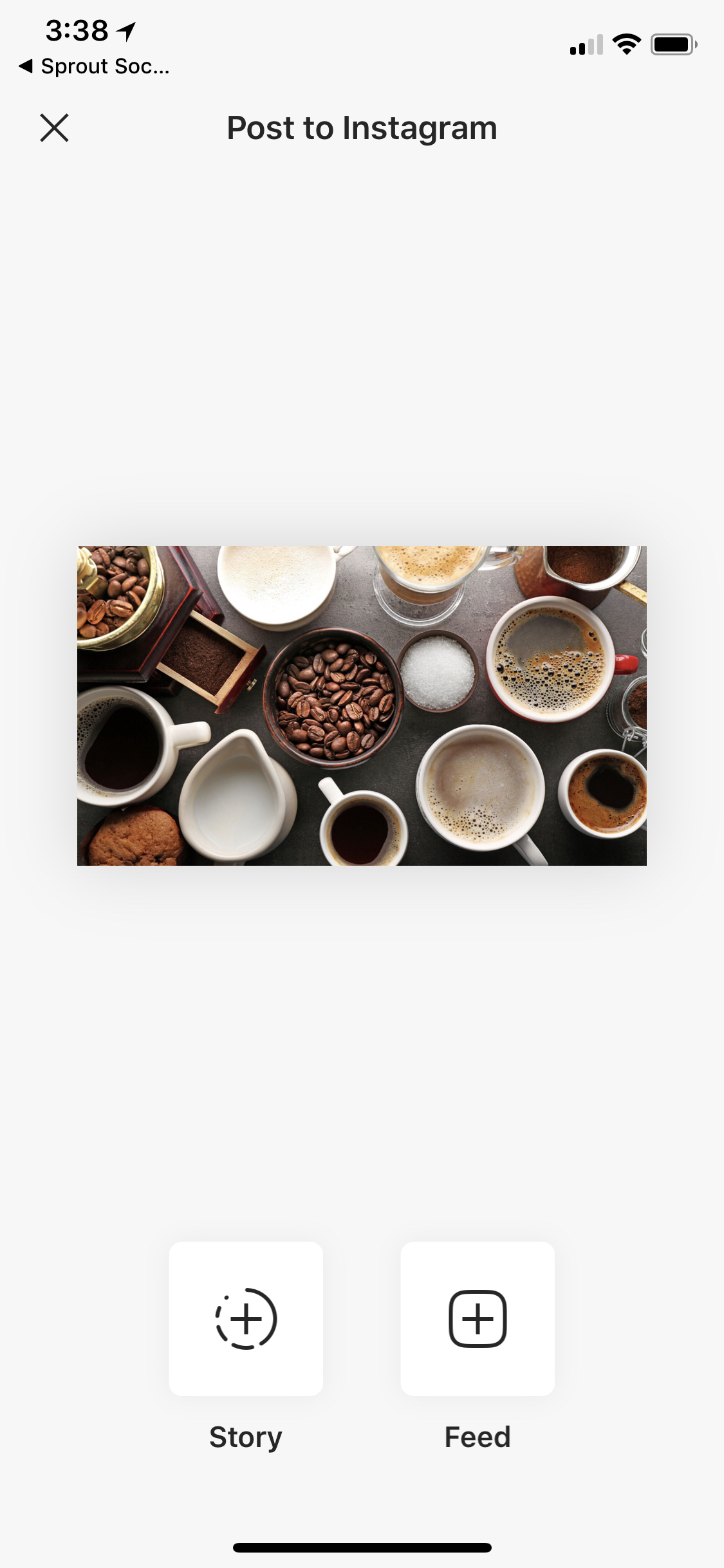 Android
When the Instagram Publisher accesses their assigned message in the Sprout mobile app, they can choose to post the photo or video to their Instagram Feed or Story. They will then be taken to the Instagram app to complete the publishing workflow.