How do I compose posts on mobile?
How do I use compose on mobile?
You can also compose posts on the fly using Sprout's iOS and Android application. You can post directly from your mobile device, or quickly jot down an idea when inspiration hits and save it for later.
In Sprout's iOS application, you can quickly view your profiles and networks, search for profiles directly from Compose and reconnect any profiles that might've lost a connection. Additionally, your profiles are ordered from those you publish to most often to least often.
To compose a post on mobile:
Open the Sprout Social app on your mobile device.
Tap .
Search for the profiles you want to publish to.

Enter your message and attach any media, tags, locations or add an item from your asset library.
Select if you want to Send Now, Schedule, Queue or Draft the message.

Tap Send. Your post is scheduled or published immediately based on your settings.
In Sprout's Android application, you can add, edit, and remove tags from posts. This is a great way to ensure your posts are tagged appropriately based on campaigns you're running.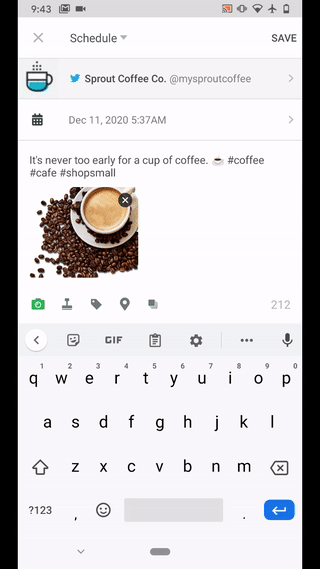 Tap

to bring up a list of your Tags. Tap the tags you want to include or deselect any tags you want to remove from the post.
How do I add videos on iOS?
You can upload videos to Facebook, Instagram and YouTube using Sprout's iOS app. When you upload the video to Compose, you can select a thumbnail image from a gallery of 20 auto-generated video frames. The frame you select then publishes to your networks.