How can I create LinkedIn Post Reshare stories in Employee Advocacy?
As a content curator in Employee Advocacy, you can pick between creating a LinkedIn Story from the original link or the social post, when the post was added to the Sources tab using Send to Advocacy.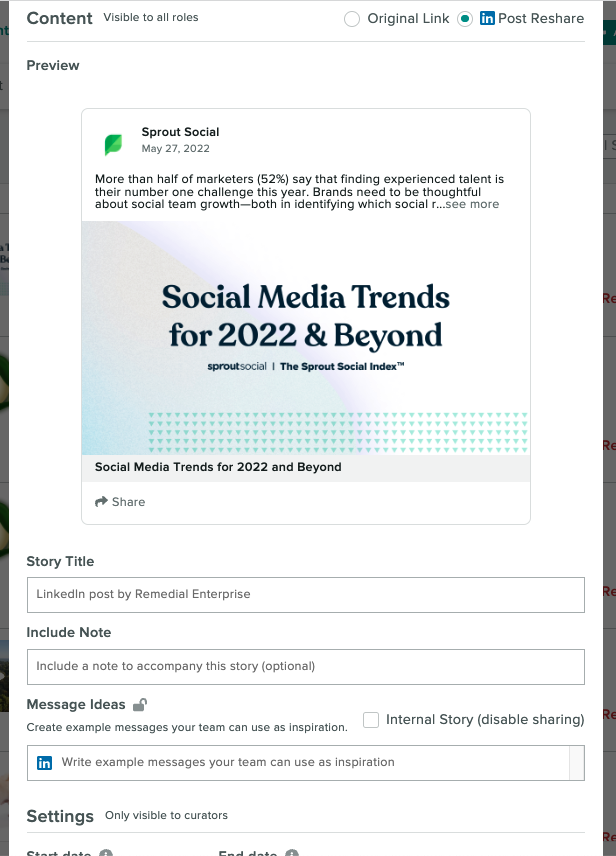 Learn more about Send to Advocacy with this overview.
How do I create a LinkedIn reshare Story?
Start by using the Send to Advocacy workflow to add a LinkedIn Story to the Sources tab in your Employee Advocacy account. From there:
Navigate to the Sources tab in Employee Advocacy.
Click the LinkedIn Reshare Story you want to create.

Click Edit.
Ensure that Post Reshare is selected in the upper-right corner.

Update the following fields:

Story Title - only visible in Employee Advocacy
Note
Message Ideas
Start and End date
Topics
Tags

Click Add Story.
After you add the Story, Readers can share to their personal LinkedIn accounts.
What actions can I take as a Reader?
After a LinkedIn Reshare Story is created, you can see the Story in your feed. When you open the Reshare Story, a preview of the post that matches the experience on LinkedIn appears.
You can also view the Story natively on LinkedIn using the option under the three-dot menu.

To share the Reshare Story:
Navigate to the Current Stories tab.
Click the LinkedIn icon OR click Share under the post preview. If you click Share, continue to step 2.

Select any configured message ideas or create your own post text before sending the Reshare Story to your LinkedIn profile.
FAQs
Can I still switch between Original Link and Post Reshare story types?
No. Once the Story is live from Sources you can't switch between the Story types.
How many images will show for posts that contain multiple images?
If a LinkedIn Story has multiple images in it, only the first image appears in Employee Advocacy.