How do I use Macros?
Macros enable you to quickly apply message actions to any Smart Inbox messages for quick triaging. Instead of spending time adding additional tags and marking messages complete, you can create a custom Macro to automatically complete your message and review workflows.
Note: This feature is only available for Advanced Plans.
Macros, while feeling similar, are different from Automated Rules. Automated Rules in the Smart Inbox automatically route messages for you, without any interaction on your part. Macros require you to take action on the individual message, but saves you time in applying tags and marking messages as complete.
How do I create a custom Macro?
Sprout users with Manage Advance Inbox Features permissions can create, edit and delete macros. If you aren't sure if you have this permission, check your permissions by navigating to your Personal Settings in Sprout.
Note that custom Macros apply across your Sprout Group access.
To create a custom Macro:
Navigate to Settings.

Click

Macros under Global Features.



Click

Create new macro in the upper right of the screen. The Create custom macro popup appears.



Enter a

Title

for your Macro. For example, Tag & Complete.

(Optional) Add a

description

stating exactly what the Macro will do.

Select either

Apply Tags

or

Mark as Complete from the Actions dropdown. You can also select both options if you want messages tagged and then marked as complete.


Click into the Apply Tags box and search for and select the tags you want to apply. You can choose up to 20 Tags.

Click

Save

.
How can I manage my custom Macros?
After Macros are created in Sprout, you can edit and toggle them on/off at any time from the Macros settings page in Global Features.
Click

to edit the Macro.
Click

to delete the Macro.
Additionally, toggle the Status column

on/off to make certain Macros available.
How do I apply Macros to messages and reviews?
Sprout users with Tag Messages and Manage Message Status permissions can apply Macros to inbox and review messages.  If you aren't sure if you have these permissions, check your permissions by navigating to your Personal Settings in Sprout.
To apply a Macro to an Inbox or Review message:
Click on the message you want to apply a Macro to.



Select the appropriate Macro from the dropdown. 
The actions within the Macro apply to the Inbox or Review message and notifications appear to verify the actions were applied appropriately.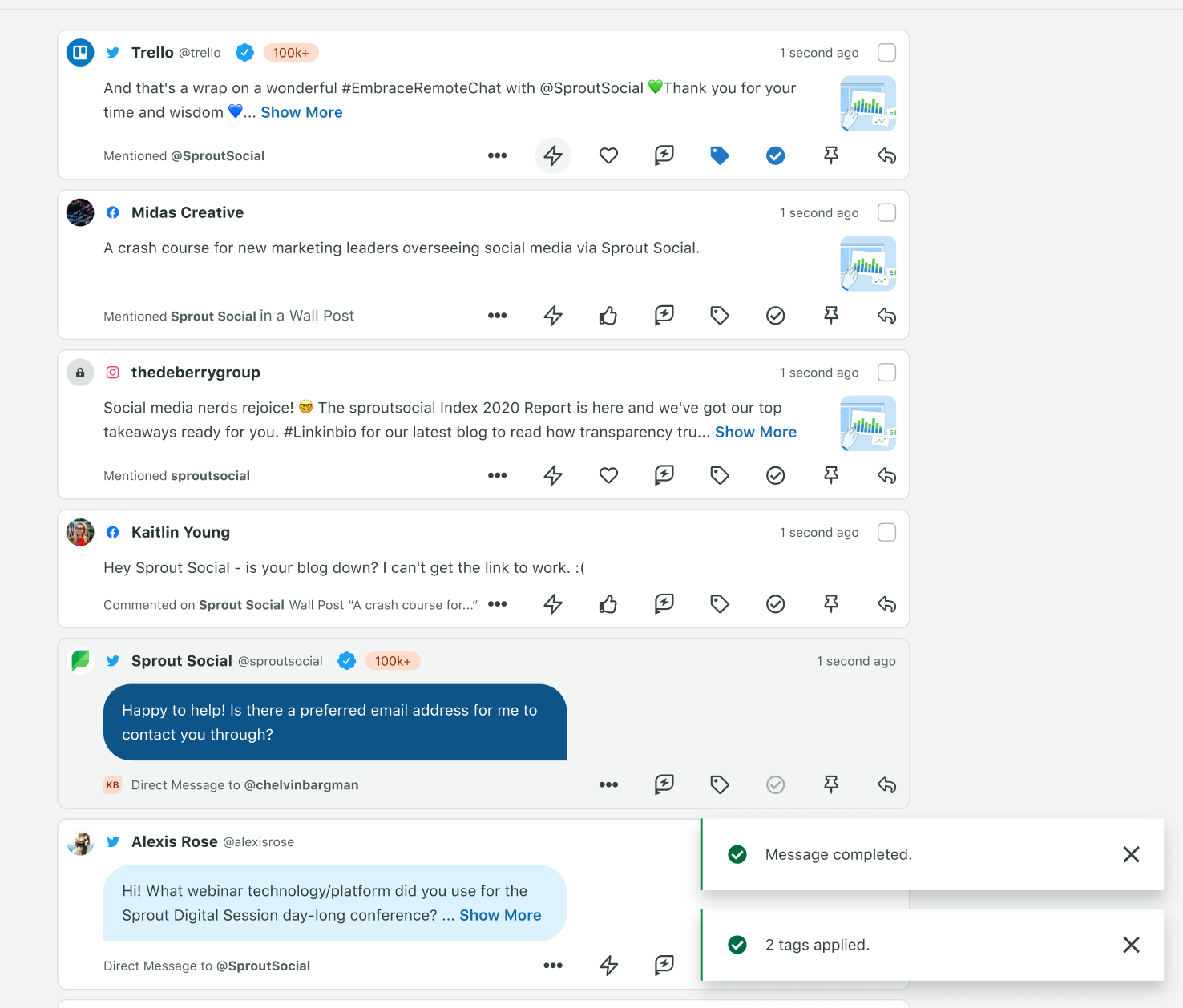 Macro FAQs
Why aren't all of my Macros showing in the dropdown?
This usually happens when a tag in the Macro doesn't exist in the Group that you're currently in.
I'm able to use the Macros but I can't find where to create or manage them. Why is this?
If you don't have the Manage Advanced Inbox Feature permissions you can't access the Macro setting page to create or manage them. 
Why aren't Campaign tags available to add to Macros?
Campaign tags are currently not supported in Macro actions due to the limit of one campaign tag per message or review. 
Does applying a Macro with tags override the existing tags on a message?
No. Macros will add more tags to the message, it won't override or remove any existing tags.
Are Macros audited?
No, not at this time.