How do I get a copy of my invoice?
If you're billed in Sprout and have Manage Billing permissions, you can view and download your invoices. To download your invoice:
Navigate to your username > Settings > Billing & Plan > View Billing History.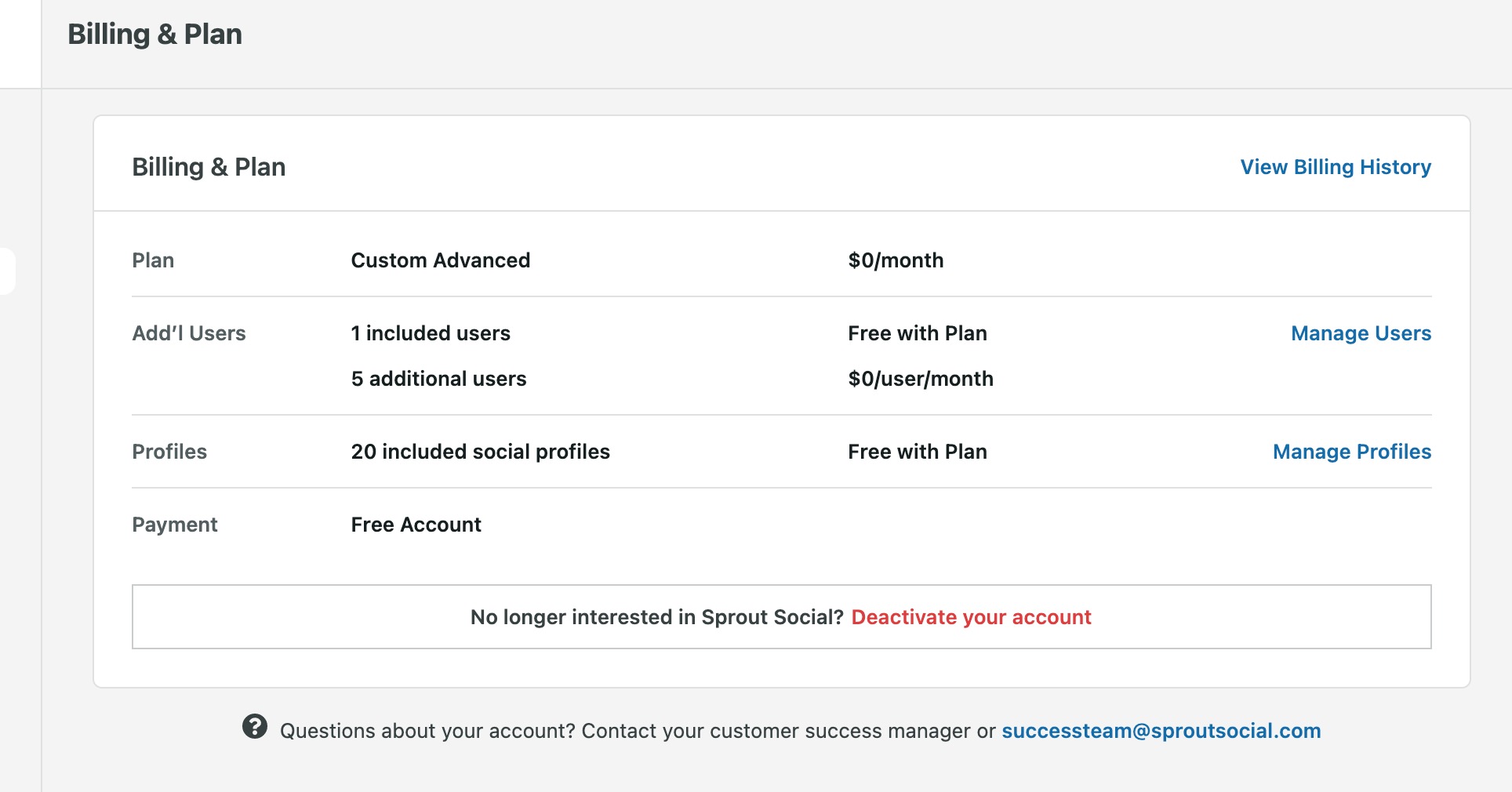 If you're in an accounting department, Sprout recommends that you contact the Account Owner for your Sprout account to retrieve the invoices for you. If the Account Owner wants to receive copies of the invoices via email, they can contact Sprout Social Support.
What if I'm billed outside of the Sprout app?
If you pay automatically, you can access your outstanding invoices, billing details and past invoice history in Sprout. You need the Manage Billing permission to view the Billing & Plan page. If you're unable to view this page in Sprout, contact your Account Owner to request permission.
Note: This functionality currently doesn't support those billed via PayPal.
You can view and download your invoices in-app by: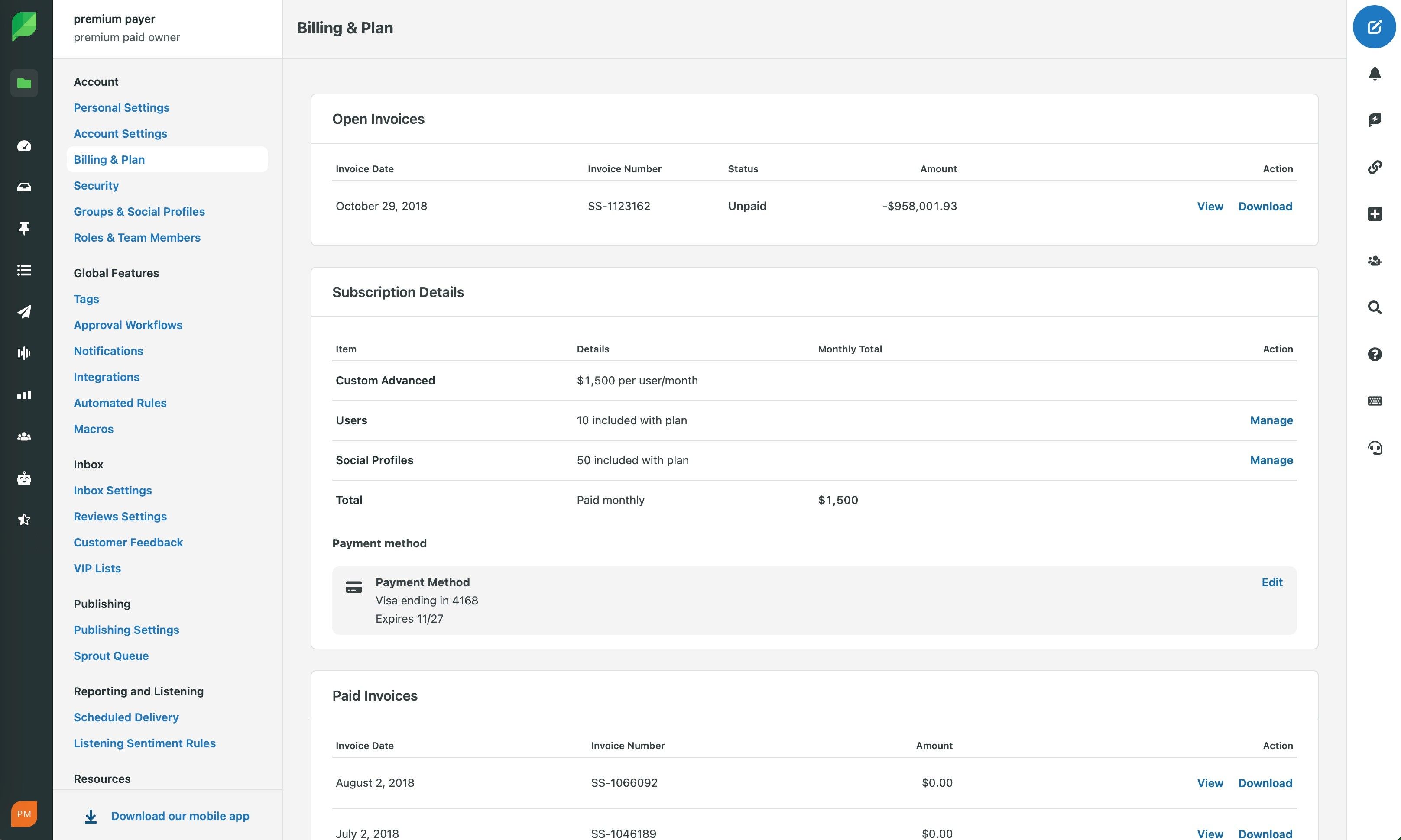 Log into Sprout using your credentials.
Navigate to Account and settings > Settings.
Click Billing & Plan under Account.
From here, you can click View or Download to see your invoices, save copies as well as pay your outstanding or forthcoming invoices.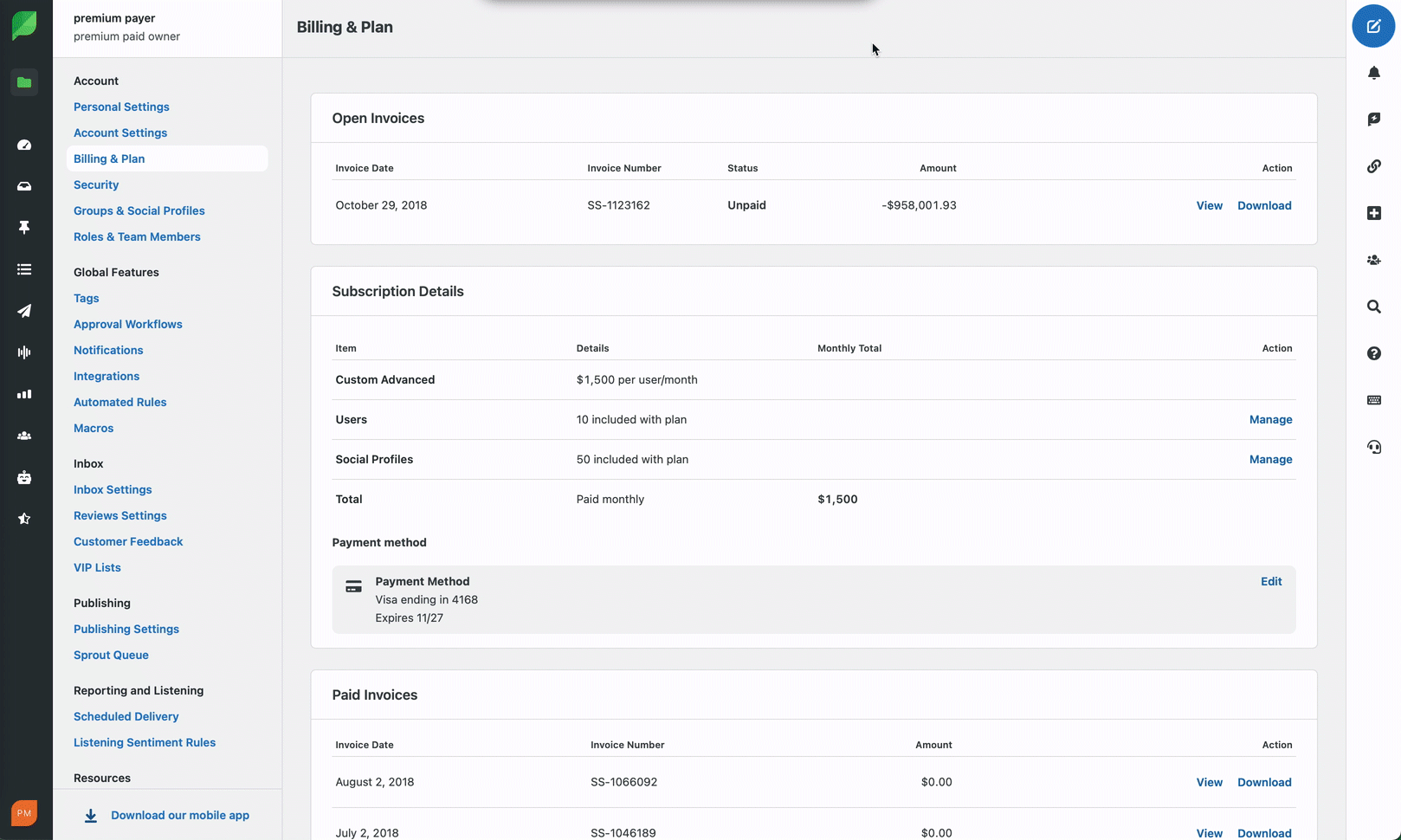 Note: You can only pay in Sprout if the balance owed is less than or equal to $10,000. Otherwise, you'll pay via your invoice, not in Sprout.

What do the different invoice statuses mean?
Invoices appear in Sprout with a Status and sometimes a Past Due badge depending on the state of the invoice. Use the following table to understand the different statuses you might see.
| | |
| --- | --- |
| Status | Definition |
| Unpaid without a Past Due badge | The invoice has no credits and no payments applied against it and there are no days outstanding for payment. |
| Unpaid with a Past Due badge | The invoice has no credits and no payments applied against it and the payment is outstanding by 1 or more days. |
| Partially Paid without a Past Due badge | The balance doesn't equal the invoice amount, the balance is greater than zero and there are no days outstanding for payment. |
| Partially Paid with a Past Due badge | The balance doesn't equal the invoice amount, the balance is greater than zero and the payment is outstanding by 1 or more days. |
| Paid in Full | The invoice has a balance of zero and has full payments or credits applied against it. |