How do I create a Group in Sprout?
Groups ensure your profiles stay organized and help you easily grant the right amount of access to your users.
This article contains the following sections:
What is a Group?
A Group is a collection of related social profiles. You can organize your profiles into groups based on how your business operates. Some best practices for setting up Groups include:
Grouping social profiles by internal teams or organizations

Grouping profiles according to language or location

Grouping profiles to separately manage reporting for your clients
How do I create a Group?
To create a Group:
Note: You must have the Manage Permissions Company Permission to create Groups.
Navigate to Account and settings > Settings > Groups & Social Profiles.

Click

Create a group. The Create New Group popup opens.


Enter a name for your Group.

Select if you want to create a Group From New Profile or From Existing.
If you create a Group From New Profile, you'll need to connect the profile.

If you create a Group From Existing, select the profiles you want to include in the Group.
Click
Proceed
.
Choose the permissions you want each of your
Roles
to have from the Profile Permissions dropdown in the Roles section.
Update any team members' permissions, including yourself, that have custom permissions or aren't assigned to a role.
Click
Save Changes
.

You can also edit and delete Groups based on your permissions. Note that if a Group gets deleted, but there are scheduled posts and tags applied, the scheduled posts and tag data remains in place. Scheduled messages are scoped to profiles and not Groups.
What are profile permissions?
Profile Permissions encompass any profile-specific permissions you'd like to assign for a user. These permissions focus on publishing to a profile directly, replying to messages and overall access to a single profile.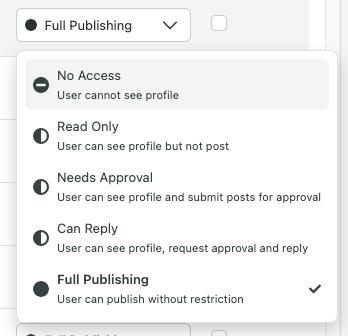 No Access - the user can't see the profile when they access Sprout.
Read Only - the user can see the profile, but can't publish to it. A user must have access to at least one Read Only profile to be a part of a Group.
Needs Approval - the user can see the profile and submit posts and replies for approval.
Can Reply - the user can see the profile, request approval and reply.
Full Publishing - the user can see the profile, publish and reply without restrictions.