Configuring Employee Advocacy as an Admin
Admins in Employee Advocacy are responsible for setting up the account for users. Using Company Settings you can set up your account specific to your company needs and make changes at any time.
This article contains the following sections:
General
In this section of your Company Settings you can customize your Employee Advocacy experience. Upload your company logo for branding by clicking Choose File and selecting your logo from your computer.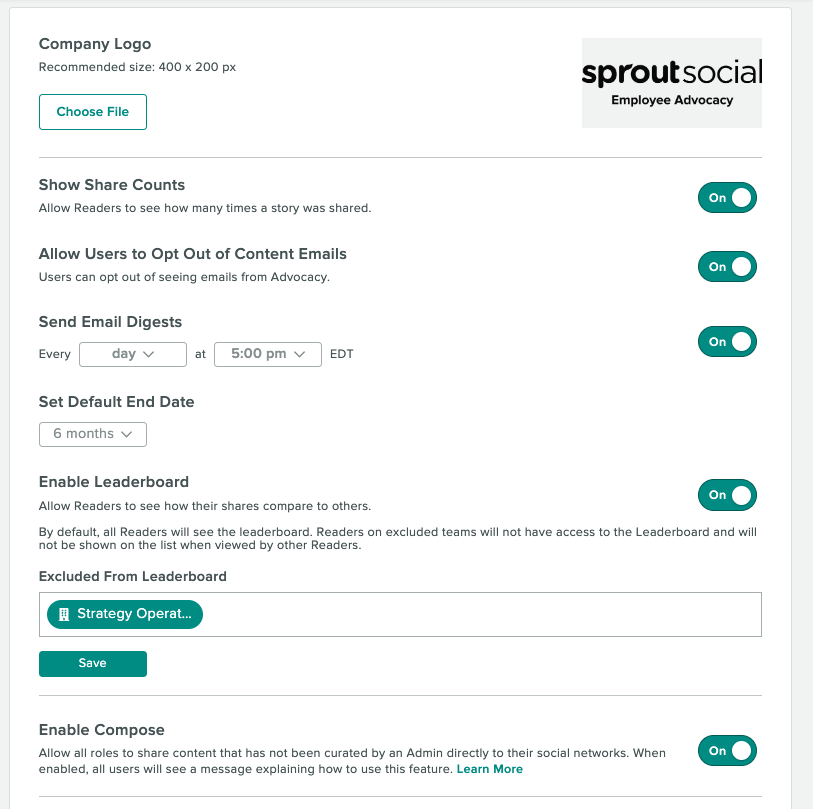 In the next section, you can:
Turn on/off the ability to show share counts for each Story to Readers

Turn on/off the ability for all users to opt out of Employee Advocacy emails

Turn on/off the ability to automatically send Digests at the cadence you specify

Turn on/off the Leaderboard feature which displays how Readers' shares compare to other Readers

Turn on/off Compose which enables all users to share content not curated directly by an Admin

Turn on/off Earned Media Value which calculates the value of the activity generated by Employee Advocacy for a reporting period
You can enter the email address you'd like to use to receive notifications for Suggestions submitted by Readers.

You can connect your Employee Advocacy account to Slack and Microsoft Teams to enable Broadcasting.

Determine the email domain you want to whitelist. By doing this, you enable anyone to create an Employee Advocacy account using their company address. If you need to make changes to this field, contact Sprout Support. 
Finally, you can generate an email invite link to invite users to Employee Advocacy. Anyone with the generated link can use it to join your account, so make sure this is only shared with your internal employees. You can use up to two unique invite links at a time. Enter the Team you want to send an invite link to and then click Generate Invite Link and distribute the link to your team.


Leaderboard
You can select which metrics to use when ranking Readers. Choose from:
Shares
Engagements
Potential reach
Clicks
Note: You must enable user-level tracking to select Clicks.
If you don't select a metric, the leaderboard defaults to shares.

You can rank between 5 and 500 Readers on the Leaderboard. The default count is 25 Readers.
You can also configure the Leaderboard to exclude certain Teams. If a Team is excluded from the Leaderboard:

No other users can see those Team members
Team members in the excluded Team can't view the Leaderboard
It's important to note that:
If a user is in multiple Teams and one of those Teams is excluded from the Leaderboard, then that user is considered excluded. Users are only included in the Leaderboard if none of their Teams are excluded.
If an Account Owner is in an excluded Team, they can still see the Leaderboard, but they aren't visible in the Leaderboard to other users.
The Team filter on the Leaderboard only shows Teams that haven't been excluded. 

To exclude a particular Team from the Leaderboard, toggle Enable Leaderboard to On and then enter the names of the Teams you want to exclude.
Users
In this section of your Company Settings you can manage user invites, roles and remove users. The Employee Advocacy platform is made up of four user roles. These include:
Reader

- someone who can read and share stories and connect their personal social profiles

Contributor

- someone who can add stories for approval by your team, in addition to Reader privileges

Manager

- someone who can add stories directly, in addition to Contributor privileges

Admin

- someone who manages the account, in addition to Manager privileges

Owner - someone who owns the account, in addition to Manager privileges 
Your list of users appears with the profiles they have access to, their current role and the last time they were active in Employee Advocacy. 
Click Invite Users at the top to add more users to your account. To invite a user:
Click

Invite Users

.

Enter the email address of the user(s) you want to invite.

Select their role from the dropdown.



Select the preferred language.

(Optional) Enter the Team name you want the user to be a part of.

(Optional) Enter a message to include in the invite email.

Click

Invite

.
You can also mass upload a list of users via CSV. Click Import CSV, and then download a Sample CSV Import File. Add in your appropriate data, and then upload the CSV.
You can remove users, assign users to teams and assign new roles. Select the checkbox by Name to assign a team, new role or remove users in bulk.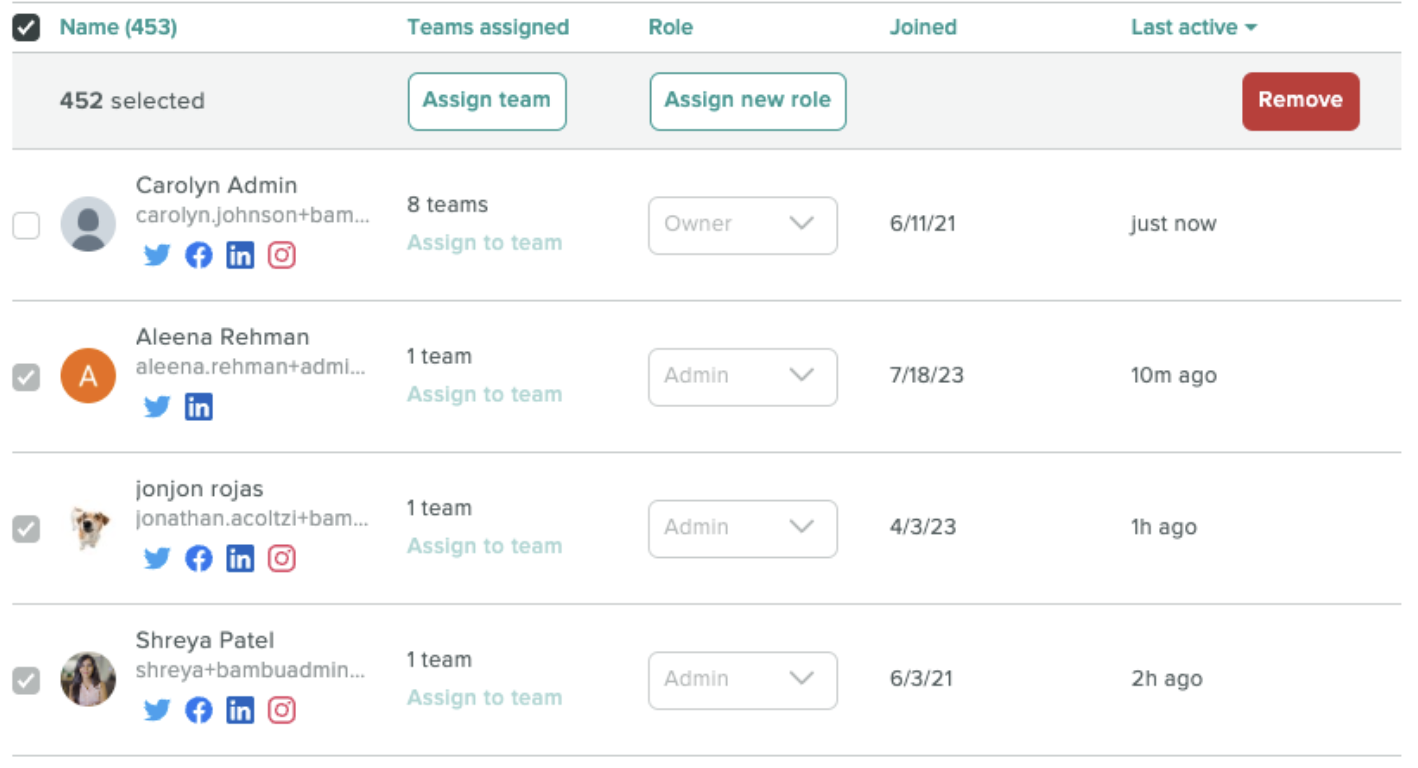 Note: You can't assign more than one team in a bulk action. Additionally, you can't select owners or the signed-in user in a bulk action.
Teams
In this section of your Company Settings you can create Teams. Teams are designated groups of users that you can target specific stories to and send targeted newsletters. 
To create a team:
Click

Create Team.



Enter a descriptive team name. Something like, Sales Team or Customer Care.

Click next to each user you want to assign to the Team.

Click

Create Team

.
You can also manage teams from this section. To manage a team:
Click on a Team card.


Switch between All Users and Members to see who is already a member of the team.

Click plus to add new members, click check to remove members.
If you no longer need a team, click Delete team. 
Topics
In this section of your Company Settings you can create and manage Topics. Topics are a great way to introduce content to your team members. There is no limit to how many Topics you can add to your account. 
To create a topic:
Click

Create New Topic

. The Create New Topic popup appears.

Enter a

Topic Name.



Enter a clear description about what type of content this Topic will contain.

(Optional) Restrict visibility to limit which Teams can view this topic. If you toggle this option On, then enter the Team names for Teams that should access the topic. For example, maybe you want to create a Sales Topic for all the sales content you create. You'd turn this toggle on, and then enter the name of your Sales team. 

Click

Create Topic

. 
Required Topics are public to everyone and can't be unfollowed by users. You can have up to two required topics. Things like company news or general news are great to include here, so your employees always see the latest and greatest in their feed.
In the Your Topics list you can edit topics or hover over

to see which Teams have access to each Topic.
Tags
In this section of your Company Settings you can create and manage Tags. Tags are a great way to help users find the content they care about most. Click Add New Tag and enter a tag name to create new tags.

Story Creation
In this section of your Company Settings you can manage Campaign Tracking, Link Attribution, Link Shortening and your Sources.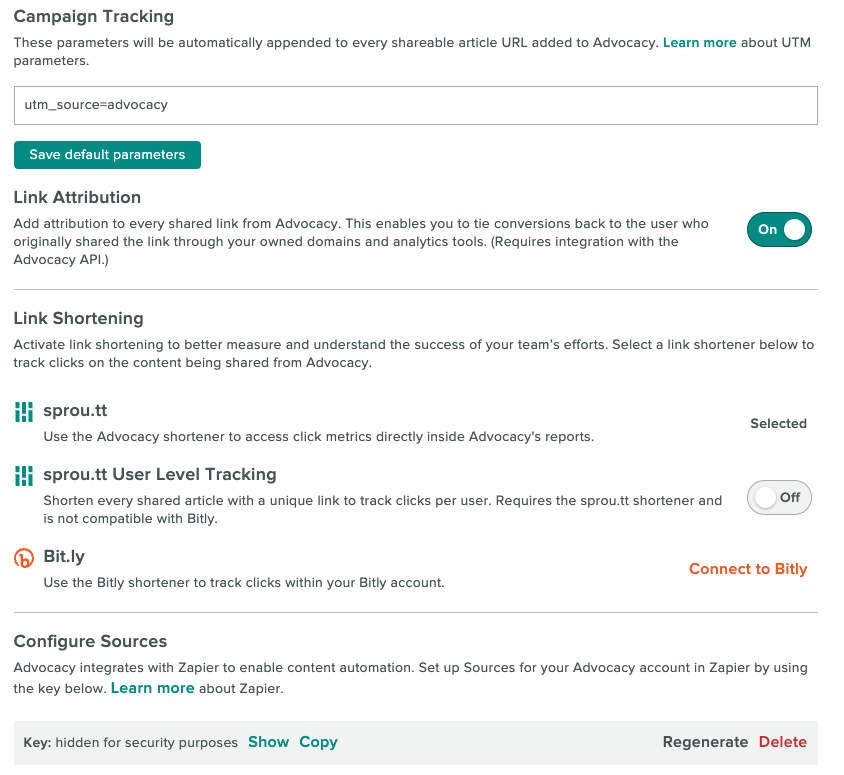 In Campaign Tracking you can create your URL parameters to append to every shareable article URL. You can also delete campaigns that are no longer in use.
Toggle Link Attribution on to add attribution to every shared link. This way, you can tie conversations back to the user who originally shared the link through your owned domains.
Link Shortening helps you better measure and understand the success of your team's sharing. Use the Employee Advocacy shortener to access click metrics directly in Advocacy reports. You can also use the Bit.ly shortener to track clicks within your Bit.ly account. 
You can optionally also enable User Level Tracking to shorten every article link with a unique link to track clicks per user. This isn't compatible with Bit.ly. 
Finally, you can configure your sources using the Zapier integration. For more information, see this article on connecting and setting up Zapier.
Single Sign-On
Employee Advocacy offers SAML 2.0 Single Sign-on (SSO) support across web and mobile. SSO enables your employees to use a single set of managed login credentials (e.g., name and password) to access multiple applications. Read this overview article for set up instructions.