June 2021
Releases this month
June 1, 2021
Deepen your brand loyalty and customer care strategy with Sprout's Shopify integration
Now you don't need to navigate to multiple platforms to provide insight and assistance when it comes to your ecommerce customers. Linking your Shopify instance to Sprout lets you connect social profiles to your Shopify Customers and view order history and details all in one place. Quickly message your Shopify Customers with their latest and greatest order information.
Learn more about providing order information and linking your Shopify Customers with this overview.
June 1, 2021
Listening automatically filters out adult content from your Listening Topics
Listening also now acts as a spam filter to prevent adult content from appearing in your Topic Insights. Sprout automatically scans Twitter data including users, URLs, hashtags and Tweet text for adult content and prevents it from appearing in your data.
Learn more about creating Listening Queries with this overview.
June 2, 2021
Respond and react to your Instagram DMs in the Smart Inbox
Now you can reply and react to Instagram DMs from your Business Profiles in the Smart Inbox. With this integration, you'll never miss an opportunity to engage with your audience, get a holistic view of all your incoming messages and create a stronger 1-1 connection.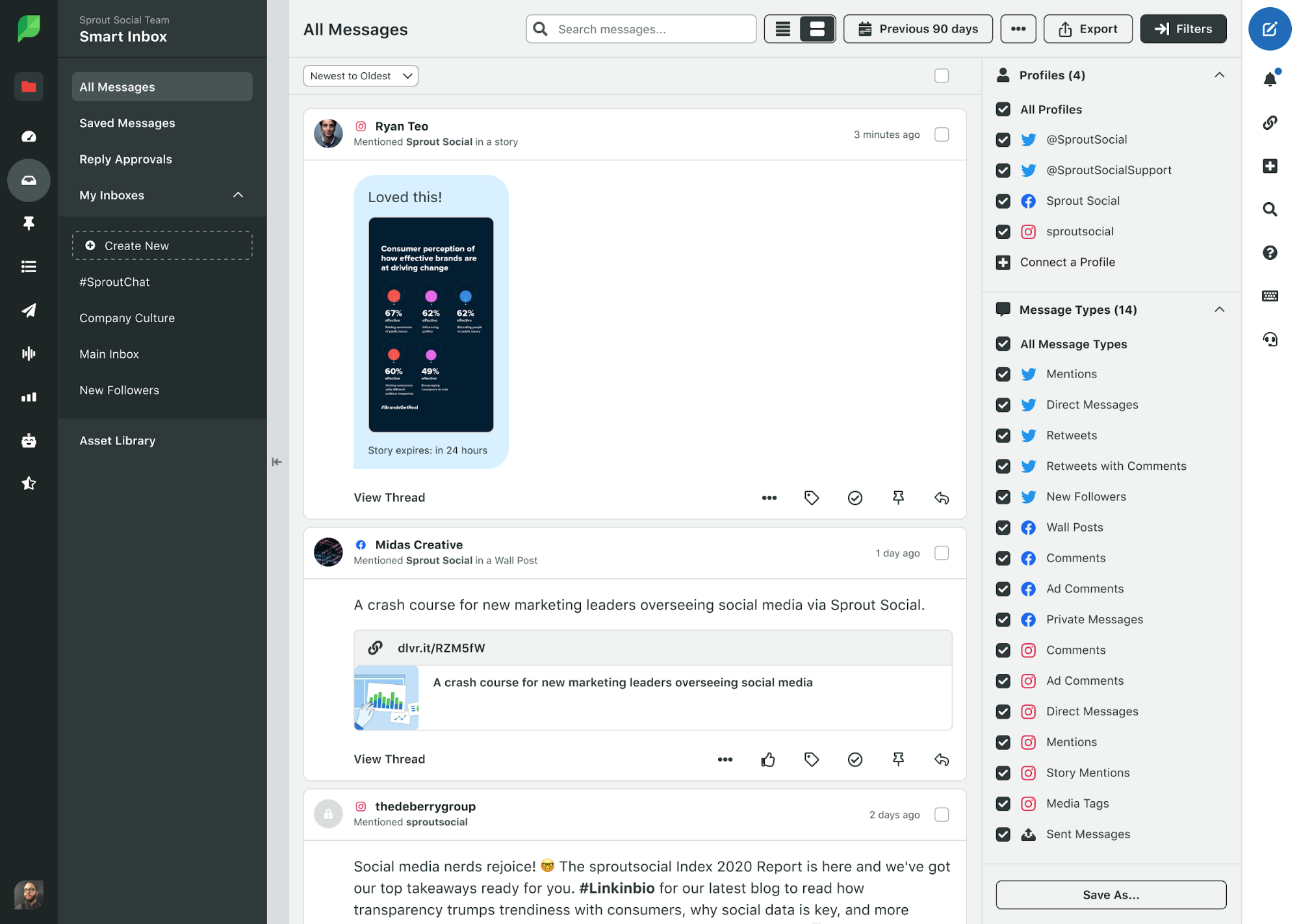 Learn more about getting set up to receive Instagram DMs in your Smart Inbox with this overview.
June 10, 2021
Connect Zendesk and HubSpot to Sprout at the same time
Now you can connect both your Zendesk and HubSpot help desks to Sprout at the same time to better streamline your customer service efforts across your social accounts.
Learn more about the Zendesk or HubSpot integrations.
June 10, 2021
Spend more on Brand Awareness and Reach campaigns in Sprout
Now you can spend up to $1,250 per day/lifetime for Brand Awareness or Reach campaigns when you promote your organic Facebook posts. When a post is promoted (boosted), Sprout adds the spend selected to your existing campaign budget.
Learn more about Facebook paid promotions with this overview.