Twitter Pro Media Integration
Sprout Social integrates with the Twitter Pro Media API so you can use your enhanced media privileges directly in Sprout. When you select your Twitter profile in Compose, you can see which profiles can leverage the advanced functionality.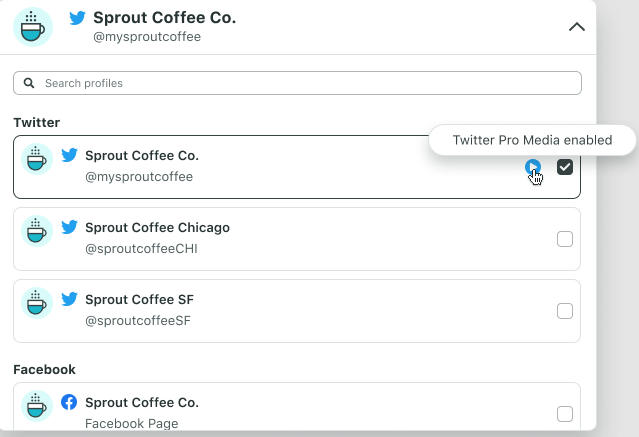 Rather than publishing directly on Twitter or Twitter's Media Studio, you can publish through Sprout with added functionality.
With this integration, you can upload longer videos and customize your video metadata, including the title of the video and a custom thumbnail to publish. You can publish videos up to 1 GB and 10 minutes long.
To publish a video using the Twitter Pro Media Integration:
Navigate to Publishing in Sprout.

Click

to open the Compose window.

Select your Twitter profiles, add text and attach your desired video.

Enter the video title in the textbox to the right of the video thumbnail.


Click the arrows underneath the thumbnail to browse for a generated thumbnail and then select your desired thumbnail OR click on the top-right corner of the current thumbnail to upload your own.