Instagram FAQs
Can I schedule IGTV posts via Sprout Social?
While you can't currently schedule IGTV posts via Sprout Social, you can see and respond to comments and track metrics on your IGTV performance.
Can I schedule Instagram First Comments?
Yes, this feature is available on both desktop and mobile versions of Sprout. You can use this feature with both images and videos (less than 100 MB). Click Instagram First Comment dropdown in Compose on desktop or on the Instagram logo in the mobile app to access this feature.
Advanced plan subscribers can also save their commonly used hashtags to the Asset Library for easy reuse every time they post an Instagram First Comment.
Click +' in the First Comment dropdown after you typed out a text asset to save it.
Can I repost/regram Instagram posts via Sprout Social?
Yes, because Sprout Social is an official Instagram Partner, we can offer both the repost function and the auto-publishing function via our mobile app. You can repost a Mention or Media Tag Instagram Message from the Smart Inbox by clicking on the 3 dots next to a Message and then selecting Repost from the Message Actions. Here's a short GIF showing where to repost an Instagram Mention or Media Tag message from the Inbox: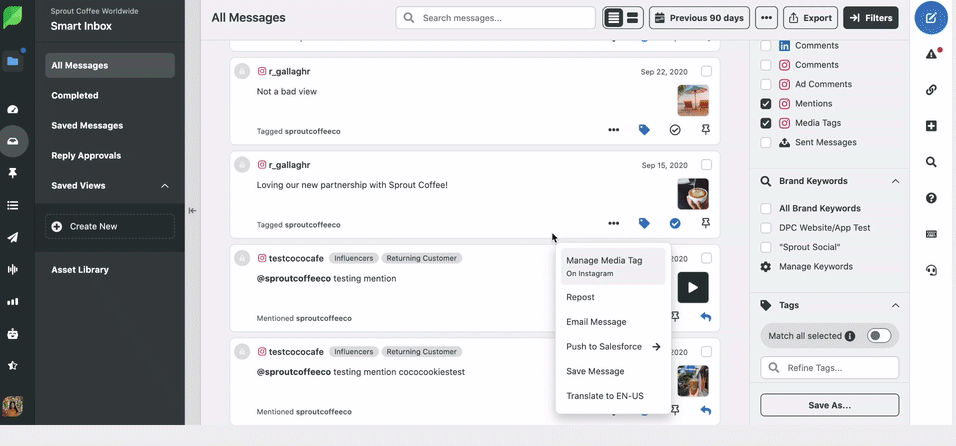 To regram an Instagram post from a copied link (mobile):
Once you've found a post on Instagram click the three dots icon in the upper right corner of the post

Tap Copy Link

Open the Sprout Social mobile app

An in-app notification "Found Instagram Share Link! Tap to Reshare" will appear at the top of your screen. Tap this option.

Selecting this will open up a prompt. Choose "Schedule", "Queue" or "Repost Now"
How can I see the Instagram grid preview?
You can see the Instagram Grid Preview on the Sprout mobile app. When viewing a scheduled Instagram post in the app, click on the
icon under the post. This will show you the Grid Preview for Instagram. It is only available in the Sprout mobile app and isn't available on the desktop version of the platform.
What are the requirements for posting a video directly to Instagram?
The following are the criteria that the video files should meet to be published directly to Instagram:
File extensions: .MP4 or .MOV
Frame Rate: 23-60 FPS
Duration: 3-60 seconds
File Size: 100 MB or less
Horizontal pixels: 1920p
Maximum bitrate: 5 Mbps
Must be H.264 not H.VEC
You can publish videos files that fall outside these criteria using the Mobile App Publishing Workflow.
Does Sprout compress image files?
Images with high DPI can be compressed by the native network, which can cause degrading of the quality and color of the images when they're published. Sprout uploads the exact file that is uploaded to Sprout, so the compression would occur on the native network's side.
Sprout recommends running the image through Landscape, our image resizing tool (https://sproutsocial.com/landscape) which reduces the DPI of the image so it appears more accurate to the exact file you uploaded.
How do I publish to my Instagram Story?
Check out the Posting Stories to Instagram article for more details.
How do I schedule Carousel posts?
Follow the steps in the Carousel Posts on Instagram article to find out more about scheduling multiple image posts.
Can I schedule Instagram Reels via Sprout?
At this time, Sprout doesn't integrate with Instagram Reels. If this is a feature you would like to use, submit this feature request to your Sprout representative.