Calendar Link Sharing
You can share the details of your social strategy outside of the Sprout Social platform using Calendar Link Sharing. With Calendar Link Sharing you can easily share a live view of your content calendar via a public link. Sharing the public link to your Publishing Calendar helps you:
Increase transparency with external stakeholders who can access your calendar without logging into Sprout

Strengthen your alignment by creating links that update in real time when new messages get created

Provide context by adding a title and description in each public calendar view so your stakeholders know what they're looking at

Stay informed on the go by easily sharing and viewing calendar links wherever you are via a mobile-friendly browser. Note that you currently can't create links from Sprout's mobile app
Note: The links you create are public so anyone with the URL can access them. Be mindful of who you share links with.
Enabling Calendar Link Sharing
An Account Owner must enable Calendar Link Sharing for their Sprout account. The Account Owner can enable or disable this feature via a toggle. It's important to note that you can't create shared links until an Account Owner enables this feature.
To enable Calendar Link Sharing as an Account Owner, navigate to Settings > Global Features > Link Sharing. Toggle Link Sharing to ON, and then click Enable Link Sharing in the pop-up.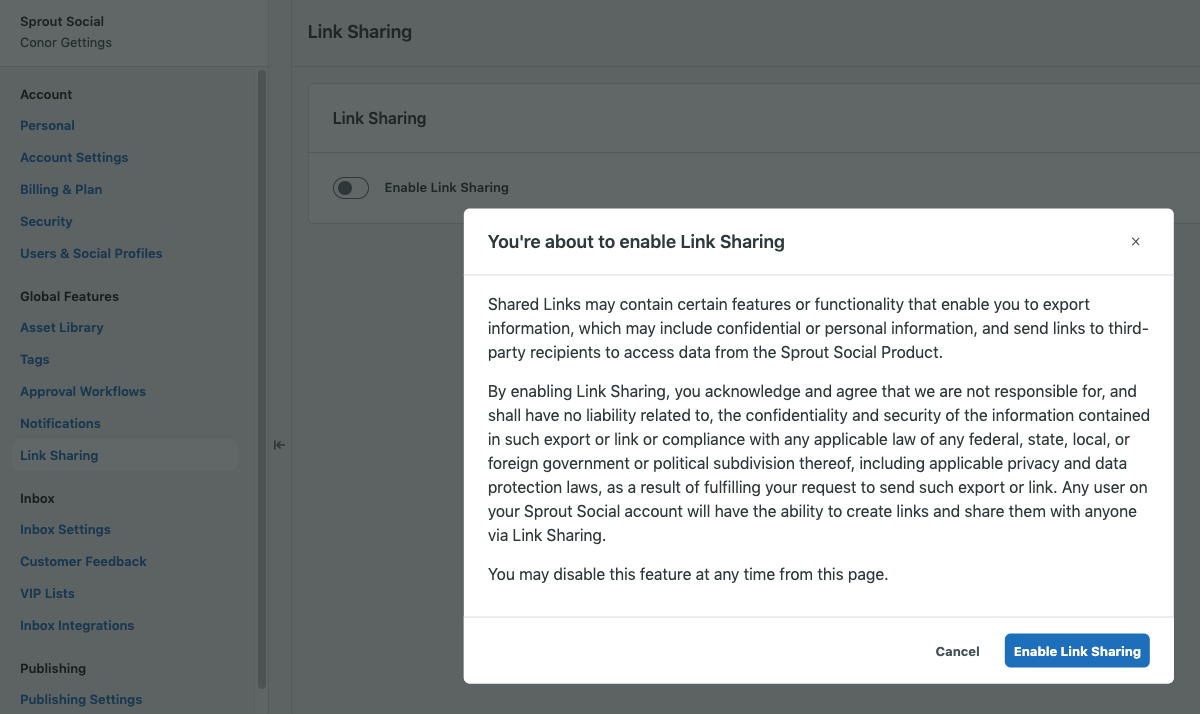 Creating a Shared Calendar Link
When you're in the List or Month View of the Publishing Calendar, you can create a Shared Calendar Link to send to stakeholders and other members of your team.
Note: You can only share links of the publishing calendars you have access to.
To create a Shared Calendar Link:
Navigate to your Shared Content Calendar, and then select List or Month in the upper-right corner of the Calendar.

Ensure your filters are updated to show the content you want to share in the link. Consider the date range, profiles and content types you want to share.

Click

Export

, and then click

Share Link

. The Create New Link window appears.

Edit the following fields:

Title

- enter a descriptive title for the calendar link

Description

- enter key details about the calendar link to provide context to your stakeholders and team members

Enable Link Expiration - toggle this on or off to set an expiration date for your calendar link. Note that the link expires on the day you select at midnight UTC




Click Create New Link. A confirmation link appears and the link is automatically copied to your clipboard for easy sharing.
You can also grab your link from the Link Drawer located in My Links.
Viewing and Managing Links
After you create a link, you can share it with stakeholders and team members who need insight into your calendar. Remember, this link is public, so anyone with the link can access the data you included.
To preview the content you shared, your recipient can click the link to open the shared calendar. They'll see the following:
The calendar date range you selected

The social profiles you selected to include

The content types you selected to include

The List or Month View of all the messages for the date range you selected
If a recipient clicks an expired or deleted link, they receive an error message.
Note: If you believe that a link was shared with someone who shouldn't have access to your data, remove their access by expiring or deleting the link. An Account Owner can also disable Link Sharing for the entire account, which shuts off access to all links.
Managing Links
You can manage the links you create from the Link Drawer by clicking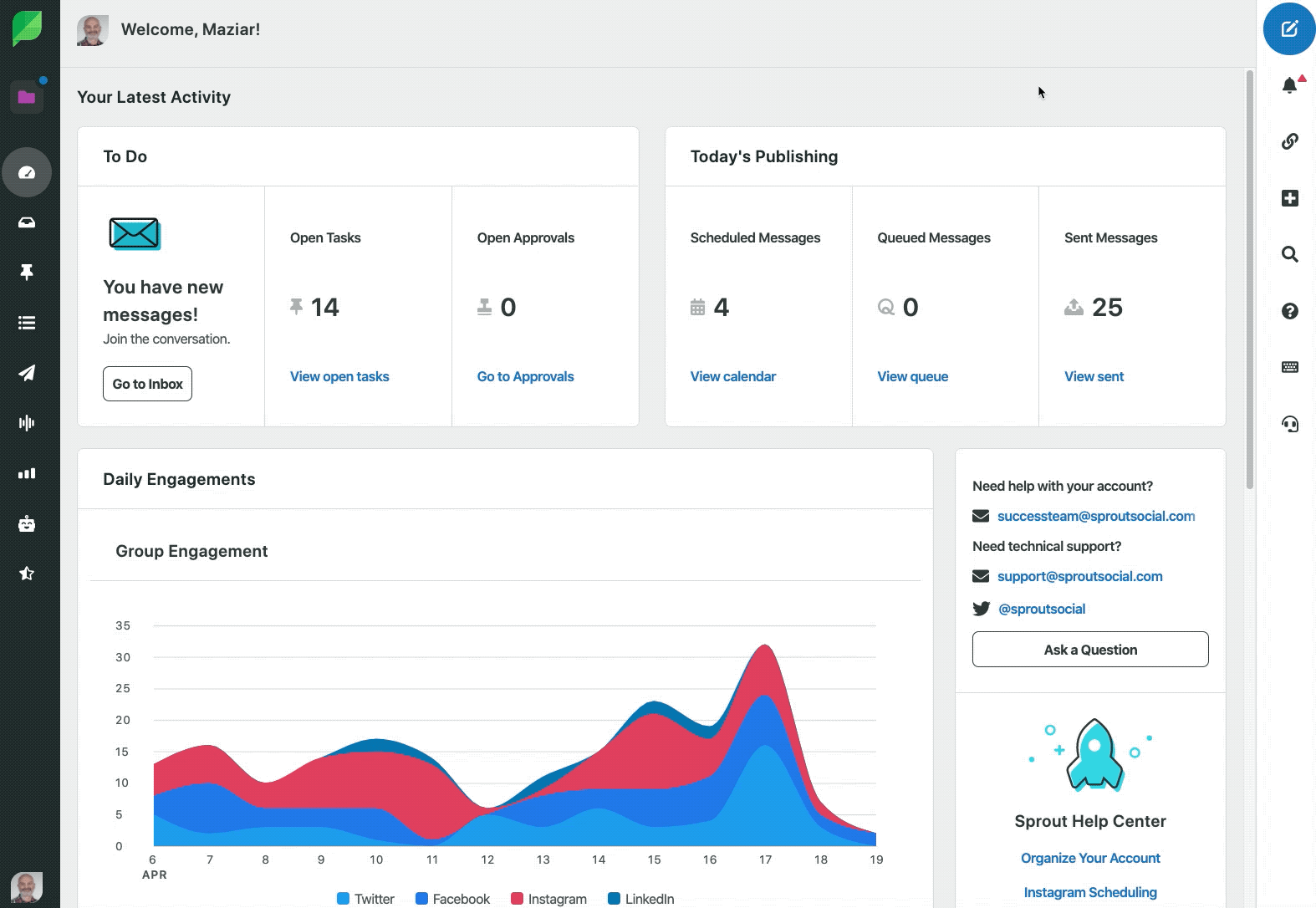 From this drawer, you can:
Preview the link
Copy the link URL
Edit the link
From the Edit pane, you can edit the link's attributes or delete the link. If a link expires, a red expiration message appears and shows the date the link expired.
If a link does expire, you can't unexpire it; instead create a new shared link.