How do I use the Notifications Drawer?
Notifications Drawer is a centralized space where you can monitor and take action on incoming notifications within Sprout Social's web application. You can also set up custom preferences for specific notification types and delivery methods to create a personalized experience that meets the needs of your working style.

This article includes the following sections:
What do Notifications include?
Notifications include Tasks, Approvals, Failed Post Notifications and Profile Disconnections. Click on a notification to view more detailed information like the affected Group, users and remediation steps you might need to take.
Notifications have two states, read and unread.
Read messages appear with a gray background.
Unread messages have a color-coded tab that appears based on what type of notification it is. For example, profile disconnections and failed posts are red.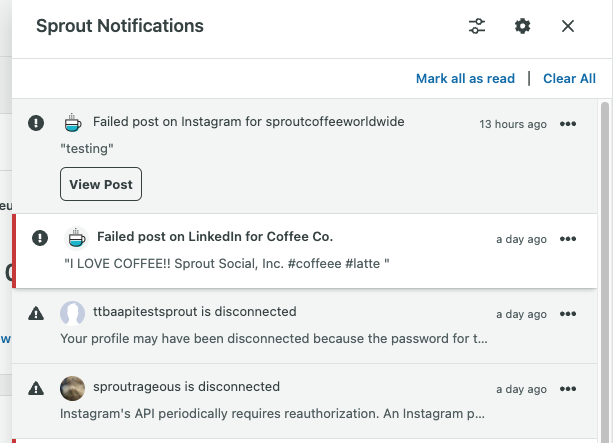 How can I filter my Notifications Drawer?
Filtering the Notifications Drawer is a great way to easily review the notifications that require immediate attention. You have a few options when it comes to filtering including: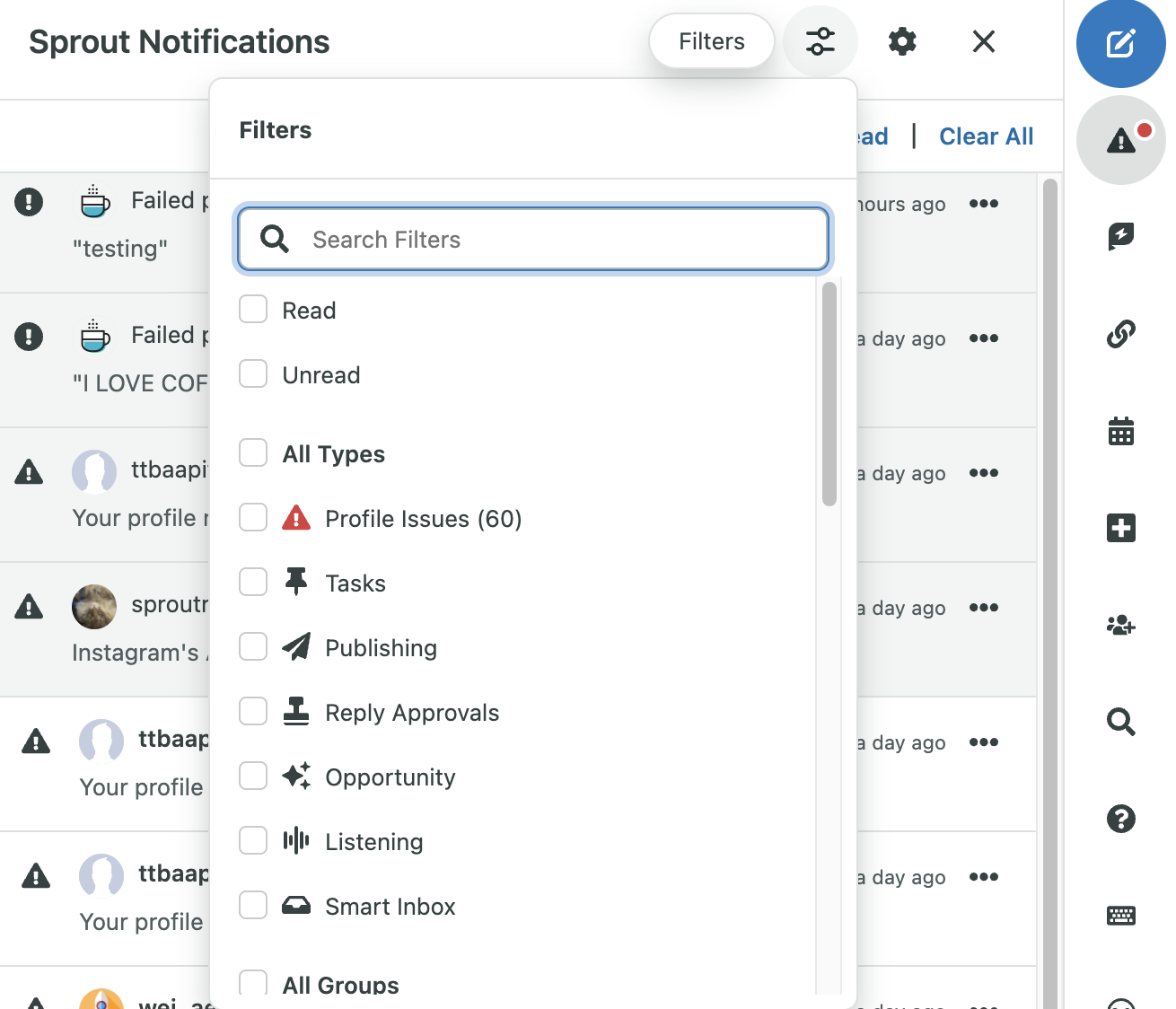 By read or unread notifications
By Type, including:

Profile Issues - including Profile disconnections
Tasks
Publishing - including all Failed Post notifications
Reply Approvals
Opportunity - including new areas for you to try out in app
Listening - including spike alerts
Smart Inbox

By Groups
You can also use Mark all as read or Clear All at the top of the Notifications Drawer to remove notifications from your drawer after you've reviewed them.
How do I take action on Failed Posts?
You see notifications about failed post issues in the Notifications Drawer alerting you that an outgoing post failed. To troubleshoot the issue:

Click in the top-right corner to open the Notifications Drawer.
Click .
Select Publishing from the dropdown. This will show you all of your failed post notifications.
Click the issue you want to troubleshoot.
Click View Post. You're taken to the Failed Posts stream.
Fix and resend your post or delete it.
How do I customize my notifications?
To customize your notification types and preferred delivery methods, click

to visit the Notifications page. Here you can select the type of notifications you want and don't want and how you'd like to receive them.