How do I interact with Instagram Mentions & Media Tags?
You can engage with Instagram mentions and media tags in Sprout Social's Smart Inbox. Sprout makes it easy to see and interact with messages containing @mentions of your Instagram profile, as well as photos and videos your profile is tagged in.
Note: Both of these features are supported for Instagram Business Profiles only. Learn how to convert and reconnect your profile as a business profile by reading our Help Center article.
Instagram Mentions
Sprout pulls messages containing @mentions of your profile(s) directly into the Smart Inbox. These messages include any messages that your profile is publicly @mentioned in a comment or caption. You can access your mentions from the Smart Inbox on the web or Sprout's mobile app.
To view your @mentions:
From the Smart Inbox, select one or several Instagram profiles from the Sources dropdown.
Next, select Mentions from the Message Type dropdown. You now see messages in which your profile was mentioned.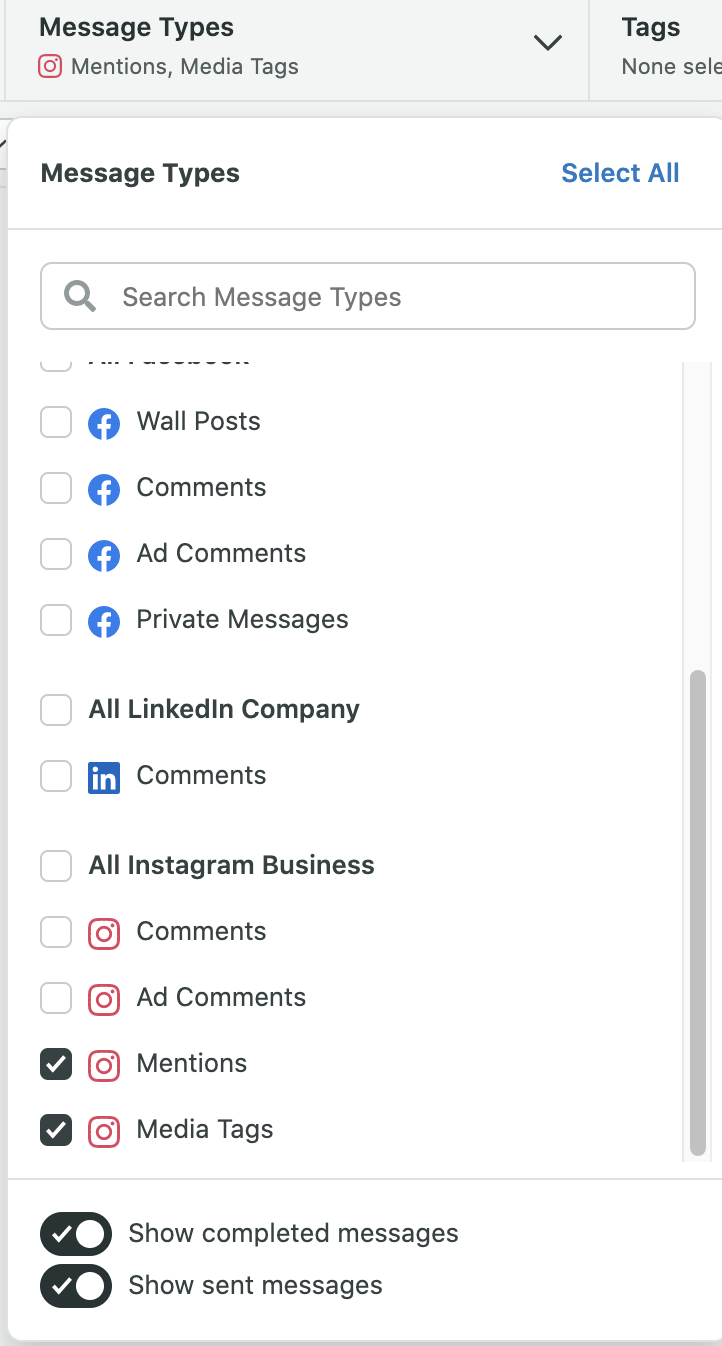 Instagram Media Tags
You can see messages containing media tags of your profile(s) in the Smart Inbox. These messages include any time your profile was tagged in a publicly available photo or video. You can access Media Tags in the Smart Inbox on the web or Sprout's mobile app.
To view messages containing media tags of your profiles, select Media Tags from the Message Type dropdown. You now see photos and videos that your profile was tagged in.
Note: You can't reply from the Smart Inbox to messages pulled in by Media Tags due to Instagram API limitations. However, you can click the message timestamp and reply to the message directly from Instagram.
FAQ
Will the new filters be on by default?
If all of your filters are turned on in the Filter Menu, Media Tags and Mentions are also selected. If one or more of the filters is turned off, Mentions and Media tags aren't selected.
How far back will I see my Instagram Mentions in my Smart Inbox?
You can expect to see Instagram Mentions dated May 6, 2019 or later for profiles connected before May 6th. Profiles connected after May 6th see Instagram Mentions from the date they connected to Sprout plus up to 750 backfilled messages.
What is the difference between Instagram Mentions and Brand Keywords?
Brand Keywords don't explicitly @mention you. Brand Keywords may only indirectly reference your brand, whereas @mentions and media tags are directed at your brand. Also, Brand Keywords are specific to Twitter, while @mentions and media tags are pulling messages from Instagram.
Will this feature pull in mentions of your brand that don't use an @mention?
No. For example messages that contain "Sprout Social" would not be pulled into the inbox (unless you have that Brand Keyword set up) but messages and photos with @sproutsocial would.
If you're @mentioned or tagged in a photo or video, will you see additional comments from other users on that post?
You won't see other comments or threaded replies to a comment unless you are also mentioned in those comments.
Can I see comments and media tags on a post from a Private Account?
No, you will only see content from public accounts. Learn more about private accounts by reading the Controlling Your Visibility article in Instagram's help center.
I received a message, but the user name says Private when it's actually a public account. Why is that?
Sprout won't show the user's name or avatar of Instagram business profiles as well as personal profiles because Instagram no longer shares that information through their API. We display the name as "Private" in Sprout as an indication that this is not a bug but you can view the user's full information by clicking on the post's timestamp.
Can I see carousel posts that I'm tagged in? Will I see the other photos/videos in the post?
You will see a message in the Smart Inbox letting you know that you've been tagged, which will show the first photo in the carousel. We can't currently detect which photo from the carousel you're tagged in, but you can click on the timestamp to view the full set of images on Instagram.
Why don't we see tags/mentions for stories or ad posts?
We are not able to access these via Instagram's API. We'll make these available if Instagram chooses to make them available.
Why do video posts show a gray box and not the thumbnail?
Video thumbnails are not provided by Instagram's API; we are exploring alternative options to show a thumbnail.
Are Mentions and Media Tags available in Reports?
Currently you'll see Mentions and Media Tags data accounted for in the Tag Report and Team Report.
Can I comment on posts with my @mentions in the comment or caption?
You can only reply to comments that include your brand's @mention, and you can only post top-level comments in a post that @mentions you in the caption.
Can I comment on photos/videos that I am tagged in?
Instagram does not allow this functionality in their API, so you won't be able to comment on posts where you are tagged in photos or videos via Sprout.
Can I 'like' the post or comment?
No. Instagram does not allow you to like, unlike, block, unblock, delete, follow or unfollow posts or comments from Sprout.
Can I delete my own comments/replies in response to a mention?
No, Instagram doesn't allow you to delete those comments and/or comment replies from Sprout since you weren't the original post author. Only the author of the post can delete your response.
Can I untag myself from a photo/video?
No, Instagram doesn't allow third parties to remove media tags via API, and so you would need to visit the post natively by clicking on the message timestamp in order to hide or remove the media tags.