Instagram Reporting Updates (2019)
Over the course of 2019, Sprout's Instagram-related reports will get refreshed and updated to help you elegantly share and analyze your successes. The changes are not simply cosmetic; there's new functionality, metrics and more.
New Reports
Instagram Performance Report
Post Performance Report
Updated Reports
Personal Profiles
New Reports
The first updates arrive in April 2019 around various aspects of Sprout Instagram Reporting. The Instagram Profiles Report will be replaced by the Instagram Performance Report, featuring a complete view of performance with a new tabbed experience, additional metrics such as story replies, saves and profile clicks.
Sprout is introducing two new reports: the Instagram Performance Report and the Post Performance Report. A few others reports are being updated as well.
The new Instagram Performance Report will provide a complete view of your success from Instagram Business Profiles. Some of the data in the new report used to live in the Instagram Profiles Report. The Instagram Performance Report features a streamlined, tabbed layout to get you to important data more quickly.
The new report adds story Saves, Story Replies, Engagement Rate and Profile Clicks. It also removes paid data from engagement metrics such as likes, comments, shares and link clicks to better illustrate organic performance. Paid performance can be found in our Facebook and Instagram Paid Performance Report.
Instagram Performance Report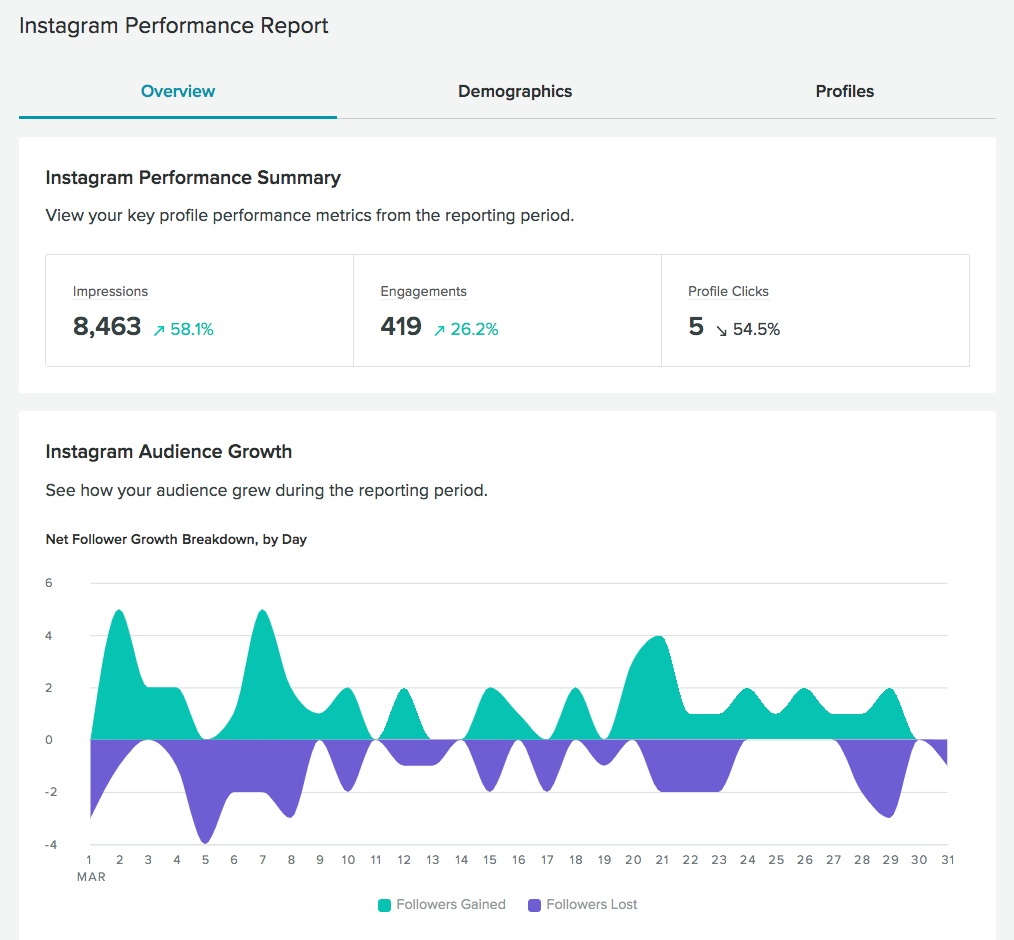 The Overview provides performance data for all selected profiles. The Demographics tab supplies demographic information for those interacting with your selected profiles and the Profiles tab allows you to get a look at individual profile performance in a scorecard like format.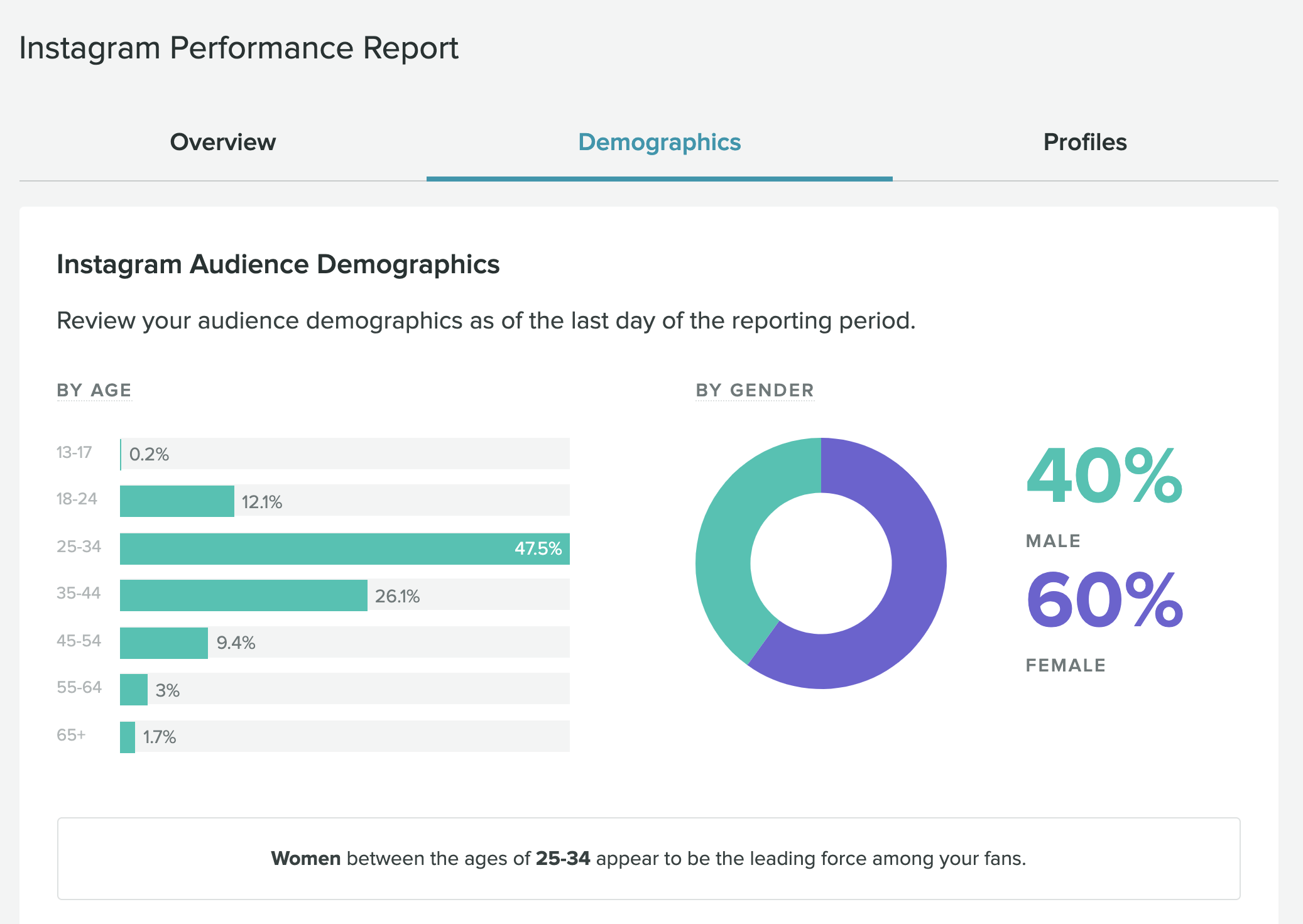 Post Performance Report
The new Post Performance Report expands on what was previously included in the Sent Messages Report, adding metrics such as Engagement Rate and Impressions.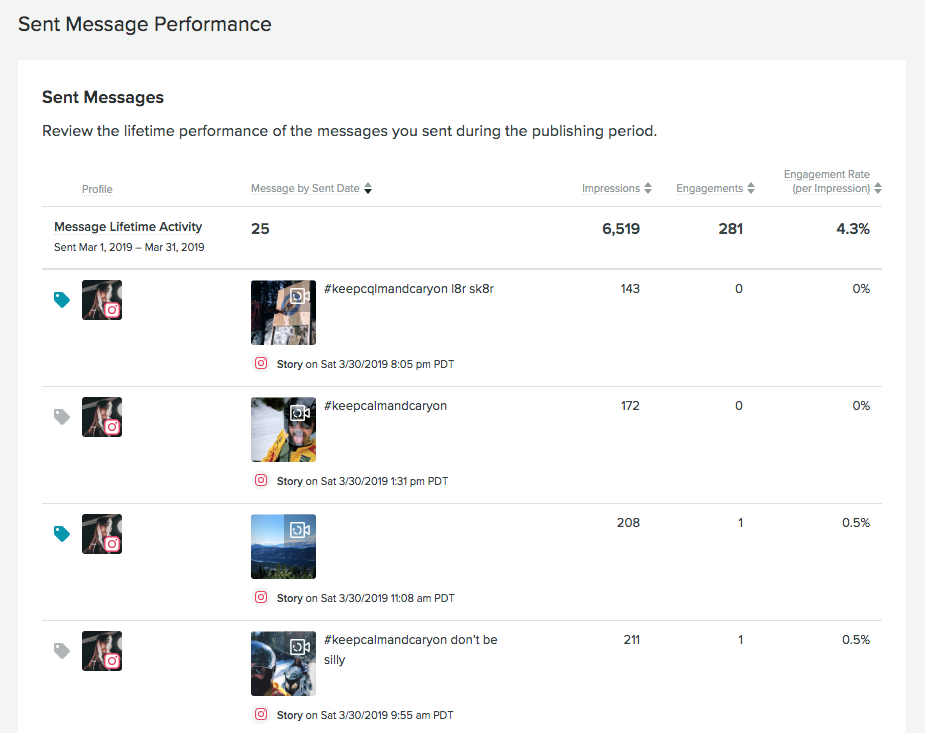 New functionality makes it easy to identify your top post or story. Using the Message Types filter in the right rail, you can quickly select or deselect either Story or Post to only see that type of message.
Updated Reports
Tag Report
The Tag Report now includes support for Impressions data, Stories data, Story Saves and Story Replies.
Group Report
The Group Report now features refreshed Instagram Metrics including Saves, Story Replies and Profile Clicks. In addition to data from other networks, the Group Report will only include data from connected Instagram Business Profiles.
Instagram Profiles
The Instagram Profiles Report will no longer support Instagram Business Profiles as that data can be found in the new Instagram Performance Report. Data for non-business profiles will still be found in the Instagram Profiles Report.
Instagram Competitor Report
Refreshed Instagram Connected Profile Metrics to align with Instagram Performance Report
Renamed audience metrics
Better apples to apples comparisons
Supports Instagram Business Profiles only
Personal Profiles
As you might have noticed above, Sprout is separating Instagram Business Profile data from personal profile data. Because of API differences, surfacing data from both in the same place often wouldn't allow for an apples to apples comparison. By housing the much more in-depth Business Profile data in the Instagram Performance Report and keeping the personal profile data in the Instagram Profiles Report, Sprout ensures you get the most out of your Instagram data, no matter the profile type.
Personal profile data will be removed from Competitor, Group, and Report Builder Reports. Personal profile data will still be available in the Instagram Profiles, Post Performance and Tag reports.